(View From The Couch is a weekly column that reviews what's new on Blu-ray and DVD. Ratings are on a four-star scale.)
As always, the barrage of For Your Consideration award screeners for theatrical releases put me behind with my Couch viewing at year's end, so before we commence (next week) with 2015's first Blu-ray and DVD offerings, let's play catch-up with some late-breaking entries from 2014.
Aileen Quinn and Carol Burnett in Annie (Photo: Columbia)
ANNIE (1982). The ugly indignation over a black Annie headlining the enjoyable new film starring Quvenzhané Wallis has led to the crackers nostalgically praising the 1982 adaptation, ignoring the fact that director John Huston's clumsy effort was a grotesquerie back in the day and hasn't improved an ounce over the decades. A fine cast (Albert Finney, Bernadette Peters, Tim Curry) struggles to stay afloat amid all the ham-fisted musical numbers and unearned sentiment, and Aileen Quinn is barely passable as the little orphan girl. And for the record, Carol Burnett's shrieking turn as Miss Hannigan is scarcely more effective than Cameron Diaz's awkward work in the new version.
Blu-ray extras include a sing-along option and a piece on Quinn.
Movie: *
Jack Nicholson, Stockard Channing and Warren Beatty in The Fortune (Photo: Twilight Time)
THE FORTUNE (1975). When the great Mike Nichols passed away this past November, the obituaries naturally focused on such classics as The Graduate (for which he won his Best Director Oscar), Who's Afraid of Virginia Woolf? and Working Girl while largely bypassing less celebrated titles like What Planet Are You From? and this period comedy that proved to be a box office bust despite the titanic teaming of Warren Beatty and Jack Nicholson. The superstars play Nicky and Oscar, two shysters of varying degrees of dim-wittedness trying to bilk a spunky heiress (Stockard Channing in a stand-and-take-notice debut) out of her riches. Nicholson's performance is especially inventive, but the farce often feels forced, resulting in a hot-and-cold endeavor.
The only Blu-ray extra is an isolated track of David Shire's adapted score.
Movie: **1/2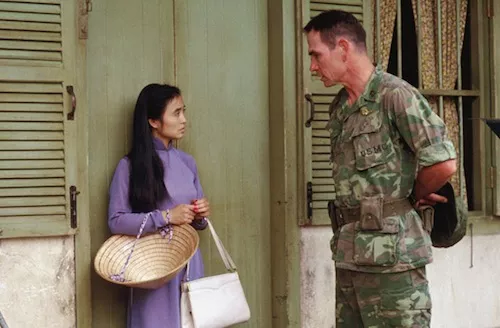 Hiep Thi Le and Tommy Lee Jones in Heaven & Earth (Photo: Twilight Time)
HEAVEN & EARTH (1993). Writer-director Oliver Stone's 1986 Platoon grossed $138 million and earned four Academy Awards (including Best Picture and Best Director). Stone's 1989 Born on the Fourth of July scored $70 million and took two Oscars (including Best Director). And Heaven & Earth? It made a paltry $5 million and received zero Oscar nominations, let alone any awards. And so it went with the third film in Stone's Vietnam War trilogy, decidedly the weakest movie in the bunch yet nevertheless deserving of a better fate than it received. Stone here elects to relate the conflict from the vantage point of a real-life Vietnamese woman: Le Ly Hayslip, a villager forced to endure one punishing hardship after another, including (but not limited to) torture, rape and family disownment. Will the American G.I. (Tommy Lee Jones) who appears on the scene be her white knight or will he contribute to her miseries? Stone's touch is more heavy-handed than usual, but newcomer Hiep Thi Le is quite good as Le Ly, while The Killing Fields Oscar winner Haing S. Ngor lends enormous dignity to his role as her father.
Blu-ray extras include audio commentary by Stone; a half-hour of deleted scenes; and an alternate opening.
Movie: ***
Spencer Tracy and Fredric March in Inherit the Wind (Photo: Twilight Time)
INHERIT THE WIND (1960). This still-relevant drama has its roots in an actual historical event: the infamous Scopes Monkey Trial of 1925, when a school teacher was arrested for teaching Darwin's theories of evolution in his Tennessee classroom. Spencer Tracy plays the liberal Clarence Darrow stand-in who defends the young instructor (Dick York), while Fredric March provides the fire and brimstone as the evangelical William Jennings Bryan-inspired prosecutor. Then there's Gene Kelly, cast against type as the H.L. Mencken proxy, the cynical newspaperman whose zingers include this beauty hurled at March's prosecutor: "He's the only man I know who can strut while sitting down." Inherit the Wind nabbed four Academy Award nominations, including one for Tracy. In typically dismissive style, the star quipped of his Best Actor bid, "I need another award like I need 10 pounds."
Blu-ray extras consist of the theatrical trailer and an isolated track of Ernest Gold's score.
Movie: ***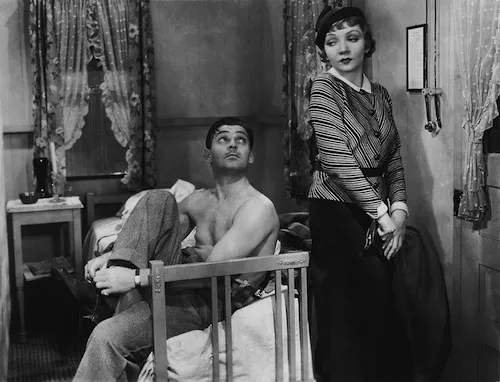 Clark Gable and Claudette Colbert in It Happened One Night (Photo: Criterion Collection)
IT HAPPENED ONE NIGHT (1934). After running away from her stifling family, a bratty heiress (Claudette Colbert) reluctantly hooks up with a raffish reporter (Clark Gable) on the road. Director Frank Capra's massive hit — one of Hollywood's defining screwball comedies — was the first and, until 1975's One Flew Over the Cuckoo's Nest and 1991's The Silence of the Lambs, only film to win all five major Oscars (Best Picture, Actor, Actress, Director, Screenplay).
Blu-ray extras include the 1997 documentary Frank Capra's American Dream (also included on the new Blu-ray for Mr. Smith Goes to Washington); Capra's first film, the 1921 short Fultah Fisher's Boarding House; the 1982 American Film Institute tribute to Capra; a 1999 interview with Frank Capra Jr.; and a conversation about the film between critics Molly Haskell and Phillip Lopate.
Movie: ***1/2
Joan Crawford in Possessed (Photo: Warner Bros.)
POSSESSED (1947). Two years after winning her Oscar for Mildred Pierce, Joan Crawford earned another Best Actress nomination for an equally intense performance. She stars as the mentally fragile Louise Howell, whose schizophrenia continues to percolate as she's repeatedly rejected by her former lover, David Sutton (Van Heflin). She reluctantly hitches herself to wealthy businessman Dean Graham (Raymond Massey) but really comes undone once she suspects David of being romantically interested in Dean's college-age daughter Carol (Geraldine Brooks). Misdiagnosed in some circles as a film noir — even the featurette on the Blu-ray is called Possessed: The Quintessential Film Noir (more quintessential than Kiss Me Deadly? Or Out of the Past?? Or Double Indemnity???) — this is actually a full-blooded melodrama in line with other Crawford flicks, though its most intriguing aspect is the manner in which it frequently takes Louise's POV and thus snares us in her delusional flights.
Blu-ray extras consist of audio commentary by film historian Drew Casper; a retrospective making-of featurette; and the theatrical trailer.
Movie: ***
Pamela Franklin and Maggie Smith in The Prime of Miss Jean Brodie (Photo: Twilight Time)
THE PRIME OF MISS JEAN BRODIE (1969). An often extraordinary movie centered on an extraordinarily complex character, this adaptation of both Muriel Spark's novel and Jay Presson Allen's play casts Maggie Smith as the title character, a headstrong teacher at the Marcia Blaine School for Girls in 1930s Edinburgh. Frequently declaring herself to be "in my prime," she's the only progressive instructor at the conservative school, preferring to teach her young charges about beauty, art and life rather than what's listed in the curriculum. At the same time, she's a huge fan of Mussolini and Franco, and it's her fascistic convictions — to say nothing of her tight hold on her students — that threaten to become her undoing. A film of ideas and attitudes, this features indelible turns from the entire supporting cast, particularly Celia Johnson as the rigid headmistress and Pamela Franklin as the cleverest pupil from the so-called "Brodie set." As for Smith, she earned a richly deserved Oscar for her excellent performance, while Rod McKuen scored a Best Original Song nomination for his hit single "Jean."
Blu-ray extras consist of audio commentary by director Ronald Neame and Franklin; the theatrical trailer; and an isolated track of McKuen's score.
Movie: ***1/2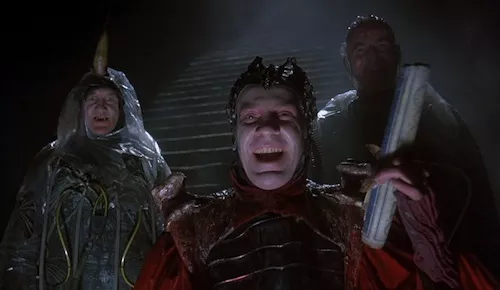 David Warner (center) in Time Bandits (Photo: Criterion Collection)
TIME BANDITS (1981). Given its year of release, this offbeat yarn stands as a gateway between the absurdist skits of Monty Python's Flying Circus in the 1970s — no surprise, since it was written by Python members Terry Gilliam and Michael Palin and directed by Gilliam — and the string of off-kilter fantasy flicks that would dot the '80s landscape (The Dark Crystal, The Neverending Story, Labyrinth, etc.). A modest box office hit that also managed to earn a rep as a cult film, this finds a young boy named Kevin (Craig Warnock) joining a group of dwarves as they travel through time and become involved with such figures as Napoleon (Ian Holm), Agamemnon (Sean Connery) and Robin Hood (John Cleese, another Python alumnus). All the while, they're being pursued by the Supreme Being (Ralph Richardson), who's seeking to recover the magical map they stole, and the Evil Genius (David Warner), who's hoping to claim said map for himself. Gilliam's films tend to be either awe-inspiring or overbearing, and this one manages to dip into both columns, with some brilliant bouts of fancy occasionally undermined by inane overkill.
Blu-ray extras include audio commentary by Gilliam, Palin, Cleese, Warner and Warnock; a 1998 conversation between Gilliam and film scholar Peter von Bagh; and a gallery of behind-the-scenes photos.
Movie: **1/2
Barbra Streisand, Amy Irving and Mandy Patinkin in Yentl (Photo: Twilight Time)
YENTL (1983). Twilight Time did well by Barbra Streisand fans in December: In addition to Yentl, the outfit also released the Blu-ray for 1975's Funny Lady, the sequel to 1968's Funny Girl (the film for which she won her Best Actress Oscar). Yet Yentl remains the more immersive Streisand experience, with the multitalented performer producing, directing, co-scripting (with Jack Rosenthal) and starring in this satisfying musical adaptation of Isaac Bashevis Singer's story "Yentl, the Yeshiva Boy." She stars as the title character, a Jewish woman who, frustrated by laws that prohibit her from studying the Talmud, disguises herself as a boy and ends up befriending a bright student (Mandy Patinkin) and his demure fiancée (Amy Irving). Nominated for five Academy Awards, the picture won for Best Song Score. One of the other nominations went to Irving for Best Supporting Actress, interestingly making her one of only two people (the other being Only When I Laugh's James Coco) to be nominated for an Oscar and a Razzie Award for the same performance (the Razzie voters are moronic; she's fine in the film).
The Blu-ray contains both the theatrical version and a director's cut that runs approximately four minutes longer. Extras include audio commentary by Streisand and co-producer Rusty Lemorande; an introduction to the film by Streisand; and deleted scenes.
Movie: ***