(View From The Couch is a weekly column that reviews what's new on Blu-ray and DVD.)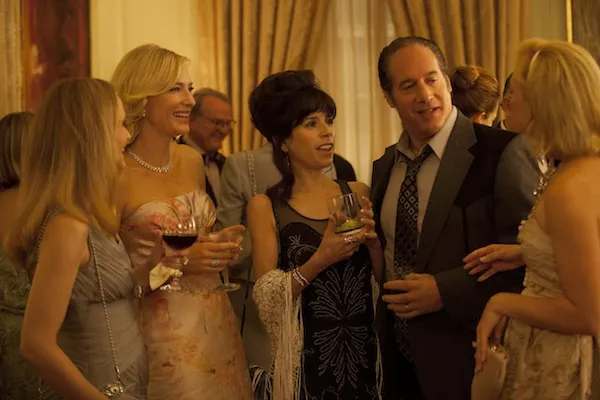 Cate Blanchett, Sally Hawkins and Andrew Dice Clay in Blue Jasmine (Photo: Sony Pictures Classics)
BLUE JASMINE (2013). Over the span of approximately four dozen films, Woody Allen has funneled inspiration from such literary and cinematic giants as Leo Tolstoy, Ingmar Bergman, Federico Fellini and even Bob Hope. With Blue Jasmine, he has opted to go full-on Tennessee Williams, with Jeanette "Jasmine" Francis (Cate Blanchett) serving as the 21st century reincarnation of Blanche DuBois, the tragic figure at the center of Williams' A Streetcar Named Desire. The tale begins as Jasmine moves from New York to San Francisco to stay with her sister Ginger (Sally Hawkins). The siblings couldn't be more different: Whereas Jasmine is used to wealth and prone to flights of fancy, Ginger operates in a working-class milieu and tends to be a pragmatist. But because Jasmine's Bernie Madoff-like husband (Alec Baldwin) turned out to be a crook, a financier living off the funds of his clients until he was caught, Ginger has taken pity on her now-homeless sister and has invited her to stay until she can get back on her feet. It's a situation that proves stressful for everyone, since Jasmine spends most of her time guzzling booze and complaining about her lot in life. Allen makes no apologies for his lead character's infuriating behavior, and neither does Blanchett. Jasmine Francis is obnoxious, overbearing, self-centered, conceited, vapid and deceitful — and yet we feel for her more than expected, thanks to Blanchett's intuitive performance. It's a superb turn, though it would be neglectful to overlook the contributions of Hawkins, Bobby Cannavale (as Ginger's uncultured boyfriend Chili) and, shockingly, Andrew Dice Clay (as Ginger's ex-husband Augie). The Blanche-Stella-Stanley triumvirate channeled through the characters of Jasmine, Ginger and Chili keeps the film rooted in the Streetcar district, yet in addition to paying tribute to Williams, Allen also seeks to comment on the repeated financial crises that have shattered this nation, showing that while they may have further divided the haves from the have-nots, they've nevertheless managed to claim victims from every tax bracket. It's in this light that Jasmine emerges at her most sympathetic: Like the title figure from 2012's The Queen of Versailles, an excellent documentary about a wealthy family losing it all, she's idiotic rather than evil, and in the final count, that does make a difference. Blanchett, Hawkins and Allen's script all earned Academy Award nominations.
DVD extras include two featurettes in which cast members discuss the film.
Movie: ***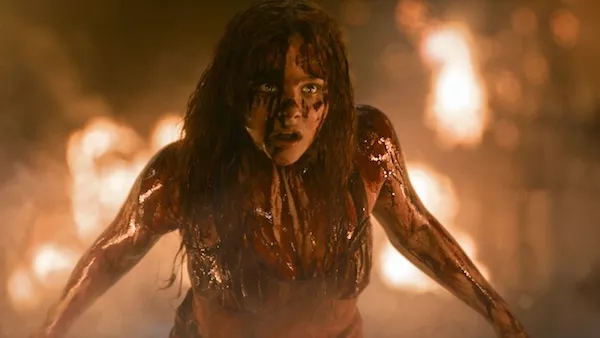 Chloë Grace Moretz in Carrie (Photo: MGM)
CARRIE (2013). Brian De Palma's 1976 adaptation of Stephen King's novel is one of the great horror classics of the past half-century, as well as marking one of those rare occasions when the movie was better than the book. There wasn't really a need for a remake, but then again, there wasn't really a need for remakes of The Fly and The Thing, and those later versions both proved to be excellent. That's definitely not the case with this wan retelling, which pales in practically every department when compared to the '76 model. As before, Carrie White (Chloë Grace Moretz) is the reclusive teenager who's tormented by both her classmates and her unhinged, Bible-thumping mother (Julianne Moore). But when she discovers that she possesses telekinetic powers, matters really begin to heat up. Director Kimberly Peirce and scripters Lawrence D. Cohen and Roberto Aguirre-Sacasa modernize the tale by pushing the anti-bullying angle, but it's really hard to top the cruelty inflicted on Carrie by the original's Chris Hargensen (Nancy Allen). Speaking of Chris, it's amusing to note that in the original, she was a blonde beauty while the sweet Sue Snell (Amy Irving) was more demure; in today's Hollywood, of course, Sue (Gabriella Wilde) now looks like a leggy runway model while Chris (Portia Doubleday) is pure grunge. Moretz and Moore are quite good but can't top Sissy Spacek and Piper Laurie, and it's lamentable that the wonderful Moore has now appeared in two needless remakes (the other being the atrocious Psycho update). As expected, more is less when it comes to the overblown CGI effects, and some minor plot tinkering (particularly involving the climactic prom sequence) only serves to weaken the material.
Blu-ray extras include audio commentary by Peirce; a making-of featurette; deleted and extended scenes; and a truly awful alternate ending that will elicit laughter rather than screams.
Movie: **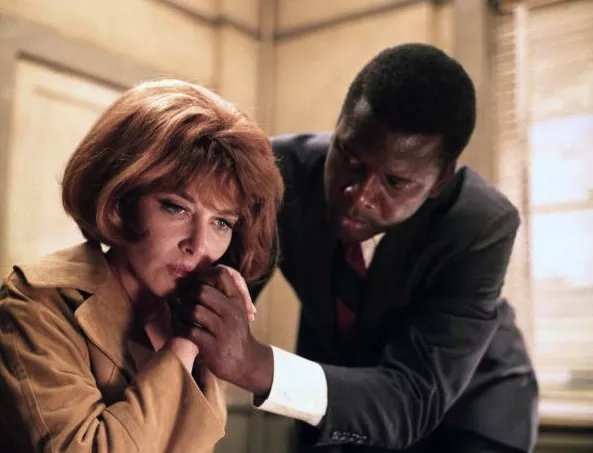 Lee Grant and Sidney Poitier in In the Heat of the Night (Photo: Fox)
IN THE HEAT OF THE NIGHT (1967). That 1967 marked a turning point in motion picture history can be evidenced by merely glancing at the five films nominated that year for the Best Picture Oscar. On one hand, there was The Graduate and Bonnie and Clyde, two electrifying motion pictures that signaled a bold new direction in American cinema; on the other, there was Guess Who's Coming to Dinner and Doctor Dolittle, two badly dated embarrassments that tried (and failed) to retain Old Hollywood charm in a changing world. In hindsight, it's not surprising that the winner turned out to be In the Heat of the Night, which expertly straddled the line by relating an old-fashioned murder-mystery in a jazzy style. Sidney Poitier stars in his most iconic role as Virgil Tibbs, a Philadelphia detective who reluctantly agrees to help redneck sheriff Bill Gillespie (Rod Steiger) solve a crime in the racist town of Sparta, Mississippi. Despite constant threats to his well-being, Tibbs rarely loses his cool, navigating his way through a complicated case while suffering the slings and arrows of outrageous good ole boys. For his part, Gillespie begins to respect the Northern big-city cop, though director Norman Jewison and scripter Stirling Silliphant never betray any of the characters' ingrained prejudices by having these traits vanish into thin air. Warren Oates (as a deputy) and Lee Grant (as the victim's wife) are among those contributing indelible portrayals, while Quincy Jones provides a score that perfectly complements the flavorful atmosphere. Along with Best Picture, this also won Oscars for Best Actor (Steiger), Adapted Screenplay, Film Editing and Sound.
Tibbs' rapid-fire slapping of a racist community leader (Larry Gates) is a classic scene and warrants its own featurette on the Blu-ray. Other extras include audio commentary by Jewison, the late Steiger, Grant and cinematographer Haskell Wexler; a discussion of the film's importance in the 1960s; and a piece on Jones' score.
Movie: ***1/2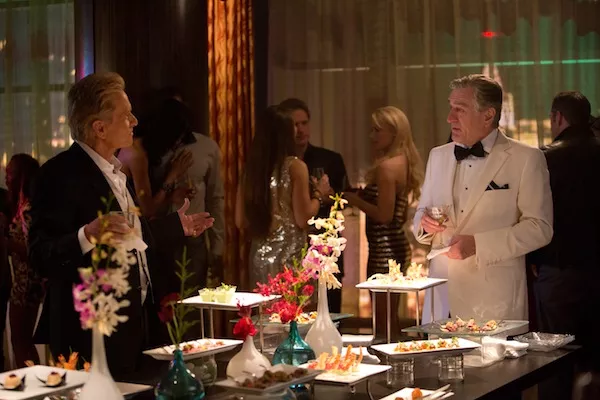 Michael Douglas and Robert De Niro in Last Vegas (Photo: Sony & CBS Films)
LAST VEGAS (2013). The bad news concerning Last Vegas is that it contains a guest appearance by a Viagra pill. After all, it seems that often when a comedy includes an elderly man about to engage in sex, there's gotta be some sequence in which he proudly whoops it up over his 12-hour-long hard-on — Robert De Niro, Richard Dreyfuss and even the late Andy Griffith (Andy Griffith!) are among the actors who chose to humiliate themselves in this manner, all for the sake of a cheap laugh that failed to materialize. The good news concerning Last Vegas is that the pill never leaves its pouch, as its owner, sex-seeking Sam (Kevin Kline), realizes that he can perform quite well without it, thankyouverymuch. Similar sentiments can be found throughout the movie, which looks at the exploits of four old guys without feeling the need to constantly make fun of the frailties that accompany their advanced ages. In short, don't expect to see a geriatric version of The Hangover — the film is better than that. Of course, let's not oversell this thing, which often plays out in the predictable manner of most studio-stamped comedies. Billy (Michael Douglas), Paddy (De Niro), Archie (Morgan Freeman) and Sam were all close childhood pals, and while most have remained friendly to each other over the ensuing decades, a rift between Billy and Paddy has made it hard for the whole gang to reunite. But once Billy announces that he's set to be married to a much younger woman (Bre Blair), Archie and Sam decide to throw him a bachelor party in Las Vegas — and they trick Paddy into joining them in Sin City. The material may be moldy at the core, but it gets a boost from the inclusion of several good gags on the part of writer Dan Fogelman as well as four game leads (especially Kline) who know how to sell them. Yet even with the all-male front, it's Mary Steenburgen who earns the highest marks with her ingratiating turn as a lounge singer pursued by both Billy and Paddy. Steenburgen has made a career out of providing extra pizzazz in supporting roles, and with Last Vegas, she once again holds the winning hand.
Blu-ray extras include audio commentary by director Jon Turteltaub and Fogelman; a behind-the-scenes featurette; interviews with the leading actors; and a piece on the location shooting.
Movie: **1/2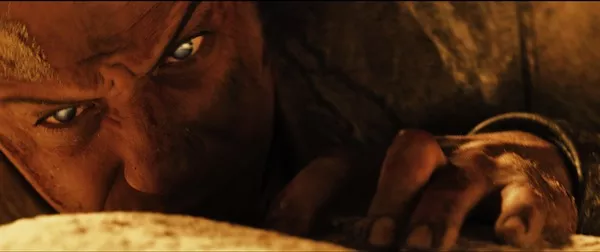 Vin Diesel in Riddick (Photo: Universal)
RIDDICK (2013). A step up from the 2004 slumber party The Chronicles of Riddick but still a few rungs down the ladder from 2000's pitch-perfect Pitch Black, Riddick, the third theatrical endeavor featuring everyone's favorite killer with a heart of gold, foregoes the disastrous epic scope of that middle movie and attempts to return to the more fleet-footed thrills of the original. Vin Diesel reprises his role as Riddick, once again stranded on a desolate planet teeming with hostile creatures. He manages to domesticate a canine-like critter — it appears that, even in space, a dog is man's best friend — but otherwise has his hands full warding off monstrous eel-scorpion thingies. In order to get off this rock, he activates a beacon so that mercenaries may come and find him — at which point he plans to steal one of their ships and vacate the premises. Two vessels do arrive, one commandeered by the vicious Santana (Jordi Mollà), the other captained by Boss Johns (Matt Nable), the father of Cole Hauser's cowardly (and deceased) merc from Pitch Black. With the arrival of these additional characters, the film turns into a slog, with Riddick playing feeble cat-and-mouse games with the hopelessly outmatched mercenaries. Battlestar Galactica's Katee Sackhoff has a sizable supporting role as Johns' second-in-command, a hardcore lesbian who nevertheless warms up to Riddick after he suggests she allow him to go "balls deep" in her, while Mollà (Bad Boys II, Elizabeth: The Golden Age) delivers another awful performance in an English-language film (this Barcelona-born actor has won several awards for his work back in Spain, so clearly something is getting lost in translation). The final half-hour is basically a reprise of Pitch Black, only lacking in characters we care about (Radha Mitchell and Keith David are sorely missed here) as well as deficient in any real suspense.
The Blu-ray contains both the theatrical version as well as an unrated cut that runs about 8 additional minutes. Other extras include a making-of featurette; a piece on the visual effects; a look at the character of Riddick; and the motion comic prequel Riddick: Blindsided.
Movie: **
Carl Möhner and Jean Servais in Rififi (Photo: Criterion Collection)
RIFIFI (1955) / THIEF (1981). The Criterion Collection engages in the art of the steal with its release of two celebrated crime capers.
Sandwiched between two great American heist flicks — John Huston's 1950 The Asphalt Jungle and Stanley Kubrick's 1956 The Killing — French writer-director Jules Dassin's Rififi employs the three-act structure that works well for any film of this nature: the meticulous planning of the robbery, the crime itself, and the aftermath during which things begin to unravel for the crooks involved. This absorbing drama has long been considered a model of its kind, and not just among filmmakers: Even actual crooks committing burglaries attempted to emulate techniques they learned from the movie! Jean Servais gives an appropriately lived-in performance as the world-weary (and world-wary) leader of the pack, while Dassin himself (billed under the pseudonym Perlo Vita) plays Cesar, the team member whose eye for the pretty ladies leads to the group's downfall. The robbery sequence, both dialogue- and music-free for its entire duration (a full half-hour), is justifiably famous among cineasts.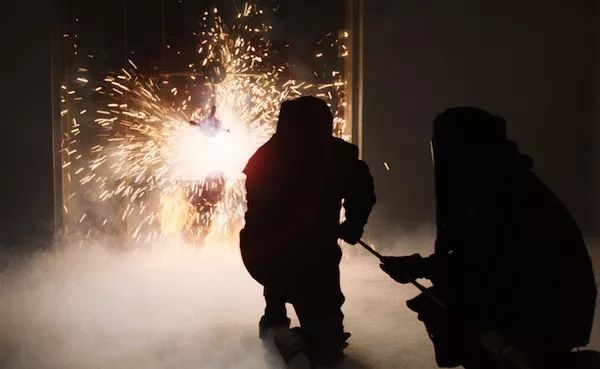 Thief (Photo: Criterion Collection)
Like Rififi, Thief finds its crooks working in dead silence as they carry out their heists. In this case, it's an outfit led by Frank (James Caan), a no-nonsense type who's hoping to make enough from one last job in order to quit the business and settle down with his new sweetheart (Tuesday Weld). To accomplish this goal, though, Frank unwisely enters into a partnership with a bigwig named Leo (Robert Prosky), a shrewd character who's reluctant to let go of his best burglar. Director Michael Mann made his feature debut with this film, and it laid the groundwork for the sleek stylistics later seen in his influential TV series Miami Vice. Caan delivers what might be the best performance of his career, while Prosky, James Belushi (as Frank's right-hand man) and Dennis Farina (as one of Leo's thugs) are among those making their big-screen debuts (you can also spot William L. Petersen, star of the director's 1986 Manhunter, very briefly as a stick-wielding bartender). Donald Thorin's cinematography and the score by Tangerine Dream also add to the film's slick atmospherics.
Blu-ray extras on Rififi include a 2000 interview with Dassin; set design drawings by art director Alexandre Trauner; production stills; and the theatrical trailer. Blu-ray extras on Thief include audio commentary by Mann and Caan; new interviews with Mann, Caan and Tangerine Dream band member Johannes Schmoelling; and the theatrical trailer.
Rififi: ***1/2
Thief: ***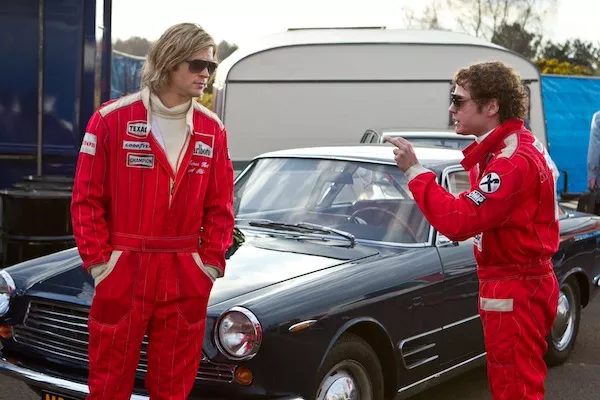 Chris Hemsworth and Daniel Brühl in Rush (Photo: Universal)
RUSH (2013). The latest from the Frost/Nixon team of director Ron Howard and writer Peter Morgan tracks the rivalry between Niki Lauda and James Hunt, two of Formula 1's superstar drivers back in the 1970s. Damn veracity and full speed ahead: While dramatic license was clearly applied to give the film its skeletal outline, it gets so many other details right that it even has the full blessing of Lauda himself (Hunt passed away years ago). The British Hunt (played by Australian actor Chris Hemsworth) is clearly the more outgoing of the pair, with a pronounced interest in sex (though it's not mentioned in the film, he claimed to have slept with more than 5,000 women), booze and a rock 'n' roll lifestyle. He's animated and outgoing, and everyone wants to orbit his sunny presence. In contrast, the Austrian Lauda (played by German actor Daniel Brühl) is not very attractive (his nickname among drivers was "the rat," due to his prominent buck teeth), tends to show little emotion and holds most people around him in contempt. The film traces their initial forays into the world of racing, with the bulk of the running time focusing on the incredible 1976 season. Lauda is the reigning Formula 1 world champion after finishing first in 1975, and this new season finds the two men's on-track competition being played out until the very last race of the season, a dangerous, rain-battered excursion at the Japanese Grand Prix at Mount Fuji. There's always a chance in sports films that the scenes set away from the hard-hitting action won't measure up, but Morgan writes the two leading characters with such complexity that there's never a concern the drama will go flat. Initially, it's set up that Hunt will be the audience favorite while Lauda will be his nasty antagonist, and while the movie never completely dispels that notion, it's balanced enough to allow sympathies to repeatedly shift. Between the excitement of the Formula 1 sequences and the excellent performances by Hemsworth and Brühler, even those who couldn't care less about auto racing — and who wouldn't know Niki Lauda or James Hunt from Richard Petty or Dale Earnhardt — should get a premium rush from a film that never eases up on the entertainment value.
Blu-ray extras include deleted scenes; a making-of featurette; a look at the real Hunt and Lauda as well as 1970s-era Formula 1 racing; and a piece on Howard's directorial approach.
Movie: ***