Forget what you've heard about the casting couch. Theatrical productions are costly and risky to mount, so the notion that producers hire actors solely on their willingness to sleep with the boss is mostly a myth.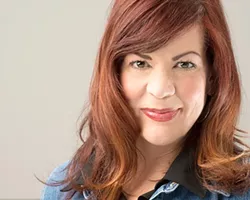 But a casting voting booth? That's definitely a thing. For audiences at the September 7 opening night of Donna Scott Productions' Eat the Runt, at the Harvey B. Gantt Center for African-American Arts + Culture, the instructions couldn't be more direct: Cast a ballot, cast the show.
Ticket buyers will see eight actors file onstage and form a line, explains the show's producer Donna Scott.
"[The voting] will be the very first thing we do," Scott says. "There will be a facilitator, most likely the director, Tonya Bludsworth, or me, and we'll say, 'Now you're voting to cast the character Merritt.'"
The first actor will step forward and say one sentence: "Hi, I'm Merritt," and then fall back into line, Scott continues. Then the second actor will step forward and say, "Hi, I'm Merritt," then the third advances and says – you guessed it - "Hi, I'm Merritt."
"We go all the way on down the line," Scott says, "until everyone onstage has introduced themselves as that character."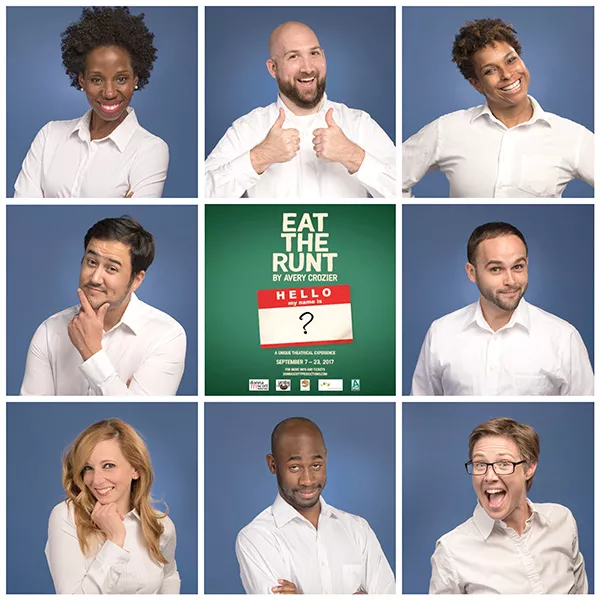 The "Runt" cast. (Photos by Weldon Weaver)
Next the audience takes over with their phones, texting their votes for who gets to play the role. The process is repeated until each of eight parts is filled for this wickedly funny workplace farce. Originally Scott and her co-producers were going to develop an app for voting, but they decided not to reinvent the wheel. They went with texting because they wanted to include as many people as possible in the voting process.
"Even if you had an ancient flip phone, you can still text. If people don't want to use their phones, we have what we call Luddite voting. They can cast their vote by dropping a picture of the actor they've choosing into a package."
Onstage video screens will allow the audience to watch the votes as they're tallied.
But the voters' task is not as easy as it first may seem.
The cast is evenly split along gender lines – four men and four women – and the play features no overtly male or female characters. In direction and dialog, the text of playwright Avery Crozier's comedy avoids the use of pronouns.
Stephen Seay, Stephen West-Rogers and Ericka Ross flail about during the "Runt" rehearsals. (Photo by Chuck Bludsworth)
"All of the names of the characters are unisex," Scott adds. "There is one character called Pinky, but with a little suspension of disbelief [anyone] can accept a male Pinky."
"We're dressing the cast members similarly, because we don't want to sway anyone's vote one-way or the other."
In fact, the only overtly visual cue that may sway a theatergoer's decision is skin tone. The diverse casting pool boasts a mix of black and Caucasian actors onstage.
It's a hell of a way to cast a show, and the producers, with a liberal assist from paying customers, are repeating the process every night of Eat the Runt's run, which after opening night, switches locale from the Gantt to Donna Scott Productions' customary home at Charlotte Art League.
"The play's the thing," goes the oft-quoted line from Shakespeare's Hamlet, but a theatrical production is not usually a thing at the Gantt. So how did Donna Scott Productions and their longstanding collaborators Charlotte Art League come to partner with the Gantt on the production of Eat the Runt?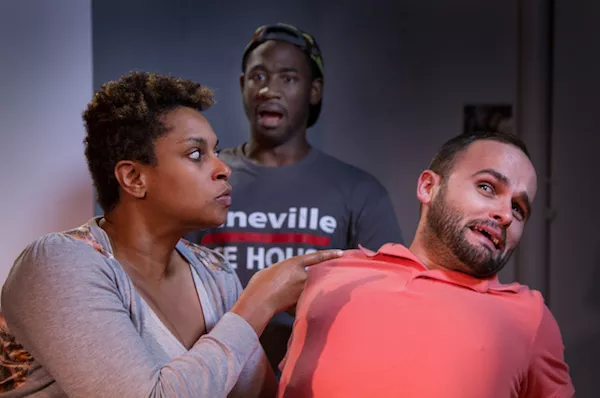 Ericka Ross gets all up in Stephen Seay's business while Kevin Aoussou looks on from behind. (Photo by Chuck Bludsworth)
Scott credits serendipity. Donna Scott Productions and the Gantt had wanted to collaborate since last year. They were just looking for the right project to launch their inaugural partnership, says Scott. Concurrently, the perfect project had been right under their noses – Eat the Runt, which Scott had already been planning to produce.
In retrospect, the partnership seems like a no-brainer, particularly considering the play's storyline. The plot revolves around a series of interviews for the job of Grants Manager at an art museum. Why not set a show based in an art museum in an actual art museum?
"It made sense for all three of us to collaborate and bring this production to the Charlotte community," says Gantt President and CEO David Taylor, adding that show creates a cross-marketing opportunity for the Gantt Center and Donna Scott Productions to bridge the gap between their audiences. "We saw the value in joining forces around a play that that is set in a museum and addresses diversity in a comedic way."
Taylor touches on a key theme for this production. The show's constantly changing cast is not just a stunt designed to break the fourth wall and draw the audience into the onstage antics. The constantly shifting cast is an integral component of the play's message about how we aid – or obstruct – diversity in the workplace and beyond.
Tonya Bludsworth (Photo by Weldon Weaver)
"There's so much going on in the world with gender equity and tolerance," says the show's director Tonya Bludsworth. "This show deals with it in a fun way through office politics."
The play's relevant theme of tolerance, plus its innovated use of extreme audience participation, is what first drew Scott to the show when she saw it staged in New York City in 2002.
"I could not believe that these actors were going to learn all the parts and the audience just gets to vote every night. What I saw exceeded my highest expectations."
"At that point their voting apparatus was a keypad on the arm of your chair," Scott remembers. "You voted and watched the tallies came up on a video screen onstage. It was mesmerizing."
After the show, the company held a talkback. Often this theatrical ritual can be a deadly dull experience, but Scott was bursting with questions. There are over 40,000 possible combinations possible with an eight-member cast. Could they ever get to a fraction of those combos? Did they have more rehearsal time than normal? How did they even rehearse this kind of a play?
Similar questions were swirling through Bludsworth's mind when Scott first approached her to direct Eat the Runt this spring. Bludsworth, Scott's partner along with Charlotte actor Glynnis O'Donoghue in Donna Scott Productions, was excited about the challenges posed by the property.
Chief among them is the fact that this show turns a theatrical truism on its head. It's often said that casting is 90 percent of a director's job, but in this case the director is ceding part of that task to people who have literally come in from off the street.
So many questions. Tracie Frank listens to Kevin Shimko in "Runt" rehearsals. (Photo by Chuck Bludsworth)
Bludsworth has hit the challenge head on by picking a crew of eight experienced and adaptable players who are more than up to the task, she says. Still, it takes a lot of preparation to get the actors trained to be comfortable with a show that's as shape shifting as a funhouse hall of mirrors, boasting all the twists and turns of a Rubik's cube.
"I love puzzles," Bludsworth says, "and this show has certainly been a test of my puzzling skills."
"There's no traditional way to rehearse this kind of show," she says."We've done some rehearsal techniques to make sure everybody gets to play every character at least once."
A primary tool Bludsworth employed to get her cast at the top of their game is a process she's coined "round robin rehearsals."
"A lot of the scenes are two person scenes so I would take two people and we would work the scene," Bludsworth says. "Then we would reverse the roles, and next we would rotate to a different group of two and work our way through the scene."
The actors already face a daunting task in learning their blocking and lines. But they confront extra challenges due to the production's role swapping. Casting changes can also flip the meaning of a scene and alter the play subtext and impact. Consider a simple kiss between two characters. How does the action change when the kiss crosses racial boundaries? What if the two actors happen to be the same sex? Suddenly this antic and fun comedy takes on dramatic weight, casting racial and sexual prejudices in a new light.
The show has an 18 years old and older warning on it, Scott cautions.
"It's definitely adult comedy."
Adding to the production's challenges is the space where the show will be staged on opening night. To be sure, the fourth floor of the Gantt is a beautiful and impressive space.
"When we first laid eyes on it, the fourth floor space took our breath away," Scott says. "One side of it is windows. Part of it is an outside open air balcony that faces Bank of America Stadium."
The Gantt Center space "took our breath away." (Photo by Mark Herboth)
But it's not exactly suited for theater.
"The biggest thing we lose at the Gantt is lighting," Bludsworth says, adding that the production team already brings in their own lighting for productions they mount at the Charlotte Art League. They plan to bring in limited lighting to the Gantt but they won't be able to do a complete blackout in the space.
That said, Scott and Bludsworth are excited to be at the Gantt, if only for one night.
"A big draw was the opportunity to put on a play in this beautiful space," Scott says. "It's very different from what we have been able to do in the past."
With luck, resiliency and professionalism Bludsworth and her cast will pull off opening night without a hitch. Then the very next day they will pack up the show and move it for the remainder of its run to Charlotte Art League.
"Yes. We're moving because [our job] wasn't hard enough already," Scott says laughing. The decision to stage one of the shows at the Gantt came later in the planning process she continues.
"I didn't even know that was an option," Scott explains. "It wasn't until [the Gantt] asked if we wanted to do one of the performances there that we considered it. Luckily, we had enough time to work it out."
For her part, Bludsworth factored the move into her plans.
"Once we knew we were going to be in the Gantt, I modeled my set and my blocking to match the site," she says.
"At the Art League we have moveable flats on rollers, that I can move them around. I'll set the stage the same way it will play at the Gantt. So when the actors move from one venue to another it will be fairly seamless."
Both Scott and Bludsworth are quick to praise their cast. They note that the actors got together on their own last spring, months before rehearsal officially started, to familiarize themselves with the show, and to come to grips with the power structures depicted in the play.
"They've made such a great connection with each other, and they've become a really tight cast," says Bludsworth. "Our actors are prepared no matter what happens."
For a tricky show like Eat the Runt, the theatrical equivalent of a high wire act without a net, they have to be.