I love the art of creating solutions through Johnson Public Administration. Public Administration is the field of government management that Woodrow Wilson created. Public Administrators are the troubleshooters of government that end up in the presidency.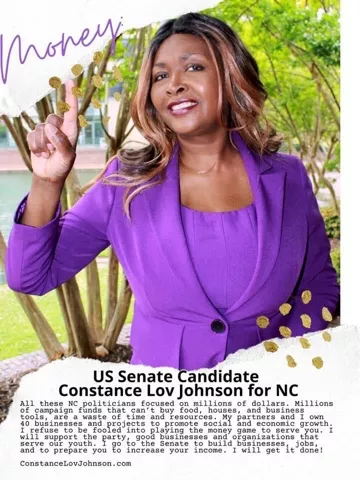 We are the scholars of government and can look at an agency's roadblocks and write a full report in a matter of a few days that glide the agency through the problem successfully. What I love about the Congress, federal government, and judicial branch is how each balances the other. In my view, that's what makes the problems easy to mend. If an issue arises that seems impossible for the Secretary of a department to address through rule making, I study the statutes and managing departments making the rule and can easily determine what is required to make it effective.
Constance Lov Johnson is also an awarded online school designer winning the 2021 Communicator Award of Distinction.
I then determine the people the rule will pertain to and how it will impact them. For example, Public Administrators can revise rules to suit a bipartisan infrastructure law to ensure the potential regulations succeed by omitting the Department of Transportation's obstacles prior to their submissions to the Federal Register. As a United States Senate Candidate, I seek to use my Public Administration doctoral experiences to bring forth laws that elevate the citizens' understanding of the federal government and how engaging in lawmaking and rule making can improve our society.
I am the only candidate in the race for the Senate that has a strong support system from both my state and federal officials for my governmental related work. I am, by far, the candidate with the greatest legislative lawmaking potential. I look forward to speaking to the citizens of North Carolina about my platforms. Look for my upcoming Wednesday reports starting in September on
constancelovjohnson.com
.
I am not accepting contributions to run for office and believe my abilities displayed through events and teaching you how to gain funds for your businesses will convince you that I have the talents you need in a legislator. Please join us at the
EMPLOYConference.com
. It's an on-site meeting for entrepreneurs to meet the grantors and contractors in person. The website provides three free classes to prepare you to secure the official numbers you need to apply for contracts and grants. I'm a former lead teacher and school administrator. I ran for superintendent in 2020 and North Carolina gave me a quarter of a million votes. That's enough of an incentive to not give up on utilizing this scholarly mind I have in government. I love you North Carolina and I'll keep fighting for our best lives.