Animal control officer Shannon Corkwell once spent an eight-hour shift emptying a South Charlotte home of cats. More than 30 starving and inbred feral cats clawed and leapt wildly to get away from officers in the squalid home on Providence Road. They were half-starved, wild-eyed inbreds "living in this house in filth, in their own sickness," Corkwell recalls. "You could see mountains of feces in the corners.
"They could not get out," she continues. "Everything was scratched up. You could see where the cats had tried to climb the windows to get out, but they were stuck. It was the saddest thing."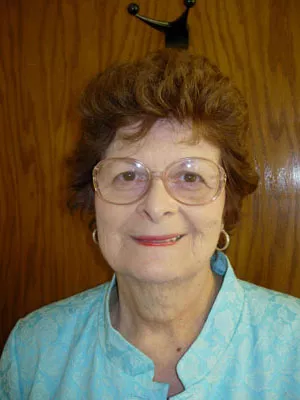 ETERNAL DAMNATION: Barbara Snow, executive director of the Humane Society of Charlotte, was once informed in a previous job that she was "going to hell" because she confiscated a hoarder's pets.
It took animal control officers, outfitted in haz-mat gear borrowed from the fire department, more than a day to rid the home of cat after feral cat. Some were dead; others were mere skeletons after subsisting for so long on the occasional meal the home's owner would toss inside. All would be euthanized at the Mecklenburg County animal shelter, a facility already overrun with healthy, adoptable cats that would never find homes.
Like many animal-hoarding cases, the Providence Road house didn't attract any media attention. The owner, an elderly woman who lived elsewhere, was never charged with animal cruelty. Her situation had merely spiraled out of control, authorities believed, and wouldn't happen again.
It was the dark side of love for animals -- or at least love as its practitioners understand it. Believing, often quite correctly, that the animals will be euthanized if their presence is discovered, animal hoarders claim that any home is better than none. In the eyes of many such people, these animals are their children, and they are saviors in an uncaring world.
Many people treat their pets like children, of course. I tell people often that I treat my cats better than most people treat their kids ... except I can feed them on the floor, let them to poop in a box and stay out all night -- all without drawing attention from social services. Sometimes, however, you have to wonder: Where's the line between a "crazy" cat lady and a pathological hoarder? It's an exaggerated fear, of course, but one many cat lovers, particularly female felinophiles, know. You hear the jokes. And God forbid you're a man with more than one cat -- you must be gay.
A Crazy Cat Ladies Society Web site (www.crazycatladies.org) extols the virtues of felines, and a Crazy Cat Lady action figure is even marketed online and in gift shops like Paper Skyscraper. "It starts innocently enough," advertisements for the toy read. "You find a little kitten on the doorstep and 'rescue' it. Then, somehow, another cat comes along, and you take that one in, too. Then another. And another. Before long, you look in the mirror and ...OH MY GOD!! You're a Crazy Cat Lady!!" It's something some cat lovers have wondered: Am I a crazy cat lady?
Turns out the gulf is huge between the cat lady and the cat hoarder: one's a benevolent version who makes felines her life's calling and the other's a malignant, if well-intentioned, animal abuser. Perhaps not unsurprisingly, it's the former group who are more open -- and fortunately more common.
Invasion of the cat snatchers
Earlier this year, a woman called me with a tale of animal-control woe, eager to share her version of the story in a last-ditch hope that media attention might help her. She painted a picture of bureaucratic cruelty complete with jackbooted thugs snatching her babies from her home, à la Elián Gonzales. She agreed to let me join her at an animal control hearing to witness firsthand the gross indignities that had been perpetrated upon her. I went out of sheer curiosity, wondering how, if she spoke in truth, authorities had cruelly wrenched these pets -- mostly cats and a few dogs -- from this devoted animal lover.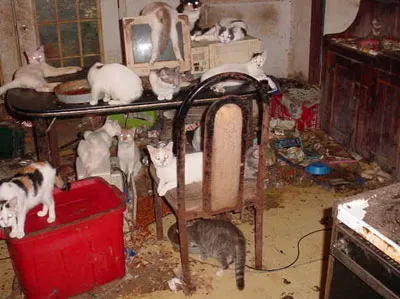 C.M. Animal control
TOO MUCH OF A GOOD THING: Charlotte-Mecklenburg Animal Control officers investigate new hoarding cases a couple of times each year.
Then I saw the pictures that animal control officers had taken inside her home and tried not to let my mouth gape.
"You're not going to help me ... 'cause my house is messy?" she said after the hearing, in which she didn't get her animals back. I hadn't promised to help her or even suggested that I could. But to describe the scenes from those pictures as "messy" would be like describing the marriage of Whitney Houston and Bobby Brown as only the slightest bit atypical. Inordinate amounts of feces were splattered on the floors and walls, in such a quantity as to suggest they hadn't just materialized the day before.
"My litter boxes needed scooping -- yeah, we had some accidents," she'd told me, understatedly, a few days before. "If I'd known they were coming, I would have cleaned it."
The woman's pain was real. She was angry and tearful; she wanted nothing more than to have her animals back. But no pet should have to live in such conditions. She seemed to be in total denial, and I didn't want to take advantage of that. But I wanted to find other cat hoarders and determine whether I, or anyone I knew, was at risk of becoming a truly crazy cat lady. I wanted to get into the filthy house, see the dozens of cats, and see what the crazy cat lady's life is like. But animal hoarders are a secretive bunch.