There is no shortage of buzzy restaurants in the Charlotte culinary scene, but sometimes you want to indulge in a more timeless meal and support an institution in the process. Here are a few ideas for good bets off of the beaten path.

Lang Van
3019 Shamrock Dr, Charlotte, NC 28215
Lang Van is an off-the-radar Vietnamese restaurant on the outskirts of Plaza-Shamrock. The first time I ate there, I was with two friends who are regulars. Our table was treated so warmly – with hugs and an "I love you!" when we left – that I assumed my friends must have spent a mint at the place. A few trips later, I realized that's how Lang Van takes care of everyone.
The authentic cuisine is terrific, with all of the heart-warming and belly-filling effects you'd expect from home cooking. With over 100 items on the numbered menu, there's something for everyone. It represents an opportunity to sample ingredients rarely seem on the American table, such as tripe and squid, while still offering safe bets for less adventurous palates, such as chicken, pork, and tofu. Items such as the crispy quail appetizer could appeal to both camps.
Amidst Lang Van's many decorations, there's a framed painting of the restaurant itself. It shows the storefront from the outside on a dark night, with the swirling cosmos beckoning above. After several very sweet experiences there, that's exactly how I picture Lang Van in my mind: otherworldly, a little magical, yet humbly tucked away on Shamrock Drive.

Zack's Hamburgers
4009 South Blvd, Charlotte, NC 28209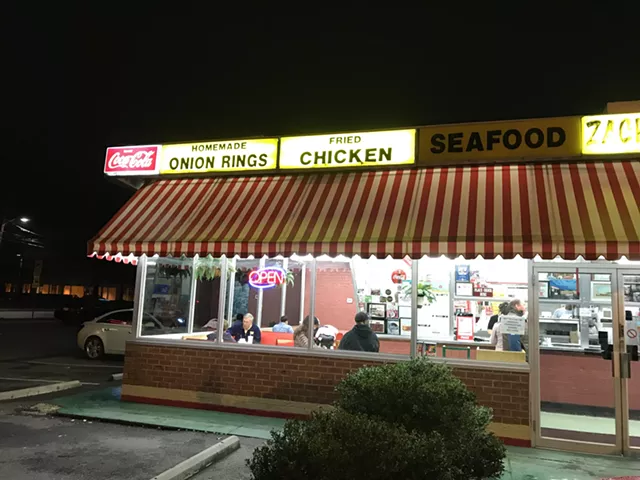 I'm the type of person to a notice an onion ring before an engagement ring, so I wish Zack's Hamburgers was closer to my regular commute. Regardless, the onion rings alone are worth going out of your way.
Zack's is family-owned hamburger stand that's been at the corner of South Boulevard and Scaleybark Road since 1975, and surely it hasn't changed much since then. The old-school building offers a menu of hamburgers, hot dogs, onion rings, grilled sandwiches, milkshakes, and other nostalgic fast food staples. 
The "Zack's Special" – two ground beef patties with American cheese, lettuce, tomato, pickles, onions, mayo, and special sauce on a lightly toasted sesame seed bun – is a regular on Queen City best burger lists. It comes with fries, but you'll want to add the side order of onion rings anyway. The crispy, perfectly battered onion rings hold their shape and texture and are well-worth the calories.
If you want to make a pit stop at Zack's, plan ahead. They're open for lunch and dinner from Monday-Friday only.

Green's Lunch
309 W 4th St, Charlotte, NC 28202
In operation since 1926, Green's Lunch is the oldest restaurant in Charlotte, an honor in which owner and proprietor Joanna Sikiotis takes pride. "I really can't wait to do something big for our 100th anniversary," she said. 
The Uptown eatery is best known for its hot dogs, though these days, Sikiotis burgers make up a significant portion of the business as well. For some perspective, a busy day usually means sales of around 200 hot dogs. 
Most of those are served "all the way," which means they're topped with mustard, ketchup, cole slaw, freshly chopped onions, and the secret housemade chili. "I'm the only one who knows the recipe," Sikiotis vows, though it is also written out and stored in a safe deposit box. Even her father, who formerly owned the place, has forgotten it in his retirement. 
Green's has had a short list of owners in its long history: the original Mr. Green, then his daughter-in-law (who invented the secret chili recipe and kept the restaurant through her divorce), followed by Sikiotis' father. She took over in 1989. 
Sikiotis attributes the restaurant's longevity to high-quality ingredients, but it's clear that the restaurant's frozen-in-time feeling also has something to do with it. With so few changes over the years, it's a destination where regulars can appease their cravings while new guests get a taste of Charlotte history.

Lupie's Cafe
2718 Monroe Rd, Charlotte, NC 28205
At Lupie's Cafe on Monroe Road, it feels like everyone knows each other and you're welcome to join the club. Maybe it's the fast, friendly, no-frills service, or the way you can observe other diners get up to clap an old friend on the shoulder, exchange greetings, and then return to their seats. Black-and-white staff photos from over the years hang framed on the wall like family portraits, and the brick building feels warm and cozy even on drizzly winter weekdays. 
The classic comfort food menu – think chili, chicken and dumplings, and meatloaf – has been so steadfast over the years that they've painted the daily specials into the mural on the side of the building. Indeed, Lupie's Charlotte cafe has held fast for over three decades – even after Hurricane Hugo ripped off the roof, two incidents where cars careened into it, and the closure of its second location in Huntersville.

Musashi Japanese Restaurant
10110 Johnston Rd, Charlotte, NC 28210
Sushi and other Japanese-inspired dishes such as tempura appear and reappear in food trends and fusion restaurants, so you won't be hard-pressed to find such cuisine in Charlotte. However, you'd have to look hard to find it in an authentic and low-key setting. Luckily, Musashi Japanese Restaurant on Johnston Road offers just that.
Hundreds of internet reviewers attest to Musashi's quaint ambiance, authenticity, and lack of pretentiousness, citing favorite dishes like the katsu, bento, gyoza, hand roll, and ramen offerings. Heads up: this place is small and off the beaten path, but not completely undiscovered. Expect a wait during peak mealtimes, but also expect to enjoy fresh, high-quality umami-forward meals.
What did we miss? Tell us about your favorite low-key eatery on the web at www.clclt.com, or get in touch with Creative Loafing Charlotte via Facebook or Instagram.
Emily Ferron is a community-minded writer with an endless appreciation for good food, drinks, and jokes. IG: @emilykateferron / www.emilyferronwrites.com.