(View From The Couch is a weekly column that reviews what's new on Blu-ray and DVD. Ratings are on a four-star scale.)
Lauren Bacall and Humphrey Bogart in Dark Passage (Photo: Warner)
DARK PASSAGE (1947). Just because Dark Passage is considered the runt of the Humphrey Bogart-Lauren Bacall litter doesn't mean it lacks its own measure of shaggy-dog charm. While certainly no classic like their previous collaborations, 1944's To Have and Have Not and especially 1946's The Big Sleep, it's not much below 1948's Key Largo, and it features a unique technical slant that at the time hadn't been seen since — well, since Lady in the Lake seven months earlier. Like that film noir gem, this one also employs (at least for a while) the camera as the protagonist's POV, so that viewers see events through his eyes. The viewpoint is that of Vincent Parry (Bogart), an escaped con who had been serving time for murdering his wife. Vincent has always maintained his innocence, and at least one person believes him: Irene Jansen (Bacall), who shelters him after his great escape. Bogart's face actually isn't seen until the movie is half over (a fact that reportedly distressed studio head Jack Warner as he envisioned box office losses), but the picture never loses its edge, with Vincent's plight (his run-ins with various suspicious characters never hurt for suspense), Bacall's anchoring performance, and the San Francisco location shooting overcoming a rather slender mystery.
Blu-ray extras consist of a making-of featurette; the 1947 Bugs Bunny cartoon short Slick Hare (co-starring Elmer Fudd and an animated Bogie, and with "cameos" by Bacall, Ray Milland, Frank Sinatra and others); and the theatrical trailer.
Movie: ***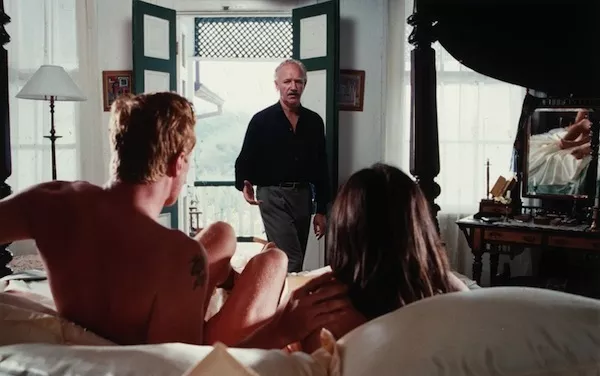 Gene Hackman (center), Rutger Hauer and Theresa Russell in Eureka (Photo: Twilight Time)
EUREKA (1983). Nothing personal against the teenage Indy, but isn't it a bit disconcerting seeing Nicolas Roeg's career get downsized to the point where he was forced to direct an episode of The Young Indiana Jones Chronicles? Surely the architect of a resume that includes the masterpieces Walkabout and Don't Look Now (as well as The Man Who Fell to Earth and Performance) deserved better than being relegated to episodic TV. Yet perhaps this was always to be the fate of a maverick whose works were often unclassifiable and always unique, more so since his later projects didn't match the critical or cult success of his earlier films. Eureka is an interesting (if flawed) effort, a morality tale as told by a madman (or perhaps just a mad man). Gene Hackman stars as Jack McCann, a prospector whose gold strike makes him rich but also leaves him susceptible to ennui and unrest for the remainder of his life. Having settled on his own island in the Bahamas, he ignores his wife Helen (Jane Lapotaire), dotes on his daughter Tracy (Theresa Russell), fumes at Tracy's impenetrable husband Claude (Rutger Hauer), belittles his friend and partner Perkins (Ed Lauter), and stands up to a bullying mobster (Joe Pesci) and his right-hand man (Mickey Rourke). To paraphrase a classic line from The Third Man, McCann was born to be murdered. Eccentric even by Roeg standards, Eureka, written by Paul Mayersberg (working from the true-life tale of Harry Oakes), goes overboard with the histrionics, and even the slight supernatural tinge that defines Roeg's movies is clumsily handled here. Yet there are some thought-provoking ideas and exchanges (love Tracy's line to Claude, "There's too much of you and not enough of me"), and the acting is impeccable.
Blu-ray extras include audio commentary by Roeg (recorded during the film's world premiere); an interview with Mayersberg; and an isolated track of Stanley Myers' excellent score.
Movie: **1/2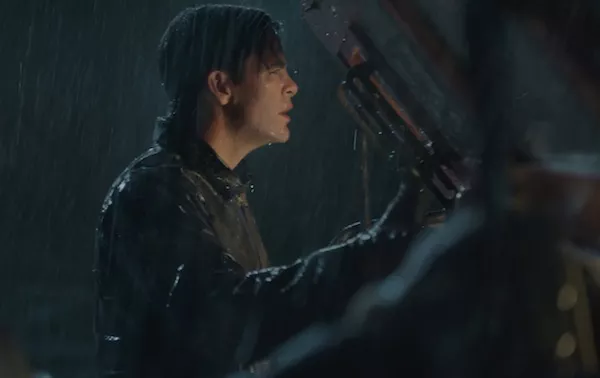 Chris Pine in The Finest Hours (Photo: Disney)
THE FINEST HOURS (2016). This waterlogged film never really makes its case that it's the best possible vehicle with which to honor what is often regarded as the Coast Guard's greatest achievement. Instead, it's likely that a History Channel documentary relying on vintage photos and interviews with those involved in the 1952 rescue would have been more emotionally stirring than this production which stolidly goes through the motions — after all, hagiographic depictions are often inspiring in nonfiction features, but in dramatizations, they skew toward unimaginative and overbearing. There's the earnest Coast Guard sailor (Chris Pine as Bernie Webber) who was at the center of a past nautical tragedy and must now redeem himself by saving those aboard the tanker; the gruff officer (Eric Bana) who barks out one dubious command after another; the obnoxious crew member whose ceaseless complaining grows (unintentionally) comical; the all-around nice guy who, because he's the gosh-darn nicest guy around, will invariably be subjected to the most gruesome fate; and so on. The subplots are as rigidly conceived as the characters, from a muted romance between Bernie and his sweetheart (Holliday Grainger) to the mumbling townspeople who still blame Bernie for the bad Massachusetts weather that killed their loved ones. And then there are the expected hurdles that make the rescue of the tanker crew even more difficult, including howling storms, pounding waters, dissension among the ranks, an undersized rescue vehicle, the lack of a navigational compass, and a power outage. Indeed, the only element missing is a monstrous, Jules Verne-approved squid to drag various seamen to their watery graves some 20,000 leagues under the sea.
Blu-ray extras include deleted scenes; a look at the real Bernie Webber; and cast interviews.
Movie: **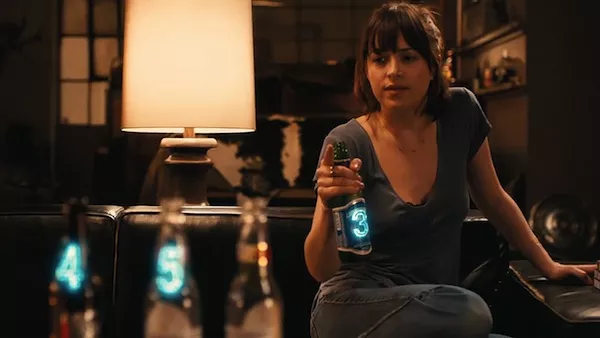 Dakota Johnson in How to Be Single (Photo: Warner)
HOW TO BE SINGLE (2016). There will be few other movies this year as frustrating as this adaptation of Liz Tuccillo's book, a quasi-"girl power" picture that alternates between perceptive and puerile at such breakneck speed that some viewers might be tempted to sue for whiplash. The focus is on a group of young women, all looking for different things. Alice (Dakota Johnson) separates from her boyfriend (Nicholas Braun) in order to find herself — or get laid by someone else, whichever comes first. Lucy (Alison Brie) wants a boyfriend but ends up dating men as insufferable as herself. Meg (Leslie Mann) wants a baby without commitment and opts for artificial insemination, but then finds herself getting mixed up with a nice (and younger) guy (Jake Lacy). And Robin (Rebel Wilson) is content with drunken flings. In what's become a common occurrence, Mann is again the best thing in a so-so movie, and her plotline is by far the most interesting. Alice's scenes with a player (Anders Holm) who becomes her confidante following their one-night stand are refreshing — it's rare to see a film in which a man and a woman remain friends after having casual sex — but the sequences involving the other dudes in her life (Braun's Josh, Damon Wayans Jr.'s David) are the victims of clumsy writing. Lucy is so annoying that all of her vignettes register as dead weight. And Robin is the latest role that allows Wilson to be confident, assertive and sex-positive ... and then puts her through the usual humiliating moves reserved for plus-sized people in movies. Too bad. With some tightening up of both characterizations and scenarios, this could have been a worthy entry in the rom-com genre. As it stands, though, it looks to remain always a bridesmaid, never a Bridesmaids.
Blu-ray extras include deleted scenes; a piece on Wilson; Wilson outtakes; and a gag reel.
Movie: **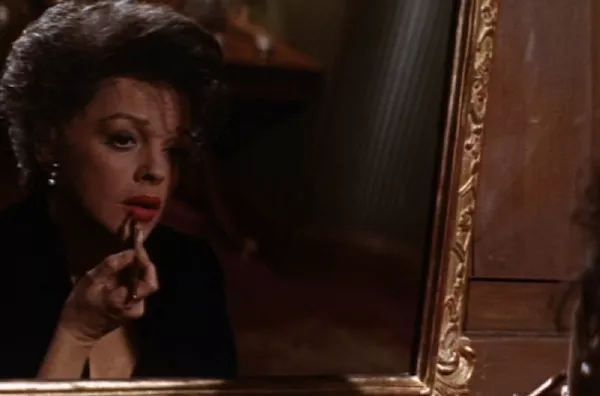 Judy Garland in I Could Go On Singing (Photo: Twilight Time)
I COULD GO ON SINGING (1963). I Could Go On Singing wasn't the last the world saw of the great Judy Garland — not a by a long shot. The beloved singer continued to perform in concert on both sides of the Atlantic, and she appeared frequently on television, including guest stints opposite hosts like Johnny Carson and Ed Sullivan and as the star of her own short-lived series, The Judy Garland Show. But cinema was another matter: Although her tragic death didn't occur until 1969 — an accidental drug overdose, at the painfully young age of 47 — this 1963 melodrama marked her final big-screen appearance. As a narrative feature, I Could Go On Singing is shaky; as a vehicle for Garland, it's a must-see. The icon plays Jenny Bowman, a world-famous American singer who long ago left her British lover and the illegitimate child they produced. Well over a decade later, she arrives in London for a concert and elects to visit her former paramour, the respectable surgeon David Donne (Dirk Bogarde). Jenny insists that David let her see their now-14-year-old son Matt (Gregory Phillips), who doesn't know the identity of his parents and believes he was adopted by David and his late wife; the good doctor reluctantly agrees, only to then watch as Jenny does everything in her power to take David away with her. The denouement is especially clumsy and unconvincing, but Judy is in peak form throughout, unleashing raw emotions in the dramatic scenes and exuberantly belting out a handful of songs when performing on stage.
Blu-ray extras include audio commentary by producer Lawrence Turman and film historians Lem Dobbs and Nick Redman; separate audio commentary by film historians David Del Valle and Steven Peros; theatrical trailers; and an isolated score track.
Movie: **1/2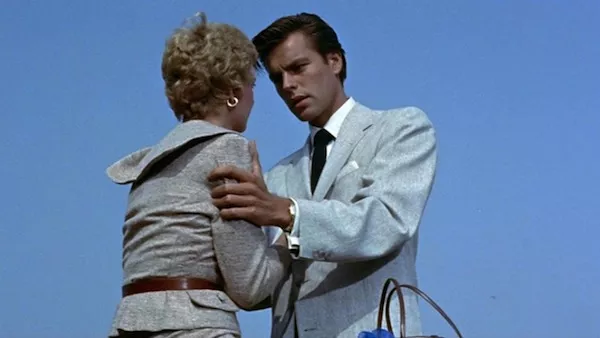 Joanne Woodward and Robert Wagner in A Kiss Before Dying (Photo: Kino)
A KISS BEFORE DYING (1956). Aside from the ludicrous 1993 Sharon Stone vehicle Sliver, the late novelist Ira Levin has had enviable success when it comes to Hollywood adapting his novels, with 1968's Rosemary's Baby, The Stepford Wives (the 1975 version, obviously, not the 2004 dud) and 1978's The Boys from Brazil all proving to be hits. Long before these efforts, though, there was A Kiss Before Dying, a silky-smooth adaptation of Levin's first novel. Robert Wagner is best known for his heroic roles — particularly on TV shows like Hart to Hart, Switch and the stellar BBC series Colditz (which has shamefully never been made available in this country; I was lucky to catch it as a boy while living in Portugal and long to see it again ... but I digress) — but here he's expertly cast against type as Bud Corliss, a college kid who's only interested in becoming rich by any means necessary. He figures his way to the big time is through his girlfriend Dorie (Joanne Woodward in only her second big-screen appearance), the daughter of a filthy-rich industrialist (George Macready). But once Dorie becomes pregnant, Bud realizes that she'll be disinherited by her dad, so he begins to plot her demise. A handful of deaths pepper the picture, but the first one is the most startling, and it leads to a deepening of the plot as Dorie's tutor (Jeffrey Hunter) and her sister (Virginia Leith) also become involved in Bud's sinister activities. A Kiss Before Dying was poorly remade in 1991, with Matt Dillon in the Wagner role and Sean Young playing both sisters (thus enabling her to win Razzie Awards as Worst Actress and Worst Supporting Actress).
The only Blu-ray extra is the theatrical trailer.
Movie: ***
The Land That Time Forgot (Photo: Kino)
THE LAND THAT TIME FORGOT (1975) / THE PEOPLE THAT TIME FORGOT (1977). Kino Lorber has just debuted the Edgar Rice Burroughs adaptation The People That Time Forgot on Blu-ray, and its predecessor was released by the label last summer. However, since we don't discriminate based on age, here are reviews of both titles, for those contemplating a double-feature purchase.
Director Kevin Connor and actor Doug McClure teamed up for several fantasy flicks during the 1970s, among them At the Earth's Core (another Burroughs adaptation) and Warlords of Atlantis. But the first of the four was The Land That Time Forgot, an often rousing adventure yarn in which a mixed group during World War I — British sailors from a torpedoed ship, a pair of passengers (McClure and Susan Penhaligan) from the ill-fated vessel, and the crew members from the German submarine that sank it — all find themselves stranded on Caprona, a hidden tropical island off the Antarctic coast. There, they encounter not only dinosaurs but also Neanderthals and the requisite active volcano. A higher budget and a longer running time would have made this even better, but even as it stands, it's a satisfying film in the Saturday-matinee mold, with interesting characters and engaging (if not always convincing) special effects.
Doug McClure and Dana Gillespie in The People That Time Forgot (Photo: Kino)
The film's success led to a sequel two years later, although The People That Time Forgot isn't quite as memorable as the picture which preceded it. Much like 1970's Beneath the Planet of the Apes found James Franciscus' astronaut hunting for the original film's missing hero Charlton Heston, this one finds McClure's best friend Patrick Wayne arriving in Caprona to locate his MIA buddy. First, though, he and his companions encounter a pesky pterodactyl, a helpful cavewoman (Dana Gillespie), and a tribe of brutal warriors fond of human sacrifices. Wayne is a dull lead (he has none of the big-screen presence of his dad The Duke), and the effects are even less polished than those in the previous film — still, there's enough of interest to make it an entertaining and undemanding time-filler. Gillespie, incidentally, is better known as a musician than an actress (she was a friend/disciple of David Bowie and also one of the first people to play Mary Magdalene in Jesus Christ Superstar). Look also for a brief appearance by David Prowse as the executioner; that same year, he would play Darth Vader in Star Wars.
Blu-ray extras on The Land That Time Forgot consist of audio commentary by Connor; a vintage making-of featurette; and the theatrical trailer. Blu-ray extras on The People That Time Forgot consist of audio commentary by Connor; separate interviews with Gillespie and co-star Sarah Douglas; and the theatrical trailer.
The Land That Time Forgot: ***
The People That Time Forgot: **1/2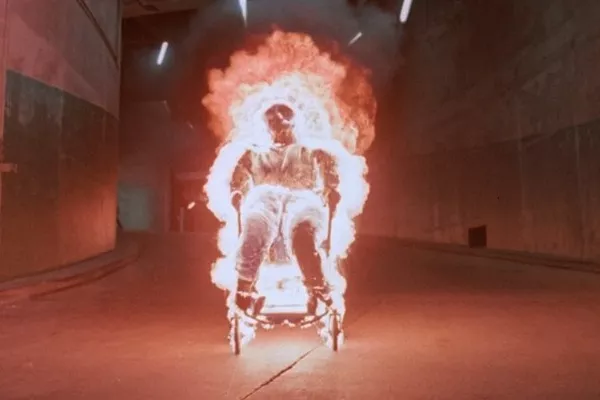 Manhunter (Photo: Shout! Factory)
MANHUNTER (1986). It may have been 1991's The Silence of the Lambs that led to Hannibal Lecter's iconic status as well as his anointment as cinema's all-time greatest villain (at least according to the American Film Institute's 100 Heroes & Villains list back in 2003), but the cannibalistic doctor's first on-screen appearance can actually be found in this compelling thriller which writer-director Michael Mann adapted from Thomas Harris' novel Red Dragon. Brian Cox is excellent as Lecktor (as it's spelled in this take), the brilliant serial killer who continues to play mind games from behind bars — it can be argued (and many have) that he surpasses Anthony Hopkins' Oscar-winning work in the role. Yet Lecter/Lecktor is just a supporting character here, with the main action revolving around empathetic FBI agent Will Graham (William Petersen) and his pursuit of Francis Dollarhyde (Tom Noonan), a murderous psychopath whose media moniker is The Tooth Fairy. Innovatively shot by ace cinematographer Dante Spinotti (L.A. Confidential, Mann's The Last of the Mohicans), this contains at least two bravura sequences that still stand out: the fiery fate of a pesky tabloid reporter (Stephen Lang) and the "In-a-Gadda-da-Vida"-driven finale. The same story was later employed in 2002's underrated Red Dragon, with Edward Norton as Graham, Ralph Fiennes as Dollarhyde and, of course, Hopkins as Lecter. Look for Frankie Faison in a brief bit as a police lieutenant; interestingly, he would later play head orderly Barney in The Silence of the Lambs and its follow-ups.
The new Collector's Edition Blu-ray contains both the R-rated theatrical version and an unrated Director's Cut that adds approximately four minutes. Extras include audio commentary by Mann; new interviews with Petersen, Noonan, co-star Joan Allen, and Spinotti; and the theatrical trailer.
Movie: ***1/2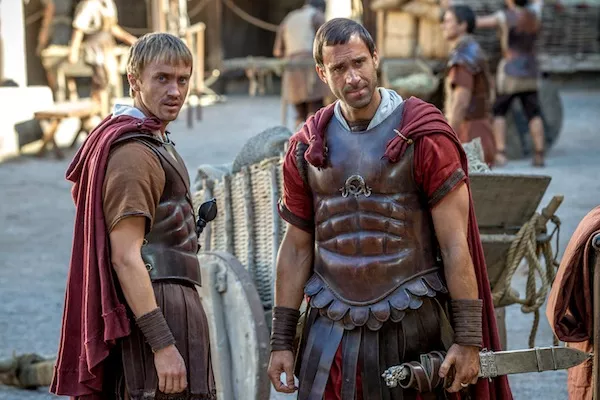 Tom Felton and Joseph Fiennes in Risen (Photo: Columbia)
RISEN (2016). What's most surprising about Risen is its restraint, as it's a religious picture measured enough to appeal to filmgoers of all persuasions — in other words, no one had the bright idea of casting Rush Limbaugh as one of the disciples or hiring Ben Stein to serve as the voice of God. It's just too bad it's not a bit better, since its modesty also leads to a lack of passion (pun not intended). Joseph Fiennes plays Clavius, a Roman officer ordered by Pontius Pilate (Peter Firth) to locate the missing body of Jesus after it disappears following His crucifixion. As Clavius sets out on his investigation, gathering evidence and interviewing witnesses, he starts to wonder if Christ was indeed more than just a man. In essence, Fiennes is playing George Clooney's role in the film-within-the-film of Hail, Caesar!, minus the ample laughs. Fiennes is fine in the part, and those keeping track of what the Harry Potter gang has been doing will be interested to learn that Tom Felton (Draco Malfoy) appears as Clavius' assistant. But director Kevin Reynolds, who co-wrote the screenplay with Paul Aiello, often adopts the restrictive impulses of those otherwise sturdy religious flicks of yesteryear, the ones which wouldn't even allow the camera to gaze upon the face of Jesus (or, rather, the extra cast as Him). Risen does give us a Jesus in Cliff Curtis, but he remains a beatific cypher, and the takeaway is that, in the same distancing manner as those black-themed pictures told through the eyes of white protagonists, here's a Biblical yarn related not through Christ Himself but an individual late to the party. It's not an uncommon approach, but in its focus on the manhunt rather than the man, it basically turns the greatest story ever told into a Very Special Episode of CSI.
Blu-ray extras include audio commentary by Aiello and his brother, producer Patrick Aiello; a making-of featurette; and deleted scenes.
Movie: **1/2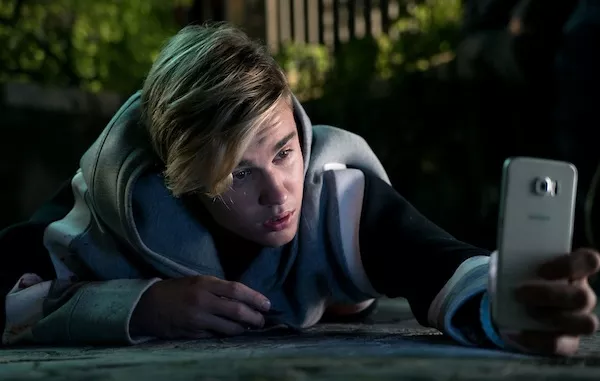 Justin Bieber in Zoolander No. 2 (Photo: Paramount)
ZOOLANDER NO. 2 (2016). As far as continuing sagas go, this abysmal sequel is on a par with such recent disasters as 2013's A Good Day to Die Hard, 2014's 300: Rise of an Empire, and 2016's Republican presidential primaries. The 2001 original cast Ben Stiller as Derek Zoolander, an imbecilic male model who becomes a patsy in a conspiracy plot that explains why there are no male models over the age of 30 (Logan's Runway, as it were). Owen Wilson co-starred as fellow model Hansel, while Will Ferrell appeared as the flamboyant villain Mugatu. All three are back, as Derek and Hansel attempt to become relevant again in the world of fashion while Mugatu breaks out of prison. A different celebrity can be spotted every couple of frames — Katy Perry, Susan Sarandon, Neil deGrasse Tyson — but none of these cameos inspire even so much as a wan smile. Benedict Cumberbatch turns up as an androgynous model named All, but his only purpose is to cue daft jokes about whether he has a "hot dog" or a "bun." Mugatu eventually becomes important to the plot, but Ferrell proves to be as tiresome with his shenanigans as Stiller and Wilson are with theirs — in fact, all the actors try so hard to deliver anything of comedic value that the force of the combined flop sweat could crash through any levee anywhere. The late, great David Bowie had an amusing cameo in the first Zoolander, which made sense given his own ties to the fashion industry. There's no comparable trade-off in this picture, unless you happen to be a fan of Justin Bieber. Juggling jokes that are predictable with gags that are idiotic, Zoolander No. 2 brings to mind a lyric from Bowie's "Fashion": "It's loud and tasteless and I've heard it before."
Extras on the unrated Magnum Edition Blu-ray include a making-of featurette; a piece on writer Drake Sather, who created the Derek Zoolander character (and who committed suicide in 2004); and a mock ad for Youth Milk.
Movie: *