Walk through Fourth Ward in Uptown and it's easy to imagine a Charlotte from 100 years ago. The old homes with wide front porches, wavy glass and interesting architectural features give us a glimpse into our city's history.
One, in particular, has withstood the test of time — a test that in Fourth Ward has proven harder than others. The neigborhood evolved from a flourishing pre-automobile mill town at the turn of the century to the medical center of Charlotte in the early 1900s. The area was then devestated during the Depression, and later became a majority black neighborhood due to white flight. Residents remained prideful of Fourth Ward for decades, but entering the 1970s, it became blighted, and eventually it was all but abandoned. A group of neighborhood advocates led a rejuvenation effort in the '70s, trucking in historic homes from around the state to match the ones that were still standing.
Only a few structures have witnessed all the changes Fourth Ward has gone through, and one of those is the McNinch House on Church Street.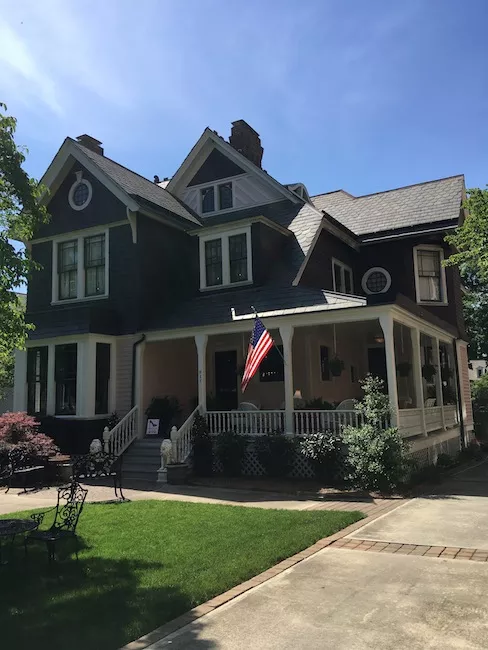 McNinch House has stood in its spot on College Street since 1892. (All photos by Vanessa Infanzon)
Built in 1892, the McNinch House's gardens, inviting porch and Queen Anne-style architecture entice a passerby to stop and look. It may seem an impossible luxury to go inside and see the original woodwork and fireplaces, and listen to the stories about the house. But it's not. In 1989, Charlotte native Ellen Davis opened the house as the McNinch House Restaurant after 10 years of renovations.
"I always wanted a restaurant and I always wanted an old house," Davis said. "So here I am. I saw this house through rose-colored glasses and envisioned a fine-dining experience in a quiet, candlelit atmosphere for my guests to enjoy."
Davis brought that vision to fruition, and McNinch House Restaurant now provides exquisite fine dining in one of Charlotte's historical landmarks, but with an atmosphere and relaxed vibe that may not always be associated with such an upscale venue.
Before Davis bought the McNinch House in 1978, it was home to Samuel S. McNinch and his family, who had lived there since 1907. The McNinch family was active politically — the senior McNinch was mayor of Charlotte from 1905 to 1907; his son, Samuel S. McNinch, Jr., served as county commissioner for six years, and the senior McNinch's brother, Frank McNinch, was mayor of Charlotte from 1917 to 1920.
Julia McNinch, the daughter of McNinch, Sr., hosted troops from west Charlotte's Camp Greene during World War I. If she meant to attract a suitor, her idea worked. She married a Navy man, 1st Lt. John K. Slear from Pennsylvania, in 1920. She went on to be an attorney in Washington, D.C. Mementos from the soldiers and events hosted at the house are on display in Charlotte-Mecklenburg Library's "Mecklenburg County and the Great War (1917-1919)," an exhibit on the third floor of the Main Library through November 11.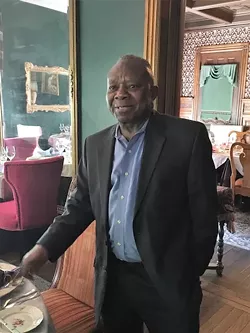 Anthony Wesley has been working at the McNinch House Restaurant for 16 years.
According to the restaurant's wine director, Anthony Wesley, three U.S. presidents — William Howard Taft, Teddy Roosevelt and Woodrow Wilson — were guests at the McNinch House. Historical records verify that President Taft's visit coincided with the May 20, 1909, celebration of Mecklenburg County's declaration of independence — known as Meck Dec Day.
Mary Groom McNinch, Frank McNinch's daughter, wrote "Ride of Captain Jack," which details Captain James Jack's courageous, but often forgotten journey from Charlotte to Philadelphia in 1775. He was carrying Mecklenburg County's set of Resolves and the Mecklenburg Declaration, documents associated with Meck Dec Day and the beginning of the American Revolution. A sculpture of Captain Jack on his horse is at 100 North Kings Drive.
The McNinch House is about 6,000 square feet with several sets of large pocket doors separating what were the sitting room, library and dining room, which now serve as the restaurant's dining rooms. The house has 10 coal-burning fireplaces, still with the original ceramic tiles. Chandeliers, once operated by gas or candles, have been adapted for electricity.
Wesley has worked at McNinch House Restaurant for 16 years and shares the history as if it's his own, the pride in his voice coming through in each story he tells. "When the Vanderbilts visited here, they were so impressed with all the detailed woodwork," Wesley said. "They contracted the folks to come over to do the interior of the Biltmore."
The woodwork in McNinch House is original to the house and designed by Victorian craftsman Karl Bitter, who also worked on the Biltmore Estate in Asheville.
A gold-framed mirror sits prominently in the center dining room. It came from the Selwyn Hotel, which was at the corner of Trade and Tryon streets, close to where Charlotte Marriott Center City is located. When the hotel was scheduled for demolition, prominent Charlotte residents were able to take pieces from the building as gifts. "This mirror happened to be in the lobby of that hotel," Wesley said. "It's a perfect fit. It looks like it came with the house."
The McNinch House Restaurant feels a little like a museum with its black-and-white photos, oil paintings, large furniture and dark drapes. Once settled in, the staff sets the tone for a warm and comfortable atmosphere. There's no pretension here — even if one might assume there would be.
Tables are decorated with colorful cloth napkins and decorative crystal and china. Staff set each table differently, according to their own color preferences. Wesley has a well-thought-out opinion about which set of china goes best with the lavender napkins. When I visited, he all but scoffed at the choice made at one table. It's all in good fun.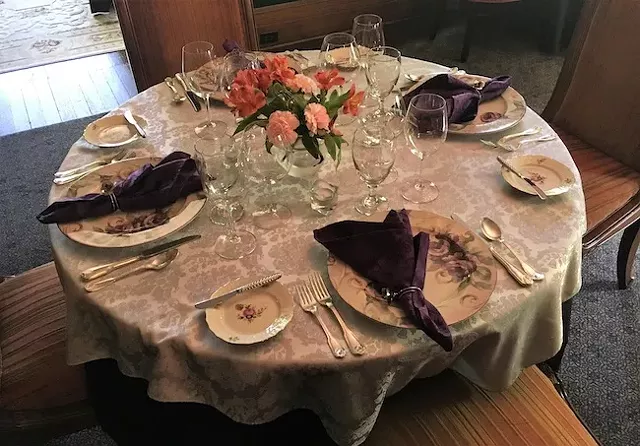 A table setting at McNinch.
Chef Matthew Shepard trained at Johnson & Wales University in Charlotte and has been at the McNinch House for three years. He takes pride in his gardens, which are filled with tomatoes, sage, cabbage, apples, cucumbers and squash.
Every year, the gardens produce more than the chef can use. During the summer, a basket of extra tomatoes, squash and cucumbers are left on the gate for people to take for free.
The McNinch House Restaurant is only open for dinner from Tuesday through Sunday. Reservations may be made between 6 and 7:30 p.m. only. There is one seating per table unless it's a special holiday such as Valentine's Day. This means you have the table for the entire evening.
The menu includes an opening course with options such as crab cakes with Louisiana-style remoulade and an English pea soup with potato guafrette, buttermilk crème Fraiche and a crab-mango salad. Main courses feature the rosemary and Dijon crusted rack of New Zealand lamb — a recipe that hasn't changed since Davis first opened the restaurant — and duck, quail, filet and seafood dishes. Chocolate cream pie, lemon meringue pie and deconstructed German black forest cake make the dessert list. A coffee program is available to diners.
Each course may be accompanied by a wine. Wesley takes care choosing, knowing that the suggestion of a wine with a specific meat may not always be correct — the sauces and spices in the dish are the primary players.
"It's not the protein that determines the wine," Wesley said. "[The meat] plays a secondary role."
If Wesley notices an untouched glass of wine, he'll find another style of wine for the guest. He knows wine is as much about personal preference as it is finding a balance with the food's ingredients.
A dinner at McNinch House Restaurant is a splurge, for sure — the five-, six- or seven-course options range from $95 to $159 per person, with an additional cost for wine pairings. Impress a business associate with the Chef's Table, an opportunity to hear Shepard give details on ingredients and thoughts behind his creations.
But let's be honest: If you're a Creative Loafing reader, you're not trying to dish out that kind of dough. Consider wine and cheese on a Tuesday or Wednesday evening from 4 to 6 p.m. on the porch or in the front gardens. Staff members set up tables with umbrellas and serve wine by the glass, $10 to $18, or by the bottle, $42 to $100. Cheese plates are $18 and served with three kinds of North Carolina cheeses, house-made crackers and crostini, house-made jam and honey. No reservations needed, just the way we like it.
If you're lucky, Wesley will join you on the porch to share a story or two about the McNinch House. There's plenty of them to tell.