Growing up in Compton, Calif., during the volatile '80s and '90s, Kendrick Lamar's friends called him K.Dot. The nickname he earned as a kid stuck through his early hip-hop mixtapes, creating a kind of character, like one you'd see on television. When it came time for K.Dot to look in the mirror and truly tell his story through music, he knew he had to drop the monicker. Kendrick Lamar had to be himself.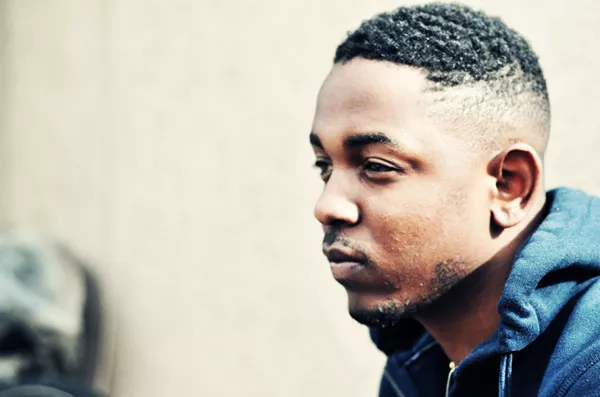 In October, Lamar released his major label debut, good kid, m.A.A.d city, and the 25-year-old will perform at the Fillmore on Sept. 11 as the West Coast throne's newly christened heir. There have been plenty of bumps in the road in getting to this point.
Many current fans can't say they were around when Lamar was still K.Dot. In high school in 2003, Lamar, then 16, linked up with Los Angeles indie label Top Dawg Entertainment. A string of mixtape releases earned him spots opening for artists including Game. K.Dot decided to drop the stage name when he was well on his way to becoming the artist he is now — one who has landed in tabloids for his collaborations with Lady Gaga and has caused thousands to scramble for headphones in order to catch a whiff of any his new music leaks. But back then, Lamar lived through struggles that have fueled his rhymes.
As a narrator explains on "Chapter 6" from his 2011 release Section.80:
There's a more important topic I'd like to discuss.
The dysfunctional bastards of the Ronald Reagan Era.
Young men that learned to do everything spiteful.
This is your generation. Live fast and die young.
Who's willing to explain this story?
Lamar's first independent album, Section.80, is set against the '80s backdrop of drugs, gangs and political unrest that engulfed his community. The unrest was spurred on by the generation that came of age in the G-Funk era and watched West Coast artists such as Dr. Dre, Snoop Dogg, Tupac and Warren G not-so-quietly aim for hip-hop's throat. That generation's offspring, which includes Lamar, grew up steeped in the culture, and also has a personal understanding of the West Coast lifestyle and frustration communicated through hip-hop.
Lamar was only 4 when the Los Angeles riots started. He was 8 when he saw his childhood idols, Tupac and Dr. Dre, film the iconic video for "California Love" — a moment that never left him. Neither did the wisdom Lamar got from his family.
His father was a member of the Gangster Disciples, a volatile Chicago gang; he moved west and landed in Compton with Lamar's mother. Lamar was born in the "trickle-down" political era, and the ills of his upbringing are directly tied to those years.
Time will dictate whether Section.80, released on TDE, will be labeled a seminal album, but it certainly marked a regime change. His 2010 release Overly Dedicated showed immense promise, but while it shot for the ears, Section.80 goes hard for hearts and minds. Lamar established himself as the mouthpiece of a generation born during the Reagan era and trying to sort out the strife of his peers' upbringing while fighting against attention deficit to see it through.
Section.80 is raw, angry and intense while also poignant, thought-provoking and, ultimately, poetic. Similar to the split personality in Tupac's music, the heart of Lamar's work is hidden beneath layers of OG knowledge.
In the opening lines of Lamar's "Poe Man's Dreams," he spits, "I used to want to see the penitentiary way after elementary/Thought it was cool to look the judge in the face when he sentenced me/Since my uncles was institutionalized, my intuition has said I was suited for family ties."
Luckily, he wasn't. After watching members of his family disappear into cycles of gang culture, poverty and crime, Lamar was able to filter the wisdom into something greater. By the time Section.80 dropped, word was out that Lamar had been invited to collaborate with Dre on Detox.
In prideful West Coast fashion, Lamar responded on "The Spiteful Chant" — "Everybody heard that I fuck with Dre and they wanna tell me, I made it/ Nigga, I ain't made shit/If he gave me a handout, I'ma take his wrist and break it." That should clarify any notion that he was discovered by Dr. Dre.
Lamar's tight-knit, Black Hippy family — himself, AbSoul, Jay Rock and Schoolboy Q — had done the work and earned its place in hip-hop on its own. But it's impossible to look past what Dre and Lamar could do for each other.
In signing Lamar, Dre further cements his status as tastemaker, this time plucking the next Eminem from his own backyard. For Lamar, it's an opportunity to team up with an idol who has the business savvy that's turned the most ferocious of MCs into multimedia conglomerates. And Lamar didn't sign with Aftermath alone. His whole Black Hippy crew went under the Interscope umbrella when he inked his deal last March.
Despite a jump from being an indie all-star to mainstreamer-on-the-verge, his consistency has remained. Like Tupac before him, Lamar's charisma made the transition easy. His bars are easier to digest, the hooks are embedded in the listener's ears and the artist is more saturated than he's ever been.
His Dre collaboration, "The Recipe," exemplifies the duo's commonality. While the West Coast is ready for new voices, its culture of women, weed and weather hasn't changed.
On Section.80's "Poe Man's Dreams" Lamar laments, "This for my pops, on his lunch break, eating in the parking lot/On 'Wanna Be Heard,' probably thought he worked my nerves, but really he was stressing me getting what I deserved."
The reward of his never-changing convictions? Moving his parents out of Compton, which had been the geographic center of his universe and vivid world view; the place that set him apart lyrically from the things he'd seen and experienced. Compton will always be home, but for the rapper, the opportunity to set his parents up was priority No. 1.
Now, instead of fighting to be heard, his opinions — like his recent stance against the idea of voting — are the headlines. As he soaks up expanded media attention, he also exposes the underlying innocence of his worldview. The questions he raises, the way he vents his stress — at his core, Lamar is still that kid searching for answers, and those of us who are listening are all part of the quest.
Kendrick Lamar with Ab Soul, Jay Rock. 8 p.m., Sept. 11. $33. The Fillmore. www.fillmorecharlottenc.com.