HOUSE AT THE END OF THE STREET
*1/2
DIRECTED BY Mark Tonderai
STARS Jennifer Lawrence, Max Thieriot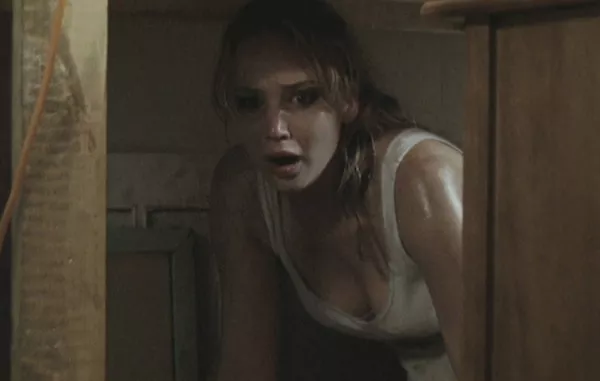 Jennifer Lawrence in House at the End of the Street (Photo: Relativity Media)
Watching a talented A-list star like Jennifer Lawrence stumble her way through a grade-Z production like House at the End of the Street can only lead to embarrassment for the performer and misery for the viewer. It'd be like seeing somebody on the order of, say, Rachel Weisz or Daniel Craig appear in something equally shoddy. Oh, wait ...
OK, so not only did Weisz and Craig co-star in another dilapidated House — the 2011 flop Dream House — but it turns out that both that movie and this one were written by the same person. Apparently, scripter David Loucka harbors a real phobia of houses (presumably, he's an apartment kind of guy), but everyone else will find themselves more terrified by their monthly mortgage than anything on display in either of these pictures.
This new House casts Lawrence as Elissa, who with her divorced mom Sarah (Elisabeth Shue) moves from Chicago to a rinky-dink Pennsylvania town. They get a great deal on a spacious house, but that's because it's located across the way from a home where, four year earlier, spooky Carrie Ann (Eva Link) murdered her parents. She presumably drowned, but local (sub)urban legend insists that she's actually living in the nearby woods. As for the house itself, its sole occupant is Carrie Ann's reclusive brother Ryan (Max Thieriot), who's bullied by the other kids but makes a real connection with Elissa. The local sheriff (Gil Bellows), who must be the only law officer within a 50-mile radius since he's seemingly on duty 24/7, assures a worried Sarah that Ryan is a good kid and that Elissa is safe with him. Yet for all his soulful stares and sensitive bleating, Ryan is keeping something hidden in the basement.
Just as Renee Zellweger and Matthew McConaughey both had to deal with the long-shelved The Texas Chainsaw Massacre: The Next Generation later materializing on the landscape to capitalize on both actors' newfound fame, now it's Lawrence's turn to grin and bear it as this turkey, made before her success with The Hunger Games and X-Men: First Class and her Oscar nomination for Winter's Bone, arrives on the scene with all the class of a long-lost cousin hoping for a handout from a relative who just won the lottery. The strategy clearly worked, as the film earned back its small budget on its opening weekend alone. That financial update deserves an eye roll, though, as the movie isn't even worth a Redbox rental down the road. Loucka, co-writer Jonathan Mostow and director Mark Tonderai elect to emphasize every plot point and telegraph every plot twist with the delicacy of a train blaring its horn as it approaches a crossing — and yet that isn't even their greatest sin. It's difficult to go into particulars without having to erect a wall of spoiler alerts, but suffice it to say that the film's ultimate rebuttal of samaritans, rebels and outsiders — and by extension, its embrace of bullies, sycophants and shrill suburbanites only interested in property values — makes House at the End of the Street seem even more low-rent.