Joe Gillespie woke up at the bottom of a BB&T Ballpark stairwell with no idea how he got there. It was hours after an event he attended in the venue, and it didn't seem like the beginning of what would be one of his "top three nights of all time."
That is, until he began searching for a way out and came across the dressing room for Homer the Dragon, the Charlotte Knights' mascot. He spent the next five hours of that Sunday morning carousing around Uptown Charlotte as Homer, posing for pictures and getting free drinks wherever he tore up the dance floor. By Monday, Gillespie was in jail and the story, complete with a mullet in a mugshot, went viral shortly after.
Any such fun and fame comes with a hangover, however, and Gillespie said he is now facing two felony charges for breaking-and-entering and larceny. A GoFundMe account was set up to help his defense, but was quickly taken down by the website. He'll face a judge in November, but before that happens, I sat down with him at a bar near his Indian Trail home and let him tell the story in his own words.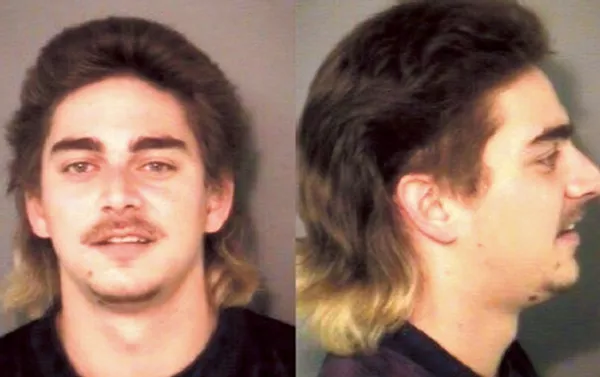 Creative Loafing: From the beginning, how is it that you became Homer the Dragon for a night?
Joe Gillespie: Me and my buddy, Mark (name has been changed to protect the possibly guilty-of-something), had VIP tickets to Charlotte Beerfest. We started at about 4 o'clock Saturday afternoon. We made it a full lap around the park in about an hour. Then an hour or two into it I was pretty hammered already.
I told Mark, "I have to run upstairs and get some food, because I'm drunk." I ran upstairs and ate barbecue and that was about the last thing I remember. The event ended at 9 p.m., but the next thing I remember I wake up at about 12:30 a.m. on Sunday and I'm at the bottom of a stairwell with no idea where I am. I called Mark, and he said, "Where the fuck are you?" I said, "Dude, I don't know. I think I'm still in the stadium."
He said he was at Hooters, so I told him to stay there. I start walking down the hallway to leave and I look to my right and see the mascot dressing room. I thought, there's no way this door is unlocked. I turned the handle and it opens right up and there's the damned costume.
So, I suited right up, walked out the door and proceeded to Hooters. I walked right up into Hooters and my buddy didn't even know it was me. I was ragin' dude.
I left Hooters and there was a big line at Tilt next door. I just said, "Yo man, can I go in?" The guy said, "No," and I was like, "Dude, You're not gonna let Homer the fuckin' mascot into your bar right now?" Then he said I could go in. There was nobody on the dance floor. I come sliding in and start getting it. I was doing all the moves you always wanted to try but are too embarrassed to.
[Joe continued around the city, taking parade-like laps around Uptown on a bicycle rickshaw, convincing a CMPD officer he was the real mascot working overtime at 3:30 a.m. and finally taking an Uber home in full costume at 5:30 a.m. after losing track of his friend.]
What happened on Sunday?
I went down to pick Mark up in a hotel. The suit was in the back of the truck because I wanted to drop it back off at the ballpark. I didn't think anyone was going to be there, and they weren't. I figured I would box it all up and bring it to the team store on Monday, and I could just say, "I think you guys are missing something" — no harm, no foul.
So, that night, I pass out about 9 o clock, wake up and all I hear is someone in my house saying, "Is Mr. Joe Gillespie here?" I got the suit together and said, "Here it is guys. Nothing's messed up, there's no beer stains. The only thing that's wrong with it is that it smells like shit, but it smelled like shit when I put it on."
What were the police officers' reactions when [the Union County Sheriff's Office] came to get you?
There was four of them and three of them were cool. One dude was a nerd, he was trying to be Mr. Officer. The other two guys — one didn't say much he just stood at the door, but the tall guy said, "Man, I don't even know how this is real right now."
The female officer who arrested me said she thought it was a fake call when she was dispatched until she stepped on the porch and looked in the window and there was Homer's head sitting on the couch.
They were out there taking pictures with it. They said they shouldn't be laughing, but it was hard not to.
Did you expect the story to get as much attention as it did?
No, I didn't expect any of this. I didn't want it to turn into this.
Honestly, I was just going to wear it and return it and I figured nobody would know except for my buddies. I think it was Monday that I was coming home from work and I was scrolling through Twitter and I saw my mugshot on WSOC. The headline said something like 'Man breaks into BB&T Ballpark and flees scene wearing costume.'
Man, how did I break in when I was already in there? It wasn't breaking and entering, it was opening and exiting. Someone could've walked around and checked the building after Beerfest — I would've left.
I didn't break anything. I didn't even scratch the door handle on my way out.
Were there any other misconceptions in the news reports?
The breaking into the ballpark thing, and then saying that I fled the scene. I didn't flee anything. I just walked right out of there.
Have you heard from old friends and family or made any new friends out of this attention?
My grandma saw it on the news in Ohio. That's how far this reached. I've seen articles published about it in Hawaii on Google. One buddy who was an old roommate, we got into a fight and hadn't talked since. All the sudden he was calling and texting me like, "Yo man, what the fuck did you do?"
I got like three numbers that night and have added like 20 chicks on Facebook. That's been a plus.
I'm assuming you're banned from BB&T Ballpark?
I don't think so, but I haven't heard. Supposedly, I was going to be able to talk to them. The officer said I would be able to explain my story to the folks at BB&T. I would love to do that, that's all I wanted.
If I could, I would call Mr. Knight or whoever the person is and talk to him and explain I'm not a thief. If I was, I would've stolen valuable stuff. It was just me in the whole building and I stole a mascot. I could've ransacked the whole place if I were a criminal, but I'm no thief whatsoever.
The police report said you also stole a two-way radio from the dressing room.
I got that in case they radioed that the suit was stolen so I could just chime them back and say, "Hey, I have it. Don't worry, I'll return it."
The Knights came out pretty good on the whole thing. They hung a large banner welcoming Homer home and tweeted a picture of him hugging Cam Newton.
Yeah, I feel like the Knights got all sorts of good publicity. I would've loved to play along. I could go around the city and take pictures with people and tweet them out for people to find me.
So that's probably not going to happen, but is there anything else you'd like to say for yourself?
Professionals steal, amateurs borrow. I'm just an amateur.