(View From The Couch is a weekly column that reviews what's new on Blu-ray and DVD. Ratings are on a four-star scale.)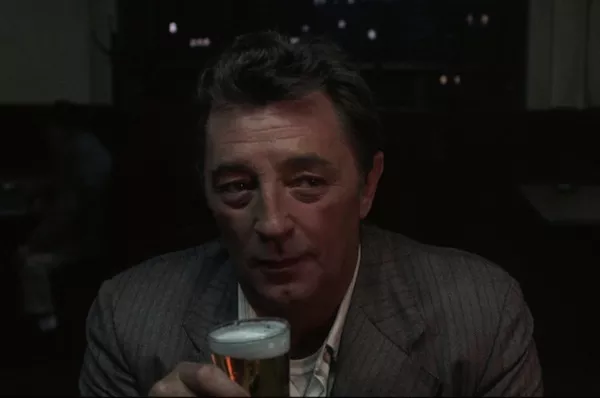 Robert Mitchum in The Friends of Eddie Coyle (Photo: Criterion)
THE FRIENDS OF EDDIE COYLE (1973). There's sharp dialogue to spare in Paul Monash's script for The Friends of Eddie Coyle, yet the best line in the Criterion Blu-ray edition of the film arguably can be found not in the picture itself but in the booklet included in the package. "You know what the 2001 theme is?" asks co-star Peter Boyle in the 1973 Rolling Stone article reprinted here. "That's the sound of Mitchum waking up." Certainly, Robert Mitchum's status as a tough guy — both on-screen and off — reached legendary proportion decades ago, and even years after his death, it shows no signs of wavering. (Although my all-time favorite Mitchum line is a self-effacing one that came from the man himself: "People think I have an interesting walk. Hell, I'm just trying to hold my gut in.") What's interesting about this movie (based on George V. Higgins' novel) is that Mitchum manages to retain his rough-n-tumble persona while playing one of life's losers: a small-time criminal who just maybe isn't smart enough to survive in such a hostile environment as the Boston underworld of the 1970s. Mitchum's cast as Eddie Coyle, an ex-con who's facing the prospect of being sent up the river yet again. Worried for the well-being of his family as well as himself, he has to decide whether it's in his best interest to serve as a stool pigeon for a smooth-talking detective (Richard Jordan), a decision that would put him at odds with various members of the criminal community — including ones played by Boyle, Alex Rocco and, most memorably, Steven Keats as guns dealer Jackie Brown (and now you know where Tarantino "borrowed" that name). Gritty, minimalist and fatalistic as only '70s flicks can be, this solid drama revolves squarely around Mitchum's perceptive performance as a weary, wary man caught in an impossible situation.
Blu-ray extras include audio commentary by director Peter Yates and a stills gallery that includes photos from several scenes that were filmed but cut before the movie's release (too bad the sequences themselves weren't included here as deleted scenes).
Movie: ***
From a Whisper to a Scream (Photo: Shout! Factory)
FROM A WHISPER TO A SCREAM (1987). I think it's fair to say the horror anthology flicks that appeared during the 1980s weren't nearly as much fun as their predecessors from the 1970s (1982's Creepshow serving as the exception to the rule). One such example is From a Whisper to a Scream: While better than, say, 1981's mediocre The Monster Club and 1987's truly abysmal Creepshow 2, it isn't consistently imaginative enough to qualify as a success. The wraparound segments are particularly worthless, as a historian (Vincent Price, later expressing regret at making the picture) relates four gruesome tales to a reporter (Susan Tyrrell) to demonstrate that his hometown of Oldfield, Tenn., is a breeding ground for evil. The film's original title, The Offspring, refers to the first vignette, in which a middle-aged nerd (an unrecognizable Clu Gulager), living with his demanding sister (Miriam Byrd-Nethery, Gulager's real-life wife), resorts to murder and necrophilia after he's spurned by a younger co-worker (Megan McFarland). This so-so entry is followed by the best story, in which a two-bit loser (Terry Kiser), wounded and on the run, winds up in the care of an elderly man (Harry Caesar) living alone in the swamps. The third episode, about a carnival matron (Rosalind Cash) with a mysterious hold over her employees, begins promisingly but runs out of steam and ends on a limp note. Better is the fourth and final tale, which recalls the Clint Eastwood-Don Siegel yarn The Beguiled with its Civil War-era plot about a group of savage Union soldiers who end up at a farmhouse occupied solely by children.
The Blu-ray supplements are excellent and far more entertaining than the film they're supporting. They include audio commentary by writer-director Jeff Burr; separate audio commentary by producer Darin Scott and co-scripter C. Courtney Joyner; a lengthy making-of piece; a feature on the phenomenon of teenagers producing Super 8 movies in the 1970s; and a still gallery packed with not just photos but also newspaper clippings about the film (including a letter from a woman ashamed it was made in her hometown).
Movie: **
Mark Wahlberg and John Goodman in The Gambler (Photo: Paramount)
THE GAMBLER (2014). The thought of Mark Wahlberg sharing character DNA with Kenny Rogers is enough to give one pause, but let's back up for a second. In the latest film named The Gambler, Wahlberg isn't playing that gambler, the one made famous by Rogers in a country song and a 1980 TV-movie of the same name. He's playing another gambler, one first seen in a largely forgotten 1974 film starring James Caan. This remake finds Wahlberg ably filling the role with a bravura performance, one that substitutes Caan's low-simmer cool with a high-level intensity. Wahlberg plays Jim Bennett, a college professor whose bad habit of placing gargantuan bets in gambling dens has left him tens of thousands of dollars in debt. His icy mom (Jessica Lange), a loan shark (Michael Kenneth Williams) and an underworld kingpin (John Goodman) all consider fronting him money, but whatever funds come his way end up being used not to pay off debts but blown on more blackjack hands and roulette wheels. Gambling as an addiction isn't the focus here — this isn't Leaving Las Vegas with poker chips replacing the booze bottles — which is fine since the film is content operating as a tightly wound drama about a man with self-destructive impulses. Yet this isn't really a character study, either, since we're never allowed to get inside Bennett's head. That leaves only the melodramatic tension, which dissipates as the movie limps toward a disappointing conclusion that feels committee-driven rather than narratively sound. That's too bad, because a movie that displays a winning hand for most of its length should never turn up snake eyes at the end.
Blu-ray extras include a making-of featurette; deleted and extended scenes; a look at the film's location shooting; and a piece on the costume design.
Movie: **1/2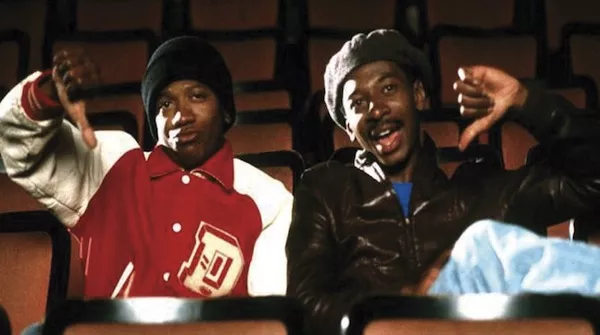 Jimmy Woodard and Robert Townsend in Hollywood Shuffle (Photo: Olive Films)
HOLLYWOOD SHUFFLE (1987). Even decades later, I still recall a great editorial cartoon from the early 1980s, in which a Hollywood producer tells a studio head, "I have an idea for a movie! It's about a black actor who finds it impossible to land any film roles because of the color of his skin," to which the mogul replies, "That's great! Think we can get Robert Redford for the part?" That cartoon finds its cinematic soulmate in Hollywood Shuffle, a comedy that delivers consistent laughs even as it addresses a serious problem. This was an obvious labor of love for Robert Townsend, who not only directed, produced, co-wrote (with Keenen Ivory Wayans, three years away from creating In Living Color) and starred in the picture but also financed approximately half of its meager $100,000 budget via credit cards (it was a worthy risk, with the film grossing over $5 million). Townsend stars as Bobby Taylor, forced to work at the Winky Dinky Dog fast food joint while trying to make it as an actor. He's presently auditioning for the title role in an exploitation flick called Jivetime Jimmy's Revenge, eager to land the project and jump-start his cinematic career but also disturbed by the demeaning nature of the role. Reflecting on the reality that producers only want to cast blacks as butlers, slaves or pimps, his mind reels off some elaborate fantasies, including one about the Black Acting School (where erudite African-Americans are taught by white coaches how to walk and talk like stereotypical blacks) and another in which he imagines himself playing such heroic figures as Superman and "Rambro." The weakest daydream is an overlong film noir spoof called Death of a Breakdancer (though Wayans amuses as a suspect called Jheri Curl); the best is a hilarious Siskel and Ebert parody called Sneakin' in the Movies, in which homeboys Speed (Townsend) and Tyrone (Jimmy Woodard) review such films as Amadeus Meets Salierus ("Bullshit!" is their shared opinion) and Attack of the Street Pimps (which earns an enthusiastic high five).
There are no extras on the Blu-ray.
Movie: ***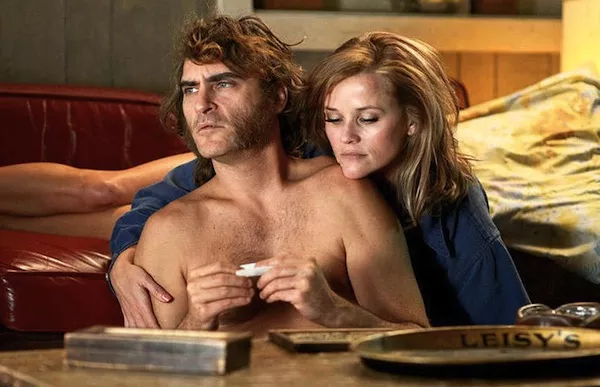 Joaquin Phoenix and Reese Witherspoon in Inherent Vice (Photo: Warner Bros.)
INHERENT VICE (2014). Writer-director Paul Thomas Anderson's sprawling adaptation of Thomas Pynchon's sprawling 2009 novel, Inherent Vice locates a mystery worthy of Sam Spade and Philip Marlowe and basically sends in Cheech and Chong to crack the case. Sporting sideburns that outflank even Wolverine's, Joaquin Phoenix stars as Larry "Doc" Sportello, a pothead of a private eye who agrees to help his former squeeze, one Shasta Fay Hepworth (Katherine Waterston), come to the aid of her lover, a married millionaire (Eric Roberts) who's suddenly MIA. And so off goes Doc to gather clues, receiving limited assistance from his friends (Reese Witherspoon's assistant D.A., Benicio Del Toro's attorney), ample interference from a coiled cop (an intense Josh Brolin) and mixed signals from various strangers (Owen Wilson's surfer dude, Martin Short's patently bizarre dentist). With its loopy sensibilities and labyrinthine plot, this ambitious effort has screen antecedents aplenty; they start with Robert Altman's 1973 The Long Goodbye, starring Elliott Gould as an unkempt Philip Marlowe dropped into the unblinking L.A. of the 1970s. Want a more recent one? Fine, but you probably won't like it. Like 2013's critically and commercially lambasted The Counselor (from the noggin of another literary giant, Cormac McCarthy), this is a freewheeling orgy of misdirection (from Anderson), misunderstanding (from the audience) and Method-tinged emoting (from an eye-popping cast). It hurtles along from one seemingly tangential situation to the next, all with an insouciant attitude that suggests no one involved really cared whether viewers kept up with the shenanigans or not. That's OK: Inherent Vice might be a mess, but it's a curiously endearing mess, not unlike a shaggy dog that expects to be loved even after it leaves muddy paw prints all over the lush living room carpet. Anderson earned an Oscar nomination for Best Adapted Screenplay.
The only Blu-ray extras consist of what are billed as "Special Trailers" — really, just a trio of promos and what appears to be an alternate scene.
Movie: ***
Jeff Bridges, George Kennedy, Clint Eastwood and Geoffrey Lewis in Thunderbolt and Lightfoot (Photo: Kino Lorber)
THUNDERBOLT AND LIGHTFOOT (1974). The story goes that Clint Eastwood was so impressed with Michael Cimino's work on the script for the 1973 Dirty Harry sequel Magnum Force that he gave the up-and-comer the opportunity to both write and direct his next picture. The result was Thunderbolt and Lightfoot, a satisfying mix of a buddy picture and a heist yarn. Eastwood's character is introduced in preacher garb, delivering a sermon at a small church; the getup must be a ruse, and sure enough, it's soon revealed he's actually a bank robber known as "The Thunderbolt." Pursued by the profane and volatile Red Leary (George Kennedy) and the sweet but dim-witted Eddie Goody (Geoffrey Lewis), former associates who believe he betrayed them, Thunderbolt finds himself hooking up with a sidekick of sorts, a brash kid named Lightfoot (Jeff Bridges). The pair eventually cross paths with Red and Eddie, and it's decided the quartet will attempt a bank job. But the wild card is Lightfoot: In addition to possibly being too green to pull off such an elaborate crime, his habit of ceaselessly annoying Red with his wisecracks adds an uncomfortable tension to an already precarious situation. Bridges earned a Best Supporting Actor Academy Award nomination for this film — he's terrific, with his funny, freewheeling turn effectively loosening up Eastwood and allowing the superstar to appear more relaxed and less tight-lipped than usual. Kennedy is memorable as a raging bull, while Lewis (who passed away last month) makes Eddie wholly sympathetic despite the limitations of the part (Lewis would end up making seven pictures with Eastwood). Gary Busey pops up in a small role, as do future TV stars Catherine Bach (Daisy Duke on The Dukes of Hazzard) and Vic Tayback (Mel on Alice). After making his directorial debut with Thunderbolt and Lightfoot, Cimino next worked on 1978's The Deer Hunter, winning Best Picture and Best Director Oscars, and then for all intents and purposes ended his career with the infamous 1980 megabomb Heaven's Gate.
DVD extras consist of a poster gallery and the theatrical trailer.
Movie: ***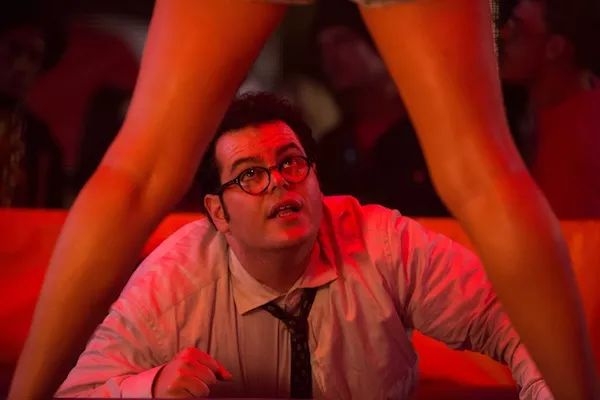 Josh Gad in The Wedding Ringer (Photo: Sony)
THE WEDDING RINGER (2015). The workable premise of The Wedding Ringer posits that the awkward, overweight Doug Harris (Josh Gad) doesn't have a single friend in the entire world, which becomes a problem when his fiancée (Kaley Cuoco-Sweeting) wants to meet his best man and the groomsmen before the wedding. (How did they survive in social situations without his lack of buddies ever coming up before? Oh, never mind, or we'll be here all day with these sorts of questions.) So he hires Jimmy Callahan (Kevin Hart), whose job is to pose as BFFs for grooms in similar situations. But never before has Jimmy been asked to also produce a whole roster of faux groomsmen before, so he sets about recruiting whatever wacky washouts he can find, from a nerd with three testicles to an ex-con known for raping other men in prison to that big dude from Lost. Also among this motley crew is a hunk who's hilarious simply because he stu-stu-stutters. That's the level of insult comedy found throughout this picture, which, let's face it, is basically a Men's Rights Activist meme passing itself off as a motion picture. It follows the tired template of pairing a homely guy with a hottie (the reason why she's marrying him is dizzyingly daft). And when the hottie is revealed to be a heinous bitch? No problem! There's an even hotter hottie waiting in the wings to service our schlubby protagonist. And don't worry about the other misfits — there are hotties for all! On top of this, we also get the usual creaky swipes against nagging Asian women, helpless senior citizens and swishy homosexuals. Always the homosexuals. Gay panic in films of this ilk is nothing new, but the level here reaches Terror Alert red. Aside from a smattering of clever toss-away moments that reference pop-culture touchstones (The Usual Suspects, The Goonies), the only ingredient that makes this swampy stew even palatable is Hart, who continues to deliver inspired comic performances in subpar flicks.
Blu-ray extras include select-scene commentary by Gad and director Jeremy Garelick; deleted scenes; outtakes; and the music video for Aloe Blacc's "Can You Do This."
Movie: *1/2
Charles Bronson in The White Buffalo (Photo: Kino Lorber)
THE WHITE BUFFALO (1977). Director J. Lee Thompson and actor Charles Bronson made a total of nine films together, but we're not talking collaborations on the order of John Ford-John Wayne or Ingmar Bergman-Max von Sydow (though I would rank them higher than Dennis Dugan-Adam Sandler). Thompson's best days were long behind him ­— specifically, his Oscar-nominated work on 1961's The Guns of Navarone — and by the time he teamed up with Bronson, both men's careers were winding down, with only such vehicles as Death Wish 4: The Crackdown to keep them busy in the late '80s. For all its flaws, The White Buffalo is one of their better joint efforts: Largely dismissed as one of Dino De Laurentiis' Jaws rip-offs (along with the producer's two other "oversized creature on the prowl" films, King Kong and Orca), it has a bit more on its mind than just matinee thrills. Bronson plays Wild Bill Hickok, whose dreams are haunted by visions of a rampaging buffalo. Normally not afraid of anything, he finds himself unnerved by these nightmares, to the point where he decides to see if such an animal exists and, if so, kill it. The Native American warrior Crazy Horse (Will Sampson) knows such a beast is out there, since it destroyed his village and killed his child. Wild Bill and Crazy Horse eventually cross paths, and they decide to pursue the buffalo together, with Wild Bill's friend Charlie Zane (Jack Warden) along for the ride. By filming the formidable beast in extreme close-up, Thompson is able to avoid the lackluster visuals that often marred De Laurentiis' King Kong remake, although the script by Richard Sale (based on his own novel) seems as interested in examining the mindset of a troubled Hickok as in tracking the buffalo's antics. The denouement is a letdown, and the cameos (John Carradine, Kim Novak, Slim Pickins, more) add little, but overall, this qualifies as an interesting misfire worth a glance when entertainment options are limited.
The only Blu-ray extra is the theatrical trailer.
Movie: **1/2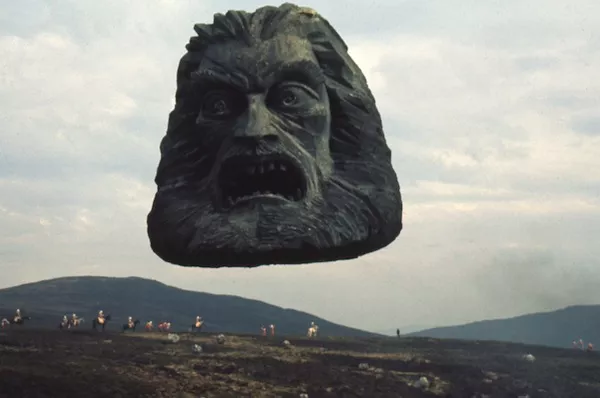 Zardoz (Photo: Twilight Time)
ZARDOZ (1974). "The gun is good. The penis is evil." While this might sound like the campaign platform of one of today's sex-fearing, NRA-loving Republican politicians, it's actually the mantra of the voice emanating from the oversized stone head floating through the skies in the futuristic oddity Zardoz. Made by director John Boorman soon after the smashing success of 1972's Deliverance (and after his plans to bring Tolkien's The Lord of the Rings to the screen fell through), this is a maddeningly inconsistent movie, one which perhaps inevitably emerged as a popular cult film and midnight movie staple. Boorman himself wrote the script, in which the world of tomorrow (2293, to be exact) is divided into the Eternals, sexless, immortal intellectuals living inside the sterile surroundings of the Vortex, and the Brutals, ordinary, earthy folks whose population is controlled by a special class of Brutals known as the Exterminators. One such Exterminator, Zed (Sean Connery), gains more knowledge than the rest (by reading books rather than eating an apple) and eventually sneaks into the Vortex, whereupon his virility and lustiness shake things up. Made for a mere million dollars, Zardoz looks fabulous for its cost, due largely to Anthony Pratt's production design and cinematography by the great Geoffrey Unsworth (2001: A Space Odyssey, Tess). But the visuals don't always compensate for the narrative, which remains interesting when pushing the notion of the sweet release of death over the allure of immortality but grows muddled and even risible when attempting to explore other facets of this futureworld (the sequences set around the Eternals' Arthurian round table are especially laughable).
Blu-ray extras include audio commentary by Boorman; separate audio commentary by film historians Jeff Bond, Joe Fordham and Nick Redman; the theatrical trailer; and an isolated score track (the original music is by David Munrow, though the film makes heavy use of Beethoven's gorgeous "Symphony No. 7, Allegretto").
Movie: **1/2