The Deal: This compilation set spreads 57 familiar musical numbers -- both songs and scores -- over three discs, classified as "Movie Themes," "Oscar Winners" and "Musicals."
The Good: If you're just venturing into the expansive waters of movie soundtracks, this isn't a bad place to start. You get the classic tracks familiar even to non-film buffs (e.g. Gone With the Wind, The Pink Panther, Isaac Hayes' "Theme From Shaft"), but there are also a few selections for those seeking to branch out. For example, David Raskin was never as famous a composer as, say, Max Steiner or Maurice Jarre, but his lush melody for the film noir staple Laura is rightly considered one of the all-time great scores. Thankfully, it's included there. And how can anyone resist Kermit the Frog crooning his way through The Muppet Movie's lovely ballad, "The Rainbow Connection"?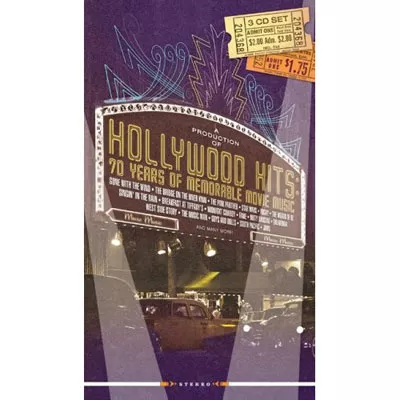 The Bad: Given the rich history of Hollywood music, the repetitive use of many of the same artists and titles is unfortunate -- and suggests the CD's creators often grabbed what was available rather than what would provide diversity. How come John Williams and Henry Mancini rate three selections apiece, while Jerry Goldsmith and Ennio Morricone rate none? Why include "If I Only Had a Brain" when The Wizard of Oz is already repped via "Over the Rainbow"? And on a separate note, how can any compilation with the word "Memorable" in the title include Lionel Ritchie's dreadful White Nights composition, "Say You, Say Me"?
The Verdict: With the worthy selections far outnumbering the more, uh, dubious choices (You Light Up My Life?), this is a decent sampler for soundtrack novices. But more experienced listeners will probably already find most of these melodies in their own CD library.