Watching Japanese artist Motoi Yamamoto's "Floating Garden" salt installation be trampled on by children and adults, isn't as momentous as it seems. Rather, it was sad to watch the installation — started on Feb. 18 by Yamamoto, who spent a staggering 85 hours on its intricate design, prior to its completion on March 1, and dismantling on March 3 at Mint Museum Uptown — go so quickly.
Once the safety rope was lifted, Yamamoto briefly spoke before using his salt-filled bottle dispenser to write one final message on the floor of the Mint's atrium. It read, "Thank You Charlotte!"
Afterward, he gathered some salt for himself before his artwork became a mess in a manner of seconds. Children rushed the floor, falling to make snow (well ... salt) angels, while adults carefully brushed their hands through the salt, gathering batches to go in the plastic baggies that were handed out by folks at the museum.
Yamamoto hopes that visitors will take the salt and return it to the sea, so that it can co-exist in a natural body of water that gives life to organisms and life forms.
"Of course, I feel kind of sad feelings about the dismantling. But after completing the work, I took a photograph and took my time to memorize it, so that I can keep it in my mind to enjoy," says Yamamoto through a translator. "After I started the dismantling process with other people being involved, I can accept more easily the fact that the piece is gone. It's because I know that it relates people and connects people to the next thing."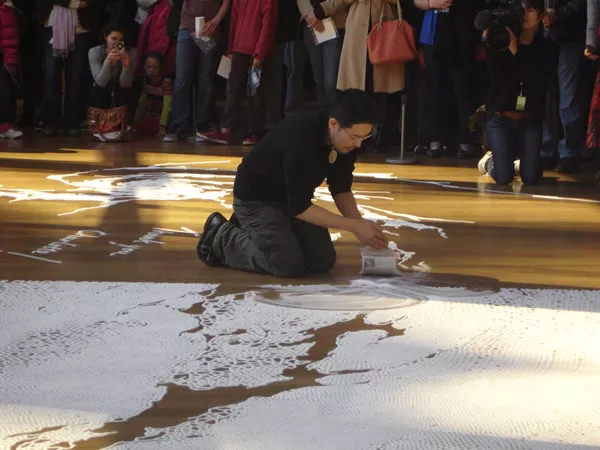 His exhibit at the Mint is fittingly titled Return to Sea: Saltworks by Motoi Yamamoto (on view at Mint Museum Uptown through May 26). Though small, it contains one salt installation that mimics the one that once stood in the atrium, and several wood panels created with paste and pencil, along with a video about his creative endeavors. We learn that art is a therapeutic process for Yamamoto, who lost his sister in 1994 to brain cancer.
After her death, Yamamoto — a painter who graduated with a degree in art from Kanazawa College of Art after working for years in a dockyard — laid his brush aside. In an effort to honor his sister and his memories of her, he embraced a new, unconventional medium: salt.
In Japan, salt is believed to ward off evil spirits. Its close associations with purification and mourning have led to its use at funerals and sumo wrestling matches.
Yamamoto's salt installations resemble vast snowy terrains, galaxies, labyrinths, Doppler radar images of approaching storms, marshy coastline landscapes, interconnected cells and/or avant-garde crochet patterns. It really all depends on how you look at it.
Before the installation, Yamamoto creates a rough sketch or "mental map" in his mind. As the works progress, he improvises, making each display unique in its own way. Nothing holds the salt in place once it spills out of the dispenser and onto the floor.
Yamamoto's process of making and destroying the salt installations draws similarities to Tibetan Buddhist monks' sand mandala ceremonies. Although Yamamoto's installations are not particularly related to religious experiences, like that of the mandalas, the dismantling does seem to symbolize a similar view of the impermanence of life.
Yet for Yamamoto, the experience is more personal than spiritual. He uses the salt as a way to remember his late sibling. He doesn't have a particular message that he hopes to get across to visitors.
"It's not really like I have something to tell," Yamamoto says. "I am doing this for myself, but over the course of many installations, I can see that people get inspired from it after having lost people close to them, too."