HERE COMES THE BOOM
**
DIRECTED BY Frank Coraci
STARS Kevin James, Salma Hayek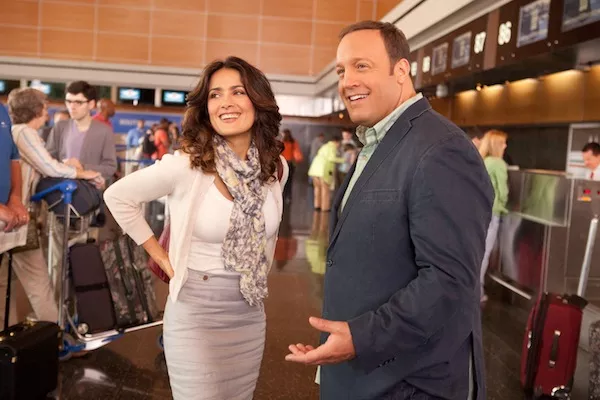 TEACHER-TEACHER CONFERENCE: Salma Hayek and Kevin James in Here Comes the Boom (Photo: Sony)
There's a pleasant surprise involving the new comedy Here Comes the Boom. No, it's not particularly good — that would rank as a miracle more than a surprise — but it does showcase Kevin James in his most appealing turn since 2005's Hitch. James has been a washout as a big-screen comedian — a plight that affects many performers who tether their careers to Adam Sandler's — but he exudes a natural sincerity that others in his field cannot, and Here Comes the Boom plays off that as much as it plays off his limited comedic range.
James stars as Scott Voss, a biology teacher who's crushed when he learns that school budget cuts will result in the axing of the music department and the termination of its inspirational head, Marty Streb (Henry Winkler). It will take $48,000 to save the extracurricular activity, but none of the teachers are willing to help out except for Voss and the school nurse, Bella Flores (Salma Hayek). Voss finally comes up with a plan: He'll raise the dough by becoming a mixed martial arts fighter, since even the bout losers come away with cash in their pockets.
You can see where this is headed: Under the tutelage of his muscle-bound friend Niko (a likable turn by real-life MMA champ Bas Rutten), Voss becomes good enough to ascend to a nationally televised match. There's also some predictably tired gags involving foreigners attempting to become U.S. citizens, the usual heavily relayed message about chasing dreams, and the typical patriarchal-Hollywood fantasy that allows someone who looks like Kevin James to bag someone who looks like Salma Hayek. But although the movie is produced by Sandler's company and directed by Sandler flunkie Frank Coraci, it's refreshingly devoid of the crudity and stupidity that usually run rampant in these films. As a result, the film's position on school cutbacks, despite being only surface-deep, seems heartfelt rather than cynical, and James is able to make audiences root for Voss and his mission. Here Comes the Boom never comes close to breaking the grip of mediocrity, but for his part, James at least is able to get off the mat.