HERCULES
*1/2
DIRECTED BY Brett Ratner
STARS Dwayne Johnson, Ian McShane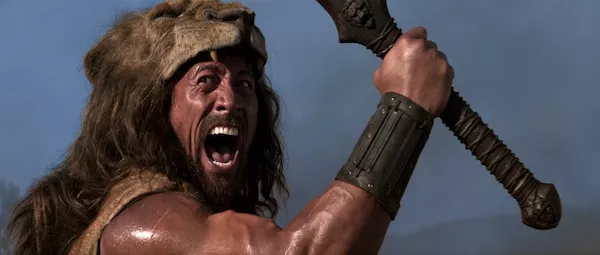 Dwayne Johnson as Hercules (Photo: Paramount)
In picture after picture, Dwayne Johnson has proven to not only be a commanding screen presence but also a pretty good actor. It's unfortunate, therefore, to see him aping Schwarzenegger-as-Conan by starring in Hercules and turning the titular hero into nothing more than a lumbering bore.
Based on Steve Moore's revisionist comic, this finds Herc and his posse (among them Ian McShane and Rufus Sewell) working as mercenaries for a feeble ruler (John Hurt) who fears that his kingdom will be conquered by an enemy army. Before it's all over, our hero will battle Narnia's Aslan, throw a horse over his head and be forced to wear a beard made from the hair off a yak's testicles (at least that's what Johnson has been stating in interviews).
The CGI work is expansive but not very distinguished (or convincing), yet the real culprit is the parchment-dry script by newcomer Ryan J. Condal and Disney day laborer Evan Spiliotopoulos (whose resume almost entirely consists of straight-to-DVD efforts like Tarzan II, Cinderella III and Tinker Bell and the Lost Treasure). McShane offers a few smiles as a psychic who wrongly keeps predicting his own death, but for true merriment, best to skip this arid endeavor and instead watch Joel and the Bots tackle Hercules Against the Moon Men on MST3K.