(View From The Couch is a weekly column that reviews what's new on Blu-ray and DVD.)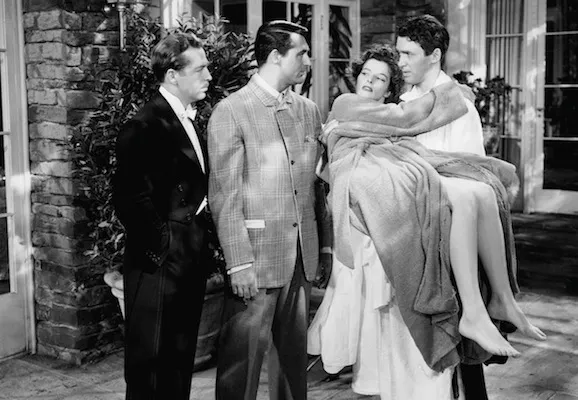 John Howard, Cary Grant, Katharine Hepburn and James Stewart in The Philadelphia Story (Photo: Warner Bros.)
BEST OF WARNER BROS.: ROMANCE (1938-2008). Considering the effort Warner Bros. is putting into celebrating the studio's 90th anniversary this year, one can only imagine what sort of blowout will be scheduled for its 100th anniversary in 2023. For now, fans can acquaint (or reacquaint) themselves with all manner of movies that are being offered in various box sets throughout the year. The big behemoths, both released at the tail end of January for the suggested retail price of $597.92 apiece, are The Best of Warner Bros. 50 Film Blu-ray Collection and The Best of Warner Bros. 100 Film DVD Collection. A little lighter on the wallet, at $98.92 SRP, are the Best of Warner Bros. 20 Film DVD Collections, with each set pertaining to a particular genre or category. The first compilation, released in January, is tagged Best Pictures and focuses on Oscar-winning classics dating from 1929's The Broadway Melody to 2006's The Departed; the second, out in February, is dubbed Musicals and includes such popular tune tales as 42nd Street, Singin' in the Rain and Little Shop of Horrors. July will see the release of the Comedy collection while the Thrillers set will make its debut in September, but new this month is Best of Warner Bros. 20 Film Collection: Romance. This looks to be more problematic than any of the other sets, and for a couple of reasons.
First, the folks who chose the titles in this compilation have opted to greatly expand their definition of the word "romance," based on some of the titles offered here. A Streetcar Named Desire is a brilliant motion picture, but there are plenty of other words I'd call it before coming anywhere near "romance"; ditto for another Tennessee Williams adaptation, the searing Cat on a Hot Tin Roof. Other featured films may have romance peeking out of their plotlines (Jezebel, Mrs. Miniver), but to dub them as such is a rather dubious exercise.
Keanu Reeves and Sandra Bullock in The Lake House (Photo: Warner Bros.)
The second major flaw in the set's design is the inarguable fact that the older films that make up the roster are infinitely superior to the more recent efforts. The Best Pictures and Musicals sets only housed one, maybe two duds apiece, but at least a quarter of the movies showcased here are best avoided. These include Barbra Streisand's 1976 A Star Is Born (why not include Judy Garland's excellent 1954 version instead?), the 1992 Whitney Houston drama The Bodyguard, 2002's soggy Hugh Grant-Sandra Bullock effort Two Weeks Notice and the dreary 2006 clunker The Lake House, starring Keanu Reeves and (again) Bullock.
Still, despite these sour notes, the set isn't lacking for classics. Casablanca and Gone with the Wind need no introduction. The Philadelphia Story is a magnificent comedy with Katharine Hepburn, Cary Grant and Oscar-winning James Stewart as the verbally adroit members of a love triangle (actually, John Howard's character is also involved, but he doesn't really count since he's only Kate's fiancé!). James Dean is fantastic opposite Natalie Wood in Rebel without a Cause while Natalie Wood is fantastic opposite Warren Beatty in Splendor in the Grass. And speaking of Warren Beatty, it's too bad room wasn't made in this set for the 1981 Warner Bros. release Reds. A superb historical saga featuring a sweeping love story between American Communist John Reed (Beatty) and feminist Louise Bryant (Diane Keaton), it could have benefitted from the additional exposure provided by this collection.
The box set includes a booklet with photos and write-ups.
Movies: Ranging from *1/2 (The Lake House) to **** (Gone with the Wind, The Philadelphia Story, Casablanca, A Streetcar Named Desire, Rebel without a Cause)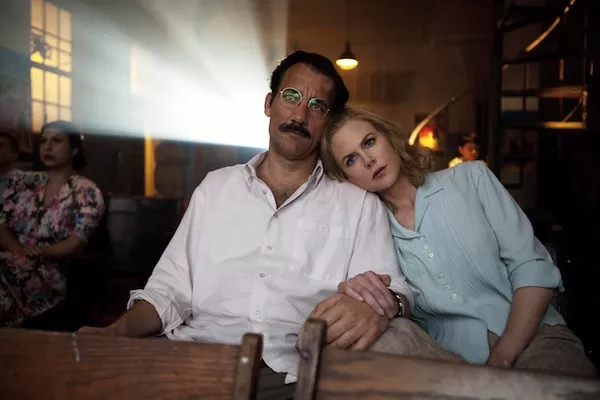 Clive Owen and Nicole Kidman in Hemingway & Gellhorn (Photo: HBO Films)
HEMINGWAY & GELLHORN (2012). Back in 1996, wimpy Chris O'Donnell was miscast as Ernest Hemingway in director Richard Attenborough's In Love and War, a dreadful melodrama which detailed the writer's relationship with a nurse (Sandra Bullock) during World War I. Hemingway & Gellhorn corrects pretty much everything that was wrong in that picture by giving us a rugged Hemingway in Clive Owen, a more compelling romantic interest in Nicole Kidman's Martha Gellhorn, a better filmmaker in Philip Kaufman (The Right Stuff, The Unbearable Lightness of Being) and a stronger narrative that incorporates the Spanish Civil War, World War II and more. Related in flashbacks by an elderly Gellhorn, the movie follows the couple from when they first meet in 1936 through their marriage in 1940, their divorce in 1945 and, finally, his 1961 suicide from a shotgun blast to the head. Theirs was a romance fueled by passion, intellect and conviction, and Owen and Kidman, both earning nominations for Emmy, Golden Globe and Screen Actors Guild Awards, are excellent in conveying every nuance of this complicated relationship. That's Lars Ulrich of Metallica as documentary filmmaker Joris Ivens — stunt casting that's neither here nor there — and look for a cameo by a ripe Robert Duvall as a Russian general.
Blu-ray extras include audio commentary by Kaufman and editor Walter Murch; a making-of featurette; and a piece on the film's visual effects.
Movie: ***
Laura Linney and Bill Murray in Hyde Park on Hudson (Photo: Universal)
HYDE PARK ON HUDSON (2012). The next time anyone blathers about "liberal Hollywood," remind them that in 2012 alone, the film factory released one movie that paid respectful tribute to the greatest Republican president and another that made a mockery of the greatest Democratic president. In Lincoln, the climax appears several sequences before the actual ending, with Abraham Lincoln's successful navigation of the 13th Amendment through the House of Representatives. In Hyde Park on Hudson, a different sort of climax occurs early in the film, as Franklin Delano Roosevelt receives a hand job from his cousin Daisy. The latter is the sort of baffling and awkwardly staged scene that's found throughout this frivolous yarn about the weekend in 1939 when FDR (played by Bill Murray) welcomes Britain's royal couple, King George VI and Queen Elizabeth (Samuel West and Olivia Colman), to his majestic New York property. While Roosevelt has his hands full entertaining the Brits, Daisy (Laura Linney) has her hands full with the president's manhood; meanwhile, Franklin's mom (Elizabeth Wilson) frets over her son's drinking while various underlings whisper about how his wife Eleanor (Olivia Williams) likes the ladies. As with the equally ludicrous Hitchcock, Hyde Park on Hudson is a character assassination posing as a movie, with its central figure only displaying any real leadership or assertiveness during a lovely scene in which he has a friendly late-night chat with George. Indeed, the picture works best when the British royals are involved, and West and Colman acquit themselves well in historical roles previously owned by Colin Firth and Helena Bonham Carter in The King's Speech. But because this is loosely based on Daisy's secret diaries (discovered after her death in 1991), the main thrust is the relationship between the president and his cousin, and how she loves him even after she learns that he's fooling around with other women. Murray's engaging performance is far better than Linney's atypically dreary one, but neither is able to survive a misguided screenplay that most recalls a tattered dime-store novel — lurid, superficial and hardly worth the ink or paper.
Blu-ray extras include audio commentary by director Roger Michell and producer Kevin Loader; a making-of featurette; and deleted scenes.
Movie: *1/2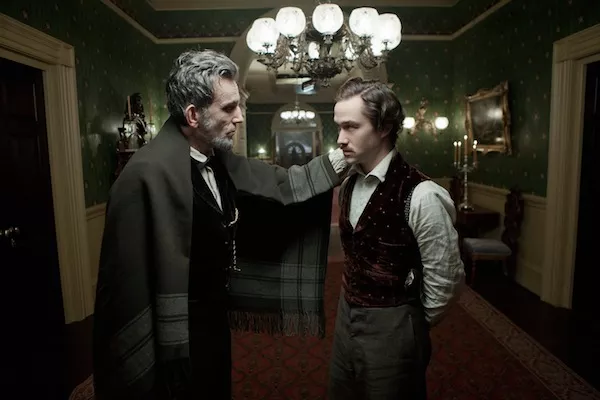 Daniel Day-Lewis and Joseph Gordon-Levitt in Lincoln (Photo: Disney)
LINCOLN (2012). With a spectacular box office haul of $182 million, it's clear that most moviegoers purchasing tickets to Steven Spielberg's Lincoln didn't mind that they were stepping into a wax museum rather than a theater auditorium. Spielberg, who had been planning this project for numerous years, had meticulously, painstakingly recreated an entire era. He also assembled an impressive cast to fill the roles of the historical figures who were part of Abraham Lincoln's world, whether on the home front or in the political sphere. To complete the illusion, he tasked Pulitzer Prize winner Tony Kushner to fashion a script that leaves no grandiloquent declaration untouched. For all its good intentions and spurts of innovation, though, the film never really comes alive as living, breathing history. Even on Blu-ray and DVD, it too often plays like an audio reading of the Congressional Record, with some unwieldy domestic scenes tossed in for good measure. Lincoln focuses on the 16th president's final days in office, as he works hard to pass an amendment that would outlaw slavery and involuntary servitude. The film tracks every step of this process, showing how Lincoln (Daniel Day-Lewis) would use any means, some bordering on impeachable, to secure passage. Secretary of State William Seward (David Strathairn) works tirelessly on his behalf, playing devil's advocate when necessary but always showing his support; also fighting for the cause is the garrulous Representative Thaddeus Stevens (Tommy Lee Jones, chewing the scenery almost as much as he did as Batman Forever's Two-Face). The political sequences are generally fascinating (albeit occasionally fastidious to a fault), yet they're dragged down by the shoehorned segments centering on Lincoln's relationships with wife Mary Todd (Sally Field) and grown son Robert (a wasted Joseph Gordon-Levitt). Day-Lewis' portrayal is, as expected, excellent, and he remains watchable even when the scene around him collapses (the prologue, in which soldiers both black and white recite the Gettysburg Address back to him, is embarrassing in its heavy-handedness). Somewhat surprisingly, this failed to win a single Best Picture award from any of the major critics' groups (most opted for Zero Dark Thirty, Amour or Argo); this liked-it-but-didn't-love-it feeling was transferred to the Academy, where despite being nominated for a field-leading 12 Oscars (including Best Picture), the film only won two (Best Actor and Best Production Design).
Blu-ray extras include a half-dozen making-of featurettes, touching upon such topics as the actors' portrayals, the attention to period authenticity by the costume and set designers, and the score by Spielberg's favorite composer John Williams.
Movie: **1/2
Charlie Chaplin and Martha Raye in Monsieur Verdoux (Photo: Criterion)
MONSIEUR VERDOUX (1947) / BADLANDS (1973). It's murder most foul from the folks at Criterion, as the tony label serves up two crime-filled gems that, despite being notorious box office flops, are now widely viewed as ranking among their respective directors' finest achievements.
Another Charlie Chaplin release, another certified masterpiece. Yet unlike such universally beloved efforts as The Gold Rush and City Lights, Monsieur Verdoux was greeted with hostile reviews and zero box office upon its original release. Chaplin's personal travails at the time (legal, political and more) certainly contributed to the film's demise, but there was also the fact that the movie was unlike anything Chaplin had made before, and it took a couple of decades before its bracing brilliance was finally appreciated and embraced by critics and cineasts. Working from an idea conceived by Orson Welles (and loosely based on a true story), the picture stars Chaplin as a dapper gentleman who woos wealthy older women and then murders them for their money. On the side, Verdoux has an invalid wife and young son that he loves dearly, but his termination from his bank job of many years is theoretically what drives his sordid new profession. Chaplin is marvelous as the cutthroat Casanova, and his scenes opposite a fabulous Martha Raye as the most indestructible of his conquests are the movie's best, brimming with some of the filmmaker's most hysterical bits. Yet for all its mirth, the movie frequently displays its darker side: A prolonged sequence in which Verdoux plots to test out a poison on a beautiful young woman (Marilyn Nash) who's down on her luck is by turns suspenseful, poignant and meditative, and Chaplin also manages to include some valid moralizing in his climactic monologue.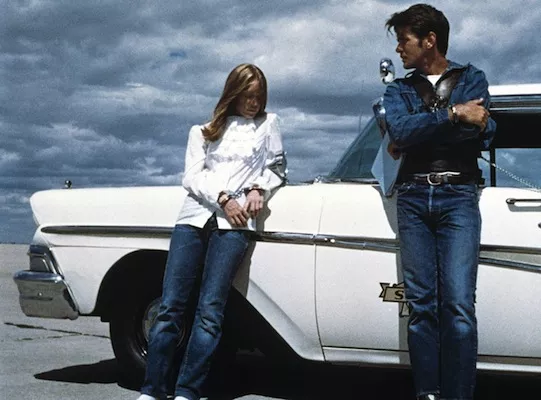 Sissy Spacek and Martin Sheen in Badlands (Photo: Criterion)
Terrence Malick, whose new film To the Wonder is gearing up to hit theaters in a few days, made his directorial debut with Badlands, an impressive undertaking that finds the filmmaker already exploring themes that would later be revisited in such efforts as The Thin Red Line and The Tree of Life. Based on the real-life exploits of Charles Starkweather, a disaffected 19-year-old who went on a killing spree in the late 1950s with his 14-year-old girlfriend in tow, this significantly softens the true story by deleting the more gruesome elements from the narrative and instead infusing the drama with a poetic evocation of time and place. Martin Sheen and Sissy Spacek are excellent as 25-year-old Kit, who patterns himself after James Dean in Rebel without a Cause, and 15-year-old Holly, who follows him everywhere — even after he fatally shoots her disapproving dad (Warren Oates) — because she expects he'll introduce adventure to her staid existence. Malick studies these characters with a dispassionate eye, and the movie itself predates Oliver Stone's Natural Born Killers by approximately two decades in calling out the absurdity of treating low-IQ thugs like celebrities (in this picture, the cops are the ones doing all the fawning!).
DVD extras on Monsieur Verdoux include the 2003 documentary Chaplin Today: Monsieur Verdoux; the new documentary Charlie Chaplin and the American Press; an audio interview with Nash; and the film's American and international trailers. DVD extras on Badlands include a making-of piece featuring new interviews with Sheen, Spacek and art director Jack Fisk (he and Spacek met on the set of Badlands and have been married since 1974); interviews with executive producer Edward R. Pressman and associate editor Billy Weber; and a 1993 episode of TV's American Justice focusing on Charles Starkweather.
Monsieur Verdoux: ****
Badlands: ***
MYSTERY SCIENCE THEATER 3000: VOLUME XXVI (2013). This isn't an equal-opportunity edition of Shout! Factory's MST3K series — as opposed to the usual two-two split, there are three Mike Nelson episodes to Joel Hodgson's one — but no matter: Regardless of how it's viewed, this breaks down into one hilarious compilation.
As a stand-alone film, The Magic Sword (movie made in 1962; featured on MST3K in 1992) is the best of the bunch, although that's damning with the faintest praise imaginable. Like many Golden Age stars, the great Basil Rathbone, an Oscar-nominated actor in the 1930s and the definitive screen Sherlock Holmes in the 1940s, took a career nose dive during his waning years, and here he hams it up as an evil wizard who kidnaps a lovely princess (Anne Helm). The magician claims no one can survive all the challenges he serves up (including an ogre and a dragon), but with the help of a bumbling sorceress (Estelle Winwood), a young farmboy gives it a shot. This hero is played by Gary Lockwood a few years before he starred in Stanley Kubrick's 2001: A Space Odyssey, which of course gives Joel a chance to make a HAL crack. Much more time is spent, however, on watching Crow cast aside his lust for Kim Catrall to make room for his newfound longing for the elderly Winwood; Lucille Ball and Sanford and Son's Grady are also dragged into the merriment.
The team of Menahem Golan and Yoram Globus was legendary in the 1980s for releasing scores of low-budget stinkers (many of which nevertheless made money), but even such turkeys as Breakin' 2: Electric Boogaloo and Stallone's Cobra almost look like sparkling gems in their filmography when compared to Alien from L.A. (movie made in 1988; featured on MST3K in 1993). Supermodel Kathy Ireland stars as a socially inept wallflower (riiight) who goes searching for her archaeologist father (clearly, no Indiana Jones) and ends up in an underground city where everyone is convinced she's not of this earth. This is the sort of incomprehensible eyesore that could trigger headaches left and right, so it's lucky Mike and the 'Bots are on hand to diffuse it with well-placed quips. Riffs on both Apocalypse Now and Full Metal Jacket? Sure!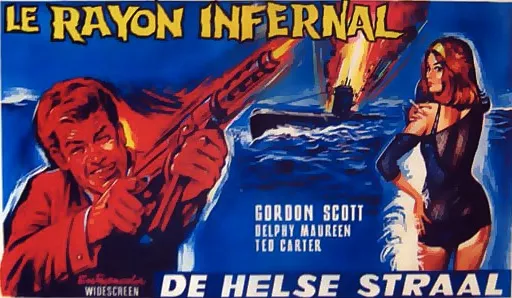 A poster for Danger!! Death Ray, a turkey in any language (Photo: Asdrubal)
Danger!! Death Ray (movie made in 1967; featured on MST3K in 1995) is the best episode in the set; that's due not only to the efforts of the Satellite of Love crew but also because the movie they're tackling is so wonderfully, enjoyably bad. Yet another Italian-financed effort to cash in on the success of the James Bond films (see also Operation Kid Brother, included in Mystery Science Theater 3000: Volume XXV and reviewed here), this casts former Tarzan Gordon Scott as secret agent Bart Fargo, who seeks to retrieve a death ray from the crooks who stole it. From the very notion that a death ray would be created for "peaceful purposes" (as its inventor keeps insisting throughout the film) to the delightful use of toy cars and toy submarines as stand-ins for the real things (leading Crow to crack, "Production design by ... Billy!"), Danger!! Death Ray doesn't even need the MST3K treatment to expose its hilarity. So think of the participation of Mike and his robot friends as the cherry on top. Bonus: 'Manos' The Hands of Fate's Torgo pays mad scientists Dr. Forrester and TV's Frank a visit.
The Mole People (movie made in 1956; featured on MST3K in 1997) finds John Agar (once Shirley Temple's husband for a few years) and Hugh Beaumont (soon to become famous as Leave It to Beaver patriarch Ward Beaver) cast as scientists who unearth a subterranean race of albinos who use the title mutations for slave labor. For their part, Mike, Crow and Tom Servo unearth a steady stream of gems, including several keepers bouncing off such familiar TV series as The Muppets, Happy Days and Perfect Strangers. Yet as is usually (always?) the case, the pop culture references range from the obvious to the obscure, dependent upon each viewer's personal interests: While some (like me) might immediately catch the nod to the great documentary Visions of Light: The Art of Cinematography, others (like me) might initially miss the shout-out to TV's Star Search.
DVD extras include separate interviews with Nelson and directors Bert I. Gordon (The Magic Sword) and Albert Pyun (Alien from L.A.); a making-of featurette on The Mole People; and theatrical trailers.
Collection: ***1/2