(View From The Couch is a weekly column that reviews what's new on Blu-ray and DVD.)
Cary Grant, Raymond Massey and Peter Lorre in Arsenic and Old Lace (Photo: Warner Bros.)
BEST OF WARNER BROS.: COMEDY (1935-2009). Warner Bros. continues its celebration of its 90th year with another in its 20 Film DVD Collection line. The focus this time is Comedy, and chronologically speaking, the set gets off to a roaring start with five consecutive 4-star efforts. 1935's A Night at the Opera is one of the great Marx Brothers outings, with Groucho (as Otis P. Driftwood), Chico and Harpo punching across such classic bits as the stateroom scene and the Sanity Clause discussion ("You can't fool me; there ain't no Sanity Clause!"); 1937's Stage Door, starring Katharine Hepburn and a marvelous Ginger Rogers, might rank second only to the incomparable All About Eve as the best film ever made about the theater; 1938's Bringing Up Baby, directed by the great Howard Hawks, is a screwball delight about a fumbling paleontologist (Cary Grant), a flighty heiress (Hepburn) and a leopard named Baby; 1940's The Philadelphia Story (already included in Warner's Romance set) reteams Grant and Hepburn and adds an Oscar-nabbing James Stewart to the mix; and 1944's Arsenic and Old Lace, my favorite movie in the collection, is Frank Capra's gaspingly hilarious gem with Grant as a drama critic who has to cope with the certifiably insane members of his family (and look for Peter Lorre stealing scenes as the weak-willed Dr. Einstein).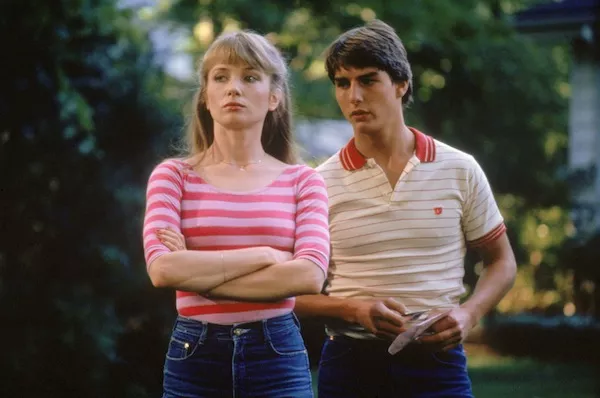 Rebecca De Mornay and Tom Cruise in Risky Business (Photo: Warner Bros.)
There are a few other excellent comedies in the mix — Mel Brooks' 1974 Blazing Saddles, 1979's The In-Laws, starring Peter Falk and Alan Arkin, and 1983's Risky Business, showcasing Tom Cruise's star-making role — but the collection also contains many middling efforts like 1985's The Goonies and 1999's Analyze This. Bringing up the rear are two box office smashes that have always left me cold: 1994's Ace Ventura: Pet Detective, featuring Jim Carrey at his most annoying, and 2009's The Hangover, which gets my vote as perhaps the most overrated comedy of its decade. And if I may digress, what's with the emphasis on 80s comedies? The set contains six total; no other decade numbers more than three. But hey, at least they refrained from including any of those wretched Police Academy movies that plagued most of that decade.
The box set includes a booklet with photos and write-ups.
Movies: Ranging from *1/2 (Ace Ventura: Pet Detective, The Hangover) to **** (A Night at the Opera, Stage Door, Bringing Up Baby, The Philadelphia Story, Arsenic and Old Lace)
The Beatles in Help! (Photo: Universal Music)
HELP! (1965). It's hardly A Hard Day's Night, but The Beatles' second film in front of the camera is a nonsensical romp that similarly shows off the lads' easygoing manner, spontaneous wit and, of course, their brilliant musical abilities. Night's Richard Lester is back as director, but scripter Alun Owen has given way to Marc Behm and Charles Wood, who forego the first film's freewheeling mock-documentary approach for an out-and-out fictional format. In this one, Eastern religious fanatics search for a sacred ring whose bearer must be served up as a human sacrifice; currently, it rests on the finger of Ringo, and he, John, Paul and George frequently find themselves on the run from their bumbling pursuers. Numerous imaginative touches (love the boys' home!) and that cheeky British humor make this an engaging lark, though, not surprisingly, the highlights are whenever the mop tops break from the action to sing one of their classic tunes, among them "Ticket to Ride," "You've Got to Hide Your Love Away" and (a personal fave) "The Night Before."
Blu-ray extras include a half-hour making-of documentary; cast and crew reminiscences; a look at the process behind the film's restoration; and three theatrical trailers (one in Spanish). The item also comes with a 16-page booklet that contains an introduction by Lester, an essay by Martin Scorsese and on-set photos.
Movie: ***
Gene Wilder, Kenneth Mars (bottom) and Zero Mostel in The Producers (Photo: Shout! Factory)
THE PRODUCERS (1968). Writer-director Mel Brooks' first foray into feature films pushed enough envelopes that it became an instant success — and earned him an Academy Award for Best Original Screenplay, to boot. The basis for the Broadway smash, this often uproarious effort finds Zero Mostel and then-newcomer Gene Wilder (himself earning a Best Supporting Actor nom) in terrific comic form as, respectively, unscrupulous producer Max Bialystock and sensitive accountant Leo Bloom, who figure out they can get rich by backing a theatrical flop. They therefore search around for the worst script possible and find it in Springtime for Hitler, a musical celebration of Adolf Hitler penned by the insane Franz Liebkind (Kenneth Mars). Further fortified by grade-Z director Roger De Bris (Christopher Hewett) calling the shots and an aging hippie named LSD (Dick Shawn) cast as Der Fuhrer, the play seems destined to close after only one show. The Springtime for Hitler sequences are particularly memorable — and that's Mel himself dubbing the classic line, "Don't be stupid, Be a smarty, Come and join the Nazi Party!" — but the inspired lunacy extends to all corners of this madcap comedy which Brooks once insisted "rises below vulgarity."
Blu-ray extras include an hour-long making-of documentary; the featurette "Mel and His Movies: The Producers"; a deleted scene; and the theatrical trailer.
Movie: ***1/2
Barry Pepper, Susan Sarandon and Dwayne Johnson in Snitch (Photo: Summit)
SNITCH (2013). Snitch is one of those movies that opens with a statement declaring it's based on a true story — given the increased frequency of this claim combined with the laxity with which it's now employed, I expect to see such a header at the start of Pacific Rim and Turbo, among other upcoming titles. At any rate, it's the closing comment that resonates more deeply, the widely acknowledged one that nonviolent, first-time drug offenders generally face more prison time than murderers and rapists. Snitch analyzes that dire problem in the context of a drama about a father who makes Herculean sacrifices for the sake of his son. Jason (Rafi Gavron) is a college-bound kid who's arrested after he foolishly agrees to hold a shipment of ecstasy for his drug-dealing friend. His dad John (Dwayne Johnson), a respected business owner, offers the prosecuting attorney (Susan Sarandon) a deal: In exchange for her reducing Jason's 10-year sentence, John will go undercover and nab a real drug lord. Johnson isn't exactly our most versatile actor, but he does possess charisma to burn, and it's this natural screen presence that allows us to accept him in this role. I don't want to oversell the film: Ric Roman Waugh's direction is more workmanlike than inspired, and the third act promises more thrills than it delivers (John states that he has this great plan to make everything right, but it proves to be about as complex as boiling water). Still, moviegoers stuck between The Rock and a bad rental choice — say, A Good Day to Die Hard — will find this the better pick.
Blu-ray extras include audio commentary by Waugh and editor Jonathan Chibnall; a making-of featurette; deleted scenes; and the theatrical trailer.
Movie: **1/2