When Jackie DeLoach opened Hattie's Tap & Tavern, she had no intention of ever owning a music venue. However, the city's music scene has changed drastically over the last two years, as venues old and new have shut their doors, leaving local bands with fewer options to showcase their talents.
Now, with the help of experienced local soundman Zac McBee, DeLoach is trying to help fill the vacuum that's been left behind. Over the next year, she and McBee will be implementing a renovation of sorts with the hopes of turning the cozy Plaza bar into one of Charlotte's next great music venues.
DeLoach opened Hattie's — named after her grandmother — in October 2014 with the intent of cultivating a laidback atmosphere where folks of all backgrounds could catch a game or even play one — as a collection of old video game systems has steadily grown from the corner and now lines a wall of the bar.
Sitting smack in the middle of two artistic neighborhoods like Plaza Midwood and NoDa — where relatively small venues like The Evening Muse, Snug Harbor and Petra's continue to carry the torch for the local music scene — it was inevitable that musicians would come around.
Ryan Pitkin
Jackie DeLoach sits atop Hattie's, which she opened in October 2014.
Local band Wicked Powers played the bar's opening, and two weeks later DeLoach invited Le Anna Eden and the Garden Of — the subject of last week's Creative Loafing cover story — to play during DeLoach's birthday celebration. Four months later, she and a friend built a small stage in the bar and began booking acts regularly on Friday and Saturday nights.
"In the beginning I just wanted to have good beer; a location where basically the people that work at the banks and the kid that works in the kitchen can sit down at the bar and have a conversation," DeLoach says. "Then it evolved with the neighborhood being the way that it is that more bands wanted to play so I wanted to try to outfit the place to be more of a venue."
DeLoach had worked in the bar and restaurant industry for 13 years in Washington D.C. and Charlotte. While she had booked bands at a few bars in both cities, the logistics behind what happens when the act gets on stage were new to her. Near the end of 2016, as Hattie's became a more popular spot for local musicians to play and DeLoach was regularly booked solid for weeks in advance, she found herself calling on friend and bar regular McBee more and more for help with everything from sound work to plumbing.
"It got to the point where I was like, 'You know what? How about I just be facility manager and whatever you need me to do we'll just knock it out and keep it going,'" McBee says of DeLoach's decision to bring him on full time in November of last year.
The opportunity came at a great time for McBee, who was just a month from watching the doors close on The Double Door Inn, where he had done sound work for five years.
The Double Door's closing was just one in a string of recent losses to the local culture that McBee had witnessed firsthand. In 2015, The Chop Shop in NoDa — and the stage he built there just four years earlier — was bulldozed to make way for light rail construction and related development.
Now, he's looking forward to starting anew.
"I just needed a new home," he says.
While local musicians do enjoy playing at Hattie's on a regular basis, the lack of sound treatment, a master console and other critical equipment has made it tough for the bar to find its sound, as can be agreed upon by anyone who has stood close enough to the stage while a punk band has lit into their guitars.
Since coming on in November, McBee has worked with DeLoach to create a plan that he hopes will make Hattie's a legitimate venue by May. He's already begun bringing equipment over from The Double Door Inn, most of which he already owns or is in the process of purchasing.
"It's a really good opportunity for me because I get a second chance to do things from the beginning in a way. I'm not redoing the system, I'm putting in a brand new system," McBee says. "All the other places that I've worked in, I've had to rip everything out and use the same stuff and just put it together better. Now I can make sure the puzzle pieces are really in there as compared to ones that were thumbed in there because I couldn't match it, and that's how all these venues are."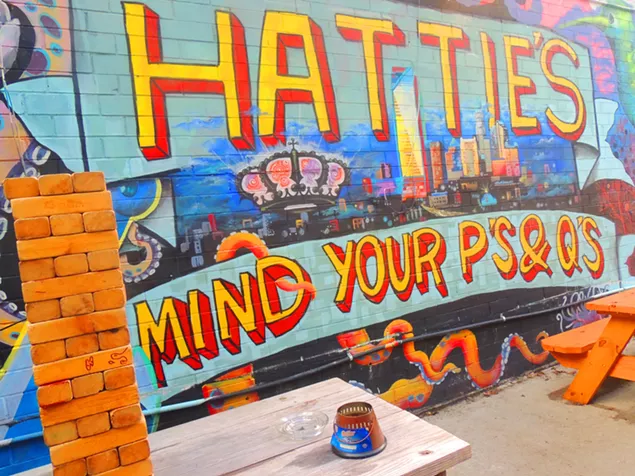 It's an investment that DeLoach is willing to make, and it's become all the more important to her as she's watched venues like Double Door, Amos' Southend and Chop Shop either shut down or prepare to do so.
"That's a huge reason for why we're doing what we're doing. We could still continue just doing bands on Friday and Saturday, but knowing that all of these amazing venues are shutting down, we want to be able to provide to that community still," DeLoach says. "We have the opportunity to do that so we're going to take it. Charlotte is losing a lot of really good locations and really good venues and we want to make sure that the bands that were comfortable in those locations can come here and still feel that vibe."
Equally important to DeLoach however, is to keep that open-minded approach she came in with when she opened Hattie's over two years ago. The ADD nature of the bar — which has hosted everything from weekly yoga to Game of Thrones watch parties in the past year — earned it a Critic's Pick as Best Multitasker Bar in last year's Creative Loafing Best of Charlotte issue, and DeLoach has no intention of losing that creative spirit by focusing solely on music.
"What's really nice too is that, even though we are going very venue capable, we're still going to have that neighborhood feel," DeLoach says. "We're still going to be the original Hattie's. We're not going to move that way. We want to make sure that we keep that. I don't want to take away the home-away-from-home feel."
For most projects like the one McBee will be undertaking over the coming months, a bar would have to shut down, but DeLoach is committed to keeping things going, so McBee will be working around the bargoers' drinking schedules. He usually starts his work early, and never begins something he won't be able to clean up by happy hour.
"I don't sleep," McBee says. "So I get in here early and I can knock out things or prep it up before the big push. That's my main goal. By 4 o'clock I need to be cleaned up and out of here."
It's not just the music that will benefit from McBee's work, he also has plans to start construction soon on a kitchen. The new wing will be attached to the side of the building but separate in the sense that food will come in through a window, as Hattie's has always been a dog-friendly indoor establishment and plans to keep it that way.
It's all an effort to make sure Hattie's earn and keeps a spot on the circuit, whether that be the southeastern regional tour circuit or your bar-hopping circuit on a Saturday night.
"We want to be on your bar hop trail," McBee says, impersonating a typical conversation he'd like to hear more of. "'Let's hang out in Plaza, then we'll hang out in Hattie's, then we'll hang out in NoDa. Or let's walk outside and change our mind in the parking lot and walk right back in to Hattie's.' That works too."