It's time to start making plans for Halloween, folks. For details on events - including parties, haunted attractions and other spooky activities and events - check out our big list and top picks below.
Haunted Harbor
What: Considering that everyone's favorite dive bar and music venue in Plaza Midwood is named after a famously haunted harbor in Staten Island, it only makes sense that the venue itself becomes haunted at this time of year. This two-night event includes first-night performances from Sarah Shook & The Disarmers, El Malpais and The Brokeoffs, with a second night that includes a long line-up including but not limited to Andy the Doorbum, Patabamba and the aptly named Must Be the Holy Ghost.
When: Oct. 28, 10 p.m.; Oct. 29, 10 p.m.
Where: Snug Harbor, 1228 Gordon St.
More: $8. 704-561-1781. snugrock.com.
Haunted Brewery Tour
What: Newer establishments can be haunted, as well. Birdsong Brewing Co. will host free haunted brewery tours for the second year after last year's tours to celebrate the release of its MexiCali Stout were such a hit. This year's event will also coincide with the 2016 MexiCali release, and will feature free tours through the entire production facility, which will be turned into a haunted house of sorts. One never knows where employees may be hiding. Festivities include a costume contest with prizes.
When: Oct. 29, 6:30 p.m.
Where: Birdsong Brewing Co., 1016 N. Davidson St.
More: Free. 704- 332-1810. birdsongbrewing.com
Retro Horror Film Screenings
What: Each October, Ayrsley Grand Cinemas in southwest Charlotte screens retro horror flicks prior to Halloween. If you haven't been for any of this year's showings yet, which included films ranging from Rosemary's Baby to Alien, you've got one week left. Between Oct. 28 and Nov. 3, you can catch screenings of both Halloween and Halloween II each night. The best part? The ticket prices are retro, too. You can sit tight and watch both movies for the price of one ticket to a modern-day CGI crapfest. Or, just spring for a $5 ticket and see one.
When: Oct. 28-Nov. 3; 7 p.m. (Halloween), 9 p.m. (Halloween II)
Where: Ayrsley Grand Cinemas 14, 9110 Kings Parade Blvd.
More: $5-$10. 980-297-7540. ayrsleycinemas.com
Artwork Courtesy of Rick Guedes
October Murder Mystery Dinner
What: This is not a Halloween-exclusive event at Maggiano's Little Italy at SouthPark Mall, but to participate in a spooky homicide investigation just three days from the holiday only adds to the mood. Attendees will need to put their detective hats while they ignore red herrings in their search for elusive clues. It's all fun and games until you become the lead suspect. Bonus: the game comes with an amazing family-style dinner with too much to offer for us to begin to list it all here. Just come hungry.
When: Oct. 28, 7 - 10 p.m.
Where: Maggiano's Little Italy, 4400 Sharon Road
More: $65 (two tickets). 704-916-2300.facebook.com/MLICharlotte/.
The Spirits of Rosedale Plantation
What: You'd better believe (or not) that there are plenty of spirits lurking around a 200 year old plantation. This tour of the historic Rosedale Plantation takes visitors on a night tour of the grounds — including the first floor of the home, the kitchen basement and the gardens. Along the way you'll hear stories about the plantation's former residents, whom possessed greed, metal illness and other epidemics. That's not to forget some of the plantations slaves, whose freedom and rights were restricted. Going to a spot with so much history makes this "spirits" tour all the more eerie.
When: Oct. 28-29. Tours start every 20 minutes beginning at 7:20 p.m. Last tour begins at 9:20 p.m. Each group is limited to 15 people and tours last approximately 45 minutes. Please arrive 10-15 minutes prior to your tour time for check-in.
Where: Historic Rosedale Plantation, 3427 North Tryon St.
More: $15. 704-335-0325. historicrosedale.org.
Abari Monster Bash
What: Plan to dress up and jam out to Halloween music from the '80s and '90s (Collectr spins from 7 p.m. to 2 a.m.) during this monster bash. But that's not the best part: Abari will be allowing its patrons to play horror-themed games (like Ghostbusters, Monster Bash, Revenge From Mars, Scared Stiff, Carnevil and Area 51) for free and PBR drafts will be $1. Costume contest: kid's costume contest, 4 p.m. and adult costume contest, 11 p.m.
When: Oct. 29-30.
Where: Abari Game Bar, 1721 N Davidson St.
More: 980-430-4587.abarigamebar.com.
Halloween Bash at Ass Clown Brewing Company
What: Just because clowns have a bad reputation these days doesn't mean you shouldn't support and love the ones that arean't out wrecking havoc and scaring the heebie-jeebies out of unsuspecting folks. Yes the clown labels on this brewery's bottle are creepy as hell, but we can guarantee you won't be worried about them after a few drinks. Gift certificates will handed out to folks sporting the scariest, funniest, and most original costumes. There's also music from Dubber and a special beer release.
When: Oct. 29, 6 p.m.
Where: Ass Clown Brewing Company, 10620 Bailey Road, Suite E, Cornelius.
More: 704-995-7767. assclownbeer.com.
Boo Bash
What: How about some honky-tonk on Halloween? There's also a costume contest (and moola is in the mix: $1,000 for first place, $500 for second place, $200 for third place and $100 for fourth place) that's hosted by The New 103.7's Big Sexy. Live music from Out Of The Blue from 9 p.m. until close. Not sure what to wear? Be creative, dress as a coyote and don't be afraid to let out a howl or two.
When: Oct. 29, 7 p.m. to 2 p.m.
Where: Coyote Joe's, 4621 Wilkinson Blvd.
More: $10. 704-399-4946. coyote-joes.com.
Raising Spirits: Doc Porter's Exclusive Bourbon Launch
What: Not those kind of spirits... For something different this Halloween, try hitting up Doc Porter's Distillery. There will be craft cocktails, heavy hors d' oeuvres, music, and a presentation about the distillery's bourbon by owner and head distiller, Andrew Porter. There's also a raffle and silent auction. Proceeds from the evening will be benefiting Safe Alliance.
Where: Doc Porter's Distillery, 232 Peterson Drive.
When: Oct. 27, 7 p.m. to 9 p.m.
More: $30. 704-266-1399. docporters.com/bourbon.
Big Mammas House of Burlesque Halloween Show
What: Big Mamma and her entourage of beauties are putting on this Halloween-themed burlesque show. For more information, visit ncburlesque.com. There's also a a midnight costume contest. The talented DJ Spider spins, too.
When: Oct. 29, 9 p.m.
Where: Visulite Theatre, 1615 Elizabeth Ave.
More: $18-$21. 704-358-9200. visulite.com.
SCarowinds
What: There's not much we really need to say about this haunted attraction, as it's been getting rave reviews for years now. For the folks who have never been, this could be one of your best choices if you like rides and don't mind being startled. Just walking around the park is frightening as you're approached by fiends and grotesque creatures. Add to that some pretty thrilling haunted houses and you've got your scary fix.
When: Friday-Sunday, 7 p.m. to 12 a.m.
Where: Carowinds, 14523 Carowinds Blvd.
More: $34.99 and up. 704-588-2600 carowinds.com/scarowinds.
Halloween Daze at Renaissance Festival
What: Carolina Renaissance Festival celebrates Halloween with trick-or -treating around the 25-acre festival village. There will also be a Halloween treasure hunt and a Halloween costume contest with prizes. In addition to a full day of regular festival entertainment, there will also be the "Knights of the Living Dead" a zombie jousting challenge, three times daily throughout the Halloween weekend.
When: Oct. 29-Oct. 30, 10 a.m.-5:30 p.m.
Where: Carolina Renaissance Festival, 16445 Poplar Tent Road, Huntersville.
More: $13-$23. 704-896-5544. royalfaires.com/carolina/.
Matters of Grave Importance
What: Take a glimpse into the past, present and future of local cemetery history with local historian and preservation expert, Jason Harpe. Harpe will be giving visitors an intimate look at historic cemetery preservation, and will demonstrate live preservation techniques in the Polk Family Cemetery. Spooky!
When: Oct. 29, 10:30 a.m.-1:30 p.m.
Where: President James K. Polk State Historic Site, 12031 Lancaster Highway, Pineville.
More: $2-$5. jameskpolk.net/events.html.
She Who Watches
What: CL theater critic wrote about this PaperHouse Theatre production last week and we can't help but think it couldn't have come at a better time. It's an adaptation of J. Sheridan Le Fanu's spellbinding horror classic novella, Carmilla. And it's all set at Frock Shop, giving the show an interactive, experimental feel. Laura, the story's protagonist, is haunted by a nightmarish experience from her childhood. Upon waking she discovers a teen-aged girl in her bedroom who later disappears into thin air. Years later, with that memory etched into her brain, she is revisited and, again, it's in the bedroom.
When: Oct. 27-30, 8 p.m.
Where: Frock Shop, 901 Central Ave.
More: $30. paperhousetheatre.com.
Motown zombie prom
What: This party will feature Motown music and encourages folks to dress in their zombie best. That means throwing on your best prom wear for what amounts to a pretty unique evening. Who says zombies only like brains? Zombie latte, anyone?
When: Oct. 29, 8 p.m.
Where: Eaglespeak Coffee House, 3907 South Blvd.
More: eaglespeakcoffee.com
Milestone shows
What: Every year, local bands come together for this special Halloween showcase. They dress up and perform songs by other bands and it's pretty awesome to watch. Here's what's slated to go down this year: Oct. 28 will feature The Bleeps as Madonna, Minimums as Green Day, Automatic Fantastic as ZZ Top, Van Huskins as Superchunk, Glimpses as Oasis, October as Celtic Frost, Gore Gore Luchadores as Your Favorite Wrestling Icons; Oct. 29 will feature The Dead Men as Eminem, Knowne Ghost as Death Cab for Cutie, Suit City as At The Drive In, Porch Mob as Die Antwoord, Fat Geoff as R. Kelly, Tiny City as Miley Cyrus, Rothschild as Brand New, Tom, Hanks as The Clash, Take The Fall as Sum 41.
When: 9 p.m.
Where: Milestone, 3400 Tuckaseegee Road.
More: $8-$10. 704-398-0472. themilestoneclub.com.
Petra's Hella Halloween Show
What: DJ Monsterpiece will be playing on the patio while, inside, you'll find performances from the likes of Joshua Cotterino, No Me Toques and Farewell Albatross.
When: Oct. 29, 9 p.m.
Where: Petra's, 1919 Commonwealth Ave.
More: $8. 704-332-6608. petraspianobar.com
Haunted Mill
What: Longtime (a whopping 20 years!) haunted attraction with 40 actors, darkness, crazy mazes, animation effects, chainsaws and more. There's also blacklight mini golf for the faint of heart. Blackout weekend starts in November so come before then if you want to see all the disturbing sights, otherwise mosey around in the dark and hope for the best.
When: Oct. 26-31; Nov. 4-5.
Where: The Haunted Mill, 6325 W. Wilkinson Blvd, Belmont.
More: 704-829-6455. thehauntedmillnc.com.
Grave Diggers Ball
What: Kiss 95.1 FM has been throwing what has become perhaps Charlotte's most well-known Halloween party for 17 years now, and this year promises to be one of the biggest in the city once again (so big it's almost always held in a parking lot). Afrojack will perform and attendees can participate in one of the biggest cotume contests in the Carolinas. Also, opening act Marc E. Bassy, known for his hit song "You & Me" featuring G-Eazy, will warm the crowd up for a night of booze and boos.
When: Oct. 29, 6 p.m.- 11 p.m.
Where: 500 N. College St.
More: $15-$1,500. kiss951.com/events/grave-diggers-ball-2016-featuring-afrojack-and-marc-e-bassy/
Casino Night + Halloween Celebration Duke Mansion
What: Play authentic casino games in cocktail attire. There will be food and drink from Chef Harrison Booth, dancing and music from house band, Bad Daddies. There's also a silent auction. This is an annual fundraiser for the preservation of The Duke Mansion.
When: Oct. 28, 8 p.m.
Where: The Duke Mansion, 400 Hermitage Road.
More: $75 per person. 704-714-4453. biddingforgood.com/DukeMansion.
Stigma Unmasked
What: The Center for Prevention Services is hosting this debut masquerade ball, Stigma Unmasked. It's a formal with dancing, entertainment and silent and live auctions. Organizers aim to to raise awareness about the harms of substance use and mental health.
When: Oct. 29, 7 p.m.-10:30 p.m.
Where: The Big Chill, 911 E. Morehead St.
More: $25-$50.facesandvoicesofrecovery.org.
Carved 2016
What: Piedmont Culinary Guild presents this event with local chefs, mixologists, food artisans, food educators, and other culinary professionals who will be carving pumpkins. Vote to see who gets the title of "Carved 2016 Champion." Added bonuses: There will be a corn-sheller for popcorn-on-the-cob, an apple press for fresh cider, an antique John Deere tractor "ice cream machine" for making samples of fresh ice cream, all of which are provided by local area farms. There will also be activities for children, a silent auction, food (Bleu Barn Bistro and Your Mom's Donuts will be onsite) and more.
When: Oct. 30, 4 p.m. to 7 p.m.
Where: Lenny Boy Brewing Co., 3000 South Tryon St.
More: $5 for kids 11 years old and under; $18 for all others. eventbrite.com/e/carved-2016-piedmont-culinary-guild-tickets-27675750916.
Thriller Halloween Bash at Roxbury
What: The 15th annual Thriller Halloween Bash and Costume Party will take place at everyone's favorite '80s- and '90s-themed dance club. If you've been practicing alone for the last 34 years, you'll finally get the chance to join in the famous "Thriller" video group dance with other living (undead) people. The bartenders are in charge of picking their favorite costumes for prizes, so a good tip won't hurt.
When: Oct. 29, 8 p.m. - 2 a.m.
Where: Roxbury Nightclub
More: $8.
facebook.com/roxburynightclubuptown
Scarrigan Farms
What: On select October nights, the folks at Carrigan Farms will transform their 130 acre farm to a scary, haunted trail featuring a "fun house," a 3D maze, a "tragic bus" and corn maze. It's an annual event that's fun for the whole family.
When: Fridays-Sundays. Through Oct. 31.
Where: Carrigan Farms, 1261 Oak Ridge Farm Highway, Mooresville.
More: 704-664-1450. scarriganfarms.com.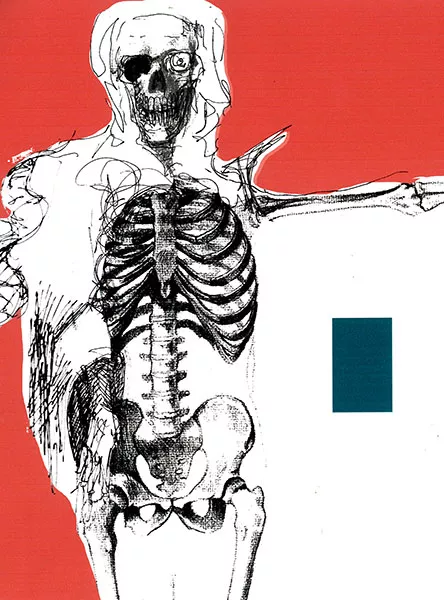 Artwork Courtesy of Rick Guedes
Zombie Hollow
What: Gastonia's haunted attraction. Trail tours begin at dusk and it's all set around an apocalypse theme. Think: a virus that's created hungry undead fiends.
When: Oct. 27-31. Starts at 7 p.m. Runs through midnight on Fridays and Saturdays; Runs through 10 p.m. on Sundays and week nights.
Where: Zombie Hollow, 330 Lewis Road, Gastonia.
More: $5-$10. zombiehollownc.com.
Hall-oween at the Hall
What: This is a family-friendly option that features trick-or-treating, crafts and games, and a screening of Jake and the Never Land Pirates: Trick or Treasure/Night of the Golden Pirate Pumpkin. Kids are encouraged to wear costumes.
When: Oct. 29, 5:30 p.m. to 9 p.m.
Where: Nascar Hall of Fame, 400 E. Martin Luther King, Jr. Blvd.
More: $10. 704-654-4400. nascarhall.com.
Halloween Asylum
What: The best part of a costume party is taking it all off at the end of the night, so why wait until the end of the night? That was a joke, as you'll probably get tossed from Uptown Cabaret if you simply start getting naked as a guest, but a Halloween party at the strip club can never be a bad thing either way. The pre-party starts at 5 p.m., but things really start to heat up just after midnight with a $500 costume contest kicking off at 1:30 a.m. Bonus: the late-night breakfast buffett starts at the same time, so this could be the perfect nightcap if you haven't partied yourself out elsewhere. DJ Red will be spinning all night.
When: Oct. 29, 5 p.m.
Where: Uptown Cabaret, 108 E. Morehead St.
More: uptowncabaretclubs.com/halloween-asylum/.
Fright at the Knight
What: The Charlotte Symphony is always coming up with ways to fit merge classical music with fun new themes and this may be one of the best yet. For this special concert they've picked up scores from horror movies. Enjoy the sounds from Halloween, Poltergeist, IT, Psycho, and more from the comforts of Knight Theater seating.
When: Oct. 28, 7:30 p.m.
Where: Knight Theater, 430 S. Tryon St.
More: $29. 704-372-1000. blumenthalarts.org.
Pumpkin Carving Contest at Flying Saucer
What: This event is BYOP (bring your own pumpkin, as well as carving tools). Just be careful during the carving process if you've been tapping into the Saucer's craft beer. Winners will be announced at 5 p.m. and will receive a tour of Sierra Nevada Brewing Company's North Carolina brewery.
When: Oct. 30, 3 p.m. to 5 p.m.
Where: Flying Saucer, 9605 N. Tryon St.
More: Free admission. beerknurd.com.
5 Church charlotte's halloween bash
What: For a chic atmosphere for celebrating Halloween, 5Church has got it going on. Starting at 10 p.m., DJ Guiseppe spins. There will be a costume contest with a $200 gift card up for grabs. And what would the shenanigans be without some late-night grub? There will be caramelized pork steam buns and lamb burgers. Wash it all down with a signature cocktail, like the Viper or Bourberry.
When: Oct. 29, 10 p.m.
Where: 5Church, 127 N. Tryon St., Suite 8
More: Free admission. 704-919-1322. 5church.com.
Trick or Treat
What: It's said that if you walk up to comeone's house and ring their doorbell on Halloween night and say "Trick or treat," they will just give you candy. It's worth a try.
When: Oct. 31, nighttime
Where: Wherever
More: You should probably dress up.