At times, it might seem like Gwen Stefani has multiple personalities. There's the singer of No Doubt, the judge on The Voice, the tabloid fodder and the solo artist. When you focus on her music, it's clear that regardless of the vehicle she uses to deliver her songs — with a band or not — the message has always been a personal one.
She was in her mid-20s when No Doubt released Tragic Kingdom in 1995. The album solidified the pop-rock outfit's place on the charts, thanks to the honest lyrics from Stefani about her breakup with No Doubt bassist Tony Kanal after a seven-year relationship. Now, more than 20 years later, Stefani has released her third solo album, This is What the Truth Feels Like, which tackles her breakup with ex-husband musician Gavin Rossdale and her new relationship with country artist Blake Shelton.
She made the album in the process of healing a wounded heart, and never expected to release the songs to the public, let alone set out on a full-fledged tour. But here she is, getting set to perform at PNC Music Pavilion on July 23 as part of a nationwide tour in support of the album.
"I never knew this year was going to happen," Stefani says. "I feel so excited to have a record coming out in real time, where I have this exchange of love with people and it's been so healing — the process of writing it and sharing it. And to go live with it takes it to a whole other place."
Stefani says that while she was going through tough times, it was music that offered a healing place for her, making her that much more excited to share the songs with her fans in hopes they might offer some kind of comfort or excitement to them as well.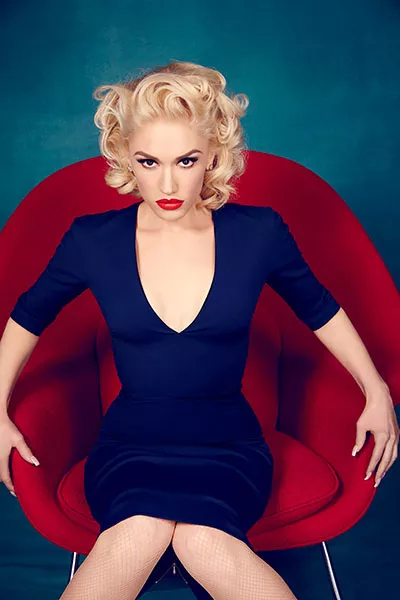 Gwen Stefani (Photo by Jamie Nelson)
We can all relate to the heartache of a breakup or the excitement of love. Stefani's biggest task now is putting together her show and a setlist that draws from all three of her solo albums, including 2004's Love. Angel. Music. Baby. and 2006's The Sweet Escape. She says fans should expect costume changes and production elements — as she's done on past solo outings.
They can also expect an extensive setlist. The tour opener featured 25 songs — from her solo career to select No Doubt favorites — "It's My Life," "Don't Speak," and "Just a Girl" among them — to a couple hits she's released over the years with her opening act, Eve.
"This tour is about giving," she says. "I want people to walk away and go, 'Oh my God. That was that time in my life. That was that show I went to — I'll never forget that night.' That's my goal. I just want to make it the most enjoyable show." Early Twitter reviews were saying just that.
While her early career with No Doubt played by the unwritten punk rock rule of keeping things raw and honest, she's been able to enjoy theatrics and art in the solo side of her performance career as a different way to express herself. She gets to enjoy the costume changes and backup dancers.
She also has to adjust to these shows being a bit more exhausting emotionally; more so than the physical demands of No Doubt.
"I feel like God just handed (these songs) down to me as, like, this kind of Band-Aid to kind of help me through this crazy time in my life," Stefani says. "Finding your gift and sharing it is very draining because there's so much output. Every time I go out on stage, I have to do my very best. I can't just walk through it. I think that's one of the reasons I haven't toured in seven years. I think it's going to be something quite satisfying and healing and it's part of the journey. I know it's what I want to do and need to do.
"It's always been part of my journey and with Tragic Kingdom — that was all about my personal life. Pretty much every song I've ever written is about my personal life and I feel OK sharing that. I wasn't making this record to share it, I was making it because it was all I could do to save my own life. There's a similarity between (Kingdom and Truth) emotionally. The best stuff is usually simple, but it's the hardest thing to do."