(View From The Couch is a weekly column that reviews what's new on Blu-ray and DVD. Ratings are on a four-star scale.)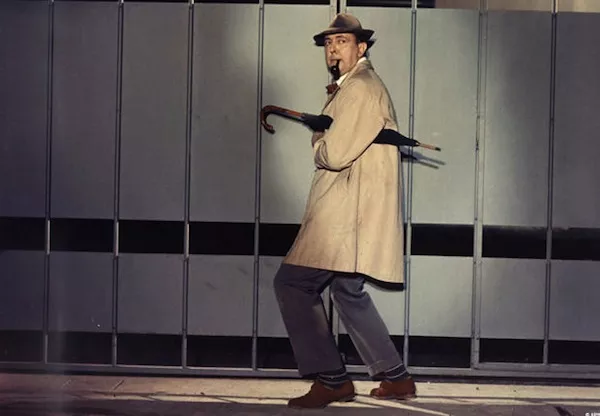 Jacques Tati in Mon Oncle (Photo: Criterion)
THE COMPLETE JACQUES TATI (1949-1974). The character of Monsieur Hulot, created by French auteur Jacques Tati, seems to belong to the same world as Buster Keaton's sad sacks, Harold Lloyd's befuddled Everymen and Charlie Chaplin's Little Tramp. In other words, he's a perfect character for the realm of silent film, which is why it's always startling to remember that Tati was not a silent film star and that his movies were made well into the sound era. Yet the dialogue employed in his pictures — sparse and unremarkable — is never the point; instead, it's Tati's complete mastery of the mise-en-scene that marks him as a comic genius.
Tati made his feature-film debut (as actor, director and writer) with Jour de fête (1949), a comedy that immediately established his proclivity for sight gags and his inspired use of sound (which would move from "inspired" to "brilliant" with his subsequent pictures). He plays not Monsieur Hulot but François, the earnest mailman in a provincial French village. After watching a film showing the efficiency of the U.S. postal system with its lightning pace and employment of helicopters, François vows to duplicate the process, even though he only has a bicycle at his disposal. While not as consistently uproarious as his next films, Jour de fête introduces the Tati template of spending as much time on colorful supporting characters as on the leading player himself.
Monsieur Hulot's Holiday (1953) was the breakthrough effort that introduced the world to the beloved title character, a silent, lanky gentleman usually spotted with his telltale pipe, hat, overcoat and umbrella. In this outing, the well-meaning Hulot hits the beach for some r&r, but his bumbling nature inadvertently affects the vacations of those around him. There are sight gags and sound gags galore, from a superbly choreographed tennis match to that creaky swinging door. Tati and Henri Marquet (who also co-scripted Jour de fête) earned an Oscar nomination for their screenplay.
An Academy Award winner for Best Foreign Language Film, Mon Oncle (1958) finds Tati taking a cue from Charlie Chaplin's Modern Times by setting his comic sights on what passes for progress in a contemporary society. Monsieur Hulot lives a humble existence — not so his sister (Adrienne Servantie) and brother-in-law (Jean-Pierre Zola), who reside in a modern grotesquerie with a metallic fishhead fountain as the centerpiece in their micromanaged yard. Such an antiseptic setting is anathema to a young child, which is why the couples' son (Alain Bécourt) prefers to spend time with his more down-to-earth uncle. Nearly a full decade before a character famously uttered "Plastics" in 1967's The Graduate, here's a movie that likewise understood the implications (practical and symbolic) of this 20th century invention, going so far as to make the brother-in-law the head of a plastics factory. Frequently funny and endlessly inventive, Mon Oncle is a comic masterpiece.
Jacques Tati in Playtime (Photo: Criterion)
My favorite of all Tati titles, Playtime (1967) is a startling achievement, a brilliant comedy that took three years for Tati to make and much less time for it to bankrupt him (the most expensive film in French history at that point, it proved to be a colossal flop). Running 124 minutes but requiring no more plot than a six-minute Looney Tunes cartoon, the picture tracks Hulot and other characters as they make their way around a Paris almost completely represented by modern, soulless architecture. Beginning at an airport, both citizens and tourists make their way to a high-rise office building and later a posh restaurant, with other stops in between (astonishingly, all the movie's sets were built from scratch on a stretch of land outside the city). Hulot's misadventures inside the office complex are hilarious, yet it's the hour-long segment set within the restaurant, where nothing goes right on opening night, that ranks as a truly astounding piece of finely honed comic deftness.
I suppose even comic geniuses are allowed to miss a beat or two, and Trafic (1971), Tati's final theatrical release (and his last appearance as Hulot), falls far short of his earlier classics. In this one, Hulot's a car designer who must transport his latest creation to an auto show in Amsterdam; naturally, mishaps occur every step of the way. There are some choice bits, to be sure, and Tati's familiar theme concerning the bewildering nature of technology is still present, but too much of it lacks any memorable wit or bite.
In addition to his five theatrical features, this splendid Criterion Collection box set also contains Parade, a 1974 let's-go-to-the-circus piece created for Swedish television, and seven short films made by Tati and/or his daughter, Sophie Tatischeff. The collection also makes available two alternate versions of Jour de fête (a 1964 reedit and a full-color 1995 rerelease) and a reedited, English-language version of Mon Oncle. Sadly, it doesn't contain the 155-minute French cut of Playtime, just the 124-minute international version.
Blu-ray extras are abundant, including three select-scene audio commentaries on Playtime by film historian Philip Kemp, theater director Jérôme Deschamps and Tati expert Stéphane Goudet; introductions to Monsieur Hulot's Holiday, Mon Oncle and Playtime by former Monty Python member Terry Jones; visual essays on all of the features except for Trafic; and vintage interviews with Tati (who passed away in 1982). The set also includes a 62-page booklet.
Jour de fête: ***
Monsieur Hulot's Holiday: ***1/2
Mon Oncle: ****
Playtime: ****
Trafic: **1/2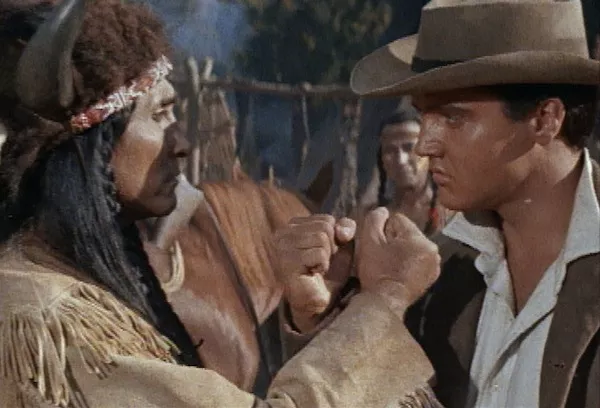 Rudolph Acosta and Elvis Presley in Flaming Star (Photo: Twilight Time)
FLAMING STAR (1960). During his successful Hollywood career, Elvis Presley made a total of 31 feature films, but when the subject of The King's best movie comes up, that number gets drastically reduced. Jailhouse Rock and King Creole are consistent contenders, and so is Flaming Star, a Western tale that was originally fashioned as a vehicle for no less than Marlon Brando. Elvis delivers one of his finest performances — you can tell he means business, as there are only two songs and he's completed both of them before the film is even six minutes old! — as Pacer Burton, son of white settler Sam (John McIntyre) and Kiowa woman Neddy (Dolores del Rio) and half-brother to Clint (Steve Forrest), Sam's offspring from his first marriage. The Burtons are a happy clan and enjoy friendships with many of their neighbors, but that all changes once Kiowa warriors slaughter a frontier family. Racial tensions suddenly spring to the forefront as Pacer and Neddy are harassed and the loyalties of Sam and Clint are questioned. To complicate matters, the new Kiowa chief, Buffalo Horn (Rudolph Acosta), pays Pacer a visit and demands that he pick a side. The prickly screenplay by Western vet Clair Huffaker and Hollywood vet Nunnally Johnson (adapting Huffaker's novel Flaming Lance) is well-matched by the taut direction by future Dirty Harry helmer Don Siegel. Trivial pursuit: Flaming Star also marked the first of 17 Presley pictures that included a bit part for his friend/bodyguard/songwriter Red West (later seen to memorable effect as the co-lead in 2009's lovely indie flick Goodbye Solo).
Blu-ray extras consist of audio commentary by film historians Lem Dobbs and Nick Redman; the theatrical trailer; and an isolated track of Cyril J. Mockridge's score.
Movie: ***
Michael Fassbender as Frank (Photo: Magnolia)
FRANK (2014). The band's name is Soronprfbs, and it might be the most unpronounceable moniker since Mr. Mxyzptlk first hit the scene to vex Superman on the DC Comics landscape. Its frontman is Frank, who's declared a genius by everyone around him in spite of — or because of? — the fact that he wears a giant papier mâché head which he never removes. And its newest member is Jon, a singularly untalented individual whose presence comes to feel like that isolated witches burr that has strategically placed itself underneath an occupied sleeping bag. The movie is Frank, named after its most intriguing character. Played by Michael Fassbender, he's patterned after Frank Sidebottom, the personage created by the late British comedian Chris Sievey. Jon (Domhnall Gleeson) seeks to help Frank take his music to the masses, a task only slightly more achievable than cramming that proverbial camel through the needle's eye. Frank is a film of questions, not answers. Is Frank really a genius or just a guy with serious mental issues? Does madness aid in the creation of art, as people are romantically inclined to believe, or is it actually a stifling factor? Can the most outré of creative expressions be sanitized and commercialized? And should everyone really be given a crack at the big time, or are some artists meant to wallow in anonymity from cradle to grave? Acting without his facial expressions, Fassbender carves out a complete characterization, employing his body expressions to expose how this man moves, feels, analyzes. It's a fascinating turn that earned numerous raves for the Shame star, and if these accolades didn't give the actor a big head, nothing will.
DVD extras include audio commentary by Gleeson, director Lenny Abrahamson and music composer Stephen Rennicks; a behind-the-scenes featurette; and deleted scenes.
Movie: ***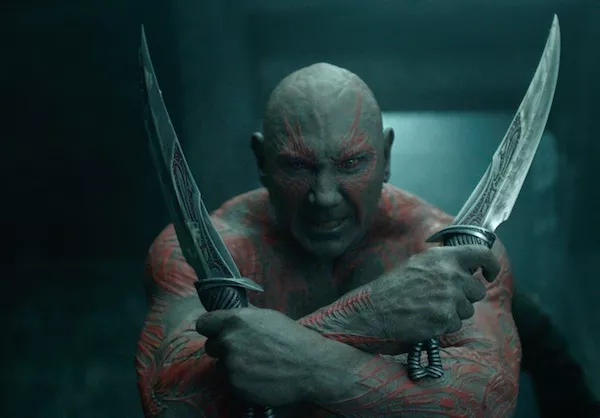 Dave Bautista in Guardians of the Galaxy (Photo: Disney & Marvel)
GUARDIANS OF THE GALAXY (2014). The Marvel cinematic universe certainly hasn't been lacking for humor. With Robert Downey Jr. leading the pack with his interpretation of Tony Stark/Iron Man as the class clown, Mark Ruffalo's Bruce Banner/Hulk and Scarlett Johansson's Natasha Romanoff/Black Widow offering sly asides, and Chris Evans' Steve Rogers/Captain America and Chris Hemsworth's Thor/just Thor milking culture-clash nyuks, the MCU often feels like an extravagant party filled with good-looking people possessing good senses of humor. Here, then, are the Guardians crashing the event and showing the participants how to really loosen up and best sport that proverbial lamp shade on the head. Indeed, it's the movie's rollicking good cheer that helps endear it to folks who otherwise wouldn't know the Guardians' Rocket Raccoon from The Beatles' Rocky Raccoon. Rocket (voiced by Bradley Cooper) and his sidekick Groot (a CGI creation voiced by Vin Diesel) are just two of the misfits reluctantly coming together to stop a megalomaniac (Lee Pace) from carrying out his galaxy-conquering agenda. The skilled assassin Gamora (Zoe Saldana) and the brutish Drax the Destroyer (Dave Bautista) also belong to the ragtag outfit, although the lynchpin is Peter Quill (Chris Pratt), the only Earthling among the quintet. The expository scenes are presented too dutifully — they're arid when compared to what follows, as if writer-director James Gunn was impatient to get the requisite setups out of the way — and the climactic space battles run on too long, as if the makers wanted to make sure viewers got a good look at every single effect employed during this stretch. But quibbles aside, Guardians of the Galaxy is winning entertainment, with a sleek visual style that befits its carefully contained universe and unique characters.
Blu-ray extras include audio commentary by writer-director James Gunn; making-of featurettes; deleted scenes; and a gag reel.
Movie: ***
Spencer Tracy in Judgment at Nuremberg (Photo: Twilight Time)
JUDGMENT AT NUREMBERG (1961). Known primarily as the helmer of such sterling, socially conscious films as On the Beach and Inherit the Wind, Stanley Kramer casts his gaze on the evils of Nazism in this gripping picture (based on the actual Nuremberg trials that took place in the late 1940s) about four German judges (including one forcefully played by Burt Lancaster) accused of committing heinous war crimes with their rulings from the bench. Prosecuting the quartet is American army officer Tad Lawson (Richard Widmark), defending them is brash German lawyer Hans Rolfe (Maximilian Schell), and presiding over the proceedings is Chief Judge Dan Haywood (Spencer Tracy). Far from a simplistic condemnation of fascism, this intelligent film boldly indicts the whole world (including the U.S.) for enabling Adolf Hitler to come to power, yet it rightly reserves most of its righteous fury for those who abuse their power by preying on the weak. This is especially brought to light in the powerhouse sequences focusing on two victims of the war, the befuddled Rudolph Petersen (Montgomery Clift) and the sensitive Irene Hoffman (Judy Garland). Marlene Dietrich co-stars as a German widow who befriends Judge Haywood, and look for a 30-year-old William Shatner as Haywood's military aide. Nominated for 11 Academy Awards, including Best Picture, Director, Actor (both Tracy and Schell), Supporting Actor (Clift), Supporting Actress (Garland) and Adapted Screenplay (Abby Mann), this won statues for Schell and Mann. No offense to Schell, who's quite good, but doubtless even his own mother knew that the 1961 Oscar belonged to Paul Newman in The Hustler — not least because the performance by fifth-billed Schell is clearly a supporting turn rather than a leading one.
Blu-ray extras include a discussion between Schell and Mann; a tribute to Kramer; and an isolated track of Ernest Gold's score.
Movie: ***1/2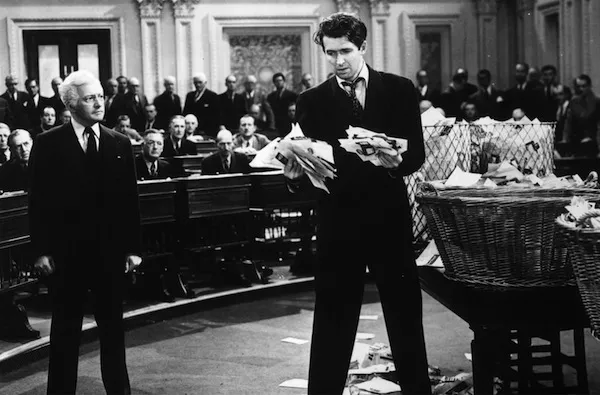 Claude Rains and James Stewart in Mr. Smith Goes to Washington (Photo: Sony)
MR. SMITH GOES TO WASHINGTON (1939). If it wasn't for their later collaboration on 1946's It's a Wonderful Life, this American classic would arguably be the crowning career achievement for both star James Stewart and director Frank Capra. Stewart is pure perfection as Jefferson Smith, a naïve man who becomes an unlikely U.S. senator simply because the corrupt powers-that-be believe he can easily be influenced to do their bidding. Instead, Senator Smith emerges as a true champion of the people, leading the Koch Brothers-like kingmaker Jim Taylor (Edward Arnold) to run a smear campaign against him. Anyone worn down by the reality that our Congress is packed with Republican rape apologists and our population is teeming with repugnant racists would do well to pop this gem into the Blu-ray player, as its look at the finer points of American idealism is certain to stir the soul and tap into any buried patriotism. Stewart is surrounded by a peerless cast, with Claude Rains (as the senior senator from Smith's state), Harry Carey (as the Vice President) and top-billed Jean Arthur (as Smith's cynical secretary) leading the pack. Nominated for 11 Academy Awards, including Best Picture, Director, Actor (Stewart) and Supporting Actor (both Rains and Carey), this nabbed only one, for Best Original Story.
To celebrate its 75th anniversary, Mr. Smith Goes to Washington has been released on Blu-ray as a Digibook containing numerous photos and an excellent essay about the movie. Disc extras include audio commentary by Frank Capra Jr.; 1997's 115-minute documentary Frank Capra's American Dream, containing interviews with Martin Scorsese, Angela Lansbury, Michael Keaton, Peter Falk and many others; a trio of featurettes in which Capra Jr. discusses, among other subjects, his dad and Mr. Smith Goes to Washington; and a pair of theatrical trailers.
Movie: ****
Burt Lancaster in Birdman of Alcatraz (Photo: Twilight Time)
Short and Sweet:
BIRDMAN OF ALCATRAZ (1962). As the real-life Robert Stroud, a man serving a life sentence for murder, Burt Lancaster goes from coiled tension in the first half to beatific acceptance during the second part. It's a remarkable performance, with Lancaster breaking down how Stroud's close encounters with birds led to him becoming a better man as he devoted his life to raising, studying and even writing books about our aviary friends, all from the confines of his cell. Neville Brand is excellent as the guard who develops an unorthodox friendship with Stroud over the years. Delicately directed by John Frankenheimer, this moving drama earned Oscar nominations for Best Actor (Lancaster), Supporting Actor (Telly Savalas as a fellow prisoner), Supporting Actress (Thelma Ritter as Stroud's mother) and Black-and-White Cinematography (Burnett Guffey's lensing is striking).
Blu-ray extras consist of audio commentary by film historians Julie Kirgo, Paul Seydor and Nick Redman; the theatrical trailer; and an isolated track of Elmer Bernstein's score.
Movie: ***1/2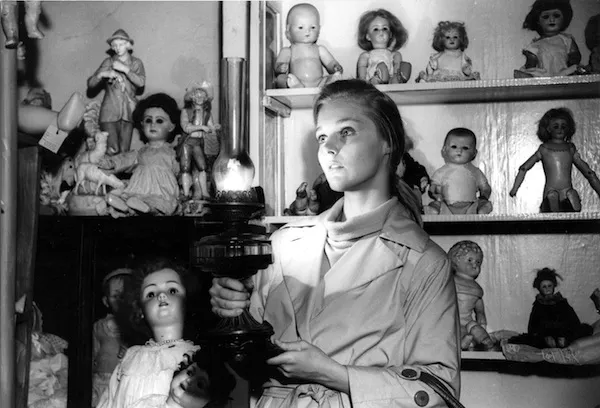 Carol Lynley in Bunny Lake Is Missing (Photo: Twilight Time)
BUNNY LAKE IS MISSING (1965). After overseeing a string of mammoth efforts like Exodus and In Harm's Way, Otto Preminger directed this hiccup of a film that on paper might have seemed more at home in the stable of William Castle (who in this period was making Strait-Jacket, The Night Walker and I Saw What You Did). Yet Preminger infuses the attendant luridness with a palpable air of dread, as an American (Carol Lynley, quite good) in London reports that her young daughter has mysteriously disappeared. But since seemingly no one in the entire country has ever seen little Bunny aside from her mom and uncle (Keir Dullea, quite wooden), the police inspector (Laurence Olivier) on the case can't help but wonder if the child even exists. Understandably enough, the lion's share of the choice dialogue is handed off to wily vets Olivier and Noel Coward (repulsive as Lynley's lecherous neighbor).
Blu-ray extras consist of audio commentary by film historians Lem Dobbs, Julie Kirgo and Nick Redman; theatrical trailers; and an isolated track of Paul Glass' score.
Movie: ***
THE GIVER (2014). An adaptation of Lois Lowry's award-winning 1993 novel, The Giver might be one of the best films of the year ... were the year 1996. As it stands, it's merely the latest — and among the lamest — in the recent deluge of movies based on popular Young Adult titles. It takes place in a future world in which everyone is the same and there's no hunger or war but also no love or music. The Receiver of Memories (Jeff Bridges) is the only one who knows about the past, and he's instructed by the Chief Elder (Meryl Streep) to pass his memories on to a teenage Receiver (Brenton Thwaites). Now referring to himself as The Giver, the old man hopes his young charge will use the memories as a springboard to a conscious awakening and rediscover what it means to be human. Even without measuring it against any YA cinematic competition, there's much that's lacking from this dud, particularly any sense of discovery or excitement. The performances are on the undercooked side, with even Bridges and Streep unable to muster much enthusiasm.
Blu-ray extras include a making-of featurette; a press conference with cast and crew members; and a study guide.
Movie: **
THE NOVEMBER MAN (2014). This film was a pet project for Pierce Brosnan, who had been trying to bring the late Bill Granger's novel (original title: There Are No Spies) to the screen for almost a decade. He receives an executive producer credit, and he's even stated that there will be a sequel based on one of Granger's other novels. Yet the result is so desultory, it's hard to imagine anyone wanting to see a follow-up — best to wait for the next 007 outing instead. Brosnan's Peter Devereaux is a CIA operative who quits the agency after his eager-beaver young partner David Mason (Luke Bracey) accidentally kills a little boy during one of their missions. Five years later, a CIA superior (Bill Smitrovich) shows up with an assignment, one that leads to Devereaux springing back into action. This is warmed-over spy vs. spy material, featuring characters whose illogical actions repeatedly place them closer on the IQ scale to Rowan Atkinson's bumbling Johnny English than any of the James Bond incarnations.
Blu-ray extras include audio commentary by Brosnan, director Roger Donaldson and producer Beau St. Clair, and a making-of featurette..
Movie: **