(View From The Couch is a weekly column that reviews what's new on Blu-ray, DVD and Streaming. Ratings are on a four-star scale.)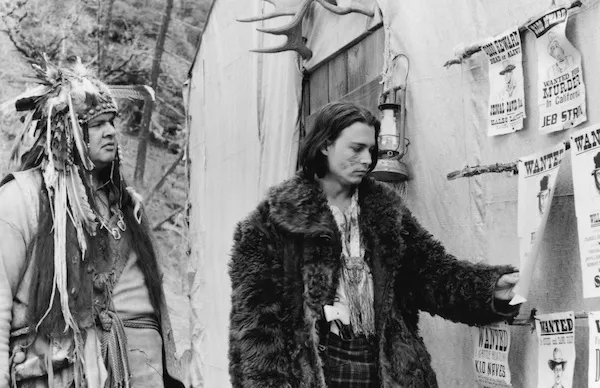 Gary Farmer and Johnny Depp in Dead Man (Photo: Criterion)
DEAD MAN (1995). A singularly unique experience from the singularly unique writer-director Jim Jarmusch, Dead Man is part revisionist Western, part social commentary, and part hallucinatory dream. Johnny Depp stars as William Blake, a meek accountant who leaves the relative comforts of Cleveland, Ohio, for a job in the Western town of Machine. Until arrival, he learns that the company (repped by John Hurt and Robert Mitchum in his final film appearance) has given his job to someone else. This in turn sets off a sequence of events that lead to Blake being falsely accused of murder and forced to flee from justice, with a trio of hired killers (Lance Henriksen, Michael Wincott and Eugene Byrd) hot on his trail. Luckily, he receives much-needed assistance from Nobody (Gary Farmer), a Native American loner who deems him a "stupid white man" until he comes to believe that he's actually the famous poet William Blake. Although it doesn't quite sustain its length until the end, Dead Man is an intriguing saga that benefits immeasurably from Robby Müller's exceptional black-and-white cinematography and Neil Young's evocative score. Farmer is excellent as the philosophical Nobody, with Wincott offering scattered laughs as a man whose mouth never stops moving.
Blu-ray extras include select-scene audio commentary by production designer Bob Ziembicki and sound mixer Drew Kanin; deleted scenes; a Q&A session with Jarmusch; a new interview with Farmer; readings of William Blake poems by various cast members; footage of Young composing and performing the film's score; and the theatrical trailer.
Movie: ***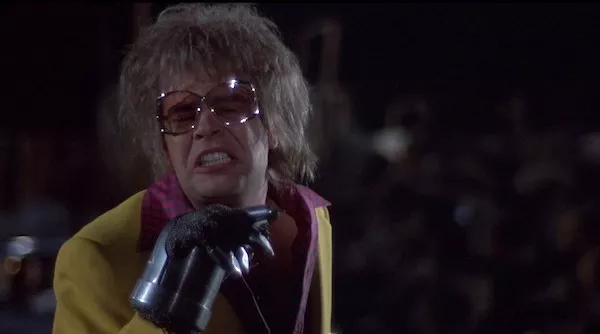 Dan Aykroyd in Doctor Detroit (Photo: Shout! Factory)
DOCTOR DETROIT (1983). The plotline of a timid and morally upstanding guy suddenly becoming a successful pimp sounds like a sleazy premise that couldn't possibly work, and yet it did ... twice. Ron Howard's 1982 Night Shift and Paul Brickman's 1983 Risky Business were both polished comic gems – hilarious and clever in equal measure – yet sandwiched between their releases was another like-minded effort that did not yield similar dividends. Doctor Detroit casts Dan Aykroyd as Clifford Skridlow, a fastidious dullard who teaches literature at Chicago's Monroe College. Easygoing pimp Smooth Walker (Howard Hesseman) finds himself running afoul of a mob boss known only as Mom (Kate Murtaugh), and to shift focus away from himself, he tells Mom that a powerful pimp from Detroit has newly arrived in the Windy City to take over. Needing a fall guy, he settles on Skridlow, and soon the wimpy professor has convinced everyone that he's the formidable and eccentric Doctor Detroit. Aykroyd labors mightily in his dual roles, but he's not particularly funny in either incarnation, and he's further let down by a script that largely botches its screwball elements. Hesseman and Fran Drescher (as one of the four prostitutes managed by Walker and then Skridlow) have their moments, and there's a late-inning musical performance by James Brown (portraying himself).
Blu-ray extras include audio commentary by director Michael Pressman and pop culture historian Russell Dyball; an interview with Pressman; vintage audio interviews from the EPK; a photo gallery; and theatrical trailers.
Movie: **
Olivia Newton-John and John Travolta in Grease (Photo: Paramount)
GREASE (1978). Until it was toppled last year by the live-action version of Beauty and the Beast, Grease reigned for 39 years as the highest grossing movie musical in film history. It's certainly one of the most beloved, with little introduction needed for its irresistible soundtrack, its familiar "boy meets girl" plot, or its ingratiating stars. John Travolta and Olivia Newton-John are enormously appealing as Danny and Sandy, and such musical set-pieces as "Summer Nights," "You're the One That I Want" and "Greased Lightnin'" remain as invigorating as ever. What can I say? In the immortal words belted out by Sha-Na-Na, I guess I was born to hand jive, baby. The lovely tune "Hopelessly Devoted to You" earned a Best Original Song Oscar nomination, absurdly losing to the inferior "Last Dance" from the inferior Thank God It's Friday (itself arriving on Blu-ray next week from the inferior Mill Creek Entertainment).
Already available on Blu-ray, Grease has returned in a newly remastered, 40th anniversary edition that contains a 16-page "yearbook" with film images. Extras include audio commentary by director Randal Kleiser and choreographer Patricia Birch; a retrospective making-of featurette; deleted and extended scenes; a piece on the original stage production; the opening credits sequence featuring an alternate song that was originally going to be used (it's not bad, but the one we got is infinitely better); an alternate ending (actually just a few extra seconds of footage); interviews with Travolta and Newton-John; and sing-along versions of the hit tunes.
Movie: ***1/2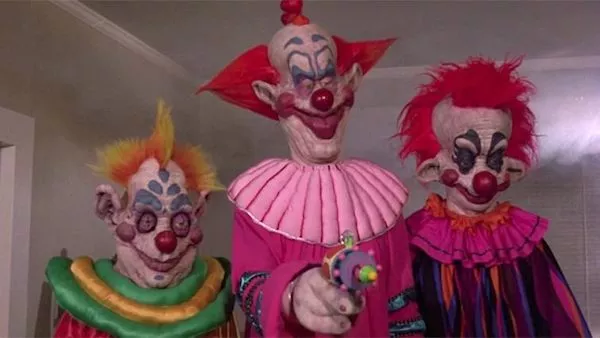 Killer Klowns from Outer Space (Photo: Arrow & MGM)
KILLER KLOWNS FROM OUTER SPACE (1988). Although the Chiodo Brothers — Stephen, Charles and Edward — have helped create the visual effects seen in various Hollywood flicks over the decades (credits include Critters, Elf and Team America: World Police), only once have they been given the reins to write, direct and produce their own motion picture. That would be Killer Klowns from Outer Space, and given the groovy results, it's a mystery why we've now gone 30 years without some studio handing them the funds to make another movie. Working wonders with a relatively slender budget, the siblings serve up an endlessly inventive yarn in which a small town is invaded by otherworldly Bozos who begin capturing, killing and cocooning the citizens for future consumption. Clean-cut kids Mike (Grant Cramer) and Debby (Suzanne Snyder) try to warn the local law, but while Debby's ex-boyfriend, Deputy Dave (John Allen Nelson), suspects they might be telling the truth, grouchy Deputy Mooney (John Vernon, scowling as much as he did as Dean Wormer in National Lampoon's Animal House) thinks it's all a big hoax. The imagination that went into the visual effects, the set design, and the alien gadgetry makes it easy to overlook any minor deficiencies in other departments.
Extras on the new Blu-ray edition from Arrow Video include audio commentary by the Chiodo Brothers; a making-of featurette; deleted scenes; interviews with Cramer, Snyder, visual effects supervisor Gene Warren Jr., and others; bloopers; a piece in which the siblings discuss their childhood achievements in filmmaking; six early short films by the Chiodos; and the theatrical trailer.
Movie: ***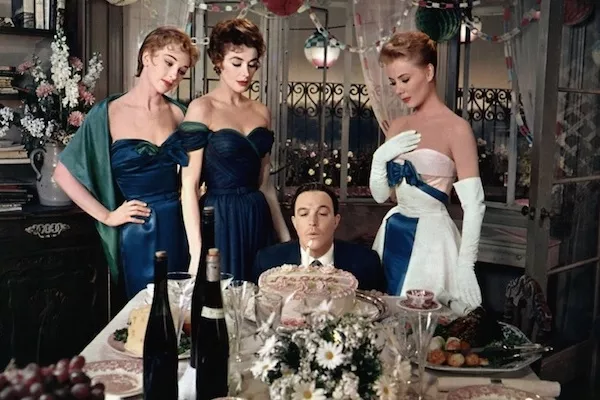 Taina Elg, Kay Kendall, Gene Kelly and Mitzi Gaynor in Les Girls (Photo: Warner)
LES GIRLS (1957). Akira Kurosawa's Rashomon meets the MGM musical in Les Girls, a middling romantic comedy in which the same story is related from the contrasting viewpoints of most of the primary participants. Following the breakup of Barry Nichols and Les Girls, a stage act fronted by the workaholic Nichols (Gene Kelly) and backed by the American Joy (Mitzi Gaynor), the British Sybil (Kay Kendall) and the French Angele (Taina Elg), Sybil writes a tell-all book detailing the group members' time together. Angele sues her for libel, and as the court case unfolds, Sybil and Angele each relate how they saw events going down, with a surprise witness showing up at the last minute to add a further twist to the proceedings. Unless one counts the 1974 compilation picture That's Entertainment!, this was Kelly's final MGM musical (with Cole Porter contributing a so-so score that's below his usual standards), and while his hoofing remains delightful, he delivers only a half-hearted performance in a rather sketchy role. Gaynor and Elg fare better, although it's Kendall who steals the show with a highly amusing turn (tragically, the actress would pass away two years later, felled by leukemia at the age of 33). Among the more memorable bits is "Why Am I So Gone (About That Gal)?," a dance number that finds Kelly spoofing Marlon Brando in The Wild One. An Oscar winner for Best Costume Design (outfits courtesy of Orry-Kelly), this earned additional nominations for Best Art Direction-Set Decoration and Best Sound.
Blu-ray extras consist of a 2003 interview with Elg; the 1954 Tex Avery cartoon The Flea Circus; and the theatrical trailer.
Movie: **1/2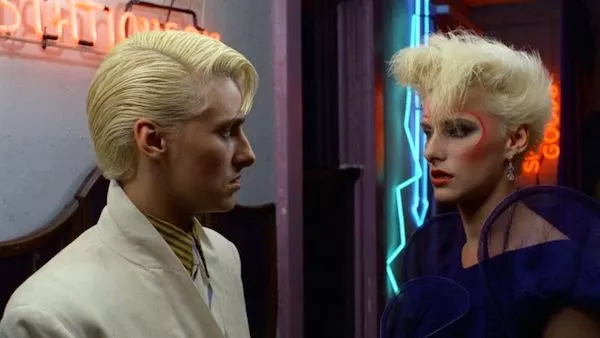 Anne Carlisle and Anne Carlisle in Liquid Sky (Photo: Vinegar Syndrome)
LIQUID SKY (1983). Like Killer Klowns from Outer Space, here's another instant cult item from the '80s that worked miracles with a low budget. If anything, this one's even more bizarre than the clown act, with writer-director Slava Tsukerman and co-scripters Anne Carlisle and Nina V. Kerova choosing to plop aliens down in the middle of New York's punk/New Wave club scene. These diminutive extra-terrestrials (never shown) perch their spaceship on the roof above the penthouse occupied by the bisexual model Margaret (Carlisle) and her drug-dealing girlfriend Adrian (Paula E. Sheppard). Discovering that human orgasms produce a heroin-like sensation on which they can feed, they begin killing everyone who has sex with Margaret – considering most of these partners are abusive, she's fine with their demises. Meanwhile, a German scientist (Otto von Wernherr) has arrived to study and then stop the alien invaders, but he proves to be woefully ineffectual. Carlisle is impressive in dual roles — she also plays a homosexual drug addict named Jimmy — and the film's throbbing music score, trippy effects, and commentary on sex, drugs & (punk) rock'n'roll mark it as a particularly spacey odyssey.
Vinegar Syndrome released Liquid Sky on Blu-ray this past November as a limited edition and now offers it sans the special packaging (slipcover and booklet) but with all the same bonus features. Extras include audio commentary by Tsukerman; a making-of featurette; interviews with Tsukerman and Carlisle; an alternate opening sequence; rehearsal footage salvaged from old Betamax cassettes; and trailers.
Movie: ***
Jennifer Jones in Ruby Gentry (Photo: Kino)
RUBY GENTRY (1952). King Vidor, who had directed Jennifer Jones to a Best Actress Oscar nomination for 1946's Duel in the Sun (reviewed here), reunited with the actress for another steamy melodrama about a woman from the wrong side of the tracks who becomes involved with two dissimilar men. Here, Jones is cast as Ruby Corey, a woman of low standing in the coastal North Carolina town of Braddock. Ruby loves the rugged Boake Tackman (who else but Charlton Heston could play such a macho character with such a ridiculous name?), but since he hails from a well-to-do family, he only dallies with Ruby while planning to marry a local socialite (Phyllis Avery). Angered and frustrated, Ruby rebounds by marrying the older Jim Gentry (Karl Malden), who lacks Boake's vigor and handsomeness but has always treated her kindly. But an unexpected development leaves Ruby once again contending with snobbery and prejudice, although now she has the means to adequately fight back. The class struggles endured by Ruby prove to be the script's strongest component, and there's catharsis to be found in the manner in which she lays waste to her tormentors. But most of the characters lack any real depth, and the clumsy inclusion of a narrator (Bernard Phillips as a doctor smitten with Ruby) turns out to be an unnecessary hindrance.
Blu-ray extras consist of the theatrical trailer as well as trailers for other classic Kino releases (including Duel in the Sun).
Movie: **1/2
==============================
FROM SCREEN TO STREAM
(Recommended films currently available on streaming services)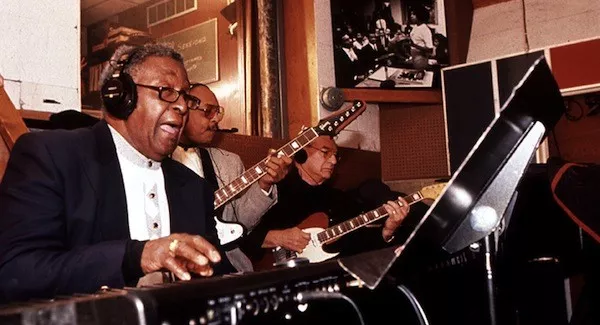 Standing in the Shadows of Motown (Photo: Artisan)
STANDING IN THE SHADOWS OF MOTOWN (2002). Hardly the comprehensive Motown documentary that many music fans might be expecting, this is nevertheless terrific entertainment, a captivating movie that pays tribute to a group of largely unknown musicians collectively known as The Funk Brothers. Basically Berry Gordy's "house band" during the heyday of the Detroit sound, these men backed up such Motown luminaries as Smokey Robinson, The Supremes, The Four Tops, Stevie Wonder, and Marvin Gaye as they produced hit after hit between 1959 and 1972. Director Paul Justman doesn't rely simply on talking heads, though in this instance that would have been entirely justified, given the rich anecdotes spun by the surviving musicians; instead, he mixes present-day interviews with archival photos, a few dramatic reenactments, and footage from a concert in which most of the Funk Brothers reunited to play Motown classics fronted by the likes of Ben Harper, Bootsy Collins and Joan Osborne (soaring through a lovely version of "What Becomes of the Broken Hearted"). Curiously, Gordy's rocky relationship with his employees is treated with kid gloves, but this is a mere quibble when juxtaposed against the film's utter success in bringing alive the music of Motown — and the memories of the men who orchestrated its success behind the scenes. (Amazon Prime)