(View From The Couch is a weekly column that reviews what's new on Blu-ray and DVD.)
Fantastic Mr. Fox (Photo: Criterion)
FANTASTIC MR. FOX (2009). Because 2009 found Spike Jonze directing an adaptation of Maurice Sendak's Where the Wild Things Are and Wes Anderson helming a motion picture version of Roald Dahl's Fantastic Mr. Fox, it wouldn't have been entirely surprising to then find Darren Aronofsky tackling Dr. Seuss' Hop on Pop and Paul Thomas Anderson serving up Arlene Mosel's Tikki Tikki Tembo. Of course, Anderson's stop-motion-animated opus never really feels like a film for the whole family, as it largely leaves out the sort of oversized humor found in movies made for the small fry. Instead, its pleasures, including Anderson's painterly compositions and the A-list vocal cast, seem more likely to win over viewers of voting age and above. George Clooney brings his usual mix of leading-man swagger and character-actor eccentricity to his interpretation of the title character, a newspaper columnist who once promised his wife (a largely wasted Meryl Streep) that he would leave behind his life of danger (i.e. stealing chickens) but instead finds himself being lured back by the prospect of sticking it to a trio of wicked farmers (the leader being voiced by Dumbledore himself, Michael Gambon). Moving to its own laid-back rhythms — an approach sure to cause couch-shuffling from those not on its wavelength — this likable lark functions as a reprieve from the plasticity of many modern 'toon flicks. It may not be fantastic, but it's good enough. This earned Oscar nominations for Best Animated Feature and Best Original Score (losing both awards to Up).
Blu-ray extras include audio commentary by Anderson; interviews with cast and crew members; behind-the-scenes footage; puppet animation tests; the 2005 documentary Fantastic Mr. Dahl; and an audio recording of Dahl reading from the source book.
Movie: ***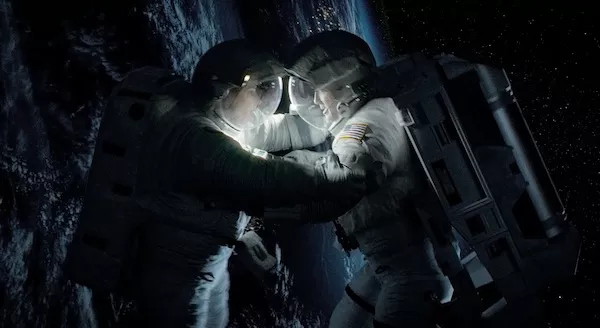 Sandra Bullock and George Clooney in Gravity (Photo: Warner Bros.)
GRAVITY (2013). To listen to some overzealous scribes tell it, writer-director Alfonso Cuarón's Gravity is so much the "game-changing" masterpiece that it almost makes 2001: A Space Odyssey look as feeble as Plan 9 from Outer Space by comparison. Well, no. To be frank, it's not even Cuarón's best picture, not with Y Tu Mamá También and Children of Men on his resume. Yet what it lacks in sociopolitical heft and laser-point characterizations it makes up for in sheer visual spectacle. Working with director of photography Emmanuel Lubezski and a crack FX team to create a you-are-there environment, Cuarón puts us in the company of rookie rocketeer Dr. Ryan Stone (Sandra Bullock) and veteran astronaut Matt Kowalski (George Clooney), members of the Explorer space shuttle crew. Their patch-up mission is going as planned until debris from a destroyed Russian satellite cripples the shuttle and kills everyone else. Stone is a panicky mess as she's free-floating through space with her oxygen supply running perilously low; that leaves it to Kowalski to devise a plan that will allow them to safely return to Earth. Lubezski should have won an Oscar years ago (credits include Sleepy Hollow and The Tree of Life), and he most likely will finally cop one next week: All of the visuals are so staggering, so awe-inspiring, that they bring up thoughts of the existence of God (or not; take your pick), the mysteries of the universe and the fatal beauty of everything that surrounds us. While the sparse screenplay by Cuarón and his son Jonás Cuarón will strike some as suitably thrifty and others as appallingly threadbare, there's no denying it sports a few moldy conventions. Still, it's an absorbing movie that looked incredible in IMAX 3-D, and while the home theater experience doesn't quite compare, it's nevertheless a gorgeous production on Blu-ray. Of course, one of the measures of a truly great movie is that it retains its appeal no matter what the viewing conditions; that's why Star Wars and Jaws continue to be endlessly discussed after three-and-a-half decades and why Avatar, the top-grossing movie of all time, is now largely ignored after a mere four years. Stripped of its bells and whistles, will Gravity stand the test of time? It's impossible to predict, but never mind: The present is our primary concern, and this eye-popper of a movie demands to be viewed in the spectacular now.
Blu-ray extras include a nine-part making-of feature; an analysis of some of the impressive shots seen in the film; and Jonás Cuarón's short film Aningaaq.
Movie: ***1/2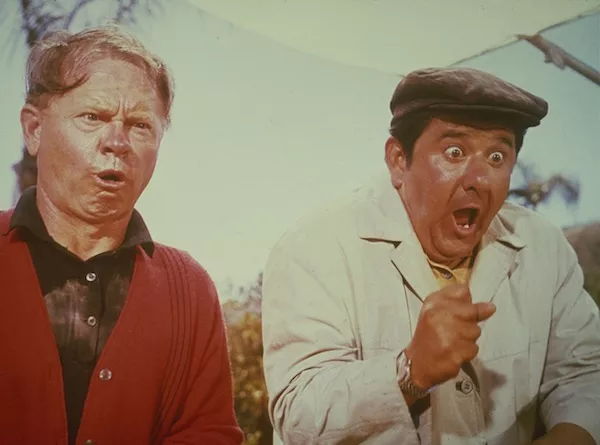 Mickey Rooney and Buddy Hackett in It's a Mad Mad Mad Mad World (Photo: Criterion)
IT'S A MAD, MAD, MAD, MAD WORLD (1963). Here's one of those movies that falls into the "judge for yourself" category, as many folks consider it one of the greatest comedies in film history while just as many view it as an exhausting exercise in overkill. Stanley Kramer, best known for such excellent dramas as Judgment at Nuremberg and On the Beach, decided to test his comic mettle with this anything-goes effort featuring an all-star cast of over three dozen familiar faces. Top-billed Spencer Tracy is the only one who escapes alphabetical billing: He stars as Culpepper, a police captain who's been keeping tabs on Smiler Grogan (Jimmy Durante), a crook who carefully hid $350,000 in stolen loot. Grogan perishes in a car accident, but not before telling various passers-by the location of the money. Soon, these various motorists are all dashing to reach the treasure first, joined along the way by others competing for the dough. To portray the multiple leads, Kramer mainly recruited comics known more for their stand-up acts or television shows than for movies (among them Milton Berle, Sid Caesar and Phil Silvers), peppered the smaller roles with the diverse likes of Peter Falk, Buster Keaton and Don Knotts, and included cameos from The Three Stooges and an unbilled Jerry Lewis. The comedy is of the frenetic sort — car chases, collapsing buildings, explosions, fisticuffs — but much of it is tedious instead of funny; clearly, Kramer's no Chaplin when it comes to carefully constructing a gag so there's a worthy payoff. Not surprisingly, the performances are a mixed bag, with some actors more successful than others at the art of upstaging. Terry-Thomas is a hoot as a Brit who gets mixed up in the shenanigans, and you really can't go wrong with the comic stylings of Caesar and Berle. Conversely, Ethel Merman's incessant shrieking becomes unbearable before the movie's even a quarter over, while Mickey Rooney proves to be about as funny as a plane crash. For every inspired set-piece, there are one or two that don't work, making this a frequently frustrating watch.
The Blu-ray contains both the 163-minute general release version of the film as well as the reconstructed 197-minute roadshow version. Extras include audio commentary by three fans of the film, comic writer Mark Evanier, producer Michael Schlesinger and camera operator Paul Scrabo; a piece on the film's visual effects and Oscar-winning sound effects; excerpt from a 1974 talk show, with Kramer, Caesar, Winters and co-star Buddy Hackett; a press interview from 1963 featuring Kramer and cast members; and a 1963 episode of the TV show Telescope, tracking the movie's press junket and premiere.
Movie: **1/2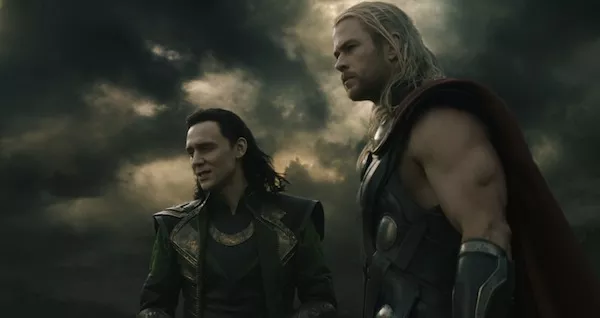 Tom Hiddleston and Chris Hemsworth in Thor: The Dark World (Photo: Disney & Marvel)
THOR: THE DARK WORLD (2013). In this latest Marvel outing, which (like Iron Man 3) takes place in the aftermath of the events that transpired in The Avengers, Thor (Chris Hemsworth) is busy implementing peace (via bloody battles, of course) throughout the realms surrounding Asgard while half-brother Loki (Tom Hiddleston) has been sentenced by their father and king, Odin (Anthony Hopkins), to eternal imprisonment. Meanwhile, down on Earth, scientist Jane Foster (Natalie Portman), upset that Thor never returned as promised, tries to move on by embarking on a date (a welcome appearance by Bridemaids' Chris O'Dowd) but mostly throwing herself into her work. The latter leads to her discovery of a mysterious substance, the Aether, that's being sought out by an old Asgardian foe named Malekith (Christopher Eccleston), a Dark Elf whose race was largely wiped out by Thor's grandfather centuries earlier. Malekith will stop at nothing to get his hands on the Aether, and his determination inevitably leads to the expected destruction as well as an unexpected death or two. Thor: The Dark World contains almost as much humor as it does CGI, and that's for the most part a welcome development. While the antics of Kat Dennings and Stellan Skarsgård as Jane's colleagues occasionally grow tiresome, Hiddleston continuously hits home runs with the material that's handed to him, from calling Thor a "witless oaf" to using his camouflaging abilities to appear as another Marvel superhero (a great gag). Hemsworth's easy-going charm allows the God of Thunder to also mine much of the mirth, as what he does with his hammer Mjölnir when entering a house. As with the first film, the characters and their interactions again provide all the high points (the exception is Hopkins, a colossal bore as Odin), with the cluttered storyline and routine action sequences jockeying for place position. The final battle, set in London, does manage to be exciting, but when an earlier sequence finds Asgard being attacked by spaceships, it's clear that the CGI overkill is under way.
Blu-ray extras include audio commentary by Hiddleston, director Alan Taylor, producer Kevin Feige and cinematographer Kramer Morgenthau; deleted and extended scenes; a featurette centering on the characters of Thor and Loki; a gag reel; and a look at the upcoming Captain America: The Winter Soldier.
Movie: **1/2
Michael Ironside in Visiting Hours (Photo: Shout! Factory)
VISITING HOURS (1982) / BAD DREAMS (1988). Scream Factory, the horror arm of Shout! Factory, has released these two titles as a single-disc double feature, allowing viewers to get two mediocre flicks for the price of one.
The Canadian release Visiting Hours is the better of the pair, if only because it sports an interesting cast (I've always admired the theatrical poster design as well). Oscar winner Lee Grant (Shampoo) stars as Deborah Ballin, a feminist TV journalist who so rankles psychotic misogynist Colt Hawker (Scanners' Michael Ironside) that he tries to kill her in her own home. She survives the attack and is sent to the local hospital to recuperate; Colt, however, isn't finished, so he hides out in the hospital looking for a chance to strike. Deborah's boss (William Shatner) isn't around enough to be much help, leaving the task of aiding Deborah from her assailant to a young nurse (Linda Purl of Happy Days, Matlock and countless other TV productions). For the most part, this is a routine slasher flick, although director Jean Claude Lord does display some occasional innovation in his shot selections.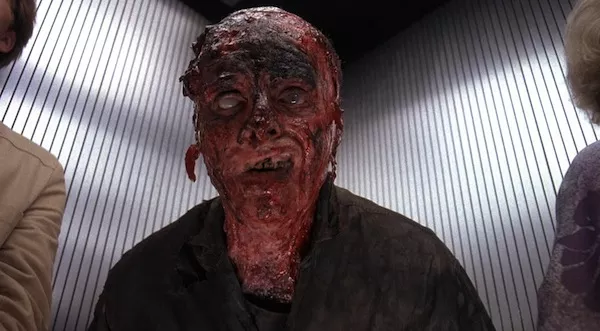 Richard Lynch in Bad Dreams (Photo: Shout! Factory)
There's almost no innovation in Bad Dreams, which registers as a blatant rip-off of the A Nightmare on Elm Street series. Jennifer Rubin plays Cynthia, the only survivor of a cult led by the fanatical Harris (Richard Lynch). Spending 13 years in a coma, she finally awakens, remembering nothing of the fire that killed Harris and the rest of his followers. Now in a psychiatric ward overseen by Dr. Berrisford (Harris Yulin) and Dr. Karmen (Bruce Abbott), she comes to believe that Harris has returned from the grave to torment her. It can't all be in her mind, though, as someone is bumping off her fellow patients. The twist ending isn't bad, but everything else is dreary and derivative. Look — or maybe listen — for Charles Fleischer (the voice of Roger Rabbit) and Elizabeth Dailey (the voice of The Powerpuff Girls' Buttercup and Rugrats' Tommy Pickles) in small roles.
Blu-ray extras on Visiting Hours include an interview with screenwriter Brian Taggert and radio and TV spots. Blu-ray extras on Bad Dreams include audio commentary by writer-director Andrew Fleming; interviews with Rubin, Abbott and co-star Dean Cameron; and the original ending.
Visiting Hours: **
Bad Dreams: *1/2