Back during Hollywood's golden age, MGM boasted that it had more stars than there were in heaven. Maybe so, but the studio whose lineup was truly celestial was Warner Bros. — its stable included Humphrey Bogart, James Cagney, Bette Davis, Edward G. Robinson and Errol Flynn.
While MGM focused on musicals, Universal produced horror movies and everyone made Westerns, Warner opted to put its muscle behind crime flicks, many centering on powerful gangsters who were eventually brought down not only by their own egos or their double-crossing associates but also by the era's fearful censors, those moral watchdogs who insisted that crime should never pay — at least not on movie screens.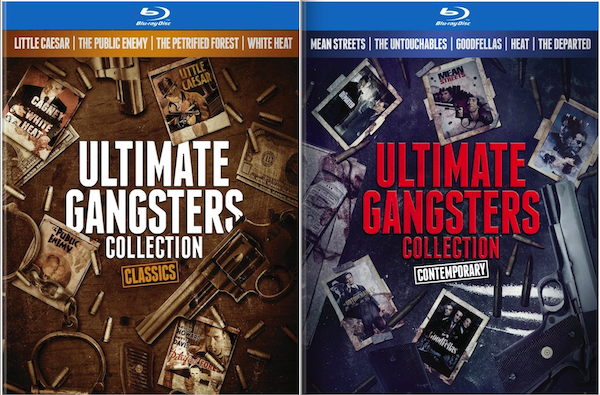 Most of the classic Warner gangster flicks have long been available on DVD, but the studio has now opted to release four of the most potent in a new Blu-ray box set, Ultimate Gangsters Collection: Classics. At the same time, it has also scooped up many of its modern-day crime flicks, all already available on Blu-ray, and collectively released them in the new box set Ultimate Gangsters Collection: Contemporary. Warner even tapped another studio, Paramount, for the rights to include one of their gangster yarns in the Contemporary set — no, not The Godfather, but The Untouchables, a film that feels right at home rubbing shoulders with Warner's various goodfellas.
In the Classics set, the lineup kicks off with Little Caesar (1931), in which gangster Caesar Enrico Bandello rises through the ranks of the mob underworld with alarming speed and plummets almost as quickly. Mervyn LeRoy's creaky direction dates this early talkie, but Edward G. Robinson's sensational performance in his star-making role has never lost any of its power.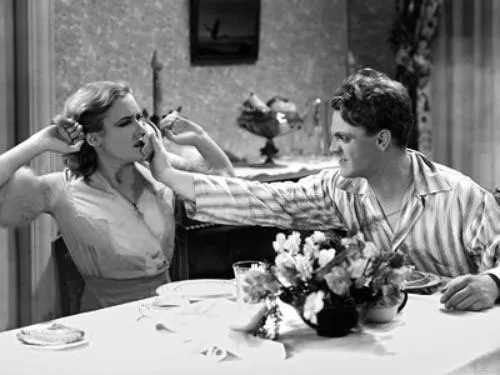 Mae Clarke and James Cagney in The Public Enemy (Photo: Warner Bros.)
The formula was repeated with The Public Enemy (1931), which similarly earned a bundle of money and likewise shot its leading man into the cinematic stratosphere. Here, it's James Cagney, whose charismatic turn as violent criminal Tom Powers perfectly lines up with William A. Wellman's inventive direction and a risqué, pre-Production Code script that includes Cagney's famous smackdown of Mae Clarke with a grapefruit in the kisser.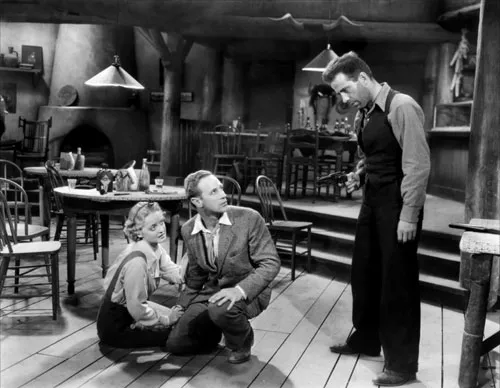 Bette Davis, Leslie Howard and Humphrey Bogart in The Petrified Forest (Photo: Warner Bros.)
The Petrified Forest (1936) is the atypical film of the bunch. Based on Robert E. Sherwood's stage hit, it casts Leslie Howard as a philosophical writer who stumbles across a desolate Arizona eatery and proceeds to alternately debate and woo waitress Bette Davis. Plenty of screen time passes before Humphrey Bogart's murderous Duke Mantee even shows up at the café and takes everyone hostage, but the two dissimilar parts of the film coalesce nicely to form a riveting whole.
White Heat (1949) is the pinnacle of the pack, with Cagney delivering his best performance this side of Yankee Doodle Dandy as Cody Jarrett, the psychotic killer plagued by crippling headaches, burdened with a scheming wife (Virginia Mayo) and loved by an elderly mom (Margaret Wycherly) who can be just as ruthless as her baby boy. The explosive "Top of the world, Ma!" climax has long been an acknowledged staple of classic cinema.
Each movie in this collection arrives complete with an incisive feature detailing the history of the film (naturally, Martin Scorsese is among the knowledgeable talking heads), as well as Leonard Maltin hosting "Warner Night at the Movies," which (emulating the moviegoing experience from decades past) includes a newsreel, a short film, a cartoon and a theatrical trailer before the main attraction.
The set also includes a bonus DVD that contains the feature-length documentary Public Enemies: The Golden Age of the Gangster Film and a 32-page hardcover book packed with photos and trivia.
It should surprise absolutely no one to learn that of the five films included in the Contemporary collection, Martin Scorsese directed three and Robert De Niro stars in four. The first picture in the set, in fact, is the one that largely elevated their standings in Hollywood. Mean Streets (1973) plays as autobiographical as just about any picture from any filmmaker, as it centers on an Italian-American man living in New York's Little Italy section. Charlie (Harvey Keitel) hangs around with hoods, loves going to the movies and struggles daily with his Catholicism (and the attendant guilt). De Niro delivers an attention-grabbing performance as Johnny Boy, an irresponsible punk who repeatedly ignores Charlie's sound advice and in the process infuriates just about everyone around him.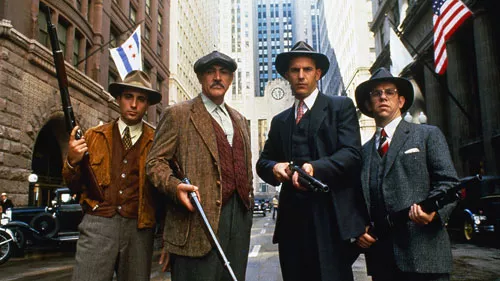 Andy Garcia, Sean Connery, Kevin Costner and Charles Martin Smith in The Untouchables (Photo: Warner Bros. & Paramount)
Director Brian DePalma's The Untouchables (1987) remains one of the all-time great gangster flicks, a gorgeously realized production that places archetypal heroes and villains in the service of a rip-roaring storyline. David Mamet's lean script finds federal agent Eliot Ness (Kevin Costner) deciding that he will stop at nothing to bring down Chicago mob boss Al Capone (De Niro) during the days of Prohibition. As the grizzled cop who takes Ness under his wing, Sean Connery earned a well-deserved Best Supporting Actor Oscar, though he should have been joined in the winners' circle by cinematographer Stephen H. Burum and especially composer Ennio Morricone.
Joe Pesci, Ray Liotta and Robert De Niro in GoodFellas (Photo: Warner Bros.)
GoodFellas (1990) needs little introduction. Considered by many to be Scorsese's finest achievement, it's certainly one of the premiere mob movies, and a motion picture so alive and full of energy that it continues to improve with each viewing. Ray Liotta ably handles the largest role while De Niro provides his usual clout, yet it's Joe Pesci, as an ill-tempered gangster who frequently displays the tendencies of a rabid wolverine, who deservedly copped a Best Supporting Actor Oscar.
In the three-hour epic Heat (1995), Al Pacino (forceful, if occasionally over the top) plays a Los Angeles detective determined to bring down a seasoned thief (De Niro, quietly effective) and his crack team of ex-convicts (Val Kilmer, Tom Sizemore and others); it's a strenuous assignment, as the cop's obsession with the case threatens to generally shut him off from the rest of humanity and specifically finish off his third marriage. Working from his own script, director Michael Mann effortlessly moves back and forth between dialogue-heavy scenes of low-boil intensity and some spectacular action set-pieces — and in the process gives us a sober portrait of what it's like to live and die in L.A.
Scorsese has helmed so many certifiable classics that it figures he finally won his Oscar for a movie that, while impressive, hardly ranks among his best. A remake of the excellent 2002 Hong Kong film Infernal Affairs, The Departed (2006) boasts an ingenious premise: A lawman (Leonardo DiCaprio) goes undercover and infiltrates the inner circle of a crime lord (a hammy Jack Nicholson), while a mob underling (Matt Damon) simultaneously works his way up through the ranks of the police department. Neither informant knows the other's identity, prompting both men to feverishly work to uncover the plant on the other side of the fence. The violence and vulgarity are pitched at operatic levels, and they occasionally verge on overkill. But William Monahan's intelligent script and the performances by the younger actors (as a profane cop, Mark Wahlberg turns surliness into an endearing character trait) remain strong throughout.
Scorsese provides audio commentary (along with other crew members) on the Blu-rays for Mean Streets and GoodFellas, while Mann offers commentary on Heat. All five films include behind-the-scenes featurettes, while Heat and The Departed also contain deleted scenes.
The set also includes a 32-page hardcover book filled with pictures and trivia.
Ultimate Gangsters Collection: Classics
Little Caesar: ***1/2
The Public Enemy:***1/2
The Petrified Forest: ***1/2
White Heat: ****
Ultimate Gangsters Collection: Contemporary
Mean Streets: ***1/2
The Untouchables: ****
GoodFellas: ****
Heat: ***1/2
The Departed: ***