Sitting in Summit Coffee on the Davidson College campus, Carlos Miranda fits right in with the other students chatting at tables or working quietly on the couches behind him. Sipping blueberry white tea in a black and gray striped sweater, his shoulder-length hair dangling over his eyes as he looks down at his laptop, the only thing that sets Miranda apart from his fellow Wildcats is that his skin is a couple of shades darker than those sitting all around him.
When he steps outside to chat, however, the Mexico native reveals a deep-seated anxiety that is surely not shared by the white students inside.
"There's a little tinge of guilt, I think. What separated me from everyone else? The reason I am here is because other people aren't," Miranda says. "I think that also helps drive me to ensure that I'm able to make something out of it, that I'm able to help other people get to this point."
Miranda was able to afford to attend Davidson thanks to the Golden Door Scholars program, launched by Red Ventures CEO and founder Ric Elias in 2012 to promote economic mobility by offering scholarships to high-achieving recipients of President Obama's Deferred Action for Childhood Arrivals program. Golden Door helps students in the 23 states where undocumented immigrants are refused in-state tuition no matter how long they've lived there.
Over the last six years, the program has sent 158 undocumented students to college, and Elias recently announced that he would continue to grow the program in spite of President Trump's announcement that he would rescind DACA in six months.
"The heart of the matter is simple; education unlocks opportunity" Elias said in a statement. "We believe in equality of opportunity. While political uncertainty and discord is stalling progress on critical issues, we'll keep moving forward to help more undocumented students get the higher education they deserve."
He asks that potential recipients visit goldendoorscholars.org to review eligibility requirements and complete the rolling application before October 25.
Golden Door started as a passion project for Elias and a small group of volunteers, all of whom were interested in issues of immigration and economic mobility. When DACA was implemented in June 2012, the group decided to give the scholarship fund a test run to see how much interest the program would garner. Elias and his volunteers planned to offer five scholarships to area schools, until they were inundated with 500 applications.
Kacey Grantham, an original volunteer who has since become executive director of Golden Door Scholars, says the group raised enough funds to send 13 students to college that year, nearly tripling the amount of recipients they had originally planned for. Since then, the program has continued to expand. Last year, Golden Door sent 66 new students to college, and Grantham said she plans to serve as many next year, if not more.
"We ended up doing 13 scholarships instead of five because we just couldn't say no to so many students. And then over the years we've done more and more," she says. "The students we're talking about are high performers, but over the years we've had 158 scholarships awarded and that's from a pool of well over 3,000 applications. So, you see, there are so many students that you have to turn down who you wish you didn't, because a lot of them deserve to go to college."
Miranda grew up in a South Carolina town of about 5,000, Batesburg-Leesville, where he had lived since arriving in the United States at age 4 with his parents from Vera Cruz, Mexico. He never took the idea of going to college very seriously. His parents emphasized the importance of hard labor, and the majority of folks in his small Midlands town valued faith over intellectual pursuits.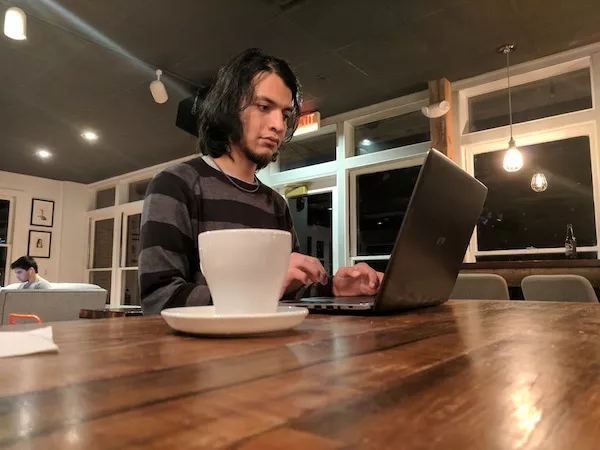 Carlos Miranda sits inside Summit Coffee on the Davidson College campus.
Before DACA, undocumented immigrants in South Carolina weren't made to pay out-of-state tuition like in a lot of other states — they were barred from attending state schools altogether. Miranda figured he would have to move back to a country he didn't know in order to attend college, as his siblings had, or settle for a job in construction here in the U.S.
In his 13 years in Batesburg-Leesville, he never told anyone about his legal status. One day, the mother of Miranda's closest friend began asking why he didn't want to attend college. She persisted until he told her about his status, and she vowed to help. She would eventually legally adopt Miranda in the hopes of helping his chances at attending college, and she also helped him apply for DACA once that opportunity presented itself.
It was then that Miranda became aware of Golden Door. He brought his school transcript to a meeting about DACA with his lawyer to prove how long he had been living in the country. When the lawyer saw it, she noticed his exceptional grades and handed him a card for Golden Door. The application deadline had passed by then, so Miranda kept the card until the next year, when his adoptive mother reminded him about it. He applied and later interviewed with staff before being approved. From there on out, his life was changed forever.
"It was emotional, definitely, because I have two older siblings who attempted to go to school here in the United States and were not able to," he says. "So when I heard that I was able to, that it had finally happened, that one of us was able to go to school here after living here for so long, that I didn't have to leave home, it was really exciting. It was something that I wasn't expecting. It wasn't exactly planned."
Miranda regularly thinks back to the day he interviewed for the Golden Door Scholarship. What did he say that got him accepted? What did other kids say that sealed their fate?
It's a concern fellow Golden Door scholars share with Miranda, he says, and it motivates him in everything that he does.
"I'm surrounded by people with a lot of privilege, with more money than..." he pauses and lets out a nervous laugh as he fidgets with his teacup. "I can't count that high. I know that my brothers and sisters were not able to do this. So many people — people that didn't get the scholarship that I got — didn't have this experience. I have to acknowledge that I'm in a very privileged position and I have to ensure that that's something that other people are also able to have, because there's so many people that are prepared to go to college, that are willing, that would work really hard to do this and they're not here."
The experience has inspired Miranda to pursue a career helping people, although he's not sure how he wants to do that. He's interested in working in the educational field helping those who are disadvantaged and vulnerable. He mentions an array of different potential nonprofit jobs that he's interested in, from museums to organizations that aid refugees.
"I want to be able to reach students — people that are in a vulnerable position or a less-privileged position — earlier on when I can still make an early impact and enough of an impact to let them know that it's possible regardless of the situation," he says. "It's difficult, it's really difficult, but being able to ensure that they at least know that there's several ways to get to a point where they can feel successful."
Miranda's pay-it-forward attitude is prevalent among Golden Door scholars, says Grantham. Many of the scholars come from low-income homes, or have lived in situations where they helped with the family income up until they left for college, so they are aware of the struggle being faced by countless people like them across the country, and are eager to offer their hand wherever they can.
"The students that we've selected that I've gotten to know, they're the first ones to reach out and say, 'How can we help other students who maybe weren't lucky enough to get the scholarship? How can we support other community efforts for low-income people in general?'" Grantham says. "They're very community oriented. This is their home and they want to be a part of it and give back. I'm just amazed that they can balance that along with school, and how they also deal with the stress of all the stuff that's going on now."
Although Golden Door scholars are peppered throughout the country, many are concentrated in the Carolinas. A high percentage of the scholars attend Davidson, Queens University, Wake Forest University and Meredith College in Raleigh. Students at each of these schools have built networks. Although it's become tougher to keep up with all the new scholars, Miranda stays in touch with most of those that began when he did.
Connecting with fellow DACA recipients has helped Miranda navigate a life on a campus that hovers around 75 percent white and just 8 percent Hispanic/Latino, according to CollegeData.com. He sometimes gets frustrated in class discussions about poverty or racial issues with other students who have never lived through it.
"They say, 'For 50 minutes, let's talk about how poverty affects these people somewhere else that we've never met. Let's figure out how we're going to solve their problems in these 50 minutes,' and they never actually touch reality," he says. "We do have a bit of an ivory tower in a place like this. There are students here that do get out to help and do great things, but it's a little disheartening to go into a class and have people solve all your issues who have never been in those problems."
Grantham and other Golden Door mentors help scholars stay connected through events like their annual summit; three-day events at the Red Ventures headquarters in Fort Mill, South Carolina, where they do community projects and leadership-building exercises, cementing relationships that can help students throughout their time in college and beyond.
Networks such as the ones built through Golden Door can be extremely valuable now, as DACA is threatened and most scholars have no idea what the future holds for them. Golden Door mentors have been reaching out to all students to keep them informed and help them with any needs, but sometimes what is needed most is peer support.
"They are definitely in an acute state of fear now. They span from being really fearful, especially for their families, all the way to wanting to fight back," Grantham says.
DACA supporters at a rally in Marshall Park on Sept. 5.
On September 5, the day Attorney General Jeff Sessions announces intentions to rescind DACA, hundreds of people rally at Marshall Park to defend the program.
Florencia Inige, a junior at Queens and a Golden Door scholar, is in attendance and says she is one day from celebrating 16 years in the United States. But now her future is in question.
"I want to stay optimistic for my family, for my parents," Inige says. "They really want me and my sister to stay positive and pray that there's something better coming, but until I see that, I'm not sure."
Inige is here with her fellow Queens Golden Door scholars, in a group Grantham says is one of the strongest networks she's seen.
#DefendDACA Rally: Florencia Inige from Creative Loafing on Vimeo.
"Queens has 19 students this year, so that's great for them," Grantham says. "When Trump was elected, they were texting me, 'We're all together, we're OK,' just really being a support system for each other. So I know they're doing the same thing now."
Along with his fellow Golden Door scholars, Miranda has built a network with other area college students who are also DACA recipients.
Thanks to a meeting that he now calls serendipitous, Miranda once ran into a group of DACA students from Johnson C. Smith University whom he keeps in touch with through a group text. The students get together in Charlotte "whenever someone has enough food to cook out," so they can discuss issues as they see them.
Miranda says he enjoys being able to hang out with people who know what it's like to have dodged police throughout their childhoods, who can relate to the feelings of not being connected with their families for long stretches.
"We're treated as a political argument all the time. We're a spear and shield for both sides of the aisle and I think it's very reductionist," Miranda says. "We're to the point where the humanity of people is lost, I think. Being able to talk to someone else in this position about that, and being able to connect on a very basic level, it's comforting. It's easier to cope and to help others. It helps me come to the realization that I'm not crazy. I maybe do have a reason and a right to be here."
And just for a moment, he can let go of that gnawing tinge of guilt.