(View From The Couch is a weekly column that reviews what's new on Blu-ray and DVD. Ratings are on a four-star scale.)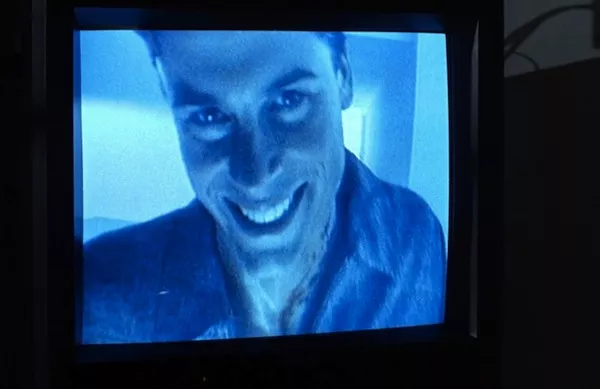 Rob Lowe in Bad Influence (Photo: Shout! Factory)
BAD INFLUENCE (1990). One of the big scandal-sheet stories of the late 1980s involved the surfacing of a videocassette that showed Rob Lowe's 1988 dalliance with a 16-year-old girl he met during the Democratic National Convention in Atlanta. Although the girl was of legal age in Georgia, the fallout involving both this incident and another recorded tryst — this one a threesome — led to a temporary tarnishing of his image. It also forced the makers of Bad Influence to flatly state that the scenes prominently featuring videos in their movie were not later added to the script as an in-joke or to capitalize on the controversy. I believed them at the time and still do — of course, if the film were more compelling, there would be no need to even ponder this point. The story, one of the first penned by David Koepp (who would become Hollywood's go-to guy for blockbusters like Jurassic Park, Spider-Man and Indiana Jones and the Kingdom of the Crystal Skull), is passable: Mild-mannered yuppie Michael (James Spader), dealing with harassment at work and faced with a marriage he doesn't want, meets Alex (Lowe), a free spirit who embraces life and won't back down from any situation (shades of the later Fight Club). At first, Michael succumbs to his new buddy's seductive charm and tags along on various risky adventures, only realizing after it's too late that Alex might be a psychopath. Spader does good work (although his transformation from a repressed square to a drunken criminal is never believable), and even better is Christian Clemenson as his brother, a dope-smoking layabout who rises to the occasion in unexpected ways. But Lowe's surface performance is distracting and eliminates much of the suspense necessary to keep this sort of grasping Hitchcock wannabe afloat.
Blu-ray extras consist of an interview with Koepp and the trailer.
Movie: **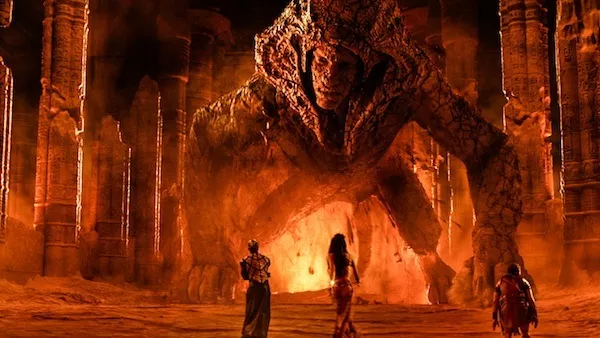 Gods of Egypt (Photo: Lionsgate)
GODS OF EGYPT (2016). Much hilarity ensued this past February when Gods of Egypt proved to be a flop of atomic-bomb proportions and director Alex Proyas took to Twitter to blame its failure on the critics (aka "diseased vultures"). Never mind that the ads made it look like nothing more than a CGI demo reel; never mind that the film's closest commodity to a box office draw was the sometimes-hot-and-usually-cold Gerard Butler; never mind that the picture, with its largely whitewashed cast, arrived in the midst of heated debates about the lack of diversity in Hollywood; and never mind that these types of movies have been notorious underachievers as of late (e.g. Exodus: Gods and Kings, Pompeii). Proyas solely faulted the reviewers, although The Onion as usual had the last word with its article "Leaked Documents Reveal Studio Executives Knew About Gods Of Egypt Before It Released Onto Public" ("They simply stood by and watched this tragedy unfold," commented the investigator.) Proyas stated that his film was influenced by Lawrence of Arabia, but it plays more like Lawrence of Nintendo, with impersonal (and often unconvincing) effects doing their best to bury the campy proceedings. Game of Thrones' Nikolaj Coster-Waldau plays the god Horus, who's set to become the next king of Egypt until he's blinded by his uncle Set (Butler), who then proceeds to usurp his throne. In order to reclaim his vision and his chair, Horus reluctantly teams up with a scrappy mortal named Aladdin — I mean Bek (Brenton Thwaites). Viewers might find their own senses usurped as Butler turns into Birdman, Geoffrey Rush (as Ra) manages to burst into flames while living on an elaborate platform high above the earth, and one of the sandworms from Dune makes a cameo appearance.
Blu-ray extras include a making-of featurette; deleted storyboards; and pieces on the visual effects, stunts, and costume designs.
Movie: *1/2
A scene from Cave Dwellers, featured in Mystery Science Theater 3000: Volume Two (Photo: Shout! Factory)
MYSTERY SCIENCE THEATER 3000: VOLUME TWO (2016). "Take that, third party sellers!" states the box copy. "Volume 2 is back in print and better than ever." That's bad news for the guy currently selling his vintage copy on eBay for $89.95 (and don't forget the additional $3.50 for shipping), but great news for the rest of humanity. The set kicks off with Cave Dwellers (movie made in 1982; featured on MST3K in 1991), starring Miles O'Keeffe. The former Tarzan, the Ape Man beefcake played the role of the mighty warrior Ator three times during the 1980s; this picture (originally titled The Blade Master) was the second entry, a laughable sword'n'sorcery yarn notable mainly for that 'stache on the villain Zor. Joel and the Bots rely on quality productions like 2001: A Space Odyssey and In the Heat of the Night to combat the inanity, and there's an amusing host segment in which Joel shows how common items can be used to create sound effects in movies. Next up is Pod People (movie made in 1983; featured on MST3K in 1991), an absolutely awful E.T The Extra-Terrestrial rip-off (originally titled Extra Terrestrial Visitors) in which an obnoxious child befriends an alien he dubs Trumpy while another creature goes around murdering insufferable adults. The SOL crew's "Chief? McCloud!" running gag wears out its welcome, but in all other respects, this is a terrific episode. Angels Revenge (movie made in 1979; featured on MST3K in 1995) was initially called Angels' Brigade, but rest assured it's a turkey by any definition. The members of the all-struggling-star supporting cast (including Jack Palance, Peter Lawford and Gilligan's Island escapees Alan Hale Jr. and Jim Backus) appear sporadically throughout this Charlie's Angels imitator in which several ladies battle drug dealers. You haven't lived until you see Backus play the moronic head of a right-wing militia group. The set concludes with Shorts, Vol. 1 (a special MST3K production from 1994), which finds Tom Servo serving as host for a compendium of seven popular short films culled from various episodes.
The only extras in the DVD set are hour wraps for Cave Dwellers and Pod People.
Collection: ***1/2
Tim Robbins in The Player (Photo: Criterion)
THE PLAYER (1992). One of the great motion pictures of the 1990s, this lacerating look at Hollywood also served as director Robert Altman's comeback after spending the previous decade in self-imposed exile making micro-budgeted indies and TV movies. Employing the same level of acidity displayed in Billy Wilder's Sunset Boulevard and Blake Edwards' S.O.B., Altman and screenwriter Michael Tolkin (adapting his own novel) focus on Griffin Mills (Tim Robbins), an assertive Tinseltown executive who finds his job security threatened by the studio heads and his life threatened by the person sending him ominous, anonymous postcards. A murder is committed, and this sets the stage for further shots at the film capital, from its unscrupulous denizens to its obsession with happy endings. The opening eight-minute tracking shot is justifiably celebrated, as is the obscene number of cameos by stars appearing as themselves (Buck Henry pitches The Graduate: Part II, Alan Rudolph is mistaken for Martin Scorsese, and Burt Reynolds gets hilariously profane; you also get Peter Falk, Jack Lemmon, Cher and approximately 50 others). As for the featured players, Lyle Lovett nearly steals the show as a detective with an affinity for Tod Browning's Freaks. The Player earned Academy Award nominations for Best Director, Best Adapted Screenplay and Best Film Editing (Geraldine Peroni), but it was absurdly ignored in the Best Picture race, where two of the slots went to the comparatively inferior A Few Good Men and (hold that sniggering) the awful Scent of a Woman.
Blu-ray extras include audio commentary from 1992 by Altman, Tolkin and cinematographer Jean Lepine; deleted scenes; a 1992 interview with Altman; new interviews with Tolkin and Robbins; footage from the press conference at the 1992 Cannes Film Festival; and a gallery identifying the cameo appearances in the film.
Movie: ****
Sandra Knight and Jack Nicholson in The Terror (Photo: Film Detective)
THE TERROR (1963). The production of The Terror certainly didn't lack for talent, but then again, that was often the case when Roger Corman was involved. The film guru who gave many of today's top names their big breaks is cited here as the sole director, but he only orchestrated a few scenes, with the remainder split up among four young bucks: Francis Ford Coppola (nine years before The Godfather), Monte Hellman (Two-Lane Blacktop), Jack Hill (Spider Baby) and Jack Nicholson. Nicholson also serves as co-star here — he plays Andre Duvalier, a Napoleonic officer whose infatuation with an enigmatic woman named Helene (Sandra Knight, then Nicholson's wife) eventually leads him to the castle of the brooding Baron Von Leppe (Boris Karloff). Also figuring into the proceedings are a local witch (Dorothy Neumann) and the Baron's manservant Stefan (that guy Dick Miller), perhaps the only one who understands the whole truth of the mystery at hand. Ever the thrifty filmmaker who was able to spend a penny where others would spend a dollar, Corman employed Karloff for three days of shooting (the length left on the actor's contract) and reused the sets still fresh from the previous Corman-Karloff-Nicholson collaboration, The Raven. The script for The Terror is erratic and the pacing often poor, but it's a treat to watch the great Karloff and a baby-faced Nicholson square off, and the story packs a couple of nice surprises toward the end — including that curtain-closing jolt.
There are no extras included on the Blu-ray.
Movie: **1/2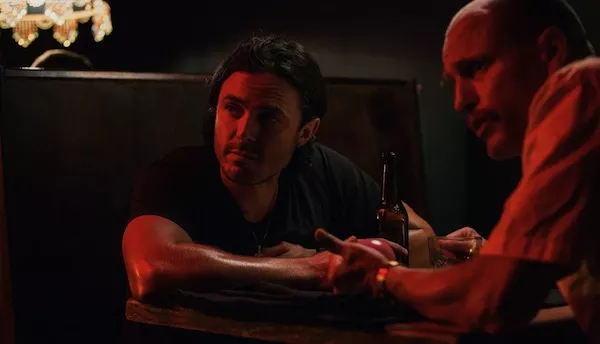 Casey Affleck and Woody Harrelson in Triple 9 (Photo: Universal)
TRIPLE 9 (2016). Triple 9, bless its grubby little heart, tries really hard to be something more than just another gritty cops'n'robbers flick — for one thing, in this film, the cops are the robbers. Set in Atlanta, this finds a group comprised of special ops vets (Chiwetel Ejiofor and others) and crooked police officers (Anthony Mackie and more) knocking off banks and Homeland Security buildings alike, all because they made the mistake of climbing into bed with the Russian Mafia. The head of the local chapter (Kate Winslet) forces the crew to perform one last burglary, one so difficult that they decide they need something to distract the entire Atlanta police force while they're committing it. They decide on a 999 — the code for an officer down — but the unsuspecting dupe (Casey Affleck) they recruit proves to be a bit more resilient than expected. Director John Hillcoat (The Proposition) prefers to shoot extensively in the dark, which adds ambience but also occasionally results in images so dim, you wish an a.d. would hand him a flashlight already. Yet his staging is impressive, particularly during an extended sequence in which cops snake their way through tight hallways and staircases in pursuit of a felon. The story by debuting scripter Matt Cook doesn't break any new ground but offers some terse exchanges to go along with some lapses in logic. The work by the members of the impressive ensemble is appropriate for the grim occasion but also limiting, with none of these characters ever allowed to flash a smile or play many emotions beyond surly. None, that is, except for Woody Harrelson. Cast as Affleck's uncle, an irreverent detective who enjoys cracking wise when he's not cracking open a bottle, he's the only actor here who's allowed to laugh all the way to the bank.
Blu-ray extras consist of two behind-the-scenes featurettes and deleted scenes.
Movie: **1/2