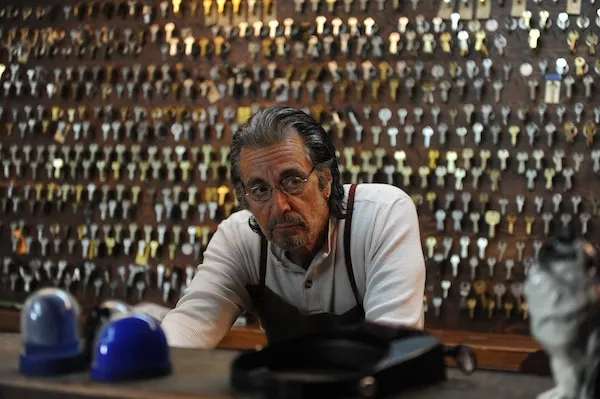 Al Pacino in Manglehorn (Photo: IFC Films)
Would it be acceptable to call the RiverRun International Film Festival an Academy Award winner? After all, the long-running Winston-Salem fest scored two major victories from the Academy of Motion Picture Arts and Sciences this past calendar year.
In January 2014, shortly before the 16th annual shindig, RiverRun was accepted as a qualifying festival for documentary shorts. That means that whichever film nabs the Jury Award for Best Documentary Short is automatically qualified for consideration in the Oscar category of Best Documentary Short. And in November 2014, months before this year's 17th annual festival, a second massive honor was bestowed on the event when the Academy deemed it worthy of serving annually as a qualifying festival for the Best Animated Short Oscar. Therefore, as with the documentary shorts, whichever animated short curries the jury's favor will be entered in the next Academy Awards race.
Clearly, this is a major coup for RiverRun executive director Andrew Rodgers and his exceptional festival team, as well as a victory for attendees guaranteed to continue seeing quality cinema at the various participating venues around town. And, as always, there's no shortage of viewing opportunities, as this year's event offers a whopping 165 films, from full-length features to, yes, those Oscar-courting shorts.
Running from April 16 through April 26, the cinematic showcase kicks off with screenings of Reality, the new comedy from French filmmaker Quentin Dupieux (Rubber), and Fresh Dressed, a documentary examining the history of hip-hop and urban fashion. The festival wraps up with a showing of Manglehorn, directed by NC School of the Arts graduate David Gordon Green (All the Real Girls, Pineapple Express and, uh, Your Highness) and starring Al Pacino and Holly Hunter as, respectively, a lonely locksmith and the woman he tries to romance. Other flicks to be shown during the 11-day stretch include Cut Bank, starring Liam Hemsworth, John Malkovich and Bruce Dern, Slow West, with Michael Fassbender, and 3 Hearts, co-starring Catherine Deneuve and Charlotte Gainsbourg. Among the potentially intriguing nonfiction works are The Black Panthers: Vanguard of the Revolution, Do I Sound Gay? (featuring interviews with Dan Savage, Margaret Cho and George Takei), Finders Keepers (with Charlottean and all-around good guy Tim Grant serving as a co-producer) and Magician: The Astonishing Life and Work of Orson Welles.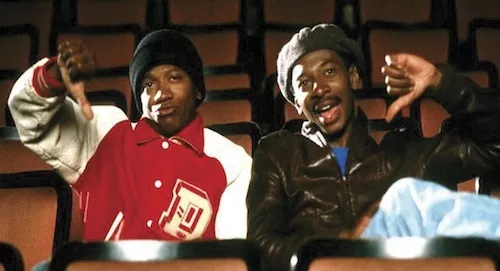 Jimmy Woodard and Robert Townsend in Hollywood Shuffle (Photo: MGM)
This year's roster also includes a Spotlight on Black American Cinema 1971-1991, a six-film showcase of such important motion pictures as Gordon Parks' Shaft, Spike Lee's She's Gotta Have It, Julie Dash's Daughters of the Dust and John Singleton's Boyz N the Hood. As part of the program, there will also be a conversation with Charles Burnett (whose Killer of Sheep will be screened as part of the six) and Robert Townsend (ditto with Hollywood Shuffle). And in its continuing commitment to preserve 35mm film, the fest will also screen a number of vintage titles, including the 1926 Clara Bow vehicle Mantrap and Sam Peckinpah's 1969 Western The Wild Bunch.
For information on other scheduled events, and for a look at the full lineup, go to www.riverrunfilm.com.