When benighted Black History Month rolls around, I inevitably think of the state of black music and of Roots, the famous 1977 miniseries that told a narrative of the Middle Passage and Africans enslaved in America. The most effective element of Roots, besides young LeVar Burton's indelible performance as Gambian Kunta Kinte, was the series' complex soundtrack composed by Quincy Jones. Amongst the great musicians Jones employed was now-forgotten 1960s Afro-soul diva Letta Mbulu.
Soweto native Mbulu's erasure from the pop-rewind radar is doubtless due to her being South African and somewhat in the shadow of husband Caiphus Semenya. The first-time CD reissue (British, of course) combining Letta Mbulu Sings and Free Soul (Stateside; Rating: ****) remedies this oversight. Many songs are sung in the South African tongue isiXhosa, but they are some of the most accessible Afropop ever recorded. Miriam Makeba's magnificent "Pata Pata" is more widely remembered, but Mbulu was also a protégé of Makeba's former husband, Hugh Masekela, in the 1960s. The two best cuts on the disc -- "Ade" (penned by Semenya, also recorded by Masekela) and "Welele" -- embody all the strengths of early Afropop's exciting blend of traditional rhythms, jazz, British Invasion rock and American R&B.
"Ade" especially is a brilliant synthesis of the same, rocking and rolling and drenched with sistagurl choruses and pulsing beats competing with that key South African instrument, the pennywhistle. It makes you wish for a command showdown between Mbulu and Motown star Martha Reeves -- "Ade" shares the swift, combustive excitement of "Dancing in the Street." None of Mbulu's Township-style pop mixed with soul would be out of place on the most exalted shelf of girl-group classics.
The box set One Kiss Can Lead To Another: Girl Group Sounds, Lost & Found (Rhino; Rating: ***) is an admirable attempt to gather many of the less-remembered hits and artists from the heyday of such groups -- the early-to-mid 1960s. Attempts to take all four discs of One Kiss in can be daunting, but highlights include: The Shangri-Las' "Out in the Streets," The Fabulettes' "Try the Worryin' Way," Carole King's "Crying in the Rain," Brenda Holloway's "Every Little Bit Hurts," and "You're No Good" by Dionne's sister Dee Dee Warwick. One Kiss is a great reminder of a time when rock & roll's feminine face (and voices) held more significant sway. Of course, girl groups' power has been influential ever since the Sirens lured Odysseus.
Still, no female artist was more significant in the 1960s than NC native Nina Simone -- not Diana Ross, not Ronnie Spector, or Marianne Faithfull or Carole King. RCA/Legacy's posthumous Simone reissue project continues with the releases of Sings The Blues (Rating: ****), Silk & Soul (Rating: ****), and Forever Young, Gifted and Black (Rating: ***). Inspired as a child by controversial black classical singer Marian Anderson, Simone adopted the maverick mantle unto her 2003 death in France. The singer/songwriter frowned at the jazz label her music was saddled with -- "Jazz is a white term to define black people. My music is black classical music" -- and covered a range of genres including blues, R&B and rock. Although a dazzling pianist, Simone's key instrument was her voice -- its hallmarks being raw passion and tremolo.
Of the myriad things Hollywood romantic comedies can be blamed for, one of their worst crimes is the perennial convention of deploying a limited, "safe" slice of Simone's catalog to express the insipid heroine's triumphs and blues. Viewing Richard Linklater's Before Sunset (2005) again last week, the final scene which has sometime-chanteuse Julie Delpy mimicking and channeling Simone's titanic strength, revealed itself as one such problematic example. And yet Delpy might be forgiven, as the French provided a harbor for Simone when the musician fled the US in the early 1970s. Simone was considered difficult here and would have lost her mind had she not found some semblance of peace in the centuries-old black American expat colony in France. The greatest significance of these reissues is that they finally restore the High Priestess of Soul to younger generations of Americans.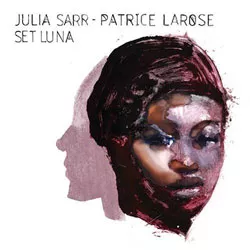 Wolof singer Julia Sarr and Spanish guitarist Patrice Larose are France's uncoupled answer to Tuck & Patti -- but for the digital age. A little static and a few loops aside, the sound of the duo's Set Luna (No Format/Sunnyside; Rating: ***) is predominantly "world chillout," but beautiful. The title translates as: So I've Observed. Most tracks -- especially the exquisite "Set Luna Djamonodjî" featuring Senegal's own towering super-étoile (superstar) Youssou N'Dour -- are a tasteful, delicate blend of layered voices, acoustic guitar and percussion from Taffa Cissé and Mino Cinelu. The twist comes from these nuevo flamenco compositions (except "Flor De Mi Secreto") being sung in Wolof, Senegal's primary tongue. If Sénégalaise-turned-naturalized Gauloise Sarr never quite reaches Lorca's "furious, burning" duende, her sweet tones still occasionally soar toward the firmament.