(View From The Couch is a weekly column that reviews what's new on Blu-ray and DVD. Ratings are on a four-star scale.)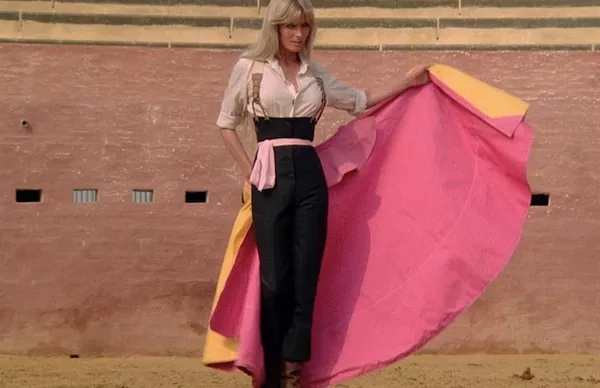 Bo Derek in Bolero (Photo: Shout! Factory)
BOLERO (1984) / GHOSTS CAN'T DO IT (1989). On the sorely missed Siskel & Ebert & the Movies (RIP, Gene and Roger), Roger Ebert once described 1993's Schindler's List as "one of the great moviegoing experiences of a lifetime." I've long felt the same way about John Derek's 1981 effort Tarzan, the Ape Man, albeit for very different reasons. Catching the spectacularly untalented Bo Derek (John's wife) in this bastardization of Edgar Rice Burroughs' classic novel as a teenager upon its original release, the film was both mind-numbing and mind-blowing — I was used to seeing awful movies made for a buck fifty by filmmakers like Ed Wood, but how could a big-budget Hollywood production turn out so abysmal and so unwatchable on every single level? (It surpassed even the previous year's The Blue Lagoon for sheer ineptitude.)
Tarzan, the Ape Man was a box office hit, so three years later, the Dereks were back with Bolero, another wretched and wasteful use of precious film stock. Bo delivers another gruesome performance — she might be the worst actress of all time, and that's not just hyperbole — this time playing a college graduate who decides to travel the world in search of the perfect man to strip her of her virginity. She settles on a youthful sheik (Greg Benson), and they engage in a tryst that's meant to be erotic but is instead merely icky (he licks copious honey off her bare body, but the way it hangs from his nose makes it look like he sneezed phlegm all over her). Discovering he's a dud as a lover, she next chases after a bullfighter (Andrea Occhipinti), with her paternal chauffeur (poor George Kennedy) and her nitwit best friend (Ana Obregon) keeping her company. About the only positive thing to say about this sizable turkey is that it's sex-positive and stays away from slut-shaming — a stance more American productions should take. Beyond that, there's nothing worthy of any reflection — I daresay even waterboarding is less punishing than watching this.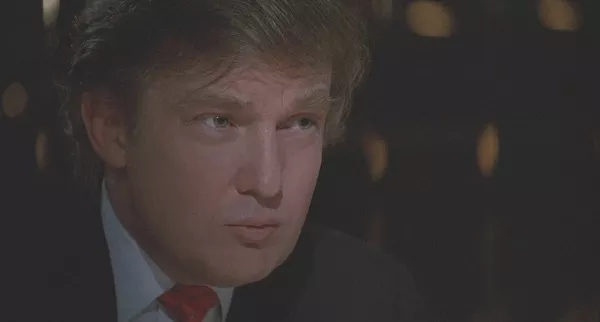 Donald Trump in Ghosts Can't Do It (Photo: Shout! Factory)
Bolero barely earned back its production costs, and it was five years before the Dereks resurfaced again, this time with Ghosts Can't Do It. Unlike Tarzan, the Ape Man and Bolero, I had never seen this one before previewing this new double feature disc from Shout! Factory (it barely made it to theaters), but I wasn't exactly shocked to discover it's as rancid as the pairs' previous efforts. Bo plays Katie, the much-younger wife of a businessman she alternately calls Scott and "great one" (Anthony Quinn, afraid he might have to give back his two Oscars). After Scott dies, his ghost comes back to keep Katie company — it's not a physical enough relationship for either of them, so they discuss killing a young narcissist named Fausto (Leo Damian) so that Scott's spirit may occupy his body. A priest lambasts Bo for her sinful dancing, an angel (Julie Newmar, TV's original Catwoman) discusses the afterlife with Scott, and the odious Donald Trump appears as a sleazy corporate raider (yes, he's playing himself, or, as the end credits state, "And Yes, That Really Was Donald Trump"). America's favorite fascist earned the Razzie Award for Best Supporting Actor and a Razzie nomination for Worst New Star (beaten by The Godfather: Part III's Sofia Coppola), but he's hardly the worst this film has to offer. Front and center is Bo, hopelessly delivering the poor dialogue served up by her hack husband.
The only Blu-ray extras are both films' theatrical trailers.
Both Movies: *
Jake Gyllenhaal and Jason Clarke in Everest (Photo: Universal)
EVEREST (2015). One of two Fall '15 flicks that deserved to fare better at the box office (the other was The Walk), Everest depicts in bone-chilling detail the circumstances that led to the deaths of several people as they attempted to scale the majestic Himalayan mountain back in 1996. Too many climbers, miscommunication among the guides, a lack of sufficient resources (such as oxygen tanks), Mother Nature at her most unpredictable and most punishing — all of these play a hand in the tragedy that hits the members of two competing groups. First and foremost, there's Adventure Consultants, a New Zealand outfit led by the smart and sensitive Rob Hall (Jason Clarke) and employed by, among others, a meek schoolteacher (John Hawkes) and a Texas blowhard (Josh Brolin). But also figuring in the action is Mountain Madness, a rival outfit overseen by a brash American named Scott Fischer (Jake Gyllenhaal). It's when the members of both these groups as well as those from other teams start to bottleneck on the deadly slopes that the stage is set for calamity. Those who only vaguely recall the real-life incident will probably be more riveted by the randomness of life and death than those who read one of the various books on the subject, but everyone will doubtless admire the measured pace of the script by William Nicholson and Simon Beaufoy and the immersive visual and aural assault orchestrated by director Baltasar Kormákur. The sound design in particular is award-worthy, with whistles of frigid air and rumbles of fearsome avalanches raging from home theater speakers.
Blu-ray extras include audio commentary by Kormákur; a making-of featurette; a piece on the real-life tragedy; and a look at the film's visual effects work. A 3-D edition is also available.
Movie: ***
Jenny Seagrove (background) in The Guardian (Photo: Shout! Factory)
THE GUARDIAN (1990). William Friedkin is the director behind the 1973 classic The Exorcist, but his belated return to the horror genre 17 years later proved to be a cinematic non-event. Based on Dan Greenburg's novel The Nanny, this daft picture stars Jenny Seagrove as the title character, a British caretaker — and a descendant of the druids — who routinely sacrifices her infant charges to a majestic tree located deep in the woods (woods that, incidentally, always seem to be nearby no matter where in Los Angeles she happens to find herself at any given moment). Her latest target is the weeks-old son of wholesome couple Phil (Dwier Brown) and Kate (Carey Lowell, Pam Bouvier in the Bond flick Licence to Kill) — landing the position as the baby's guardian, she bides her time until he's ready to be sacrificed to the gnarled tree. The actors are all earnest (including Brad Hall, Julia Louis-Dreyfus' longtime husband, as a neighbor whose attraction to the new nanny proves to be his undoing), but even their conviction can't obscure the general silliness of the enterprise. And as far as flying nannies go, Seagrove's isn't half as intimidating as Julie Andrews' Mary Poppins.
Blu-ray extras consist of separate interviews with Friedkin, Seagrove, Brown, co-writer Stephen Volk, makeup effects artist Matthew Mungle, and others; a behind-the-scenes photo gallery; and the theatrical trailer.
Movie: **
Anne Hathaway and Robert De Niro in The Intern (Photo: Warner Bros.)
THE INTERN (2015). The latest from writer-director Nancy Meyers stars Robert De Niro as Ben Whittaker, a widower who's bored with his retirement until he spots an ad for a successful startup company seeking a senior citizen to work as an intern. Landing the job, he's assigned to serve directly under the company's founder, a workaholic named Jules Ostin (Anne Hathaway). While Ben's an immediate hit with everyone else in the office — he's personable, funny, and full of sound advice — Jules opts to keep her distance, although it isn't long before he's broken through her defenses. The deterioration of De Niro's career has been swift and brutal, the result of too many bald lunges at sizable paychecks. So it's nice to see him underplaying rather than overacting, delivering a relaxed, sympathetic performance. The film features many humorous moments, several appealing characters and even some subtext about the lunacy of dismissing this nation's elderly when their value to society still holds some currency. Given all this, it's a shame the movie isn't a tad better. Meyers' greatest flaw is that, as with Woody Allen most of the time, her stories and people exist in a bubble of pampered privilege, and this tends to lead to some rigid narratives with no room for unpredictable happenstances. Worse, the picture features a few embarrassing moments that suggest Meyers allowed her own 20-something intern to try his hand at scripting a couple of pages — witness the sophomoric, out-of-left-field bits involving Ben's erection. Notwithstanding these limp developments, though, The Intern is dependable enough to earn a modest recommendation.
Blu-ray extras include a discussion with Meyers; an interview with supporting players Adam DeVine, Zack Pearlman and Jason Orley; and a piece on the film's costume and set designs.
Movie: **1/2
Joaquin Phoenix and Emma Stone in Irrational Man (Photo: Sony Pictures Classics)
IRRATIONAL MAN (2015). If someone close to you murdered an utterly evil person with no redeeming qualities whatsoever — someone like, say, Rupert Murdoch or Donald Trump — and you were the only person who could send them to jail, would you keep quiet, knowing they probably did the right thing even if it went against all notions of morality, or would you speak up, deciding the law must be upheld at all costs? It's a great philosophical query — it's also a sharp hook for a movie, provided the film comes off as more than just a didactic rant. Unfortunately, Woody Allen's Irrational Man most resembles a college-level term project — appropriate, given its scholastic setting. Joaquin Phoenix plays Abe Lucas, a professor who derives no pleasure out of life. Despite his morose attitude, he proves to be Irresistible Man to the ladies, particularly faculty member Rita (Parker Posey) and student Jill (Emma Stone). But Abe has been rendered impotent by his existential agonizing, a condition that only changes once he overhears strangers discussing a heinous judge overseeing a child custody case. Suddenly, Abe feels that only by committing a perfect murder of an abhorrent individual — and by getting away with it — will he be able to fully enjoy life again. The film becomes a one-sided conversation because Abe is the only one offered any complexity, with Jill and Rita functioning as nothing more than soundboards. Even with dialogue that's often clunky, fans will want to see this just to watch adults engage in conversations concerning the likes of Dostoyevsky, Heidegger and Kant — it's the sort of chat one won't find in something like Pixels, for example. It's just too bad the film represents one of Allen's lesser efforts as a ventriloquist. We see the performers' mouths moving, but all we hear is Allen venting from atop the stool.
Blu-ray extras include footage from the premiere and a photo gallery.
Movie: **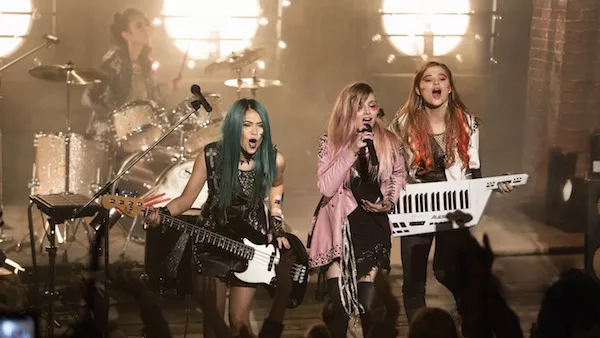 Aurora Perrineau, Hayley Kiyoko, Aubrey Peeples and Stefanie Scott in Jem and the Holograms (Photo: Universal)
JEM AND THE HOLOGRAMS (2015). This colossal bomb runs a punishing 119 minutes — that's the equivalent of watching Rebecca Black's music video for "Friday" 31 times in a row. Forced to choose at gunpoint, I think I would rather place my chip on Black and let it ride. The film is an adaptation of the successful animated series from the 1980s, and let's pause to note that the word "adaptation" is used here in the absolutely loosest sense. In the end, the movie is an adaptation of the cartoon about as much as Steven Spielberg's Jaws was an adaptation of Emily Brontë's Wuthering Heights. In this awful interpretation, Jerrica (Aubrey Peeples) is not a powerful and confident boss (as in the series) but rather a fragile and shy teenager living with her biological sister Kimber (Stefanie Scott), her adoptive sisters Shana (Aurora Perrineau) and Aja (Hayley Kiyoko), and her Aunt Bailey (Molly Ringwald). They're about to lose their house to foreclosure, but before 99 Homes' Michael Shannon can show up on their doorstep to claim possession, Kimber decides to upload to YouTube a video of Jerrica mumbling a tune she wrote. Jerrica's song strikes such a chord across the nation that it's viewed by millions and "Liked" by thousands (and "Disliked" by only five people! LOLOL, as the kids say). The fervor catches the attention of Starlight Music head Erica Raymond (Juliette Lewis), who nabs Jerrica (and her siblings as backup singers) but insists that her true identity remain a secret. Thrust into the spotlight, Jerrica becomes a star under her alter ego of Jem, but soon she's worried that "the real me" will get overshadowed by her stage persona. In other words, Hollywood has made yet another banal drama about the price of fame, this one more dreary than most.
Blu-ray extras include audio commentary by director Jon M. Chu; a making-of featurette; deleted scenes; and a gag reel.
Movie: *
Matt Damon in The Martian (Photo: Fox)
THE MARTIAN (2015). Nominated for seven Academy Awards (including Best Picture), Ridley Scott's The Martian will disappoint only those who were waiting for Marvin to show up at some point to wreak looney havoc. Perhaps not since Ron Howard's 1995 Apollo 13 has a movie paid such loving tribute to star-struck visionaries and their egghead enablers, those brainiacs who work tirelessly to send them soaring past the heavens and just as feverishly toil to return them safely to the fold. Matt Damon plays Mark Watney, who's stranded on Mars after his team mistakenly believes him to have been killed in a freak accident. While his fellow astronauts hurtle back toward Earth — a journey that will take many months — Watney calmly assesses his situation and determines that if he can sufficiently secure the man-built outpost on the Mars surface and if he can not only ration his food but also grow some more, he might be able to survive long enough for a hopeful rescue. Adapted by Drew Goddard from Andy Weir's novel, the film's strength largely derives from the characterization of Mark Watney: As expertly brought to life by Damon, he's easy to like and even easier to admire, as he employs his sense of humor to take the edge off his dire predicament, thus allowing him to rationally face challenges one step at a time. Yet despite Damon's star billing, this is hardly a one-man show. Instead, the picture frequently cuts away from Watney, not only to focus on the various earthbound players as they argue, compromise and coordinate but also to check in on Watney's fellow space travellers and get their take on the situation. The Martian represents that other type of inspirational drama, one that moves us not through oversized action but through understated intelligence.
Blu-ray extras include two making-of pieces; several in-character mock documentaries; a gag reel; and a production art gallery.
Movie: ***1/2
Deanna Dunagan and Peter McRobbie in The Visit (Photo: Universal)
THE VISIT (2015). A tepid horror yarn that might as well have been called Old People Are Scary!, The Visit finds writer-director M. Night Shyamalan allowing the clumsy and overused "found footage" approach to stand in the way of generating anything resembling suspense. The title refers to when precocious siblings Becca (Olivia DeJonge) and Tyler (Ed Oxenbould) visit the grandparents they've never met, since the elderly couple have been estranged from the kids' single mom (Kathryn Hahn) for years. Becca wants to become a filmmaker and thus records the entire trip; for his part, Tyler fancies himself a white-boy rapper, leading to a few excruciating sequences that won't exactly keep Eminem up late with worry. The grandparents, Nana (Deanna Dunagan) and Pop Pop (Peter McRobbie), inexplicably find their behavior adorable, but the goodwill isn't exactly returned. While the old folks are nice enough, Becca and Tyler are disturbed by their eccentric behavior, which includes dancing around the house naked (Nana) and keeping soiled diapers in the shed (Pop Pop). The kids assume it's just the way old people behave, only waking up to their dire predicament when it might be too late. The third-act twist is fairly obvious to anyone who's ever read an EC horror comic or watched an episode of Alfred Hitchcock Presents, but even those who don't suss it out might feel underwhelmed. At least the acting is strong, and Shyamalan admirably resists giving himself a plum role (see: Signs, Lady in the Water). As for the terror quota, it registers more on the risible side, featuring sudden (read: lazy) jump cuts, looming close-ups of wrinkles (Shyamalan's approach to his elderly characters smacks of ageism), and even a rash diaper rather than a diaper rash (DADT).
Blu-ray extras include a making-of featurette; an alternate ending; and deleted scenes.
Movie: **