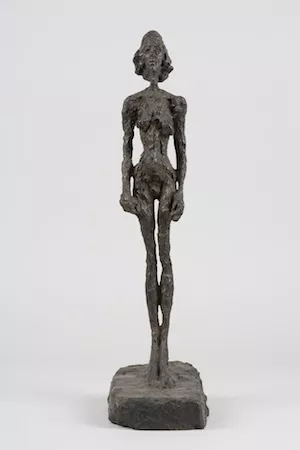 Alberto Giacometti, Annette from Life, 1954, bronze, 54.1 x 14.3 x 20.1 cm © Alberto Giacometti Estate/Licensed by VAGA and ARS, New York, NY /Licensed by VAGA, New York, NY

Annette from Life
There comes a time in life when you've got to re-evaluate. Artistically speaking, that time is usually followed up with one of two (or, in some cases, both) realizations: passionate enthusiasm or dark, sorrowful longing. Either route can lead to new approaches, changes and transformations, be they bad or be they very, very good.
I'd like to think that Alberto Giacometti, a master of 20th-century modernism and the focus of the Bechtler Museum of Modern Art exhibit Giacometti: Memory & Presence (on view through Feb. 8), felt the more positive reflections in association with the acclaimed works he produced in a shabby little Paris studio up until his death in 1966 at the age of 64. But there's an empty, sullen streak throughout many of his works that could lead one to believe otherwise. You get the feeling that it's not just human figures that he aimed to capture, but their empty, lingering shadows.
Born in Switzerland to an artsy household (his father Giovanni Giacometti was a painter, his brother Diego Giacometti was a sculptor/designer, and his other brother Bruno Giacometti was an architect), Alberto Giacometti has made a lasting impression in the realm of art. He's best known for his surreal, elongated, stick-like sculptures, most of which were created during the outbreak of World War II and seem to be inspired by the popularity of existentialism. In the exhibit, you'll see these, along with paintings, drawings and decorative ware created across the span of his career.
Some of the works come straight from patron and artist Andreas Bechtler, having been purchased by his father Hans Bechtler, while others were acquired for the exhibit from the Giacometti Foundation founded by Hans Bechtler and his brother in Zurich, and the Alberto and Annette Giacometti Foundation in Paris.
The art in the exhibit, from all different periods of Giacometti's career, is arranged chronologically, leaving viewers with the feeling they've walked through a timeline of the artist's life. There are three main sections of Giacometti's work: early pencil and ink drawings and paintings; surreal, cubist sculptures; and figures and busts.
Alberto Giacometti, Giorgio Soavi, 1963, oil on canvas, 54 x 44 cm © Alberto Giacometti Estate/Licensed by VAGA and ARS, New York, NY /Licensed by VAGA, New York, NY

Giorgio Soavi
The experience is made more personal by displays and an audio guide that shares info about how many of the works were modeled after his wife, Annette Arm, as well as other close family members and friends. We learn that he counted, among many fascinating friends and acquaintances, Jean-Paul Sartre and his companion, writer Simone de Beauvoir. The story of how the Bechtlers came to know Giacometti and his family is also fully disclosed.
As a young, budding artist, Giacometti demonstrated great attention to detail, while his later progression with cubist and surreal works deepened at an art school in Paris. These were early examples of his success as a sculptor — even before the famous figures he's mostly associated with today.
The room containing his later works — figures, busts and more paintings — captures the flow of how his process evolved. This is not for the better or worse, just in an entirely different direction that feels a bit more emotionally void, abstract and captivating. The most compelling facets are, of course, the busts, many modeled after his wife, who would sit for hours at a time before their completion. One of these busts is accompanied by its original mold.
The walls are lined with various portraits, which Giacometti painted with dark hues and recalculated lines. The heads in these paintings seem to grow smaller, while the dark, blackened faces pop with detail through repeat viewings.
The folks over at the Bechtler Museum plan to have more exhibits featuring the art of Giacometti in the future. For now, you'd better seize the day and visit while this one is up. It serves as a fine introduction to Giacometti and unveils a collection of his works from all segments of his life.
Through Feb. 8. $4-$8. Museum hours: Monday, 10 a.m. to 5 p.m.; Wednesday-Saturday, 10 a.m. to 5 p.m.; Sunday, 12 p.m. to 5 p.m. Bechtler Museum of Modern Art, 420 S. Tryon St. 704-353-9200. www.bechtler.org.