visitlondonimages/britainonview
BOW DOWN: London
You pressed your snooze button at least nine times before you dragged yourself out of bed and went to work. You leave the office to go home and watch reruns of The Office. Your idea of a vacation is going to Myrtle Beach, Asheville or eating potato salad at your family reunion. You need to get away -- and fast.
But you don't want to be just another tourist walking through Times Square, strolling Rodeo Drive, and touring Buckhead, do you? You call that a getaway? You've been sitting at the cool kids' table waaaay too long for that. You want to rub the underbelly of a town with your own hand, and -- sweaty and grimy though it may be -- here's the down and dirty.
As always, Creative Loafing is here to save you from the boredom and burnout of your same ole, same ole. We've consulted a gaggle of resident experts in five getaway cities and asked them to spit their picks for good music, sweet eats, best bargains and where to shake your tambourine. So before you book that Best Western suite in Raleigh, check out some much cooler ways to get out of town.
JULIE DEXTER'S LONDON

Everyone needs an English accent. It makes you smarter, richer and it gives you instant credibility. Look at Harry Potter. Prince William. The Beatles. Try adding "proper" or "bloody" to the end of a sentence and see if your popularity doesn't increase a few notches. What better way to hone your English accent skills than a wicked trip to London?
Jazz, soul and bossa nova crooner/songwriter Julie Dexter was born and bred in Birmingham. England that is. "If you're bored in London, there's something wrong with you," she said, in an accent that would make even the most rebellious, split verb stand corrected. Don't be late for tea as Julie schools you on the ways of the English:
Best place to hear live music
Soul vocalist Julie Dexter
"Jazz Café in Camden, London. It's intimate enough that you can see a concert and connect with an artist. D'Angelo, Erykah Badu, Don Blackmon, Musiq Soulchild, Jaguar Wright, India.Arie, and Jill Scott have all performed there. Good sound system, great stage, restaurant, bar, everything under one roof."
Best place for nightlife
"West London and the broken beat scene. They have DJs who are current and cutting edge, like Co-op, Daz-i-que, IG Culture, Phil Asher and Mark Clive DeLowe. If you like mainstream stuff, go to the Square or the Hippodrome to get a drink and get your dance on."
Best place to eat
"I go to Pizza Express for good wine, pizza and dessert. I also go to Wagamama for Chinese. It's simple, contemporary, but good food. Noodle bowls are their main feature."
Best shopping
"West End, everything's there. They have bargain stores on side streets, and it's trendy and funky. Nice leather jackets, jeans, funky shoes, a nice bag, you can get all of that in the West End. You can also get some funky and different things in Camden. You can bargain people down at the market on Portobello Road, if you have cash on you. There's also a market on Roman Road in East London where you can get some good knock-offs."
Places to avoid
"Be cautious and careful. Stick to main roads. There's nowhere I would say, 'don't go there it's awful.' Trouble is everywhere."
Places you must see
"Buckingham Palace, the cathedrals, churches and the London Eye, a fairly new attraction where you can get a good view of the city. It can get pretty pricey, so try to find ways where you can cut costs as much as you can. Check out Hyde Park -- it's like what Central Park is to New York. You can sit and read a magazine, and it's a beautiful park with water and ducks, where kids can play."
GRANT HENRY'S ATLANTA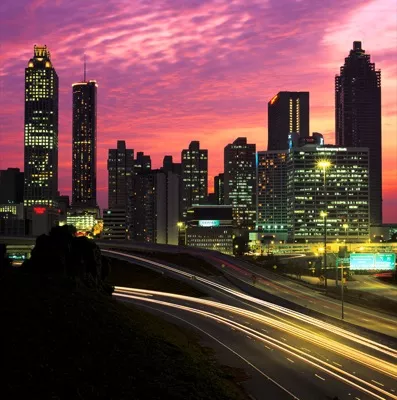 Take your grandmother's Jesus (the one in the painting with the brown, shaggy hair and I-could-never-hurt-a-fly eyes). Add a bold, blue caption like "Jesus Loves Gays" or "I Died for Elvis," and you've got the mind-altering art of Sister Louisa (aka Grant Henry). In the name of his drag alter ego, an excommunicated nun named Louisa, Henry creates art that offends, comforts and inspires.
As a resident visual artist, thrift store aficionado, and collector of all things Jesus, Henry wants to show you the true soul of Atlanta:
Best place to hear live music
"I love the Tabernacle. It's sort of an inside amphitheater. It's old timey and you can get close to the stage. I like the sound because it's very loud and you feel like you're right there. For a smaller venue, I like the Earl because you feel like you're sitting there with the people."