With about 30 minutes left until beginning her "All About Animation" workshop at the Harvey B. Gantt Center for African-American Arts + Culture on a recent Saturday morning, Jackie Black finished prepping the clay and utensils she would need to lead the class, then wondered exactly how she was going to pull it off.
The elementary school arts teacher had been teaching workshops about claymation — a stop-motion animation using clay figures — like this one for seven years during summers in Salisbury where she lives.
Black's only concern was that she was about to teach a three-hour workshop on something that she usually taught in 15. She's used to leading three-hour classes daily from Monday through Friday, not just one three-hour session on a Saturday.
Still, she was optimistic that the kids in attendance would adapt as long as she kept things moving.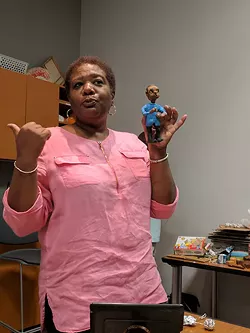 Jackie Black leads a recent claymation workshop at Gantt Center. (Photo by Ryan Pitkin)
"This is a very compressed version," she said. "The main thing we're trying to do is make a character and hopefully make some sort of instrument, and get them to animate it a little bit. I usually like to spend a little more time just making a clay ball roll across the screen. But these little folks move fast these days. They move pretty fast."
Black's claymation workshop was the latest in the Gantt Center's monthly Family First programs, which aim to make different mediums of art more accessible to children who may not be getting an in-depth arts education in school.
In honor of African-American Music Appreciation Month, Black instructed kids in creating clay models based on famous black music icons, or make a fictional character inspired by such. The kids used the Stop Motion Studio app, downloaded on tablets available to everyone in attendance, to animate their characters.
For David Taylor, president and CEO of the Gantt Center, the workshop was a great way to mix educative experiences between art and curriculums involving science, technology, engineering and math, or STEM as it's more commonly known.
"We want to incorporate STEM wherever we can, to compliment what kids are doing in school," Taylor said. "But also, this is something that isn't in the average elementary school, so it's an opportunity where it's really a low barrier for families to come and experience a myriad of things, not just visual arts, but — as you are today experiencing claymation — different genres and experiences. I think it helps families help their kids find their creative identity."
Taylor met Black at a film festival featuring animated shorts at Gantt Center in March. He was interested to learn about her work teaching stop-motion animation, and quickly decided she would be a perfect fit for the Family First program.
"One, her passion about what she does was important to us, but also the fact that she had a concept that I thought would ignite the creativity of kids, while also igniting their passion to learn," Taylor said.
"I thought it was important that those are the kinds of programs that we continue to have and highlight, so we were excited to bring that in."
Stop-motion technology has long been a passion for Black, but it was the arrival of easily accessible technology that inspired her to begin teaching it to kids over the summer in 2010.
"We're at the point now where the technology is such that if you have a digital camera and if you've got software, you can do claymation and stop motion at home, whereas in the past, you used to have to have very expensive equipment, expensive cameras," she said.
"And so, my experience being as an elementary school teacher, I saw that children love technology, and I knew that they love to play with clay. I was trying to think of something in our community that nobody else was doing. There were plenty of clay classes and painting classes. So I thought, well why don't I try to combine the two and see what kind of response I get."
The response has been overwhelmingly positive, both in Salisbury and during her first teaching experience in Charlotte. Black's Family First workshop at Gantt Center was sold out.
At the workshop, Black went through a couple quick exercises in which kids made short movies of rolling balls or melting cubes. She then shared a YouTube video that featured an illustrated reading of Trombone Shorty, a children's book and true story about the title character's come-up as a child in the New Orleans neighborhood of Tremé.
After watching the video, Black handed out skeletons of foil and wire and blocks of clay to build around the skeletons.
Using the illustrations of instruments from the book as inspiration, the kids got to work building models of iconic musicians.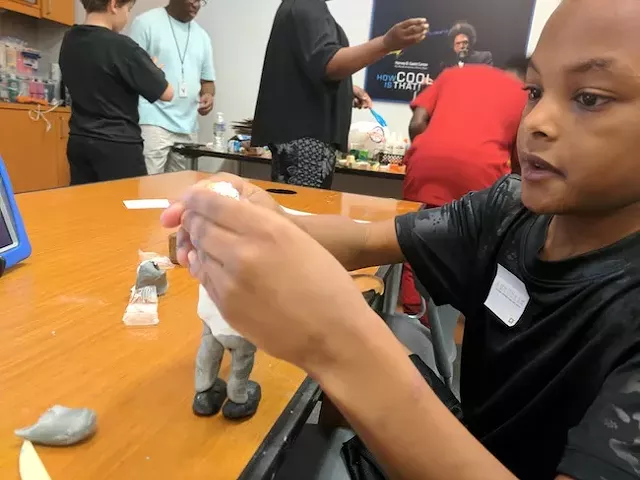 Kaison Ingram, 9, builds a clay model at the recent workshop. (photo by Ryan Pitkin)
One student built a model of Stevie Wonder and designed a backdrop to make it appear he was performing on stage.
Black pointed out that North Carolina is the birthplace of some of the most iconic black musicians, from Nina Simone to Thelonious Monk to John Coltrane.
The music theme will continue on July 7, as Family First will tackle technology's role in hip-hop. Students will compose and record lyrics, download beats and mix audio using a MIDI keyboard and programs like VersePerfect and Audacity.
Artist and poet Jefferey Weatherford will host the July class. Weatherford illustrated the award-winning children's book You Can Fly: The Tuskegee Airmen, as well as three self-published books.
For Taylor, teaching kids black history that they don't usually get in school is as important as the arts lessons at Family First programs.
"It's important particularly for African-American kids to recognize that it's not about celebrating who they are for one month a year, but it's about celebrating who they are and their contributions and their heritage every month, because their history is American history and it's important that they understand and embrace that," Taylor said.
"I think that's a gap that is still missing in the cultural divide that we have in our country."
A gap that Taylor is working to fill, one workshop at a time.