The Main Library's annual summer film series has won a hefty number of Creative Loafing Best of Charlotte awards over the years, including one for a lineup that focused exclusively on Alfred Hitchcock classics. The Master of Suspense clearly enjoyed crime flicks, so perhaps it was his guiding spirit that led to this year's theme.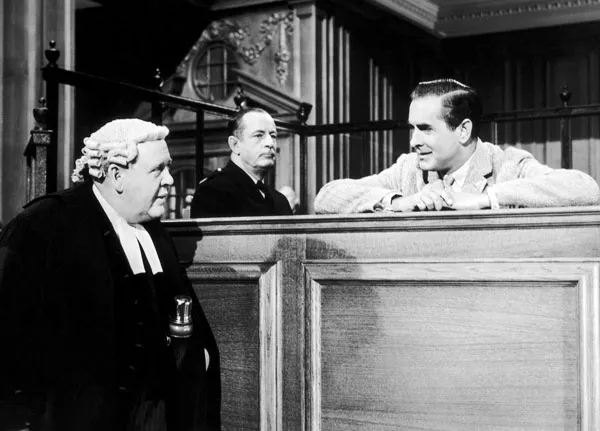 Charles Laughton (left) and Tyrone Power (right) in Witness for the Prosecution (Photo: MGM)
Order in the Court: Seven Classic Courtroom Movies needs no explanation beyond its self-evident title, though it does beg one question: With so many terrific courtroom films out there, wasn't it painful whittling the schedule down to seven? Think of the films left off the list, and there's enough for a summer series sequel. Twelve Angry Men, To Kill a Mockingbird, The Caine Mutiny, Presumed Innocent, Judgment at Nuremberg, They Won't Forget — heck, even fans of turkey cinema can be serviced with an airing of Pauly Shore's atrocious Jury Duty.
But no matter: The films that were selected — most of them four-star efforts — are a powerful bunch, full of superlative performances, ingenious plots (all were Oscar-nominated for their screenplays except the made-for-TV The Andersonville Trial, which snagged the Emmy instead, and Jagged Edge) and plenty of gavel-pounding suspense.
June 1: Anatomy of a Murder (1959). This Molotov cocktail of a movie was a controversial smash, as moviegoers lined up to hear A-list actors utter such previously taboo screen words as "rape," "slut," "bitch," "intercourse," "panties" and (love this one) "spermatogenesis." An excellent James Stewart stars as "humble country lawyer" Paul Biegler, who agrees to defend an army officer (Ben Gazzara) accused of murdering the bar owner he claims raped his wife (Lee Remick). Seven Oscar nominations, including Best Picture and Actor (Stewart).

Paul Newman in The Verdict (Photo: Fox)
June 22: The Verdict (1982). Hundreds of actors have essayed the role of a man who wallows in booze and self-pity until he finally pulls himself up out of the mire. Few, however, have played it as well as Paul Newman, who gave one of his greatest performances as a down-and-out lawyer whose latest case, a malpractice suit, forces him to unearth his long-buried ideals. Five Oscar nominations, including Best Picture, Actor (Newman) and Director (Sidney Lumet).
July 6: Witness for the Prosecution (1957). Agatha Christie's hit play and novel were transformed into a superb motion picture in which an English barrister (Charles Laughton) agrees to defend a hapless American (Tyrone Power) who's been charged with murdering an elderly woman for her money; only the accused's wife (Marlene Dietrich) believes in his innocence. Six Oscar nominations, including Best Picture, Actor (Laughton) and Director (Billy Wilder).
July 13: Inherit the Wind (1960). This still-relevant drama has its roots in an actual historical event: the infamous Scopes Monkey Trial of 1925, when a school teacher was arrested for teaching Darwin's theories of evolution in his classroom. Spencer Tracy stars as the liberal Clarence Darrow-like character who defends the young instructor (Dick York), while Fredric March provides the fire and brimstone as the evangelical William Jennings Bryan-inspired prosecutor. Four Oscar nominations, including Best Actor (Tracy).
July 27: The Andersonville Trial (1970). In the first of only three stints behind the camera, actor George C. Scott (incidentally, a scene-stealer in the aforementioned Anatomy of a Murder) sat in the director's chair for this PBS production that centers on the 1865 trial in which Confederate commander Henry Wirz (Richard Basehart) was tried for his cruel treatment of Union POWs. The sizable cast includes William Shatner, Martin Sheen and Buddy Ebsen. Winner of three Emmy Awards, including Outstanding Single Program (Drama or Comedy) and Outstanding Writing Achievement (Drama — Adaptation).
Aug. 31: Adam's Rib (1950). Arguably the best of the nine movies Spencer Tracy and Katharine Hepburn made together over the course of 25 years, this smart, sophisticated comedy finds Tracy playing an attorney who prosecutes a woman (Judy Holliday) charged with shooting her philandering husband (David Wayne). His personal and professional lives get turned upside down when his wife (Hepburn), also a lawyer, elects to defend the accused.
Sept. 7: Jagged Edge (1985). The lightweight in this heavy-hitting bunch, this box office hit (scripted by Showgirls scribe Joe Eszterhas) nevertheless provides some modest thrills (as well as an Oscar-nominated role for Robert Loggia as a sardonic P.I.) in its story about a defense lawyer (Glenn Close) who falls for her client (Jeff Bridges), a man accused of murdering his wife.
Order in the Court: Seven Classic Courtroom Movies
Free admission. Saturdays, 2 p.m. Wells Fargo Playhouse at ImaginOn, 300 E. Seventh St. 704-416-0252.