(View From The Couch is a weekly column that reviews what's new on Blu-ray and DVD.)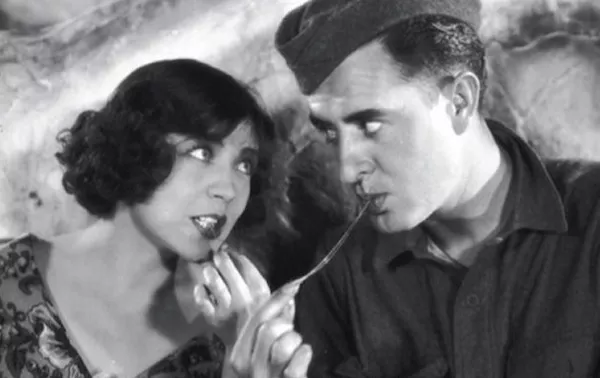 Renee Adoree and John Gilbert in The Big Parade (Photo: Warner Bros.)
THE BIG PARADE (1925). It may no longer be as famous as, say, The Birth of a Nation, Metropolis or any of a half-dozen Chaplin flicks, but back in its day, The Big Parade was the real — and reel — deal, a mammoth production that by all accounts remains the top-grossing movie from the silent-film era. Running 2-1/2 hours and featuring a cast of literally thousands, this antiwar spectacle follows James Apperson (John Gilbert) as he gives up his life as a wealthy layabout in order to go serve in World War I. He hooks up with two other soldiers, Bull (Tom O'Brien) and Slim (Karl Dane), and together they form a friendship that continues to be strengthened as the war rages on. Despite having a fiancée (Claire Adams) back home, James falls for a French villager (Renee Adoree); even though they can't speak each other's language, their romance proves to be a respite from the carnage around them. Masterfully directed by King Vidor, The Big Parade swings easily between comedy, romance and tragedy without missing a beat, and there are numerous set-pieces of enormous power — even today, the harrowing battle scenes would rank among the best ever put on film. John Gilbert, long the poster child for silent stars who didn't survive the coming of the sound era, is excellent, while Adoree has a beguiling screen presence; sadly, both actors died young (Gilbert from a heart attack at 38, Adoree from tuberculosis at 35). The new score composed by Carl Davis is potent, although I think it would have been appreciated — and respectful — if the disc had also included the option to hear the original silent-era score created by William Axt and David Mendoza. Incidentally, the title cards were written by Joseph Farnham, who would win the only Oscar even given for Best Title Writing four years later at the first Academy Awards presentation (the category was axed before the second Oscar shindig).
The Big Parade has been released as part of a 64-page DigiBook. Blu-ray extras include audio commentary with film historian Jeffrey Vance; the fascinating vintage short 1925 Studio Tour, which goes way behind the scenes at MGM to offer a look at various departments and key personnel (including many of the studio's top box office stars); and the theatrical trailer.
Movie: ****
Montgomery Clift and Frank Sinatra in From Here to Eternity (Photo: Sony)
FROM HERE TO ETERNITY (1953). Life of Pi and The English Patient qualify as more modern examples of acclaimed movies made from books once deemed "unfilmable," but back in the '50s, it was James Jones' 1951 novel that posed a problem to screenwriters seeking to find a way to omit the sex and profanity that would never make it past the censors. Daniel Taradash's script made the grade, and evidence that some measure of sexiness still managed to survive can easily be found in the film's iconic image of two illicit lovers locked in a clench as the waves wash over them (a shot spoofed most notably in 1980's Airplane!). Top-billed Burt Lancaster plays Sgt. Warden, who's having an affair with Karen Holmes (Deborah Kerr), the neglected wife of his obnoxious commanding officer (Philip Ober). One of the men under Warden is Robert E. Lee Prewitt (Montgomery Clift), a headstrong soldier who pals around with the jovial Maggio (Frank Sinatra) and falls for a "hostess" (read: prostitute) named Lorene (Donna Reed). As if their lives weren't already filled with enough drama, these characters are all situated on or near the Hawaiian military base at Pearl Harbor toward the end of 1941. Fred Zinnemann's strength as a director was less on the technical side and more in line with coaxing stellar performances out of his actors, and with this film, he drew a royal flush. Lancaster is forceful as a decent man whose crucial flaw is that he's married to the army, wholesome actresses Kerr and Reed are sharply cast against type as women tainted by scandalous behavior, and Sinatra turned around his floundering career with his bright turn as the garrulous Maggio. Best of all is Clift, who mixes sincerity and intensity as a conscientious soldier who won't bow to anyone. Nominated for a whopping 13 Academy Awards (including Best Actor bids for both Lancaster and Clift and Best Actress for Kerr), this won eight, including Best Picture, Director, Screenplay, Supporting Actor (Sinatra) and Supporting Actress (Reed).
Blu-ray extras include audio commentary with Tim Zinnemann, Fred's son, and screenwriter Alvin Sargent, who won an Oscar for penning Zinnemann's 1977 film Julia (and who appears in a bit part in From Here to Eternity); a graphics-in-picture track employing new interviews, old photos and more to cover the making of the movie; a separate making-of featurette; and excerpts from the documentary Fred Zinnemann: As I See It. The item also includes five collectible replicas of lobby cards.
Movie: ***1/2
Phyllis Kirk in House of Wax (Photo: Warner Bros.)
HOUSE OF WAX (1953). Far too many 3-D movies have relied on the novelty of the gimmick to cover up what would otherwise be a completely disposable motion picture, but what's unique about this box office smash — like From Here to Eternity, it was one of 1953's top 10 grossers — is that on its own two-dimensional terms, it's a heckuva lot of fun. Vincent Price came into his own as a horror icon with this picture; he stars as Henry Jarrod, a kindly artist who prefers his wax figures to promote beauty and history rather than murders and exploitation. That's not good enough for his partner (Roy Roberts), who realizes he can make a quick buck by burning the museum down and collecting on the insurance. Jarrod is caught in the blaze, but rather than perishing, he escapes disfigured and deranged. He subsequently sets up another museum, but the fact that his Joan of Arc creation looks exactly like a recently murdered party girl (Carolyn Jones) rouses the suspicions of her friend Sue (Phyllis Kirk). There are of course concessions to the 3-D format (check out that paddleball man!), but even without them, this is a chiller of the first order, with one of the highlights being Jarrod's pursuit of Sue through empty, nocturnal streets. That's Charles Bronson (then still billed as Charles Buchinsky) as Jarrod's mute assistant. By the way, you don't really need me to tell you to stay away from the atrocious 2005 remake featuring Paris Hilton, do you? Yeah, didn't think so.
Like the 2003 DVD before it, this Blu-ray edition also includes the original screen version of this story, 1933's Mystery of the Wax Museum. Lionel Atwill plays Ivan Igor, the well-meaning sculptor who turns evil after his partner (Edwin Maxwell) betrays him, while Fay Wray, just two months away from becoming a household name thanks to King Kong, co-stars as one of his potential victims. Filmed in the early two-strip Technicolor process under the direction of future Casablanca helmer Michael Curtiz, this benefits from Anton Grot's excellent set design but suffers from the decision to make the central character an annoying reporter (Glenda Farrell) who's as much of a hindrance as she is a help to the police.
The Blu-ray includes both the 2-D and 3-D versions of House of Wax (glasses not included). Extras include the entertaining new featurette House of Wax: Unlike Anything You've Seen Before (featuring Martin Scorsese and Joe Dante among the talking heads); audio commentary by film historian David Del Valle and documentarian Constantine Nasr; newsreel footage of House of Wax's premiere; and the theatrical trailer.
House of Wax: ***1/2
Mystery of the Wax Museum: **1/2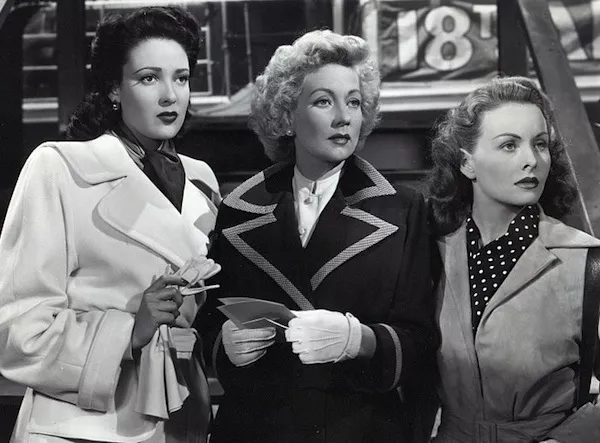 Linda Darnell, Ann Sothern and Jeanne Crain in A Letter to Three Wives (Photo: Fox)
A LETTER TO THREE WIVES (1949). Writer-director Joseph L. Mankiewicz's riveting melodrama is set up like a whodunit, only instead of a murderer, the guilty party is a philandering husband. Based on A Letter to Five Wives, a Cosmopolitan piece by John Klempner, the plot centers on the sensitive Deborah Bishop (Jeanne Crain), the sensual Lora Mae Hollingsway (Linda Darnell) and the sensible Rita Phipps (Ann Sothern), three women who can't seem to stop discussing their frenemy Addie Ross (Celeste Holm, heard in voiceover but never seen). As the three prepare for a boat trip to supervise a group of children, they're handed a message from Addie informing them that she has run off with one of their husbands. Thus, out to sea and with no way to go home, they spend a torturous day trying to decide if their spouse is the wayward one. Deborah frets over the fact that her upper-crust husband (Jeffrey Lynn) and Addie were longtime sweethearts before she came along; Lora Mae wonders if her chauvinistic — and much older — husband (Paul Douglas) finally got tired of what he perceived as her gold-digging ways; and Rita worries that she placed her advertising career over the needs of her schoolteacher husband (Kirk Douglas) one time too many. These various plotlines are played out in juicy flashbacks, and the ending is both surprising and satisfying. Kirk Douglas was still on the ascendancy at this early point in his career, but it was already clear he was star material (he would in fact become a full-fledged one with the same year's release of Champion); his segments with Sothern are the best of the flashbacks. The great Thelma Ritter, surprisingly unbilled given the size of her role (Mankiewicz would make it up to her the following year by giving her a plum role in All About Eve), is up to her scene-stealing ways as the wisecracking maid Sadie. An Academy Award nominee for Best Picture, this won Mankiewicz Oscars for Best Director and Best Screenplay. The very next year, he would repeat the feat, with the masterpiece All About Eve likewise taking home the awards for Director and Screenplay (plus four more, including Best Picture).
Blu-ray extras include audio commentary with Kenneth Geist, author of Pictures Will Talk: The Life and Films of Joseph L. Mankiewicz, Cheryl Lower, co-author of Joseph L. Mankiewicz: Critical Essays, and Christopher Mankiewicz, Joseph's son; the Biography episode on Darnell; and a Fox Movietone News snippet showing the film's success at the Oscars.
Movie: ***1/2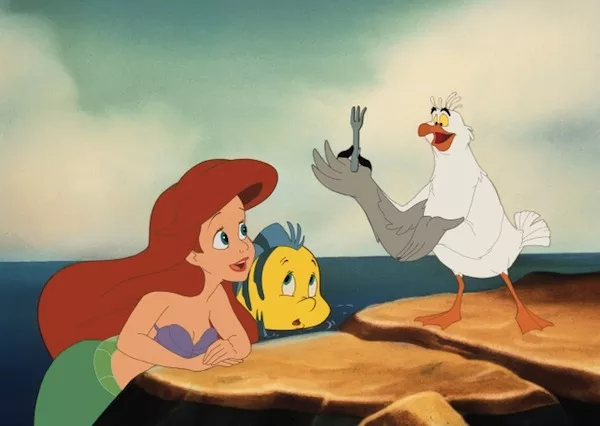 The Little Mermaid (Photo: Disney)
THE LITTLE MERMAID (1989). The Golden Age of Disney feature-film animation ended a few years before Uncle Walt's death in 1966, and it wasn't until 1989 that a new (if short-lived) renaissance took place. After approximately a quarter-century of modestly amusing but imminently forgettable toon flicks, The Little Mermaid single-handedly jump-started the genre, leading to several more gems (including Beauty and the Beast and The Lion King) before the glut of increasingly mediocre titles as well as the shift to computer imagery all but killed off the traditional hand-drawn form. This new Blu-ray edition allows us to again indulge in old-school pleasures, aided by enhanced picture and sound that make the film pop off the TV screen. Everything is just right in this cheerful adaptation of the Hans Christian Andersen tale: Ariel makes for a lovely heroine as the perpetually inquisitive mermaid who longs to be human; Ursula the sea witch provides boisterous villainy; and Sebastian, the cautious crab with the Jamaican accent, ranks with Disney's all-time great scene-stealers. In addition to reviving the animated art form, The Little Mermaid also brought melody back to the movies, thanks to the terrific song score by Alan Menken and the late Howard Ashman. Fittingly, Menken earned the Best Original Score Oscar, while both men were honored with the Best Original Song Oscar for the infectious "Under the Sea."
Extras in the Blu-ray + DVD + Digital Copy Diamond Edition include audio commentary by Menken and co-directors Ron Clements and John Musker; a making-of featurette; deleted scenes; @DISNEYANIMATION, a piece that goes behind the scenes at Walt Disney Animation Studios; an introduction to the character of Harold the Merman, who was deleted from the final cut of the movie; vintage footage of a lecture by Ashman; a look at Hans Christian Andersen; a featurette in which Jodi Benson (voice of Ariel) takes her kids to Walt Disney World; and an educational short titled DisneyPedia: Life Under the Sea.
Movie: ****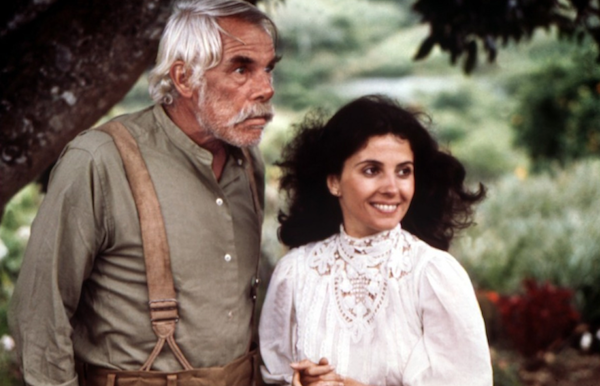 Lee Marvin and Barbara Parkins in Shout at the Devil (Photo: Shout! Factory)
SHOUT AT THE DEVIL (1976) / VOYAGE OF THE DAMNED (1976). Two seafaring sagas from the same year are being released on Blu-ray this month by Timeless Media Group (a division of Shout! Factory), but only one manages to remain afloat.
Shout at the Devil sounds like the sort of film that can't miss, a rousing action yarn that pits Lee Marvin and Roger Moore against some nasty Germans just as World War I prepares to unfold. Marvin is Flynn O'Flynn, a boisterous, hard-drinking man who tricks dapper English gent Sebastian Oldsmith (Moore) into helping him illegally poach on land controlled by the Germans stationed along the East African coast. Relentlessly pursued by the sadistic German commander Herman Fleischer (Reinhard Kolldehoff), they're eventually forced to hide out on the plantation estate of Flynn's daughter Rosa (Barbara Parkins), who holds her drunken dad in contempt but ends up falling for Sebastian. It's fun to watch Moore play someone far more bumbling than James Bond, and it's always a treat when Ian Holm turns up in a movie — even here, where he has no dialogue as Flynn's mute assistant, Mohammed. But Marvin's broad turn is just an embarrassing knockoff of his Oscar-winning performance in Cat Ballou, and despite its interesting premise (loosely based on a true story), the movie — a graceless and lurching mix of brutal drama (dead babies!), lowbrow humor (Marvin drunk again!) and general daftness (Moore in blackface!) — runs out of steam long before its bruising 150 minutes are up.
Max von Sydow in Voyage of the Damned (Photo: Shout! Factory)
Voyage of the Damned is actually longer than Shout at the Devil — by 10 minutes — but it wears its length more comfortably. Like Shout, this one's also based on a true wartime tale — in this case, it's a 1939 incident in which 937 German-Jewish refugees were rounded up by the Nazis and allowed to sail to a new life in Cuba. Of course, it was purely an exercise in Nazi propaganda, with the belief that if Cuba turned away the passengers (which it did) and other countries followed suit (shamefully, the U.S. was one that also said no), then the world would basically be agreeing with Germany's position on the Jewish people and the passengers would be returned to face internment or execution. The presence of an all-star cast — close to three dozen name actors, including Orson Welles and James Mason as Cubans(!) — places this in the company of Grand Hotel or any of the disaster flicks that dominated the 1970s, and indeed, there are a few soapy episodes: The upper-class Kreislers (Osker Werner and top-billed Faye Dunaway) contend with their troubled marriage; the lower-class Rosens (Sam Wanamaker and Lee Grant) can scarcely conceal their hatred for all Germans; the Rosens' young daughter Anna (Lynne Frederick) engages in a sweet romance with a German crew member (Malcolm McDowell) who has no love for the Nazis; and so on. What makes the movie work, though, is that these storylines don't exist in a vacuum (as in some of the aforementioned disaster films) but are all integrated into the main narrative. Grant had won the Best Supporting Actress Oscar the previous year for Shampoo; clearly still on voters' minds, she followed up with another nomination for this film. This isn't meant as a knock on the actress — she's generally terrific — but here she hardly stands out of the large ensemble. In fact, if anyone emerges as first among equals, it would be Max von Sydow, who lends enormous dignity to the role of the ship's captain, a decent man who denounces the Nazi presence on the vessel and does his best to look after his persecuted passengers. Along with Grant, the picture also earned Oscar nominations for Best Adapted Screenplay and Best Original Score.
The two films are sold separately as Blu-ray + DVD sets. There are no extras on Shout at the Devil. Extras on Voyage of the Damned consist of the theatrical trailer and a photo gallery.
Shout at the Devil: **
Voyage of the Damned: ***
James Franco, Seth Rogen and Christopher Mintz-Plasse in This Is the End (Photo: Sony)
THIS IS THE END (2013). This Is the End starts with Jay Baruchel (playing Jay Baruchel) visiting Seth Rogen (playing Seth Rogen; see the pattern?) in LA in the hopes of spending some quality one-on-one time getting high and playing video games with his friend. Instead, Seth drags Jay to a party at James Franco's house, a loud and boisterous event where the guests include Michael Cera (revealed as a sex fiend), Jason Segel, Paul Rudd and other Apatow-endorsed comics. But what starts off as a typical Hollywood evening turns both cryptic and apocalyptic when the earth opens up and begins swallowing some people while others are whisked into the sky. Is it End of Days? The few remaining survivors — among them James, Jay, Seth, Jonah Hill and Craig Robinson — aren't sure, but they do know that they need to board up the house and ration the supplies if they hope to hang around long enough to find out. The moments of comic gold are sometimes diluted by considerable stretches of tedium, generally occurring when writer-directors Evan Goldberg and Rogen and their improvising actors refuse to end scenes and instead carry them past the point of comedic no-return. Clearly, these are all performers who are in love with themselves, which is fine except that it makes the movie a rather insular experience. At one point, it seems that Emma Watson will rack up considerable screen time, and we eagerly anticipate seeing the Harry Potter franchise player bring a dash of girl power to this boys' club. But no, her appearance is more limited than expected, as if these guys were completely unequipped to write female characters. Instead, it's Danny McBride who's late to the party (in both senses of the phrase) and then allowed to hang around. Look, I'll come clean and admit that, for me, a little McBride goes a loooong way, so if you think he's the modern equivalent of Chaplin or even Belushi (John, not Jim), then raise my rating a full star. But aside from a few moments, his presence harms the picture, particularly in an interminable sequence in which his discussion of how he likes to shoot his wad all over the place seemingly runs as long as two Super Bowls aired back to back. On the plus side, the cameos are killer.
DVD extras include audio commentary with Rogen and Goldberg; a featurette in which Rogen and Goldberg talk about making a movie with their friends; and a look at various marketing components.
Movie: **1/2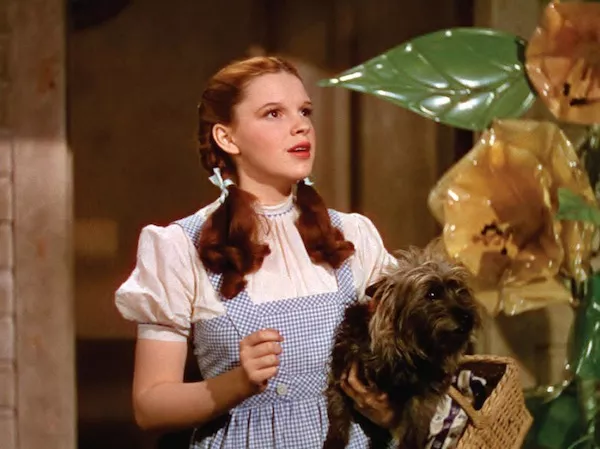 Judy Garland in The Wizard of Oz (Photo: Warner Bros.)
THE WIZARD OF OZ (1939). This family classic long ago left the realm of being mere entertainment to emerge as a cultural touchstone for generations of Americans. It's all here: the peerless Judy Garland as farm girl Dorothy, proclaiming "there's no place like home"; the gorgeous "Over the Rainbow," which topped the American Film Institute's list of the 100 Greatest Movie Songs; the irresistible tag team of The Scarecrow (Ray Bolger), The Tin Man (Jack Haley) and The Cowardly Lion (Bert Lahr); Margaret Hamilton's seemingly deranged turn as the Wicked Witch of the West; the flying monkeys that have scared the bejesus out of countless kids over the decades; the Munchkins pointing the way down the Yellow Brick Road; the endless supply of classic lines ("Lions and tigers and bears, oh my!," "I'll get you, my pretty, and your little dog, too!," "I'm melting! Melting!" ... well, I could do this all day); and, of course, the grand old Wizard (Frank Morgan) himself. The dirty secret regarding this adaptation of L. Frank Baum's story is that upon its original stateside release, it garnered OK reviews and barely broke even at the box office; it took subsequent reissues (to say nothing of its annual airing on prime-time television, a ritual that lasted approximately four decades) for it to earn its rightful legacy. Nominated for six Academy Awards (including Best Picture), it won two: Best Original Score and Best Original Song ("Over the Rainbow," natch). Garland also received a mini-Oscar statue as the best juvenile performer of 1939 (for The Wizard of Oz and Babes in Arms).
Back in 2009, Warner Bros. released The Wizard of Oz in a variety of stunning 70th anniversary Blu-ray sets. The studio jumped the gun by releasing its 75th anniversary editions a tad early — that celebratory year actually isn't until 2014 — but we'll forgive them for bringing us such a bounty ahead of time. Fans can choose from the five-disc Collector's Edition (which comes with such items as a 48-page hardcover book, a map of Oz and a ruby slippers globe), the two-disc Blu-ray 3D + Blu-ray package, the one-disc Blu-ray version and the two-disc DVD set. All four sets will include the new documentary The Making of the Wonderful Wizard of Oz. Other extras in the Blu-ray 3D + Blu-ray set include audio commentary by film historian John Fricke; a sing-along feature; and trailers.
Movie: ****