Rosemary Colen (with megaphone) addresses the crowd at Saturday's March for Our Lives. Behind her stand fellow organizers Rebbeca Clarke (second from left), Maddie Syfert (third from left) and Carly Lerner (behind megaphone). (Photo by Alexandria Sands)
After school on Friday, March 23, on a chilly afternoon, Maddie Syfert stood in the plaza of First Ward Park with about nine other high school students, all young women.
Behind her, 18-year-old William A. Hough High School senior Rosemary Colen stood at a podium, reading a list of school shootings; she recited the name of each school followed by the number of dead students. Elsewhere in the park, children much younger than Syfert and Colen played on a jungle gym, unaware of what the high school students were doing.
Every once in a while, a young child would wander over to the podium and look up at whomever was speaking for a minute or so, then find their way back to their friends.
The high school students at the park that afternoon were holding their last rehearsal, giving speeches to a mostly empty park that within 18 hours would be full of students and allies there to speak out against the proliferation of guns in American culture and the politicians and lobbyists who support them.
Saturday's March for Our Lives event attracted thousands to Uptown Charlotte, and the students who organized it — most of whom are new to activism — hope to continue advocating throughout the year for stricter gun laws, less political pull from the National Rifle Association and more engagement from young voters.
In late February, Syfert, an 18-year-old senior at Myers Park High School, created a Facebook event page for March for Our Lives Charlotte, in conjunction with hundreds of other events being held throughout the country in the aftermath of the February 14 killing of 17 students at Marjory Stoneman Douglas High School in Parkland, Florida.
Syfert wasn't sure what would come of her preliminary plan, but knew she had to participate in any local effort to speak up. The daughter of a lawyer, Syfert said she's always been strongly opinionated, but has never taken a stand in the way she decided to do in response to this latest massacre.
"I've never been the one taking to social media about it or doing anything to be an activist for it, but this march and these students, I couldn't get it out of my head for days," Syfert said on Friday. "Then I was like, 'No one's making this march for Charlotte, so what's stopping me from starting it?' This is the first time I've been really politically active, but I don't feel like this is a political event anymore; I think it's more about students coming together."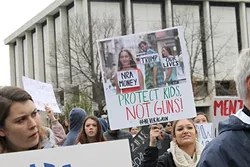 (Photo by Alexandria Sands)
And come together they did. Syfert said more than 100 people contacted her with questions and offers to help with the march. In the end, about 10 students came together to plan Saturday's event, for which thousands showed up and marched from First Ward Park to Marshall Park.
One of those students was Carly Lerner, an 18-year-old senior at Charlotte Country Day School in south Charlotte. Lerner works as a camp counselor at Camp Ramah Darom in Georgia every summer, and only realized a day or so after the shooting that a number of her campers attend Marjory Stoneman Douglas.
"I think it's just so much more close to home because you can picture people you know in those scenarios and it makes you picture yourself in those scenarios," Lerner said when we met with her two days before the march. "To know that I know people who had to hide in closets — and thankfully no one I knew was one of the 17 — but that they had to go through that, it makes me feel like I could just as easily have been in their position."
She reached out through the event page, only to find that Syfert was still on her own. Lerner, who wasn't originally planning to get involved in a leadership role, offered her help.
"I'm not the type of person who steps up and leads things. I've never been involved in student government, I'm not the leader of a club. I've been involved in a ton of things, but I just like to be involved. I don't like my name to be out there, I don't like my face to be out there," Lerner said.
"I do enjoy public speaking and stuff like that, but in terms of being politically active and movements like this, I usually just stay in the crowd and support it in my head."
After her speech on Saturday, Lerner read the names of each Parkland victim.
While she and Syfert were just getting started in February, Hough students Colen and her partner Jessica Clarke, a 16-year-old junior, were already discussing plans to put together a Charlotte march. They came across Syfert's Facebook event and immediately reached out and offered their help.
The two had helped organize a successful walkout at their school in Cornelius on March 14, which brought more than 2,000 students out of classes and onto the football field to hear speeches from organizers including Colen, who also worked to help students register to vote, which is a priority for all of Saturday's march organizers.
Colen, perhaps more than any other organizer, has been active in social justice for much of her high school career. She attended both the 2017 and 2018 Women's Marches, she runs Hough's Black Student Union and she has spoken out about various issues on campus since her freshman year, she said.
When we spoke on the Friday before the March for Our Lives, Colen recalled that the walkout was the first time she ever truly felt like her voice was being heard.
"It felt like it was something that was long coming," Colen said. "I've been active in my school for all four years with social activism and getting the word out there about stuff, and kids, they kind of rolled their eyes or were like, 'It's no big deal, what can we do?' But now it's something that affects us and now I can get their attention to be like, 'This is something you should pay attention to. This is something you should care about.'
"Seeing 2,000 students finally come have my back and say, 'I agree with you. This is what we are doing,'" Colen said. "It felt really good after four years of being kind of ignored."
Similarly, Lerner said she was surprised to see about 70 percent of her fellow students walk out at Country Day, a private school where students tend to lean further right than at many other Charlotte-area high schools.
For Clarke, the walkout was a way to work up to Saturday's bigger march. At just 16, Clarke has now addressed thousands of people on multiple occasions over the past month.
Rebecca Clarke speaks at Saturday's march.
Clarke said she's always been comfortable with public speaking, and now looks forward to building the group's platform after Saturday's march.
"Speaking to 2,000 students that walked out at Hough was kind of like a practice for this almost," she said after rehearsing her speech on Friday. "I got to see how it works and what we could do better, what we should keep the same. I thought it was a good experience.
"This is a good stepping stone, and we know we're going to get our voices heard by our local representatives, and from there it will only grow," she said. "So any time we can get our voices heard is a good thing and can only build from here."
Each of the organizers that Creative Loafing spoke to said they were inspired by survivors of the Parkland shooting who have been in the national news pushing the platform of the March for Our Lives movement.
Syfert said it was by watching the students make the rounds on national news that she became determined not to allow the Parkland shooting to slip from memory like so many tragedies before it.
(Photo by Alexandria Sands)
"Usually school shootings — or mass shootings of any kind, but especially school shootings — they kind of die off after a few days or a week, after all the news is out and everyone knows what happened," Syfert said. "But the Parkland students didn't let that happen. They kept it on the news, they kept getting on CNN, Fox News, even local news just to keep people talking about it, and that really inspired me."
Colen said she believes the Parkland students have changed the discussion in American politics by not allowing folks to be ignored because of their age. She said she sees this recent march — birthed by the Parkland students and carried out across the country by young people like herself — as just the beginning of a movement that she wants to see grow.
"It shows us that students, if they try, we can get the platform we need, even if we're not eligible to vote or eligible to even be in Congress or Senate or run for president," Colen said. "We can make our own platforms and ideas for ourselves. [The Parkland students] got to talk to all the people and showed the world we have a voice, we are students and we have a purpose. For us as students coming together, even from Charlotte, which isn't close to Florida at all, it shows we got your backs too, and we're all coming together as one."
When we spoke with Syfert on Monday after she had returned to class and resumed the life of a high school senior, she said she was inspired by the "amazing" turnout on Saturday, and it only strengthened her resolve to not let the event be a one-off, but to continue fighting for what she believes in right up to this year's elections and beyond.
As she reminded us on Friday, the marches must continue because the shootings cannot.
"We can get more attention brought to this and actually create change, because if we have millions of people across the entire world fighting for this, that can make a difference with what bill gets passed, and what law is now law, and who we encourage as our politicians," she said. "So I think that's what our message is: that we are taking this extremely seriously. We're not letting this die off like past mass shootings. This is going to be the last one."