When your dad is among the top 10 players in NFL history in points scored, field goals made and games played, you not only have the right to call your debut album "Friday Night Lights" — it's practically a responsibility.
Singer-songwriter Savannah Kasay, 18, laughs when she hears such a proclamation. "This may be the first time I've realized that," she says.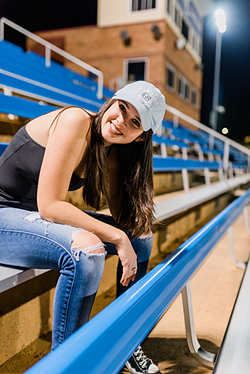 Savannah Kasay on the bleachers (Photo courtesy of Savannah Kasay)
Kasay is the daughter of the Carolina Panthers legendary kicker John Kasay, and Friday Night Lights is, indeed, the title of her first album. On a Thursday afternoon, Kasay sits with her famous father in the studio off Wendover Road near Cotswold Village where she recorded the record. Wearing sandals, a blue top and white jeans with holes in the knees, Kasay's easy smile and attentive eye contact belie her legal blindness. She can see well enough to get around, but since birth she's suffered from oculocutaneous albinism, a symptom of which is a rapid movement of the eyes that affects her ability to focus clearly on objects.
That means watching dad play football with the Panthers during her childhood was a bit of a challenge.
"I've been known to clap for the wrong team sometimes — which is not the best thing to do," Kasay says, laughing again. Laughing is something she does often during our hour-long chat about growing up as a Kasay in Panther country. "But football has always been in my life, and I've always loved going to the games and watching my dad play."
Friday Night Lights is a nine-song set of bright, guitar-driven country-pop that ranges from reminiscences of high-school parties, romances and heartbreaks to the deepest inner struggles anybody who's ever been young can identify with.
"I remember first dates and heartbreaks/ Daddy's mad I came home late," Kasay sings in the title track, over a ringing, anthemic mélange of melodic guitars, bass and drums. And then later, "I was on the bleachers/Counting down the clock./I was on the bleachers/Waiting for that buzzer to stop."
The song condenses all of the awkward, self-conscious excitement of those indelible weekend nights of teendom into 3 minutes, 37 seconds of rousing, sing-along pop. But Kasay's lyrics don't just scratch the surface of emotions like some shamelessly manipulative soundtrack song to an emotional scene in a TV teen drama like Dawson's Creek — or the NBC series Friday Night Lights, for that matter. There's substance and wisdom behind her shiny pop melodies.
'Friday Night Lights' cover art (Design by Heather Sandler)
Later in "Friday Night Lights," Kasay sings, "I remember long nights and big fights/I probably should have let slip by/Wishing I could take back those words./I regret the small things that haunt me,/'Cause looking back now I see/How I'd do it if I could be wise./Yeah, I wish I'd had a little more time/Underneath those Friday night lights."
The album, released June 15 during a private party among family, friends and band mates, is now available on Spotify, iTunes, Amazon and Kasay's website savannahkasay.com. It's the culmination of music she's been working on since she first picked up a guitar in seventh grade. She'd always loved music, from the time she was 7 and began taking piano lessons. After learning the basics, though, Kasay had trouble when sheet music was introduced into her lessons. "It became extremely difficult, because I couldn't read it well enough," Kasay says.
Her parents eventually bought her a beginner Yamaha acoustic for Christmas, and Kasay, already a big fan of singer-songwriter Ed Sheeran, began putting the stories she liked to write to music. "It was great, because learning guitar was just about learning the chords, so I didn't have to read sheet music," she says. "I would just go and look up the charts and it was much easier, because it just says 'G,' and if you know how to play a G chord, you can play it. If I wanted to learn to do fingerpicking, I could just look up the tabs for that and learn to play it, because I could zoom in on it well enough to see it and figure it out."
By ninth grade, the words Kasay was writing to the chords she was learning had improved exponentially, and her parents were impressed. John Kasay claims he doesn't have a musical bone in his body, but he attended high school in Athens, Georgia, during the storied University of Georgia college town's indie-rock heyday of the 1980s, and later that decade became the Georgia Bulldogs' star kicker.
"In Athens we had R.E.M., the B-52s, Love Tractor, all those great bands," the elder Kasay says. "And of course, the 40 Watt Club. So I was there during Athens' golden age and that was an extremely exciting time for music."
At UGA he met his future wife Laura, and when Kasay was drafted by the Seattle Seahawks in 1991, the two moved on to the Pacific Northwest, where another indie-rock scene had taken hold around Sub Pop Records, which was churning out music by bands ranging from Mudhoney and L7 to Soundgarden and of course, Nirvana. "It was so cool," Kasay remembers. "Laura and I went out there — and we were young at the time and didn't have any children yet — and got to see all this music that was happening there during Seattle's golden age. So in all, we had about a 12-year run where we were around some of the best music in the world."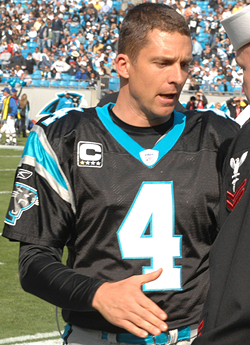 John Kasay circa 2007 (Photo by U.S. Air Force Staff Sgt. Henry Hoegen)
In short, by the time Kasay was recruited to play for the new Carolina Panthers' 1995 debut season, he knew good music when he heard it. Fifteen seasons later, when he retired as the Panther's longest-lasting player, daughter Savannah, who was born in Charlotte around the turn of the millennium, was developing into quite the songwriter and guitarist. John and Laura Kasay became increasingly aware that something needed to be done about it. Finally, last year, Laura reached out to an old friend.
"I got a phone call from Laura and she said, 'We're thinking about doing a recording,'" says Marc McManeus, owner of the Charlotte recording studio SoundPost Productions.
"I didn't really have a sense of what they were thinking at the time or how far they wanted to go with this. And I didn't know Savannah's music at all," McManeus remembers. "So I said, 'Why don't you guys just come by and we'll sit down and talk about what you're looking to do?'"
Savannah brought along her little Seagull guitar and played a few songs. "I thought to myself, 'The words are really good but that guitar is way out of tune," McManeus says. "And it's got strings on it that sound like they're a year old!'"
"Which they were," Savannah interrupts, with a laugh.
"So I kind of pulled the guitar away from her and gave her my [higher-quality] Collings and said, 'Let me hear you play on this,'" McManeus says.
Proud father John Kasay (right) sits with daughter Savannah at SoundPost Productions studio in Charlotte. (Photo by Mark Kemp)
He was blown away by the teen's mature storytelling. "It was super clear to me at that point that she had some good lyrics and good ideas that were going to be awesome," McManeus says. "'At first I was just thinking we were going to record six or seven songs of just Savannah playing and singing."
But McManeus began to envision a bigger sound for the young singer-songwriter. "I said to John, 'It'd be cool to add more instruments if you guys are willing to go there.' And without batting an eye, he said, 'Let's do it.'"
McManeus enlisted several celebrated Charlotte musicians including percussionist Jim Brock, founding memer of the Monday Night Allstars who's also recorded with such music legends as folk singer-songwriter Janis Ian ("At Seventeen"), country-pop singer Kathy Mattea ("Eighteen Wheels and a Dozen Roses") and Americana artist James McMurtry ("We Can't Make It Here"). They soon added Charlotte jazz pianist Chad Lawson ("Lore"), guitarist Bradford Ray Bailey, bassists Andrew Woodard and Tom Hildreth and Savannah's sister Caroline on background vocals.
And the sessions began.
Friday Night Lights kicks into gear with a delicious guitar riff on "Calling Your Bluff" that elevates the song from sweet and tuneful to the status of a potential country-pop hit. It's another sing-along anthem with clever lyrics that sound like the words of a seasoned vet. Savannah Kasay knew exactly what the song needed for her to — let's mix our sports metaphors here — hit it out of the ballpark.
"One of the things I was always telling Marc when we were recording is that I wanted a good intro for that song," Kasay says. "And the electric guitar intro that Brad did on 'Calling Your Bluff' was just perfect. I remember telling him, 'I just want a cool intro.' He goes, 'I know exactly what to do here,' and he played it and I was like, 'That's it. There it is.'
"It's something that, as soon as you hear those first two seconds, you're hooked; it completely embodies the character of the song," Kasay continues. "And all the other stuff Brad laid down for the album was incredible, too. I would come into the sessions and just sit there and be in awe of everything he was doing. He's a fantastic guitarist."
One thing that's important to know about Savannah Kasay: She's not in this gig for the fame or fortune. She's seen fame and fortune all her life, and her dream is not to be the next Taylor Swift.
Kasay wants to to be a business journalist, and next year, she heads off to the University of North Carolina at Chapel Hill to study journalism, business and French. If music works out, fine. If it doesn't, that's fine, too.
At Charlotte Christian School, where Kasay graduated with honors, she was known for her giving spirit. She's a Christian, and while her Christianity isn't obvious in her music, it's abundantly clear in her actions. She's been to the Dominican Republic twice, most recently in January 2017, when she traveled to the Caribbean nation to help build houses and tutor students.
"The Dominican Republic has become my home away from home," Kasay says. "I absolutely adore it there. We spent about a week there each year, and we would build houses, play with the orphans, do different service projects around construction and go into schools in different villages."
In 2017 she brought along her guitar. "It's funny, I speak more French than I do Spanish, so it was difficult for me to communicate, but it was interesting," she remembers. "I would go around to the villages and do ministries, and I found that the songs they knew the most were worship songs. So I would play them on my guitar and sing them in English and they would sing them back to me in Spanish. That was one of the coolest experiences."
At just 18, Savannah Kasay's had her share of cool experiences, from recording an album to performing for kids in D.R. to growing up with a dad who played on Charlotte's hometown professional football team. "I've always loved being able to learn new things, and to learn from my dad and hear about all the things he's done and all the cool experiences he's had on the field," she says.
One of those experiences was a lesson that may serve her well in music, should she choose that path. Music critics and fans, like critics and fans of professional football, can be vicious. Anyone who follows the Panthers remembers the time when Savannah's dad made that infamous kicking gaffe during the 2004 Super Bowl, which mercifully was eclipsed in popular culture by Janet Jackson's halftime wardrobe malfunction. But Kasay's kick has never been forgotten by diehard Panthers fans. As great as he was, he's still severely criticized for that one errant kick.
Last year, John Kasay told The Charlotte Observer, "My kids were talking about regrets and they asked me, 'Dad, if you could go back and do one thing again, what would be the one thing that you'd go back and do?' The first thing that came to my mind was, I would have kicked that ball right down the hash."
Father and daughter burst into laughter when I bring up the topic. "He's always told me, 'When you make a mistake, you learn from it, and then you'll know what to do next time to do better,'" Savannah says. "So I've learned a lot from his wisdom."
Wisdom is something Savannah already has in spades, even though she's not yet even out of her teens.