This wouldn't be a Food Issue (see cover package) without the inclusion of a couple of choice recipes. So to that end, we've collected two -- a meat and a vegetable -- put forth by Kitchen Witch columnist Kim O'Donnel. Enjoy!
Dry-Wet Ribs
Inspired by How to Cook Meat by Chris Schlesinger and John Willoughby
Cooks are a pain in the ass to cook for. I should know, I'm one of them.
Friends tell me all the time that even the thought of cooking for me is intimidating, and I have been naïve enough to believe that my expertise is the barrier between me and those dinner invitations.
Yeah, expert control freak.
Always wanting to run the show, I am a bully even when the kitchen isn't mine. I push my way in, elbowing for cutting board room and demanding a job that I am confident will yield superior results at the dinner table.
On my own turf, I'm worse -- a narcissistic tyrant. Buffet dinner party for 30? That's right, I do it solo. No, thanks, don't you even think of bringing something to eat, you gastronomic dope, only a bottle of wine will do, thanks.
Intimidating? Awful is more like it.
After an emasculating experience attempting to cook dinner for me several months ago, the sweetheart, stalwart in his mission to do more than wash dishes or light the coals, recently ripped open a package of spare ribs and pronounced them his.
For a second, the bully in me appeared, but I quickly shut her up, and said, "Yes, they are. Cook me some ribs, baby."
But then I knew that this time I had to stand by my words. I had to let go and be at peace with relinquishing control. I handed him a copy of How to Cook Meat and got out of the way.
Turns out he did a beautiful job slow-roasting the ribs in a dry paste, then grilling them on low heat to get an exterior crust that I can't stop thinking about.
I've learned my lesson. And now he's the boss of me.
For 1 pound of spare ribs, apply the following:
Dry paste
1 tablespoon minced garlic
1 tablespoon ground cumin
1 tablespoon cayenne
1 tablespoon brown sugar
1-1/2 tablespoons salt
1-1/2 tablespoons black pepper
3 tablespoons orange juice (or beer, rum, tequila)
Juice of 1 lime
2 glugs of your favorite hot sauce
1 tablespoon olive oil
Wet sauce
Make your own: 1/8 cup molasses, 1/4 cup ketchup, juice of 1 lime, 1 tablespoon cumin and a few glugs of your favorite hot sauce
Or buy it: I highly recommend Bone Suckin' Sauce (bottled in Raleigh, NC, and available online at www.bonesuckin.com).
Preheat oven to 200 degrees.
In a blender or food processor, combine paste ingredients and blend until smooth. Dry ribs with paper towels, then rub thoroughly with paste. Place on a baking tray and place in oven, slow-roasting for about 3 hours, or until meat is tender, receding from the bone. Remove ribs from oven.
Ribs can move immediately to the grill or be refrigerated and covered for up to 2 days.
Fire up your grill; you want a low fire, with rack high, if possible.
Place ribs on grill. Within 30 minutes, you will notice a crust developing on outside of ribs. The longer you cook them, the better. Brush with sauce during last five minutes on grill.
Freestyle Okra-Tomato Saute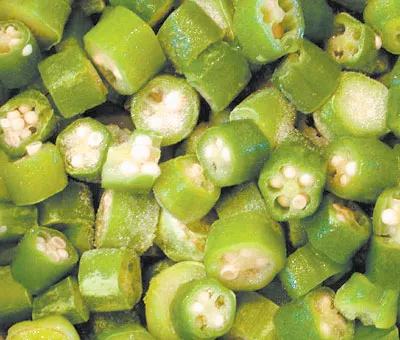 Amid the bounty of late-summer vegetables, there's one that tends to get the short shrift, and her name is okra. In India, she's quite the lady's finger; in parts of West Africa, she's known as ngombo (which is how the gumbo got its name); and in the Middle East, she's got the beautiful melodic name of bamia.
These taut green pods get a bad rap because of the clear viscous substance (aka mucilage or slime) that is released from its white seeds when cooked.
I'm not gonna tell you how the slime acts as a natural thickener, which is revered among gumbo cooks, or how you can minimize the slime (don't overcook). Okra haters are a stubborn lot.
But what if I told you that slime is a friend to your heart and that okra acts much like oatmeal in lowering cholesterol? The mucilage is actually a form of soluble fiber, which slowly travels through the digestive tract, binding to cholesterol, much like a broom. A cup of okra contains a whopping four grams of fiber, which compares to the media-loving bowl of oatmeal (four grams for a cooked cup). Ever try to eat that much oatmeal in one sitting?
Below is just one way of getting to know your new pal, Okra. She's quite versatile, giving the cook all kinds of possibilities, be it boiled, steamed, fried, pickled or stuffed. A lover of acid -- tomatoes, lemon and vinegar are all suitable mates -- okra also plays nicely with garlic, which is music to my tastebuds.
So give a big shout-out to Miz Okra before she leaves town. Your heart will love you for it.
2 tablespoons olive oil
2 cloves garlic, peeled and finely chopped
1/2 jalapeno, seeded and minced
1/2 sweet onion, diced (optional)
10 okra pods, tops trimmed, cut into 1/2-inch slices
2 medium summer-lovin' tomatoes, cored and coarsely chopped
2 ounces white wine
Salt and pepper to taste
Heat oil in a deep skillet (avoid using reactive pans such as cast iron or aluminum), and add garlic, jalapeno and onion. Cook over medium heat, stirring occasionally to ensure the garlic does not burn. Add okra and cook for three to five minutes, allowing it to soften. You'll notice it turning bright green.
Stir to combine ingredients and add tomatoes, followed by the wine. Allow mixture to come to a boil, then reduce heat and partially cover. Cook at a simmer for up to 10 minutes, until okra reaches desired degree of doneness.
Season with salt and pepper, and eat by itself or over rice.
Culinary questions? Contact Kim O'Donnel at [email protected].