FINDERS KEEPERS
*** (out of four)
DIRECTED BY Bryan Carberry & J. Clay Tweel
STARS John Wood, Shannon Whisnant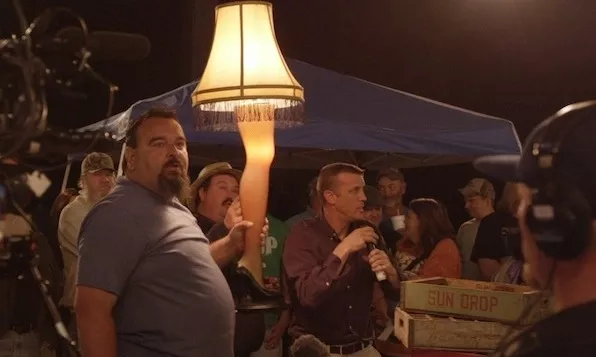 Shannon Whisnant in Finders Keepers (Photo: The Orchard)
It's the best new release of the week, and it's not even playing in Charlotte. Because while Queen City movie theaters are welcoming the comparatively underwhelming trio of Bridge of Spies, Crimson Peak and Goosebumps with open auditoriums, none have seen fit to book Finders Keepers, an irresistible documentary filmed in North Carolina and whose personnel includes several past or present Charlotteans (including cinematographer Adam Hobbs, first assistant camera Zach Whiteside, digital interface technician Jeremy Ball and co-producer Tim Grant, the latter, in the usual name of full disclosure, being a friend).
To its credit, Ayrsley did house the movie when it served as the opening salvo in the recent Charlotte Film Festival. But as of now, its only additional area bookings are at 7 p.m. Friday and Saturday, October 16-17, at Studio-C Cinema in Cornelius. And guess what? The Friday screening is already sold out, meaning you've only got one shot.
John Wood (Photo: The Orchard)
It's worth the jaunt up I-77. One of those loopy tales that can be squarely filed in the "stranger than fiction" category, this follows the intertwining tales of two men from Maiden, NC. One is John Wood, who lost his leg in a tragic plane crash, kept it as a token to honor his late father (who perished in the crash) and then lost it again when the grill in which it was stashed got sold at auction. The other is Shannon Whisnant, who bought the grill, discovered what amounted to an unusual Easter egg (Easter leg?) inside, and then — here's the strange part — opted to keep the appendage rather than return it to its rightful owner. For Whisnant is nothing if not a Southern-fried embodiment of the Everyman constantly lunging at the American Dream — delusionally believing he has what it takes to be a national star (he thinks he's gonna be the next Billy Bob Thornton, someone notes incredulously), he figures he can parlay his discovery into fame and fortune. A natural-born huckster — while selling an antiquated oxygen tank, he tells a prospective buyer that it still contains some air and "see, this is what air used to smell like" — he's the story's court jester, and while Wood provides more somber shadings, he's also prone to making some unintentionally amusing asides. Yet as the film proceeds, the story deepens, and there proves to be enough poignancy and introspection to go around. And it's precisely because of this unexpected direction — not to mention the basic mystery of who will end up with the wayward limb — that Finders Keepers is able to get a leg up on its multiplex competition.