Editor's note: This is the last story in this two-part series where political reporter Michael Cooper followed campaign volunteers in the last crucial weeks of the election. The first part published on Friday.
In a strip mall in Pineville, the regional headquarters of the Obama campaign holds another key facet of election work: the phonebank. By the time I visited in late October, early voting had commenced, so time to campaign was running out.
Democrat or Republican, the inside of these field offices look the same. Posters and bumper stickers stuck to bland gray walls. Rows of sturdy and uncomfortable metal chairs seated at plastic tables. Each volunteer has a laptop, a cell phone plugged into a charger, and a sheet of phone numbers.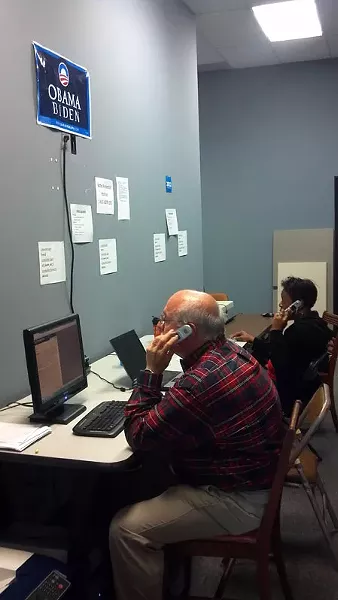 Volunteers man phonebanks at the Obama regional headquarters, in Pineville.
In Obamaland, "Hope" and "Forward" posters were everywhere. One wall carried a wish list, with check boxes for garbage bags, rubber bands, dry-erase markers and a shredder. Written in the bottom in sharp black letters was a note: "Anyone who has donated before (you know who you are) cannot buy anything on this list, thanks." A cardboard cutout of the president at a podium stood guard near the entrance.
There was the essential backroom, but instead of fat white men smoking cigars like Democratic presidential campaigns of yore might have had, young minority women spearheaded this effort. The backroom, or "war room," as pundits like to call it, was filled with office supplies and folders of completed call sheets waiting to be entered into the computer. A color map of Mecklenburg County covered in orange sticky notes provided the only decoration in the war room. Across from the map was a mini-fridge next to a large mound of cheap snacks: crackers, sodas, potato chips, candy, empty pizza boxes piled in a corner — the quintessential campaign diet, buttressed only if one of the volunteers brought in baked goods.
After months as a fiercely contested battleground state, North Carolina is hardly the land of the undecided voter. If President Obama wins North Carolina again, it'll be because of faithful volunteers who spent hours calling complete strangers to win support for their candidate. For all the glory and drama that can come with modern field organizing, the typical lifestyle for the organizer is long hours and late nights keying in tedious data.
Seated on a couch was Jan Pickett, an African-American volunteer and neighborhood team leader for the Ballantyne/Pineville area. She recently retired from Bank of America.
In her arms was her 2-year-old granddaughter, who played with a red, white and blue balloon. She inspired Pickett to volunteer.
"She was born premature," she said, noting the difficulties the young child had already faced and a concern that if Romney is elected, the new healthcare reform law would be repealed, thus imperiling her granddaughter. "Down the line she could be denied care because of pre-existing conditions."
In 2008, many activists who took up for Obama were inspired by the post-partisan politics of hope. This time around, those manning the phonebanks were less dyed-in-the-wool idealistic. But they were still volunteering.
"I've been frustrated with a lack of cooperation and action, and that has motivated me this time to step up and help enable change," said Pickett, who was not a part of the 2008 campaign.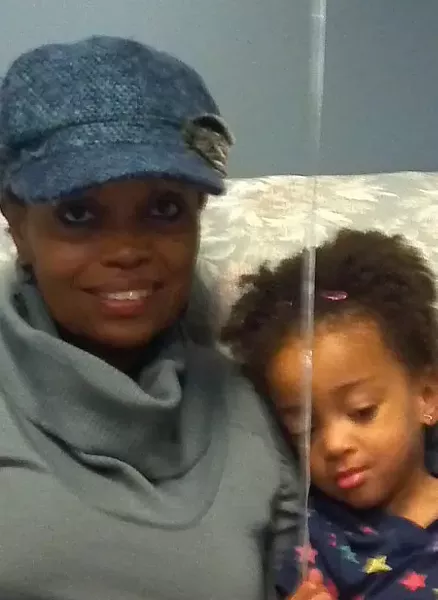 Pickett and her granddaughter
From 9 a.m. to 9 p.m., volunteers made calls in two- three-hour shifts. Adults made calls next to teenagers, most of the helpers were women, and more than half were of color.
According to the latest polls, North Carolina is still considered a toss-up state. "I believe that it will be close, and that's the reality," Pickett said.
Obama doesn't need North Carolina's electoral votes to retain the presidency, and whether these callers are successful in turning out his base and running up the score in Mecklenburg County — to make up for losses the rural parts of state on election night — is more a question of whether Tar Heel blue icing will top Obama's victory cake.
But even if her role in the grand scheme of the election is a smaller one, for Pickett the stakes are too high to sit this one out.
The Mecklenburg County Republican Party and the North Carolina office of the Mitt Romney campaign did not respond to requests to participate for this article.