A more superstitious band would have called it quits in Wilmington.
It was there that the members of Faye took advantage of some free time between shows to identify their spirit animals through a medium that specializes in such things.
The band's two guitarists, Susan Plante and Sarah Blumenthal, were told their respective spirit animals are an English lop rabbit and a barred owl, two species that don't exactly get along.
"Well I can't be in a band with you anymore," Plante remembers saying jokingly, only after her lop rabbit assignment made her break down in tears (stone sober), "because that's just who I am."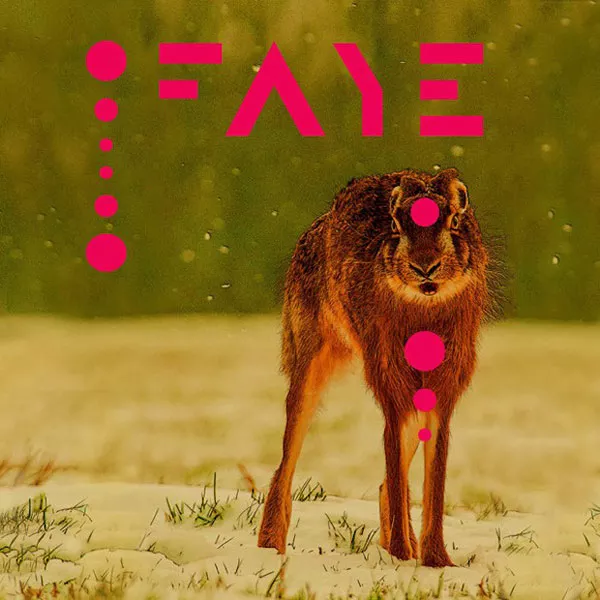 The cover of Faye's self-titled EP, to be released on May 13.
Luckily for everyone involved, the bad omen didn't slow Faye down, and one month later the band signed with Charlotte-based record label Tiny Engines and will release a five-song, self-titled EP on May 13.
Faye's most recent single, titled "Ancient Bones," delves into the feelings Plante, guitarist and vocalist, struggled with as she lost Reagan, the dog she cared for and loved for more than 11 years.
"These ancient bones, how they crumble and creak. You're making this harder than it really needs to be," Plante sings, her words laced with melancholia.
She wrote the song as the dog lay next to her, dying of an unknown sickness. Her husband, drummer for local band Black Market, couldn't listen to it for the first year that she played it.
"Make sure your dog is around when you listen to it," Blumenthal says.
Plante adds, "Yes, that's important. Hold your pup. Cry softly."
The EP as a whole, however, is no downer. The first single, "Chow Chow," picks up the pace musically, with Plante's vernal voice contrasting well with overly distorted guitars, reminiscent of some original Riot Grrrl tracks. The sound of "Chow Chow," — titled that "for no reason, but I hate that nobody asks," according to Plante — is more indicative of the remaining tracks in the EP.
(From left) Susan Plante, Kristen Leake and Sarah Blumenthal at a recent show at The Station in Plaza Midwood. (Photo by Becca Bellamy)
"The distorted guitar stuff, that's all Sarah," Plante says. "She distorts the hell out of her bass and I love it because it's like having bass and a second guitar. Long live the [Pro Co] RAT pedals."
The lyrics in "Chow Chow" also step up the snark, picking fun at Charlotte's music scene for a certain apathy Plante saw within it when she wrote the song. Plante says she wrote it "just to be funny," but there's a certain truth to any joke.
"Maybe it's always been this way, but there's definitely a 'be seen' mentality. Like, 'I'm just going to go to this show because that's where all the people are,'" Plante says. "People get bummed out as bands that nobody came to their show but everybody liked the post about it.' It's tough for anybody — whether they're writing or doing music or art — doing anything to put yourself out there and sometimes not feel like you're getting anything back."
Plante wrote the song more than a year ago and says she's seen a slow change taking place since. She and Blumenthal agree that people are getting more tuned in.
"It's really easy to hate on your scene. Everyone hates where they live, that's easy. But we have it really good," says Blumenthal, who is also co-founder of Self Aware Records in Charlotte. "It's pretty unreal. We have a lot of venues that have been closing and that sucks but we still have a lot of really great venues and a lot of great bands; a lot of great younger bands. We're so lucky and I just hope people know that, because it's not like that everywhere."
Plante and Blumenthal formed the group with drummer Kristen Leake in 2014 with no expectations, which made it all the sweeter when they got a call from Tiny Engines in March of this year.
"It was like winning the lottery. I totally respect everything they do," says Plante. "I already listen to so many of their bands anyway. So to be in their catalogue is ... basically I keep on saying everything from here on out is just gravy."
While Blumenthal, who plays bass and sings, and Plante do feel like they're playing with house money, they still have goals for the coming years.
They're currently planning a week-long northeastern tour for the end of May and hope the short tour and EP will lead to a longer tour and a full-length album with Tiny Engines.
"Best case scenario: MTV Movie Awards and touring with Beyonce, obviously," Plante says, her deadpan sarcasm not flinching. "But doable goals? I don't really have any expectations, I'm just kind of along for the ride."
Blumenthal gets a bit more specific.
"We're just going to ride the wave as long as we can, but I do have goals for this band. We'd like to do a full-length album this year. We'd like to go on a longer tour. We'd like to go on tour with a bigger band. We'd like to get the cover of Creative Loafing," she says, laughing.
We'll be here, waiting patiently for that full-length album. Then we can talk.