(View From The Couch is a weekly column that reviews what's new on Blu-ray, DVD and Streaming. Ratings are on a four-star scale.)
Christopher Walken and Mark Wahlberg in All the Money in the World (Photo: TriStar)
ALL THE MONEY IN THE WORLD (2017). It didn't exactly require all the money in the world, but Sony nevertheless had to cough up a sizable chunk of change to reshoot certain scenes in All the Money in the World. Even with the decision coming less than two months before the film's release, director Ridley Scott pulled it off, with Christopher Plummer stepping in for the scandal-struck Kevin Spacey and Michelle Williams and Mark Wahlberg returning to the filmic fold to redo their scenes. It's an impressive example of Hollywood professionalism and efficiency — it's just a shame the movie itself isn't a bit more compelling. The real-life framework remains intact: In 1973, miserly J. Paul Getty (Plummer), the richest man in the world, refuses to pay the $17 million ransom when his 16-year-old grandson John Paul Getty III (Charlie Plummer, no relation) is kidnapped while living in Italy. It's a workable scenario, but the execution is often more arid and aloof than incisive and intriguing — worse, scripter David Scarpa (working from John Pierson's book Painfully Rich: The Outrageous Fortunes and Misfortunes of the Heirs of J. Paul Getty) must have felt the need to somehow pump up the volume, since the story takes some ridiculously fanciful turns that would have made more sense on Walker: Texas Ranger. As Fletcher Chase, a former CIA agent now serving as Getty's advisor, Wahlberg is game but miscast — faring much better is Williams, who, as the kidnapped boy's mom, brings conviction to what could easily have been a rote role. Still, it's the last-minute replacement who saves the day — and the movie. Playing Getty as Scrooge writ large, Christopher Plummer delivers an excellent, Oscar-nominated performance, providing the part with the richness it requires.
Blu-ray extras include a making-of featurette; deleted scenes; and a piece on the recasting of Spacey's role.
Movie: **1/2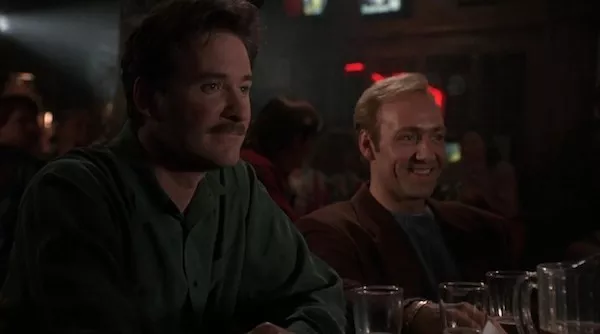 Kevin Kline and Kevin Spacey in Consenting Adults (Photo: Kino)
CONSENTING ADULTS (1992) / MY FATHER THE HERO (1994). For approximately a 10-year stretch from the mid-1980s through the mid-1990s, Disney's live-action arms (Buena Vista, Touchstone, Hollywood Pictures, etc.) produced an astonishing number of films, so many that the impression was given that the cash flow was allowing even the studio errand boys to light their cigars with ten-dollar bills. Some of these films prospered (Three Men and a Baby), most flopped (V.I. Warshowski), and a few barely saw the light of day (Patrick Swayze's Father Hood, anyone?). The Kino Lorber label has recently been offering Blu-ray editions of many of these titles, with 10 being released in April alone. The latest batch includes Dolly Parton's Straight Talk, Goldie Hawn's Deceived, and the two titles covered below.
The notion of swapping spouses has been handled intelligently in such efforts as Paul Mazursky's Bob & Carol & Ted & Alice and Ang Lee's The Ice Storm, but Consenting Adults is merely another dum-dum thriller that wastes a potentially intriguing premise. Kevin Kline and Mary Elizabeth Mastrantonio star as Richard and Priscilla Parker, a conservative couple experiencing marital turbulence; when their new neighbors (Kevin Spacey and Rebecca Miller) draw them out of their shells, it's all fun and sex games until someone ends up murdered. All evidence points to Richard as the killer, and he does his best to prove his innocence. Kline's character is such an imbecile that it's hard to care whether he clears himself, although Spacey is good as the sleazy neighbor. It's difficult to believe this daft thriller was directed by the usually reliable Alan J. Pakula (All the President's Men, Presumed Innocent).
Katherine Heigl and Gerard Depardieu in My Father the Hero (Photo: Kino)
My Father the Hero is basically a one-man show, with Gerard Depardieu generating ample amounts of goodwill toward a project that would be far less memorable without his towering presence. In this remake of the 1991 French film Mon pere, ce heros, Depardieu reprises his role as a dad who hopes to bond with his teenage daughter (15-year-old Katherine Heigl) during a Caribbean vacation. But the girl is more interested in other things — cute boys, to be exact — and to make herself seem older and more sophisticated, she tells everyone that her pop is actually her lover, a lie that leads to all manner of awkward developments. The filmmakers find just the right approach to turn what on paper sounds like a sordid plotline into a breezy, likable comedy, and the scene in which Depardieu's oblivious dad cheerfully sings "Thank Heaven for Little Girls" would be a classic had it appeared in a higher-profile title.
Blu-ray extras on Consenting Adults consist of audio commentary by scripter Matthew Chapman and the theatrical trailer. Blu-ray extras on My Father the Hero consist of audio commentary by director Steve Miner and the theatrical trailer.
Consenting Adults: *1/2
My Father the Hero: ***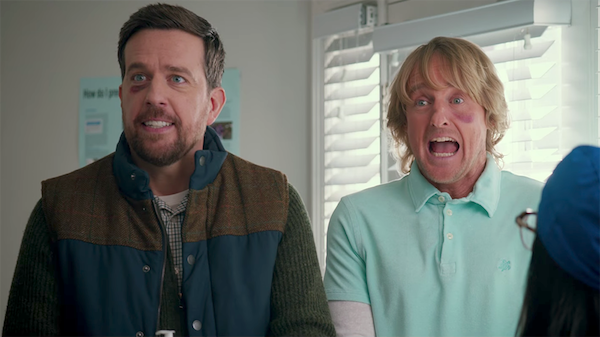 Ed Helms and Owen Wilson in Father Figures (Photo: Warner)
FATHER FIGURES (2017) / THE TRIBES OF PALOS VERDES (2017). Twins can be found at the center of two new-to-Blu releases, but only one of the pair proves to be anything approaching watchable.
Father Figures finds Owen Wilson and Ed Helms playing the least likely set of twins since Schwarzenegger and DeVito. They're respectively cast as laidback Kyle and uptight Peter, who learn that their mom (Glenn Close) has been lying all these years when she said their dad was a deceased doctor. She finally reveals that he was one of a group of guys she dated back in her free-love days, which sets the duo off on a mission to discover the identity of their true dad. The possibilities include a small-time thief, an undercover cop, a gimpy doctor, and even football superstar Terry Bradshaw (playing himself). It's difficult to ascertain what's harder to take in this laugh-free comedy: the sentimental bits in which the brothers attempt to bond (the casting of Wilson and Helms seems to have been determined by a lottery, given their lack of rapport) or the expected dashes of witless crudity (where else can you see Wilson and a little boy urinate on each other?).
Maika Monroe in The Tribes of Palos Verdes (Photo: Shout! Factory)
While everything about Father Figures – from its set-up to its characters – feels artificial, the dynamics at play in The Tribes of Palos Verdes are far more genuine, even if the movie does take at least one melodramatic turn too many. The twins in this film are teenagers Medina (Maika Monroe) and Jim (Cody Fern), whose father (Justin Kirk) relocates the family to the beachside town of Palos Verdes, California. He immediately abandons everyone for a local woman (Alicia Silverstone), driving their already emotionally precarious mom (Jennifer Garner) to suffer a complete breakdown – for their part, the kids try to draw strength from each other, but that becomes increasingly difficult once Jim gets addicted to drugs. The attempt to frame Medina's new passion – surfing – against the horrors of home life never comes to full fruition, but Monroe is excellent in the central role.
Blu-ray extras on Father Figures consist of deleted scenes; a gag reel; and trailers. Blu-ray extras on The Tribes of Palos Verdes consist of deleted scenes and the theatrical trailer.
Father Figures: *1/2
The Tribes of Palos Verdes: **1/2
Adam Arkin in Full Moon High (Photo: Shout! Factory & MGM)
FULL MOON HIGH (1982). (1981). Four years before Teen Wolf became a hit for Michael J. Fox, there was Full Moon High, a teenage werewolf flick that sank without a trace. Truthfully, one isn't markedly superior to the other: Teen Wolf benefits from a more charismatic lead (Fox over Adam Arkin, though the latter isn't bad), but Full Moon High offers more laughs – at least during the first half, after which the nyuks dry up and comic rigor mortis sets in. Arkin stars as Tony Walker, a high school student who gets bitten by a werewolf while in Romania. His curse means he never ages, which becomes problematic as everyone around him grows older and he remains perpetually youthful. Some clever gags during the first half eventually give way to increasingly weak bits of comedy during the second part, making it feel as if writer-director Larry Cohen only scripted the initial 45 minutes and handed the rest off to some intern. A high point is the unexpected casting of Johnny Carson's right-hand man, Ed McMahon, as Tony's dad, a rabidly right-wing CIA agent who dallies with two Russian prostitutes while proclaiming, "Let's find out what Communist infiltration is all about." Also on hand are several of the era's TV stars (including Sanford and Son's Demond Wilson, Too Close for Comfort's Jim J. Bullock and Happy Days' Pat Morita) as well as Adam Arkin's pop, Alan Arkin, as a cruel psychiatrist.
Blu-ray extras consist of audio commentary by Cohen (and moderated by Steve Mitchell, director of the recent documentary King Cohen: The Wild World of Filmmaker Larry Cohen), and the theatrical trailer.
Movie: **
Idris Elba and Jessica Chastain in Molly's Game (Photo: Universal & STX)
MOLLY'S GAME (2017). As a writer and producer, Aaron Sorkin has been such an important and enduring fixture on the film and television fronts (an Academy Award for adapting The Social Network and multiple Emmy Awards for writing and producing The West Wing) that it's a wonder he waited this long before making his directorial debut in either medium. Then again, perhaps he was just biding his time waiting for the right project: Why soil his reputation on a Paul Blart: Mall Cop sequel when something better could be right around the corner? In this case, that "something better" turned out to be Molly's Game, with Sorkin not only directing but also penning this absorbing adaptation of Molly Bloom's exhaustively titled book Molly's Game: From Hollywood's Elite to Wall Street's Billionaire Boys Club, My High-Stakes Adventure in the World of Underground Poker. As Molly, a former skier whose legendary poker games made her an FBI target, Jessica Chastain delivers a typically brainy and impassioned performance, with Idris Elba offering solid support as the lawyer who elects to take her case. Released in limited release on Christmas Day and going wide approximately two weeks later, this seemed like catnip for grown-ups seeking some respite from seasonal servitude geared toward kids and families – instead, it grossed only $28 million, meaning it's now ripe for discovery at home. Sorkin earned an Oscar nomination for Best Adapted Screenplay, but a highly competitive Best Actress field resulted in a no-show for the excellent Chastain.
The only Blu-ray extra is a making-of piece.
Movie: ***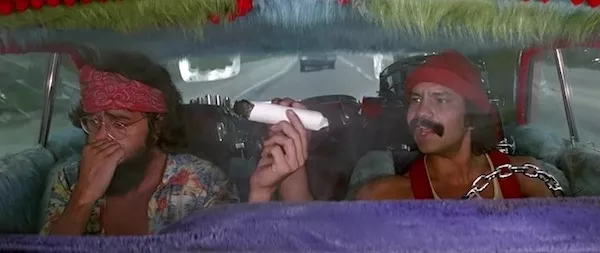 Thomas Chong and Cheech Marin in Up in Smoke (Photo: Paramount)
UP IN SMOKE (1978). My, how the times do change. In 1936, Reefer Madness showed how just one puff from a single marijuana cigarette could lead to murder, suicide, insanity and – gasp! – overly exuberant piano-playing. In 1978, Up In Smoke showed how smoking a joint the size of a football could at worst lead to a severe case of the munchies. In short, Nancy Reagan wouldn't have found much use for this cult hit in her "Just Say No" campaign, as Cheech Marin and Thomas Chong (making their film debuts after successful stand-up and recording careers) prove to be irresistible anti-establishment figures in this consistently amusing dum-dum comedy. With a script as aimless as its protagonists, Up In Smoke (billed in theaters with the great tagline, "You'll be rolling in the aisles!") drifts from one comic set-piece to another, as stoners Pedro (Cheech) and Man (Chong) are constantly on the prowl for their next high. Their odyssey leads them to the home of Pedro's Vietnam-scarred cousin Strawberry (Tom Skerritt), to Mexico to pick up a van made entirely out of weed, and to a rock club to perform in a "Battle of the Bands"-style contest. Up In Smoke is sloppy, crude and decidedly non-PC, but just try not to laugh when a coked-out partygoer unwittingly snorts a few lines of Ajax ("Good shit!" she declares), or when a police dog is glimpsed after its encounter with the marijuana-van, or when Pedro explains that his undocumented relatives purposely called Immigration so they could get a free ride across the border into Mexico to attend a wedding.
Blu-ray extras include audio commentary by Cheech and director-producer Lou Adler; a 40th anniversary retrospective piece (featuring interviews with Cheech and Chong); deleted scenes; and vintage radio spots.
Movie: ***
==============================
FROM SCREEN TO STREAM
(Recommended films currently available on streaming services)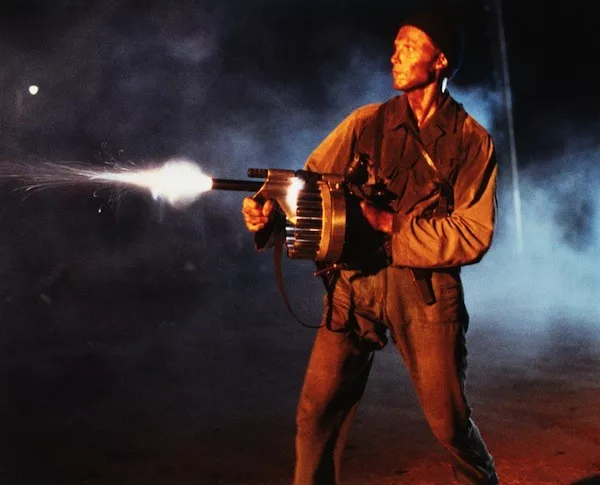 Christopher Walken in The Dogs of War (Photo: UA)
THE DOGS OF WAR (1980). Two years removed from his Oscar-winning supporting turn in 1978's The Deer Hunter, Christopher Walken landed his first starring role in this accomplished adaptation of Frederick Forsyth's bestselling novel. Walken plays Jamie Shannon, a mercenary hired by slimy British businessman Endean (Hugh Millais) to embark on a reconnaissance mission to the African nation of Zangaro. Endean would like to know if it would be possible to overthrow Zangaro's corrupt government and install a different regime — one equally corrupt, of course, but more willing to share the nation's valuable resources (platinum as opposed to oil) to outsiders. Upon returning from his assignment, Shannon is then hired to assemble his team and pull off the coup, but he has his own idea on how matters should pan out. Walken has rarely delivered such an earthy, physical performance, and his character gives (the glass-in-the-mouth scene is swift, brutal and incredible) as well as he takes (Leonard Maltin once noted that "Walken takes a screen beating nearly as impressively as Brando"). Colin Blakeley is excellent as a tenacious news reporter who befriends Shannon, and if Derek, one of the key mercenaries, looks familiar, that's because he's played by Paul Freeman, who would memorably combat Indiana Jones as the charming Belloq in the following year's Raiders of the Lost Ark. And it's difficult to ascertain which is more startling: the sight of an impossibly young Jim Broadbent (as part of Blakeley's film crew) or an impossibly young Ed O'Neill (as part of Walken's outfit). (Amazon Prime)