If only it were autumn.
That's what I'm thinking on a recent drizzly afternoon in June, when I meet up with Charlotte singer-songwriter Autumn Millner, who performs and records as Autumn Rainwater.
Alas, it is summer, and somehow Summer Rainwater just doesn't reflect the moody complexity of Autumn Rainwater's remarkably eclectic mix of rainy-day R&B with smart, subtle hints of rock, hip-hop and electronic dance music.
Autumn Rainwater's 'Leaf' album cover.
Millner's latest set of music, Leaf, released earlier this year, should be in regular rotation along with the likeminded Solange Knowles, but Autumn Rainwater doesn't have an older sister named Beyonce, so a surefire record deal probably isn't in the works. But like Solange, Autumn does have a talented older sister, Shandy, who performed more conventional R&B music that inspired Autumn to be different.
"I love Solange. I think she's awesome. I bought her first album with my first paycheck ever," Millner says. The 27-year-old is sitting at a table at Nova's Bakery in Plaza Midwood, her hair in braids under a backward baseball cap, wearing a black T-shirt with the words "Charlotte Not For Sale" on it.
"I think Solange is an amazing writer, even in her Solo Star days when she was doing stuff with Lil' Romeo," Millner continues. "And now, just to see how she's evolved to what she's done on A Seat at the Table. . . I'm just a diehard fan. I mean, a diehard fan."
Most of Millner's love of Solange is due to the music, but a good part of it is also because she strongly identifies with the singer. When Millner was a little girl, she would mimic the moves of Shandy, who sang with a successful local R&B girl group before going solo. She didn't exactly go the way of Beyonce, though. Shandy left music to raise a family. But in Autumn Millner's eyes, Shandy will always be her Beyonce — and Solange will always be her muse.
"I just really respect how Solange puts her own personality into her music, and doesn't try to be like Beyonce. Not to say anything against Beyonce, because she's great in her own right. I just personally connect more with Solange."
The connection is of the "Oh, you're Shandy's little sister" variety. It made Autumn feel both proud and a little annoyed. The way the same comparisons presumably made Solange feel. "I just feel like she and I have a lot of parallels in terms of being in the shadows of an older sister and having to kind of do you own thing that's totally different," Millner says.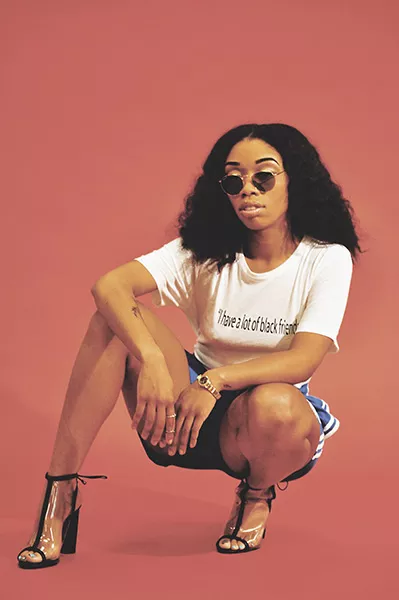 Photo of Autumn Rainwater by Saloan Rochelle; Wardrobe Stylist: Clayton Newsmen III; Creative Director: Rel; MUA: Princess
Autumn Millner grew up in Charlotte surrounded by music, and not just her sister's music. Autumn's father Patrick Millner toured the east coast with the Phase Band, a successful funk cover band, in the 1980s before moving on to the ministry. Her mother, Debbie Massey, was a singer who met Patrick Millner in a recording studio. "That's where they connected," Millner says. "It was inevitable that I'd become a musician."
Her parents have early videos of Autumn as a toddler singing songs from Mariah Carey's Music Box album before she could even talk. "I have no idea how I could do that before I could talk, but my dad and my mom used to play those videos all the time," she says.
After finishing elementary school at J.H. Gunn, Millner attended a series of middle schools — Hickory Grove Christian, Northridge and, briefly, Alexander Graham. But the one school that made the biggest impact in terms of her music was Northwest School of the Arts. She only attended during her seventh and eighth grade years ("Those were my rebellious years, she says), but they made an indelible mark.
"That's when I kind of got a grasp on, 'OK, I really do want to do music. I really do want to sing,'" Millner says. "It's a good environment to be in if you're creative."
One of her teachers was Corey Mitchell, the Emmy Award-winning subject of the recent documentary Purple Dreams who also taught singer Kevin "Mercury" Carter, who appeared on the cover of Creative Loafing in April. "Mr. Mitchell was a cool teacher," Millner says. She laughs at a specific memory of his classroom style. "I remember he'd take off his socks and shoes in the middle of class just casually while he was talking."
Millner attended East Meck High School and soon began doing music in earnest. "I think the main thing that inspired me was having all that music in my house," she says. "It's really cool to have that in my background. My dad has a studio in his house and he plays the keys and plays guitar like nobody's business — I mean, effortlessly. He plays acoustic, electric, everything. So I grew up with a heavy Prince influence, Gap Band, Stevie Wonder — he implemented all of that very early on in my life. And he still does, even though he's a minister now."
And her mother? "She's a pastry chef now," Millner says. "I mean, my mom would play music around the house and she loved it. Music just wasn't something she loved like my dad did, but she did love to sing and that's what she and my dad had in common."
Patrick Millner more than loved music; he lived it. He would regale his daughters with tales of being in a traveling band. "He would tell me stories about touring up and down the coast. He kind of calmed down after I was born, but I always thought it was really cool that he was in these bands that played at all these places. I always admired that about him, and of course it poured over to me."
Photographer: Saloan Rochelle; Wardrobe Stylist:Clayton Newsmen III; Creative Director: Rel; MUA: Princess
The quality that distinguishes Autumn Rainwater's music from that of her sister or her parents is its confessional quality. An earlier song, from Millner's 2012 album Twentytwo, found her singing that she'd never date a rapper. She laughs. "Some guys just have a hard time competing with women who also do music," Millner says. "Of course, even after that song, I ended up dating rappers."
She also ended up recording a second album, Moon, in 2014, followed by The Birthday EP the next year.
But Leaf, in particular, is as confessional as an album gets. It's an 11-track meditation on growing up and finding her true self after a failed relationship. It begins with a voice message from her ex, who tells her that he'd better not hear the message in a song. It's such a perfect beginning to the story that I ask her if it's real. She laughs. "Yes, that's a real voice message," she says. "He's kind of come around now and has been like, 'Yeah, so where's my check for my contribution?' And I'm like, 'Yeah, right.'"
A little less than halfway into the album, following several richly produced songs, including "Grow(ing)" and "Lonely," which detail spots along her journey to womanhood, there's a lo-fi acoustic tune — just 46 seconds of Autumn singing over a scratchy acoustic guitar. It's called "Bae Sessions."
"That's me and my current boyfriend, Eli Red," she says. "He's the lead singer of a band called Favelas. The way that came about is, I like to do voice memos sometimes at random moments when I'm in a very authentic, very natural situation just to reflect where I am musically in a certain moment. That's one of those situations where we'd just started dating and he was in my room playing guitar and I was singing along. I look at it as a very optimistic moment, because usually my music is very, like, 'Oh my god, I'm so sad.' So that was kind of a segue to a very harmonic situation. I see it in a color, so it's kind of like orangey-pink to me."
The track that follows, "Cool," is straight-up experimental electronic dance music. And another song, "Low Frequency" — which features Charlotte rapper Jah-Monte, who talked to CL about his own recent music in March — finds Millner exploring vocal techniques you might hear on an Erykah Badu record. Each of the 11 tracks has its own sonic personality and story, and yet they flow and arc together like the colors in a rainbow.
"I do consider my music experimental. I always want to do something that's not expected," she says. "I have a very heavy R&B influence just because of my upbringing, and '90s R&B is my favorite thing ever. But I also love songwriters like Alanis Morissette, just because she's so awesome. And I listen to anything from Bjork to Norah Jones. I hate that everything is so genre-driven now — that everybody wants to fit everything into certain genres. Whatever kind of music it is, if it conveys the feeling I want in a song, I will use it in my own work. I just want to put all these things together. I like to push the envelope a lot."
It took Millner three years to write and record Leaf. "Since my last project, I was like, 'I'm not even sure I want to do this.' I was in my mid-20s and my music wasn't going the way I wanted it to go, so it took me a while to get through my own feelings of doubt," she says. "I had to kind of grow up and see life from a different perspective in order to figure out who I really am and what I really want from life, whether it be music or the company I kept.
"So I had to get through that, and once I did and once it clicked for me, it was easier for me to write about it," she continues. "I had to write about the journey from Point A to Point B, and now that I'm at Point B I'm ready to move on to the next part of my life. But before that, I wanted to write about those three years and throw it into Leaf."
It wasn't exactly "thrown" together. Leaf is a tremendously well-thought-out example of great musical storytelling. "It's just me getting over a breakup and finding myself as a woman," she says, modestly. "And that's the way I want my projects to happen. For one thing, I'm very much an open book, and I feel like if I can use that, it can be therapeutic for whoever is listening to it. That's how I fell in love with music in the first place."
Like a book, Leaf ideally should be experienced from beginning to end. If it's not, you miss half of what makes it so great. "I'm one of the rare people who still loves albums. I like to listen to albums all the way through," she says. "So the great thing about making Leaf was making sure the flow of the album was done in a way that makes you want to listen to it all the way through in its entirety. Whether it's a story or a sonic thing, I want to create albums in a way that encourages the listener to listen all the way through to the end."
So what are some examples of perfect albums, in that regard, according to Autumn Rainwater? "Anything by Prince, and not just Sign O' the Times or Purple Rain, but also The Gold Experience and Emancipation. I love Prince through and through, because everything he ever did was experimental. Everything. He had no fear. He was just like, 'I'm gonna do what I wanna do.' If I can implement that in any way as an artist, then I'm good. Like if I ever think that anything I'm doing may be too risky, I'm like, 'What would Prince do?' And then I go ahead and do it."
Millner had mentioned earlier that she had reservations about whether or not to continue with music. Did doing Leaf answer those inner doubts? "Oh yes," she says, enthusiastically. "I figured out that music is definitely what I want to do. I'm back into it hard. 100 percent."
Watch the video for "Grow(ing)," from Autumn Rainwater's
Leaf
album.
Watch an earlier video: "Birthday," from Autumn Rainwater's
Birthday
EP.