Driving by, it's easy to miss the little white deli on South Kings Drive. The nondescript building doesn't stand out compared to the city's skyline or the towering buildings of the Carolinas Medical Center campus across the street.
However, if you've ever stopped to take a look inside, you know that this little white building is a time machine holding 50 years of memories. Those 50 years, however, are now coming to an end.
A developer recently bought the land where the Philadelphia Deli stands and plans to knock it down and build over it, but the family that owns the longtime business never wanted to leave in the first place.
On Christmas Eve 2016, the deli's owner Pavlos Drosinis passed away at 83 after suffering through a long illness. He left behind his wife, Alice, a daughter and two sons.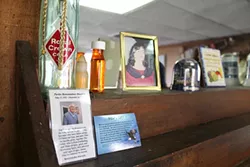 Mementos throughout the deli pay tribute to founder, father and former owner Pavlos Drosinis.
The family hoped to keep the restaurant's legacy alive, but were shocked to learn that, just weeks before his death, Drovinis had signed papers selling his property for well under what it had been appraised for. Alice, 76, also signed the papers, but now says she would have never done so if she were better informed about what she was signing.
The Drosinis family will close the doors of the historic deli this month, but they do so reluctantly, believing that their father was taken advantage of in a time of great weakness and mental incompetence.
According to Pavlos' son Demetri Drosinis, a developer named Jeffrey Butler, president of Greencastle Capital Management, had begun coming around in 2013, but had been repeatedly turned away after showing interest in the property. Greencastle ended up buying the property on Nov. 7, 2016.
Creative Loafing reached out to Butler for comment. Voicemails went unreturned, and more recently the listed Greencastle number came back as temporarily disconnected. A call to his attorney also went unreturned.
Demetri believes Butler used Pavlos' illness as a business opportunity. He said he saw surveyors outside of the restaurant while his father was still in the hospital, but was too distracted by his father's illness to take action.
"I was more focused on losing [my father] than the restaurant at that point," he said.
The Drosinis family would later lose a court battle over the property, despite providing evidence that Pavlos did not have the mental capacity to sign away his property.
Pavlos moved from Greece to the United States in 1950 and joined the Air Force. He later met Alice, whom he'd be married to for 58 years, and the couple bought a restaurant in Asheville. They ran that restaurant for eight years before making the move to Charlotte. During a doctor checkup for Alice, a building across the street caught their eyes. They decided to buy it.
The Drosinis family only has a few weeks left to serve their popular Philly Steaks.
In the midst of filing the paperwork, the then-owner burned the building, but Pavlos went through with the sale and renovated it into a '50s-style diner. When Pavlos was sick for a year and rented the building out, a tenant brought it up to date, implementing more of a '70s style that still defines the atmosphere there today.
Pavlos and Alice originally named the restaurant King's Kitchen when it opened in 1969, but later changed it to include the Greek word for "brotherly love" following the birth of Demetri, their youngest son.
In March 2017, it was left up to Demetri to save the restaurant. He hired three attorneys, two of whom knew the Drosinis family through the restaurant and offered their services pro bono.
In preparation for the case, three doctors who treated Pavlos signed affidavits stating he was not in a well-enough mental condition to be signing documents between October and his death. One customer's affidavit reiterated Pavlos' incompetence and spoke of conversations Pavlos had with him about the future of the business, specifically his desire to leave it to his two sons.
Lawyers also pointed out that a "witness" to the final signing over of the restaurant actually signed the document three days after Pavlos signed, without him or Demetri, who held Pavlos' power of attorney, being present.
The family and their lawyers were shocked when they lost the case. According to the judge, the fact that Pavlos has since passed away rendered any point to his mental competence as moot.
"A genuine issue of material fact exists as to Paul [Pavlos] Drosinis' competency at the time he executed the agreement," wrote Superior Court judge Carla Archie. "However, by virtue of Paul's death, the issue of his competency has been removed, and Defendant Alice Drosinis is estopped from contesting the validity of the Agreement."
Demitri Drosinis looks over paperwork from a recent court case while preparing to begin the moving process.
Family members will sign the final papers needed to finish the transaction on Friday, and from there will have 30 days to clear out of the restaurant.
"I don't have deep pockets like [Butler]," Demetri said. "We're a small-business family, barely making it and an appeal is going to cost me double."
The family will serve food for a couple more weeks, until the removal of equipment makes it impossible.
During a recent visit, another of Pavlos' sons, Konstantinos, or Dino as he's known at the deli, was angry at times as he pointed to his father's military photos.
Dino, Demitri and Alice switched fluidly from Greek to English as they discussed the case, still shocked over the judge's decision.
"Leaving here will be a bad dream," said Dino, 56. "I grew up in here. I know every crack and cranny and crook. We've had a lot of good times in here, a lot of families, a lot of friends, a lot of customers who are friends. We've known customers 40 years.
"We've stuck together through thick and thin — storms, hurricanes, the economy," he continued. "I just hate to see us leave under these conditions."
In its time on Kings Drive, Philadelphia Deli has stayed busy thanks to a steady crowd of hospital staff members and other professionals who work in the area.
Growing up, these people were family to Demetri and Dino, and the deli was home. Demetri remembers playing with his toys in the corner, receiving homework help from customers.
He'd often fall asleep in one of the booths before midnight, when his parents would close up shop and carry him to the car to take him home.
Knowing they'll have to leave soon, Alice has been cleaning up around the deli and finding old letters from customers. She recently found one that brought tears to her eyes, written by doctors who used to work across the street. She's been carrying it in her purse since.
"I knew all these doctors listed here as a little kid," said Demetri, showing me the letter under the dim lighting in a booth. "Dr. Belle, Dr. Cooley ... I even interviewed Dr. West in middle school for a project. I knew all of them since I was little. [We] talked, laughed, played — they didn't mind." .
The Drosinises refer to their customers as family. The regulars make themselves at home, sometimes moving the TV and taking the remote or going into the kitchen to laugh with the staff while they cook.
Being across from a hospital, the family has seen its share of both happy and sad stories walk through the door. Sometimes people will come in celebrating the birth of a child, others will be mourning the loss of someone important to them.
For the Drosinis family, the restaurant is a reminder of both joyful and painful memories.
In 2009, after the death of Demetri's and Dino's brother, business dropped. They made cuts to menu items and hours.
Now, during their last weeks in the restaurant, they're still grieving the loss of their father while just beginning to accept the loss of their diner.
"It's different to walk out of your home [than] to be thrown out of your home, especially in this country called the United States," he said.
"That just doesn't happen here, or at least that's not what's supposed to happen."