Uptown arts are burgeoning with the Levine Center, and NoDa is blossoming with the CAST complex, UpStage and other funky, boozy sites. Performing arts venues have increased dramatically over the past few seasons. So eventually, there had to be an explosion of arts events, right? Well, amid the cautious optimism afflicting the plutocrats of Banktown, this is the year for the performing arts to fly in the face of sober pragmatism and skyrocket.
Below, you'll find three dozen blue-chip performing arts events spread over the next three months. Month-to-month, I'm spotlighting the top three to five events in chronological order and then, also in chronological order, listing the two dozen other worthies that you should consider for your personal arts calendar. Opening dates are in parentheses.
Mikaela Fleming, Bo Broadwell and Nicia Carla in Bloody Bloody Andrew Jackson (Photo: George Hendrick's Photography)
September
Recent Tragic Events at Carolina Actors Studio Theatre (Sept. 12) — Now the most prolific theater company in town, CAST continues its 20th season with Craig Wright's dark comedy about the day after the Twin Towers were reduced to rubble on 9/11. So of course, it opens on 9/12.
Bloody Bloody Andrew Jackson at Actor's Theatre of Charlotte (Sept. 18) — Champion of the common man and a mean screwer of Native Americans, POTUS #7 is loudly reimagined as a sexy rock star in tight jeans. Look out for some general electricity in this hot presidential musical.
Emerson String Quartet by Charlotte Concerts at Halton Theater (Sept. 20) — On the brink just a couple of years ago, Charlotte Concerts roars back with its strongest season of the new century, beginning and ending with classical Grammy Award winners on tour with new CDs. America's most lauded string quartet leads the train, and violinist/conductor Joshua Bell will captain the caboose next March.
Jon Metzger and Ziad Jazz Quartet, Jazz at the Bechtler (Sept. 6); Gypsy, Theatre Charlotte (Sept. 6); Shakespeare in the Park(ING Lot), Chickspeare (Sept. 20); Tarzan: The Stage Musical, Children's Theatre of Charlotte (Sept. 20); Charlotte Symphony Orchestra and Chicago, CSO Pops (Sept. 21); Spank! The Fifty Shades Parody! (Sept. 24); The Effect of Gamma Rays on Man-in-the-Moon Marigolds, CPCC Theatre (Sept. 27); Classics 1: The Planets, Charlotte Symphony Orchestra (Sept. 27).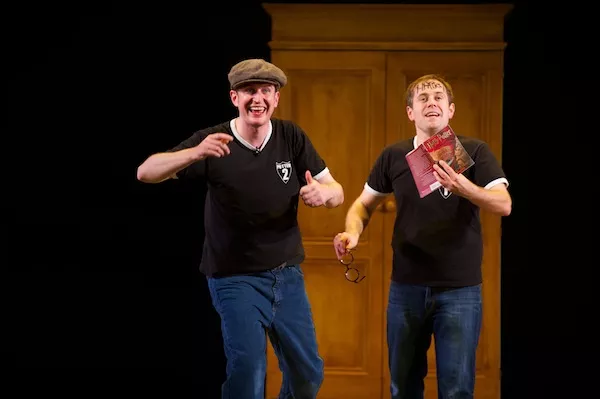 Potted Potter — The Unauthorized Potter Experience (Photo: Brian Friedman)
October
Queen City Fringe Festival (Oct. 3-6) — Organized by Charlotte's preeminent theater renegades, Citizens of the Universe, under the Stage One producing umbrella, this new festival throws its arms open to a variety of art forms, including music, spoken word, stand-up, puppetry and the visual arts. Engulfing the Charlotte Dance Festival as well, Fringe will infiltrate 10 locations in Elizabeth, 15 in Plaza Midwood and 21 sites in NoDa, spilling over into the streets with buskers, vendors, jugglers and magicians.
Classics 2: Tchaikovsky's "Pathetique" by Charlotte Symphony Orchestra at Belk Theater (Oct. 11) — Three truly great composers at the top of their game — Tchaikovsky, Mozart and Saint-Saëns — will delight newcomers and aficionados in a varied, passionate program that begins with Wolfgang's "Overture to Don Giovanni." Then we take wing with Camille's typically gorgeous Violin Concerto No. 3, with guest soloist Karen Gomyo, before the affecting headliner.
Potted Potter — The Unauthorized Harry Experience, a Blumenthal Broadway Extra at McGlohon Theater (Oct. 15) — If J.K. Rowling is indeed the Bard of our age, then she deserves to be sliced and diced in true Reduced Shakespeare fashion. Here it comes, ready or not, the seven books of the Harry Potter series irreverently squooshed into 70 minutes.
Carmen by North Carolina Dance Theatre at Knight Theater (Oct. 17) — The sensuous, seductive score of Bizet's beloved opera is brought home by NCDT choreographer Sasha Janes in a world premiere. Transplanted to the Tarheel State, the temptress is now an arrested laborer who seduces her National Guard captor during the 1934 textile mill strikes — and her toreador is now a baseball star in the Carolinas League!
Moving Poets, Reloaded at Booth Playhouse (Oct. 31) – Before they left for Berlin, Moving Poets Theatre of Dance pretty much invented Charlotte's annual immersion in Halloween saturnalia. Well, they're ba-ack! Never content to linger in a single art form, "Contact" will blend live painting, poetry, dance and music with text by Oscar Wilde. Poets founder Till Schmidt-Rimpler choreographs "Left Foot Smile" and there's a new work slithering in the shadows.
The Children of Children Keep Coming, On Q (Oct. 3); Arturo Sandoval (Oct. 3); Indigo Girls, CSO Pops (Oct. 5); Abyssinian: A Gospel Celebration, Jazz at Lincoln Center Orchestra with Wynton Marsalis (Oct. 8); The Amish Project, Warehouse Performing Arts (Oct. 17); Good People, CAST (Oct. 17); Aida, Opera Carolina (Oct. 19); A Guide for the Newly Dead, Machine Theatre (Oct. 24); A Disturbance in Whitechapel, Citizens of the Universe (Oct. 26); Hansel & Gretel, Children's Theatre of Charlotte (Oct. 26).
Matthew Bourne's Sleeping Beauty (Photo: Mikah Smillie)
November
Matthew Bourne's Sleeping Beauty, Broadway Lights at Belk Theater (Nov. 5) — A full evening of Tchaikovsky, but with Bourne taking the reins of the choreography and showmanship, our heroine's balletic adventure goes Gothic as she encounters zombies, vampires and some wild, wild sets, costumes and special effects.
Les Misérables by CPCC Theatre, Opera and Dance Theatre at Halton Theater (Nov. 15) — Celebrating the college's 50th anniversary, three Central Piedmont departments are coming together to collaborate on a really big show. High notes will be hit, scenery will be chewed, a huge flag will wave and, who knows, maybe the whole shebang will spin on a turntable!
Miracle on 34th Street by Children's Theatre of Charlotte at ImaginOn (Nov. 22) — Santa is already growing his beard for this extravaganza, as we get some desperately needed new inventory in time for the oceanic holiday season. In both of its wondrous theaters, Children's is revamping the Yuletide lineup this year. Can I get an amen, people?!
Classics 4: Bach's St. Matthew Passion by Charlotte Symphony Orchestra at Belk Theater (Nov. 22) — For years, I've come away from performances of Beethoven's Choral Symphony and Handel's Messiah with the same thought: The Oratorio Singers of Charlotte should sing more oratorios! Well, now they're tackling what is widely regarded as the king of them all. Yes, it's more apropos at Easter, but anytime we get St. Matt is OK with me.
Midtown Men — Stars from the Broadway cast of Jersey Boys, CSO Pops (Nov. 1); History Isn't a Drag [show], Stephen Seay Productions (Nov. 2); Venus in Fur, Actor's Theatre of Charlotte (Nov. 6); Forbidden Broadway, Broadway Extras (Nov. 12); Freud's Last Session, Abbey Players and Belmont Community Theatre (Nov. 14); Live and Let Die – A Symphonic Tribute to Paul McCartney, CSO Pops (Nov. 15); O Guru Guru Guru, Or Why I Don't Want to Go to Yoga Class With You, CAST (Nov. 22).