If you saw our Fall Festival guide, you know about God Save the Queen City. If you keep an eye on this section and the Soundboard listings, you're aware of the noteworthy artists coming to town. So, now we're going to give you a list of the locals you need to get out and see this fall — at least those who have shows announced for the coming months.
HRVRD/Bo White (Sept. 14, Neighborhood Theatre) — Either of these acts alone is worth seeing, but having them share the bill is more than we can ask for. HRVRD's eclectic, atmospheric indie rock is stunning, while a full band creates more depth to Bo White's brilliant songwriting. $10/$12.
Matrimony (Sept. 20, Evening Muse) — They've been hitting the road hard since their debut Columbia Records EP was released and they're returning to a more intimate setting this time around as a support act. Probably one of the last times you'll get to see them in a small club. With Twin Forks, What's Eating Gilbert. $13.50/$16.
Fantasia (Sept. 28, Bojangles' Coliseum) — The R&B songstress who calls Charlotte home returns to the Queen City with a new album in tow. She held an "album release party" earlier this year, but this time you'll get to hear her old stuff, too. With 112. $27.50-$37.50.
Bands and Beats (Oct. 4, Amos' Southend) — The rapping of Luca Brazi, the rock-infused hip-hop of Pradigy GT and the soul/pop-infused style of male/female duo Keen Society combined with other acts bringing jazz, funk and more, all under one roof. $8/$10.
Flagship (Oct. 4, Neighborhood Theatre) — Remember the local rock band, Campbell? Consider this a more-appealing offshoot. Flagship's debut album comes out on Oct. 8 — celebrate its release. $10/$12.
Antiseen (Oct. 5, Tremont Music Hall) — Thirty damned years. That's a long time for any band to be performing, and punk outfit Antiseen shows no signs of slowing down. With the Meatmen, The Hookers. $15.
Unknown Hinson (Oct. 12, Visulite Theatre) — Last year, Unknown Hinson announced that he was done touring and the economics of it just weren't working for him anymore. What a difference a year makes. Hinson is back on the road, so catch his comedic-country performances while you can. With Justin Wells. $15/$18.
Taking Back Sunday (Nov. 3, The Fillmore) — Yeah, I know they're not from Charlotte, but at least two of the band members live here now, so that's close enough. The post-hardcore band has been hard at work on its sixth studio album, so expect new tunes at this show. With Anberlin, The Maine, Transit. $37.50.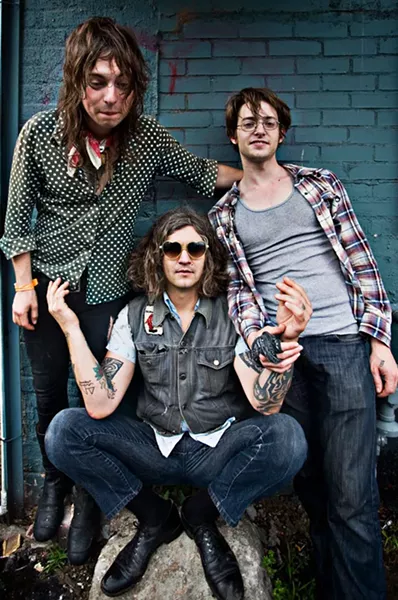 Tim Song
Paint Fumes
Paint Fumes (Nov. 22, Snug Harbor) — Singer Elijah Von Cramon was hit by a car back in February and has spent the last six-plus months recovering from surgeries and broken bones. Can you imagine the excitement when he finally gets back on stage for a hometown show? With the garage rock of Temperance League. $5.
Amigo has two shows planned at Snug Harbor (Sept. 20 and Nov. 16), but we don't really care where the band is playing — if you get the chance, go. Strong lyrics, strong music, strong rock 'n' roll all around. One of those great rock trios that sounds a lot bigger than it should and a local band to keep an eye on.