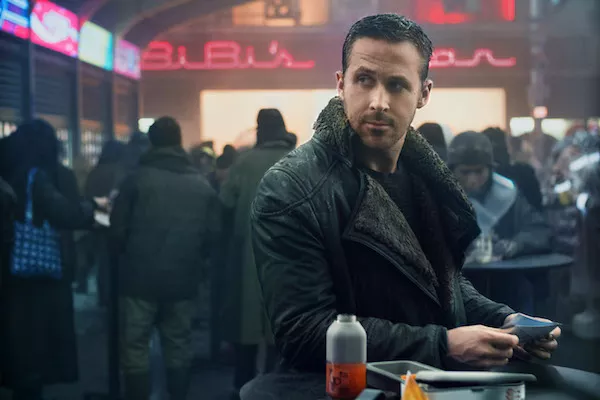 Ryan Gosling in Blade Runner 2049 (Photo: Warner)
It got off to a strong start, and by "it," we mean both the fall film season and the Stephen King cinematic property that broke several box office records when it opened on Sept. 8.
The fall season continues with today's releases of mother! and American Assassin and will end in October, as November will see the launch of the year-end commercial and/or critical behemoths (jump-started by Thor: Ragnarok on Nov. 3). In the meantime, here's a checklist of the wide releases we can expect to see over the course of the next six weeks.
SEPTEMBER 22: Following the 2015 hit Kingsman: The Secret Service comes Kingsman: The Golden Circle, in which the members of the British spy outfit (including returning ones played by Taron Egerton, Mark Strong and Sophie Cookson) become involved with various heroes and villains (among them Channing Tatum, Julianne Moore and Jeff Bridges) from this side of the Atlantic ... Dave Franco and Jackie Chan are among those lending their vocals to The LEGO Ninjago Movie, in which The Green Ninja must defeat an evil warlord known as Garmadon, The Worst Guy Ever ... And we would be remiss if we didn't mention that the Charlotte Film Festival opens on this date and runs through Oct. 1; among the many events on the schedule is the Sept. 23 international debut of Feral, a horror flick written and directed by former Charlottean Mark Young and co-written by current Charlottean (and former Creative Loafing video-game columnist) Adam Frazier.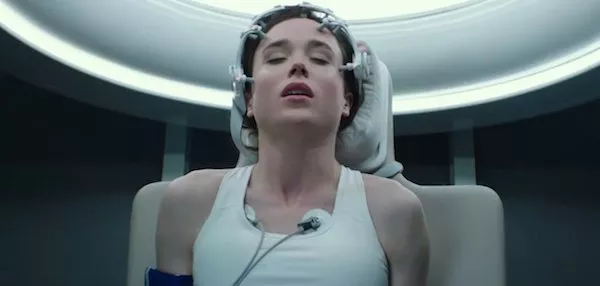 Ellen Page in Flatliners (Photo: Columbia)
SEPTEMBER 29: Tom Cruise reteams with Edge of Tomorrow director Doug Liman for American Made, a fact-based tale about the CIA's unlikeliest covert operative ... Battle of the Sexes centers on the same-named tennis match that captivated the country as Billie Jean King (Emma Stone) squared off against Bobby Riggs (Steve Carell) in 1973 ... Flatliners, a remake of the 1990 hit starring Julia Roberts and Kiefer Sutherland, stars Ellen Page and Diego Luna as two of the five medical students who embark on dangerous experiments designed to give them a glimpse of the afterlife.
OCTOBER 6: The long-awaited sequel to the 1982 ahead-of-its-time masterpiece, Blade Runner 2049 finds Harrison Ford returning as Rick Deckard, now an ex-cop who teams up with a new blade runner (Ryan Gosling) to solve a long-dormant mystery ... Emily Blunt and Liev Schreiber are among the notables taking part in My Little Pony: The Movie, an animated adventure in which the equestrian stars attempt to save Ponyville from an evil intruder ... The Mountain Between Us stars Kate Winslet and Idris Elba as two plane-crash survivors forced to travel across hundreds of miles of wilderness in an effort to reach civilization ... Judi Dench, who earned her first career Oscar nomination for portraying Queen Victoria in 1997's Mrs. Brown, returns to the role in Victoria & Abdul, a look at the close friendship between Her Majesty and a young Indian clerk (Ali Fazal).
OCTOBER 13: Jackie Chan, usually seen in lighthearted action romps, turns deadly serious for The Foreigner, in which he plays a restaurateur seeking to avenge his daughter's death ... Happy Death Day is basically Groundhog Day with a slasher-film twist, as a college student (Jessica Rothe) has to continuously relive the day she's murdered until she can identify the killer.
OCTOBER 20: Tyler Perry again dons the dress for Boo 2! A Madea Halloween, in which the outspoken matriarch finds herself confronted by various monsters in a haunted campground ... It's up to a scientist (Gerard Butler) to save the day when a satellite malfunction threatens the entire planet in the thriller Geostorm ... Josh Brolin, Jeff Bridges and Miles Teller star in Only the Brave, a true-life drama about a group of heroic firefighters ... Jo Nesbo's international bestseller The Snowman receives the cinematic treatment with this thriller starring Michael Fassbender as a detective tracking down a serial killer.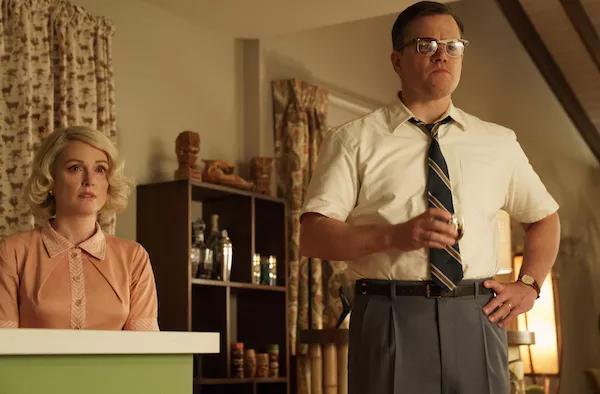 Julianne Moore and Matt Damon in Suburbicon (Photo: Paramount)
OCTOBER 27: The eighth film in the Saw series, Jigsaw finds the title fiend (again played by Tobin Bell) seemingly returning from the grave to commit more mayhem ... George Clooney provides the direction and the Coen Bros. provide the script for Suburbicon, starring Matt Damon, Julianne Moore and Oscar Isaac in a dark tale about the horrors of 1959 suburbia ... Miles Teller, Amy Schumer and Whale Rider's Keisha Castle-Hughes are among those taking part in Thank You for Your Service, an adaptation of David Finkel's book about U.S. soldiers attempting to return to civilian life after serving in Iraq.