It's that time of year again.
No, not time to sit in traffic to crawl through a racetrack full of Christmas lights, but to celebrate the local artists we'll be enjoying throughout 2018 ... while we sit in traffic.
On November 30, the Charlotte-based arts program ArtPop held its Class of 2018 Artist Reveal Party, and Creative Loafing is the only publication to bring you all 20 works and the stories behind the artists of ArtPop's fifth class while the party is still going on.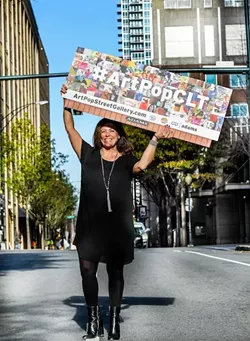 Wendy Hickey. (Photo courtesy of ArtPop)
Since ArtPop launched in 2014, the program has featured the works of 80 artists on billboards in Mecklenburg and 10 surrounding counties, as well as on news racks in Uptown Charlotte and on digital display screens at Charlotte Douglas International Airport.
This year is the first in which members of the Class of 2014 were allowed to reapply, and three artists have returned from that first class, while 17 new local artists will be showcased.
Wendy Hickey, founder and executive director, was relieved and excited when we sat down with her recently at Common Market to discuss the incoming Class of 2018. Hickey and her jury whittled the applicant pool down from 114 to 20, and the process took a lot out of her.
"It was a very long process and it's hard," Hickey said. "You want everybody to be in it, and there are some absolutely worthy pieces that didn't make it, so I just encourage everybody to keep applying. That's the biggest thing, just apply and apply again."
As for this year's artists, Hickey said she's excited to meet all of them at the party on Thursday and follow their career paths in the future. Hickey said her greatest fulfillment comes when she sees ArtPop artists and alums selling pieces or getting jobs thanks to the recognition they've received through her program.
"It's a well-known program in the area now and a lot of the artists are thriving because of it," Hickey said. "So I'm just excited for this opportunity for each of them, and I hope they use it to the absolute best of their ability to grow their art careers or enhance their existing careers."
We reached out to this year's class of artists to get a feel for how they view their own work. While some discussed the individual work they submitted to ArtPop, others retraced their paths in the arts or explained their views on art as a whole.
So without further ado, we bring to you, the ArtPop Class of 2018:
Gary Abramov, Charlotte
Acrylic
Abramov is an artist and designer born in Europe who believes that the art created by humans is a protective wall from the threat of artificial intelligence, aggression and the digital perception of the world. He is sure, he says, that "to see the world always in a new way — emotionally but with sensual sensuality — is the major [purpose] of art."
Elizabeth Bradford, Davidson
Acrylic

Bradford is a native Carolinian with deep roots in the rural landscape. Her work often centers on images drawn from her rural community and her family's Century Farm in north Mecklenburg County. In recent years, she has used her passion for backpacking and exploring nature as inspiration for large-scale paintings of the wild.
Eva Crawford, Charlotte
Acrylic

"'Eye on the Sparrow' came into being as we experienced difficulty with one of our children," Crawford says. "When confronting the unknown of each day, I can choose to lose myself in worry or I can choose to rest in knowing that I can't control everything, but trust the One who does. The application and results of the unpredictable running paint is like opening a present on Christmas Day. Blending that thrill with my love for realism, as seen in the sparrow, is the focus of my current series."
Donna Downey, Huntersville
Oil

Downey is a New Jersey native now living and working out of her studio in Huntersville. As a painter, bestselling author, instructor and all-around creative force, she is a born experimenter — blending and transforming both traditional and unexpected elements into meaningful pieces of self-expression. Donna is consistently on the leading edge, taking risks that push the creative envelope and empowering others to do the same with their art.
Amanda Foshag, Rock Hill, South Carolina
Acrylic
"The action of binding, knotting, crocheting and layering are metaphors in my sculptural forms for how we process the thoughts, feelings and emotions we experience," Foshag says. "In my paintings and drawings, it is the layering of fiber materials, paint, inks and other renderable media that build up a surface, which I violate by sanding and/or scraping away at to reveal the layers of accumulation and that which lies beneath it. This process is evocative of notions of how we conceal and preserve the self from our interactions, feelings and experiences, and also of reflecting upon these moments."
Cortney Frasier, Mooresville
Yarn
Frasier is a Pennsylvania native who has lived in a wide range of places stretching from Alaska to Florida. She uses an abstract medium of yarn and salvaged materials to create artwork that reflects her experiences and domestic identity as a woman. Frasier's artwork is highly influenced by her suburban environments, she says. Her love for education and art creation drives her in her artistic career.
cortney-frasier.squarespace.com
Gordon C. James, Charlotte
Oil
James has been pursuing an art career ever since attending high school at Suitland Center for the Visual and Performing Arts in Forestville, Maryland. After a national search in 1997, James was one of only two fulltime illustrators hired to work for Hallmark Cards, Inc. After leaving Hallmark in 2001, James has gone on to become an award-winning fine artist and illustrator. He has also created stunning illustrations for children's books with award-winning authors. James' work is soulful, emotive and technically sound. He says he is proud to create beautiful works of art that tell stories and bring a little more beauty to the world.
Carmella Jarvi, Charlotte
Kiln glass
One of three returning alums from the ArtPop Class of '14, Jarvi's artwork evolved from paintings of women in water to abstract explorations of water through kiln glass. Intrigued with this common and ethereal material from an early age, Jarvi's water glass is beautiful and visually enticing. Like a painter, she uses color for contrast, movement and points of interest. After being professionally photographed, the printed digital images of her glass rounds go onto translucent vinyl.
Katherine Kirchner, Charlotte
Photography
Kirchner began studying photography as a teenager and was shooting professionally before she entered college. Since then she's completed years of intense technical training and fine art research, winning awards every step of the way. Katherine is now a full-time freelance commercial photographer based in Charlotte, catering to businesses across the country. Her growing success is measured by the continuous support from local and national brands that respect the quality of both her photography and professionalism, she says.
Hasaan Kirkland, Charlotte
Mixed media

Kirkland relocated from Sacramento, California, to Charlotte, where he's involved with creating commercial and critical fine art. He works as an educator, emerging national artist, art entrepreneur and a tenured professor of fine arts at Johnson C. Smith University. His body of work expresses visual literacy, conceptual imagery, popular culture, abstract expressions and reflections of Africa and the identity found in African American culture.
Pauline Dove Lamal, Charlotte
Colored pen and pencil
Lamal graduated from Mary Baldwin College in Staunton, Virginia, where she spent one year studying abroad in Aino-en-Provence, France, then received her Master's in Fine Arts from George Washington University. She promptly left the United States to complete her first one-person show in Kathmandu, Nepal, where she had 50-year-old handmade paper produced for her. That paper became the canvas on which she created her nominated piece for ArtPop. She is one of three ArtPop alums returning from the Class of '14.
Julia Lawing, Concord
Oil

"I paint because it engages my senses, my mind, my heart, stirring a passion in me unlike anything else," Lawing says. "I aim to speak life to the viewer's soul. My desire is to give voice to the beauty that first captivated my attention, and for my marks to reflect that vitality."
Monique Luck, Pineville
Mixed media

"The emotion in my work comes directly from the emotions I experience in life," Luck tells us. "As I assemble a collage, I often wish I could rearrange pieces of my life as I do pieces of colored paper. Each day I am reminded that life choices are not as easily moved."
Soulful figures textured with emotion emerge, revealing colorful, lyrical stories moving fluidly across canvas. Luck models the features of figures and natural forms using fragments of found paper. She is one of three returning ArtPop alums from the Class of '14.
Meg Greene Malvasi, Charlotte
Mobile photography
Meg Greene Malvasi is a photographer and writer who relies almost exclusively on mobile devices to photograph and process her images. She says her approach is simple: Nothing is ordinary. Malvasi's toolbox consists of her iPhone and iPad to process and create her images — nothing else. She is attracted to the portability of mobile devices, and not relying on a computer. Malvasi is known for her subtle dreamlike images, which have a painter's quality.
Arthur Rogers, Jr., Charlotte
Oil

Rogers is a U.S. Army veteran and a native Carolinian with parental roots from Wilmington, North Carolina; Sint Eustatius, a tiny Dutch island in the Caribbean; and Trinidad and Tobago.
"After a 12-year layoff from painting or drawing, in 2012 I returned to my initial passion: painting," Rogers says. "I want to share my love for [Soca] music and [Caribbean] culture. The music energizes me and fuels my visions as I transfer them to the canvas. My goal is to have everyone feel the vibes as I do, to see the vibes as I do. This is the best way I know how."
Maria Senkel, Charlotte
Wood and acrylic
"I was born in Venezuela, educated in Boston, Massachusetts, and later settled in Charlotte," Maria Senkel explains. "I create art with wood, and through my work I want to invite the audience for a respite from the vicissitudes of life. I want them to appreciate the value of a world of wonder and imagination, but most importantly a world where it is OK to laugh a little."
Hilary Siber, Charlotte
Oil
"As a painter I am aware of how painting communicates, but within my work I hope to recognize where the rhetoric of painting falls short in explicating the complexities of our existence," Siber says. "Working from direct observation, my work utilizes landscape to visually grapple with the constitution of the medium as a means of representing the ineffable qualities of human experiences. Our humanity is caught up in this beautiful paradox; the dismantling of self is the very beginning of our own reconstruction."
Holly Spruck, Charlotte
Oil
"The commute to work, a conversation with a friend, getting lost in a maze of tiny streets in Spain, seeing the colors change with the seasons, noticing the pawns in a game called Life; this is where I get inspired," says Spruck. "My vision as an artist is to capture the world around me using my own vocabulary of bold colors, vivid lines and ambiguous spaces. In my work I confront dark, sinister subject matter. I try to do it fearlessly, and with a healthy dose of humor."
Bailey Wingler, Salisbury
Oil paint and pastel on wood

"I am a multidisciplinary artist born and raised in North Carolina," Wingler says. "My experience as an evolving, feminist woman in the South — in particular my roles as mother, wife and professional — is a central theme throughout my work. I view art the same way I view life; as a gateway whereby we invite others to join us in collective introspection. I want to highlight and to nourish those universal emotions that connect and unite us."
Stella Yang, Salisbury
Mixed Media

"I was born in Seoul, South Korea, and moved to New York at the age of 13. When I visited Charlotte for the first time, I immediately fell in love with the city and decided to move in 2014," Yang recalls. "My art is inspired by the patterns and textures of nature all around North Carolina. These patterns created by nature, look like nothing but repetition from a distance, but when you look more carefully, every branch and leaf looks different from one another, much like the city we live in. Using acrylic paints and media I recreate the textures on canvas."
The above works will be installed on billboards throughout Mecklenburg and 10 surrounding counties between Jan. 8-12, then rotate to different locations throughout the year.