EVEREST
*** (out of four)
DIRECTED BY Baltasar Kormákur
STARS Jason Clarke, Josh Brolin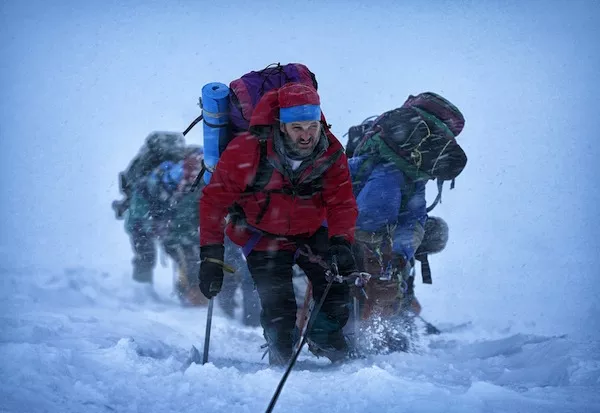 Jason Clarke in Everest (Photo: Universal)
The best movie I've ever seen in IMAX remains 1998's Everest, which was released back when films shown in that larger-than-life format were short-form documentaries generally screened in a museum facility (here in Charlotte, it naturally played at Discovery Place) and not feature-length flicks presented in any given multiplex's largest auditorium. One of the most successful docs ever made — it grossed a sizable $87 million over a stretch of several years — this superb nonfiction effort follows a group of climbers who attempt to scale the majestic Himalayan mountain in 1996. Yet part of the picture centers on a disaster that was occurring elsewhere on the treacherous slopes while filming was taking place — that tragedy was the basis for Jon Krakauer's bestselling Into Thin Air, a couple of other books and, now, a new fictionalized take also titled Everest.
This latest film depicts in bone-chilling detail the circumstances that led to the deaths of several people back during that fateful week in '96. Too many climbers, miscommunication among the guides, a lack of sufficient resources (such as oxygen tanks), Mother Nature at her most unpredictable and most punishing — all of these play a hand in the tragedy that hits the members of two competing groups. First and foremost, there's Adventure Consultants, a New Zealand outfit led by the smart and sensitive Rob Hall (Jason Clarke) and employed by, among others, a meek schoolteacher (John Hawkes), a Texas blowhard (Josh Brolin) and Krakauer (Michael Kelly), on assignment for Outside magazine. But also figuring in the action is Mountain Madness, a rival outfit overseen by a brash American named Scott Fischer (Jake Gyllenhaal). It's when the members of both these groups as well as those from other teams start to bottleneck on the deadly slopes that the stage is set for calamity.
Those who only vaguely recall the real-life incident (mainly the oft-repeated news bit about the survivor who lost both hands and his nose) will probably be more riveted by the randomness of life and death than those who read one of the books, but everyone will doubtless admire the measured pace of the script by William Nicholson and Simon Beaufoy and the immersive visual and aural assault orchestrated by director Baltasar Kormákur. The sound design in particular is award-worthy, with gusts of frigid air and rumbles of fearsome avalanches seemingly raging from every corner of the auditorium. Were William Castle, that most gimmick-laden of Hollywood's consummate showmen, still around and involved with this picture, it's a safe bet he would have had ice chips strewn all over theater floors and the AC cranked to 20 degrees. As it stands, Kormákur and his crew do enough via sight and sound to turn the Everest experience into one big chill.