(View From The Couch is a weekly column that reviews what's new on Blu-ray and DVD. Ratings are on a four-star scale.)
Christoph Waltz and Amy Adams in Big Eyes (Photo: Anchor Bay and The Weinstein Company)
BIG EYES (2014). Scott Alexander and Larry Karaszewski are the gents who wrote the script for director Tim Burton's excellent 1994 feature Ed Wood — not to mention Milos Forman's 1996 controversy The People vs. Larry Flynt and his underrated 1999 effort Man on the Moon — so they may not exactly be the good-to guys when it comes to stories that remain committed to historical accuracy. After all, Ed Wood included not only a scene in which Hollywood great Orson Welles had a friendly chat with Hollywood hack Wood, it also contained a sequence in which Wood and his entourage attended a standing-room-only premiere screening for Plan 9 from Outer Space. The truth will out? Not with these guys at the keyboard. But what they lack in fidelity to the facts, they make up for in providing pure entertainment, and they score again with Big Eyes, a picture that reteams them with Burton. This one actually does hew closer to reality, relating the bizarre and fascinating story of Margaret Keane (Amy Adams), a single mom who drew paintings of children with exceptionally large eyes, and her second husband Walter (Christoph Waltz), a smooth-talking con man who took credit for all her work and then parlayed it into an empire. Big Eyes primarily seems to exist as a showcase for two fine performances — Adams' honest emoting in one corner, Waltz's bombastic showboating in the other — but the film also takes time to touch upon the difficulties faced by women (particularly single ones) in the 1960s. More pointedly, it looks at how one woman's decision to remain silent about a cruel deception ("Lady art doesn't sell," Walter tells her) enforces the notion that spousal abuse doesn't always have to take the form of physical violence. Like Margaret Keane's artwork, Big Eyes catches viewers with its surface quirks, but there's also something taking place underneath the surface.
Blu-ray extras consist of a making-of featurette and Q&A highlights from the cast and crew.
Movie: ***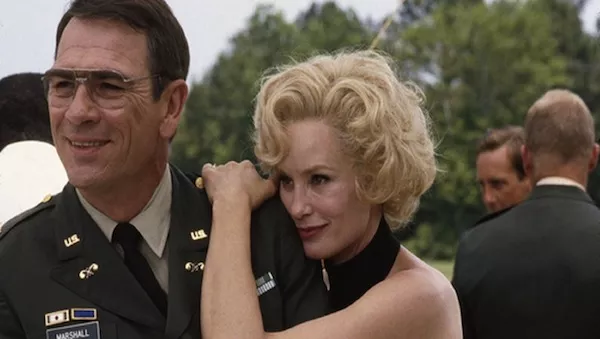 Tommy Lee Jones and Jessica Lange in Blue Sky (Photo: Olive Films)
BLUE SKY (1994). With such titles as Hannah and Her Sisters, RoboCop and F/X, Orion Pictures proved to be one of the most dependable studios of the 1980s, and it reached its pinnacle of perfection in the early '90s when it won back-to-back Best Picture Academy Awards for 1990's Dances with Wolves and 1991's The Silence of the Lambs. But even as the studio suits were celebrating the Oscar victories, their company was already in dire financial straits, unable to ward off crippling bankruptcy. Over the next few years, the outfit sold some projects to other studios (such as The Addams Family to Paramount) and halfheartedly released some on its own; one such effort was Blue Sky, which was filmed in 1990, completed in 1991, but sat on the shelf and didn't receive a theatrical release until 1994. The delay didn't help the picture financially — never expanding much beyond a limited release, it was a box office dud — but it definitely helped it win star Jessica Lange a Best Actress Oscar against what was perceived as weak competition (after all, it's impossible to imagine Lange winning if the film had been released during any of the previous three years, against The Silence of the Lambs' Jodie Foster, Howards End's Emma Thompson or The Piano's Holly Hunter). Lange, operating in her manic Frances mode, tears into her role as Carly Marshall, the flirtatious wife of mild-mannered nuclear engineer Hank Marshall (Tommy Lee Jones). The setting is a 1960s Alabama military base, and Hank discovers a cover-up involving nuclear testing even as he's trying to keep his volatile wife from going off the deep end. While the final half-hour ties the various plot strands together a little too neatly, the earlier portion offers a strong portrait of a family forced to stick together in spite of its own inner turmoil (as the Marshalls' strong-willed daughters, Amy Locane and Anna Klemp are both memorable). This was the last film from Oscar-winning director Tony Richardson (Tom Jones); he died of AIDS in 1991, three years before the picture's release.
There are no extras on the Blu-ray.
Movie: ***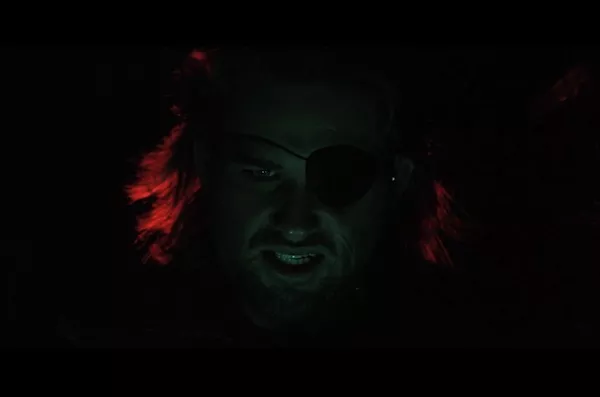 Kurt Russell in Escape from New York (Photo: Shout! Factory)
ESCAPE FROM NEW YORK (1981). One of John Carpenter's most popular films remains this futuristic yarn featuring an irresistible hook and an iconic anti-hero. The story is set in 1997, nine years after the island of Manhattan has been transformed into one massive prison for the nation's entire criminal contingent. After Air Force One goes down behind its heavily fortified walls, the nation's security head (Lee Van Cleef) turns to Snake Plissken (Kurt Russell), a former war hero turned bank robber, and all but forces him to locate the US President (Donald Pleasence) and bring him back alive. It turns out the Prez is in the clutches of The Duke of New York (Isaac Hayes), and while attempting to save him, Snake receives some unlikely assistance from three other inmates: a talkative cab driver named (of course) Cabbie (Ernest Borgnine), a mumbling mastermind nicknamed Brain (Harry Dean Stanton) and Brain's no-nonsense girlfriend and right-hand woman Maggie (Adrienne Barbeau). Writer-director Carpenter and co-scripter Nick Castle never really take their great premise as far as it could go (hampered, no doubt, by a midrange budget), but in spite (or because) of some cornball elements — the macho dialogue, for instance, is cranked up to 11 — this is satisfying entertainment, with some impressive model work, a unique visual landscape and a great score provided (as was often the case) by Carpenter himself. In a role turned down by Jeff Bridges, Nick Nolte and Chuck Norris, Russell oozes — make that snarls — bad-boy magnetism; the character is so enjoyable to watch that it's a shame his only other screen appearance was in the dim-witted 1996 sequel Escape from L.A. Incidentally, Carpenter and Barbeau were married at the time, as were Russell and Season Hubley (who appears in one scene as "Girl in Chock Full O'Nuts").
Blu-ray extras include audio commentary by Carpenter and Russell; separate audio commentary by Barbeau and director of photography Dean Cundey; separate audio commentary by producer Debra Hill and production designer Joe Alves; a deleted opening scene that would have killed the film's pace from the get-go (Carpenter was wise to trim this sequence); featurettes on the visual effects and the music score; and photo galleries.
Movie: ***
Ghoulies II (Photo: Shout! Factory)
GHOULIES (1985) / GHOULIES II (1987). Shout! Factory continues its string of desultory double feature discs — see also Eddie and the Cruisers/Eddie and the Cruisers II: Eddie Lives, Breakin'/Breakin' 2: Electric Boogaloo and Carrie (the 2002 TV movie, not the Sissy Spacek classic)/The Rage: Carrie 2 — with the first two titles in the four-flick Ghoulies series. Primarily a rip-off of Gremlins, the original Ghoulies at least has the decency to offer a (sort of) heroic role to the singular Jack Nance (Eraserhead, Twin Peaks), while fans of TV's long-running Law & Order: Special Victims Unit might be interested to catch Mariska Hargitay in her film debut (she plays the sweet Donna). Otherwise, there's little to recommend this simple-minded horror yarn in which the son (Peter Liapis) of a devil worshipper (rock star Michael Des Barres) falls under the spell of evil influences and unleashes vicious little monsters on his unsuspecting friends, among them the requisite stoner, the requisite nerd, the requisite macho shithead, etc. The title critters look laughably cheap (critic Leonard Maltin once cracked that they look like "muppets dipped in shellac"), but they're certainly preferable to the dull human protagonists. As for Ghoulies II, it's no better and no worse than its predecessor, with a group of the pint-sized evildoers setting up shop within a traveling carnival's haunted house. The carnival setting initially seems like an interesting slant, but tedium soon sets in. For those keeping track, these two films were followed by two straight-to-video efforts, 1991's Ghoulies Go to College (aka Ghoulies III) and 1994's Ghoulies IV.
Blu-ray extras on Ghoulies consist of audio commentary by director-cowriter Luca Bercovici; a retrospective making-of featurette; and the theatrical trailer. Blu-ray extras on Ghoulies II consist of a retrospective making-of featurette; deleted scenes (actually, more like deleted seconds of existing scenes); and the theatrical trailer.
Both Movies: *1/2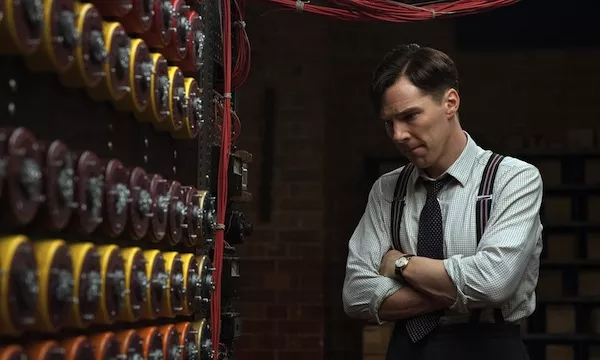 Benedict Cumberbatch in The Imitation Game (Photo: Anchor Bay and The Weinstein Company)
THE IMITATION GAME (2014). We're initially amused, nodding our heads knowingly at the TV screen. Here's Benedict Cumberbatch playing a socially awkward genius who's not only smarter than everyone around him but who makes damn sure they all recognize his vast superiority and, by extension, their own humbling inferiority. Hey, it's Sherlock redux! Well, not quite. Despite the obvious similarities to the brainiac from Baker Street, Alan Turing, the real-life personage at the center of The Imitation Game, is cut from a separate cloth, and Cumberbatch shifts gears accordingly. The result was one of last year's best performances in one of last year's best films, a vibrant work that refused to be relegated to the status of just another Brit biopic that appeared in the thick of awards season. Focusing on one of the most compelling stories to emerge from World War II — the efforts to crack the Enigma code employed by the Germans — the picture follows Turing as the mathematician and his team, all working in top secrecy for the British government, tirelessly toil around the clock trying to find the solution. Despite the skepticism of his colleagues, Turing uses what could only be described as an early-model computer to aid him in his efforts — he soldiers on mostly alone, as his only friend among the co-workers he (to paraphrase Run-D.M.C.) disses and dismisses is Joan Clarke (Keira Knightley), who becomes his fiancée even though he's secretly gay. But being a homosexual was a crime in England, and The Imitation Game earns its stripes by not only honoring the magnificent wartime achievements of Turing but also by shedding light on the ridiculous laws that would later embarrass and marginalize a hero of his caliber. And just like that, an inspirational movie about an international triumph becomes a sobering film about a national tragedy. Nominated for eight Academy Awards (including Best Picture, Best Actor and Best Supporting Actress), this won Graham Moore the Oscar for Best Adapted Screenplay.
Blu-ray extras include audio commentary by director Morten Tyldum and Moore; a making-of featurette; and deleted scenes.
Movie: ***1/2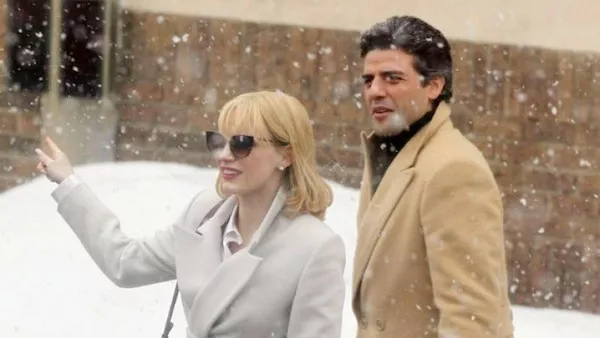 Jessica Chastain and Oscar Isaac in A Most Violent Year (Photo: A24)
A MOST VIOLENT YEAR (2014). One of the 10 best films of 2014 — and the best film of 2014 not to receive a single Oscar nomination (at least the National Board of Review picked up the Academy's slack by naming it Best Picture) — A Most Violent Year takes us back to 1981, when New York City was experiencing one of the most crime-riddled years in its often brutal history. Yet those ample instances of robbery, rape and murder are almost nowhere to be seen in this picture, the third from writer-director J.C. Chandor (following 2011's Margin Call and 2013's All Is Lost). Instead, the violence is unleashed in more subtle ways, and it's one man's sizable piece of the American Dream that ends up getting mercilessly pillaged and plundered. The man is Abel Morales (Oscar Isaac), an immigrant who began small and now controls his own oil-heating company. With the support of his wife Anna (Jessica Chastain) and his lawyer Andrew Walsh (Albert Brooks), Abel is ready to expand, an empire-building lunge that threatens to fall short thanks to a series of misfortunes. Isaac, previously seen to great effect in the Coens' Inside Llewyn Davis, is equally compelling here, portraying a character so careful in his thoughts, words and deeds that you can practically see the mental wheels turning as he examines any given scenario and enunciates his measured response. Starting with that misleading title, A Most Violent Year is a movie in which nothing unfolds as expected. It's a talky drama made for grown-ups (a radical concept, I know!), but that doesn't mean Chandor isn't above interrupting the lengthy discourses with a burst of kinetic action, including a pair of foot chases that don't convey the expected excitement but rather illustrate the sheer exhaustiveness of such situations. Most of the film operates in that same gritty fashion: With expert lensing by cinematographer Bradford Young — who, incidentally, also shot Selma — it remains on the prowl primarily through the city's industrialized back streets (no milling Times Square crowds here), a serene, subdued style that, coupled with Chandor's weighty script, provides for a viewing experience rife with tension and a mounting sense of dread.
Blu-ray extras include audio commentary by Chandor and producers Neal Dodson and Anna Gerb; making-of featurettes; and deleted scenes.
Movie: ***1/2
Emma Thompson and Anthony Hopkins in The Remains of the Day (Photo: Twilight Time)
THE REMAINS OF THE DAY (1993). Unorthodox love stories were prominent during the movie year of 1993, as witnessed by the releases of three exceptional efforts: Jane Campion's The Piano (the year's best picture), Martin Scorsese's The Age of Innocence, and this adaptation of Kazuo Ishiguro's novel. Another in the string of acclaimed features by the tony team of director James Ivory, producer Ismail Merchant and scripter Ruth Prawer Jhabvala (the folks who also gave us Howards End and A Room with a View), The Remains of the Day features what is arguably (and it will be argued!) the finest performance of Anthony Hopkins' career. He stars as James Stevens, an English butler who spends every waking hour dutifully serving his master, Lord Darlington (James Fox). But his complete devotion leads him to turn a blind eye to political matters — his employer is a Nazi sympathizer — and, more importantly, to his own suppressed feelings for the estate's warmhearted housekeeper, Miss Kenton (Emma Thompson). Like the aforementioned The Age of Innocence, here's another handsome period piece about a man who foolishly ignores the dictates of his heart, and the scene where Miss Kenton confronts Stevens in his darkened chamber was second only to Innocence's carriage ride sequence between Daniel Day-Lewis and Michelle Pfeiffer as the most subtly passionate of its year. Peter Vaughn is excellent as Stevens' father, a butler even more stiff-lipped than his son, and look for memorable appearances by Christopher Reeve and Hugh Grant as visitors to the Darlington estate. The Remains of the Day earned eight Academy Award nominations, including ones for Best Picture, Best Actor and Best Actress.
Blu-ray extras include audio commentary by Ivory, Merchant and Thompson; a making-of featurette; deleted scenes; the theatrical trailer; and an isolated track of Richard Robbins' score.
Movie: ***1/2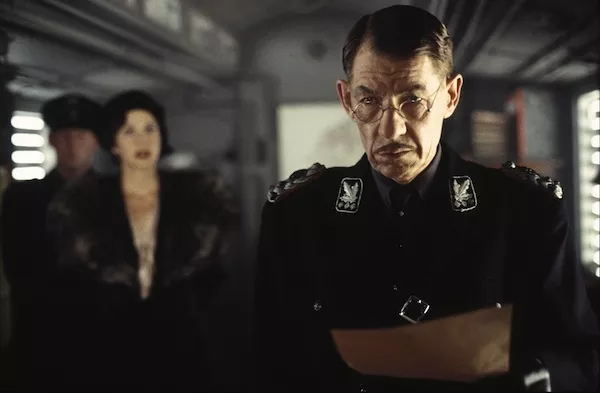 Ian McKellen in Richard III (Photo: Twilight Time)
RICHARD III (1995). Several years before he endeared himself to the mainstream with his iconic turns as The Lord of the Rings' heroic Gandalf and X-Men's villainous Magneto, Ian McKellen, in partnership with director Richard Loncraine, brought Richard Eyre's acclaimed stage production of William Shakespeare's Richard III to the big screen. The action is updated to 1930s Great Britain — or, rather, a Great Britain that might exist in a parallel universe. In this take, the murderous Richard of Gloucester (McKellen) employs tanks and machine guns to enable him to take over the crown from his unsuspecting kinfolk. It's a bold revision, and one that works quite well — not too surprising, given the similarities between McKellen's Richard III and our own history's monstrous fascist from the same period (indeed, nods toward Nazism can be seen throughout the movie). And while the picture could have benefitted from a little more blood flowing through its veins — it's no match for Kenneth Branagh's Shakespearian at-bats in all their lusty glory — there are zesty performances from an all-star cast to keep the story percolating. Among those contributing indelible turns are Annette Bening as the American-born Queen Elizabeth, Kristin Scott Thomas as Lady Anne, Maggie Smith as the Duchess of York and Jim Broadbent as the Duke of Buckingham; only Robert Downey Jr., as Queen Elizabeth's brother, fails to convince. This earned a pair of Oscar nominations for Best Art Direction & Set Decoration and Best Costume Design.
Blu-ray extras consist of the theatrical trailer and an isolated track of Trevor Jones' score.
Movie: ***
Joel McCrea and Veronica Lake in Sullivan's Travels (Photo: Criterion Collection)
SULLIVAN'S TRAVELS (1941). Over the course of the 1940s, writer-director Preston Sturges made a string of comedy classics on the order of The Palm Beach Story (reviewed earlier this year in this column) and The Lady Eve, but his masterpiece was Sullivan's Travels, a work that has inspired such filmmakers as Clint Eastwood and the Coens. Joel McCrea delivers a typically fine — and typically underrated — performance as John L. Sullivan, a Hollywood director known for such successful comedies and musicals as So Long, Sarong, Hey-Hey in the Hayloft and Ants in Your Plants of 1939. But depressed over the poverty and homelessness gripping the nation, Sullivan feels it's no longer appropriate to make fluffy entertainment and instead wants to shoot an important "social message" picture called O Brother, Where Art Thou? When the studio suits suggest that he lacks the hardscrabble background necessary to make such a downbeat movie, he agrees and decides that he will disguise himself as a hobo and, with only 10 cents in his pockets, head out into the world looking for experiences that will subsequently inform his motion picture. Sullivan's Travels is astonishing in the manner in which Sturges is able to make a hilarious comedy while still managing to inject the proceedings with some powerful moments of straight drama. The speech delivered by Sullivan's butler Burrows (Robert Greig) about the "morbid rich" and their fascination with poverty is a keeper, while a sequence set within a black church is deeply moving (and so unusual for its time that NAACP Walter White later wrote Sturges a letter thanking him for the "dignified and decent treatment of Negroes in this scene"). Yet ultimately, it's comedy that's king, as exemplified by a stellar cast led by McCrea and Veronica Lake (as a struggling actress who joins Sullivan on the road), Sturges' typically crackling dialogue, and a major narrative assist from Mickey's mutt Pluto.
Blu-ray extras include audio commentary (from 2001) by filmmakers Noah Baumbach, Kenneth Bowser, Christopher Guest and Michael McKean; the 1990 documentary Preston Sturges: The Rise and Fall of an American Dreamer; an interview with Preston's widow, Sandy Sturges; and a video essay by film critic David Cairns.
Movie: ****